Creative Soba and More
Published: February 15, 2023
Fukagawa Biyori is a soba restaurant, cafe, and gallery that has been serving creative soba dishes and more to the hungry residents of the Kiyosumi-shirakawa area of Koto-ku since 2011. 2023 will see the restaurant undergo some changes, which we recently heard about from owner and proprietor Mr. Yasumasa Kishi.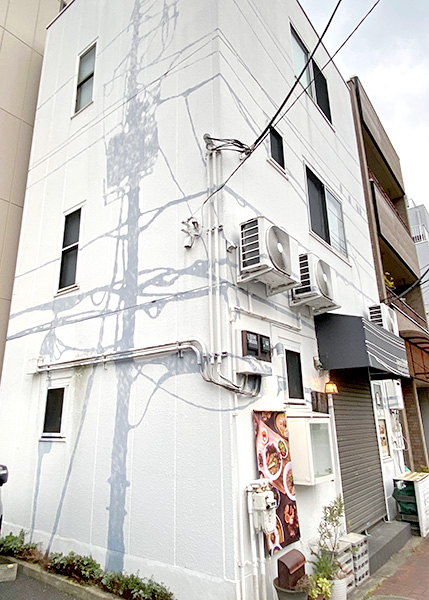 Located just 3 minutes from exit B2 of Kiyosumi-shirakawa, Fukagawa Biyori is simply unmissable; just look for the tall white building with the telephone pole and wire design on the side!
While Fukagawa Biyori is primarily a soba restaurant, buckwheat doesn't only come in the form of noodles. With a flourish Mr. Kishi produced this omakase (chef's selection) lunch plate (1,380 yen) which features a variety of items made from soba (spinach quiche with a soba flour base, soba gnocchi) smoked items (cheese, homemade bacon using Matsuzaka brand pork, chicken breast) taramasalata and vegetables. Mr. Kishi smokes his own items using whiskey barrel oak chips which impart a rich, deep flavour.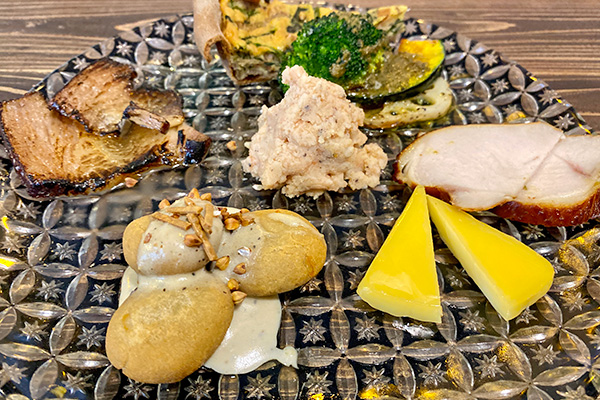 The buckwheat quiche was exceptional, the soba flour lending an extra crispiness to the base, while the gnocchi was also crispy on the outside, soft and chewy on the inside. The gnocchi comes with a bechamel sauce made with soy milk cream and fried soba nubbins. Very nice and surprisingly filling!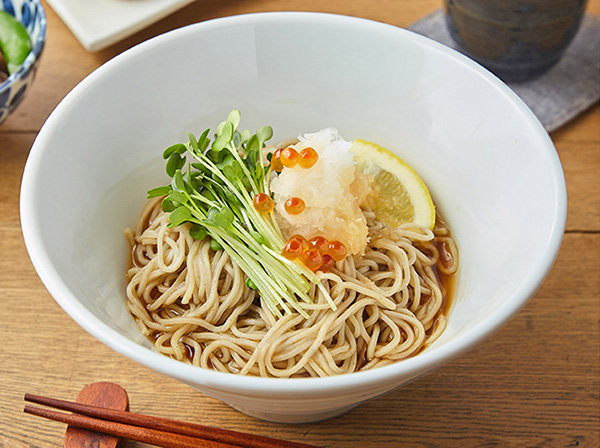 GLUTEN – FREE SOBA
All the soba noodles at Fukagawa Biyori are gluten-free and handmade by Mr. Kishi using a blended flour that's mainly from Nagano Prefecture, which creates a thin, pale noodle. The soup stock is ordered from a specialist broth maker while the dried fish shavings are a mix of bonito and flying fish. The soba is 90% soba flour and 10% wheat flour (ju-wari in Japanese). This is the grated daikon radish soba (oroshi soba 850 yen).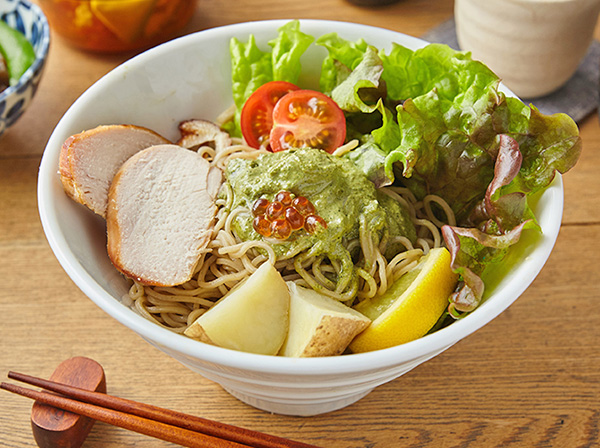 This perilla (ooba) genovese salad soba looks fantastic (1,050 yen).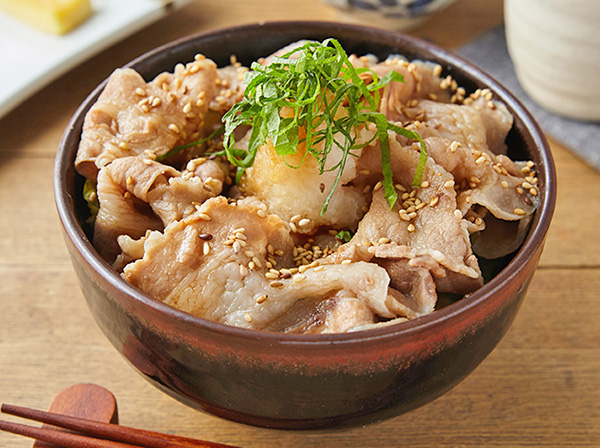 While the soba menu at Fukagawa Biyori will be revamped, one item that's not for changing is the wildly popular Matsuzaka pork soy sauce steak rice bowl (950 yen).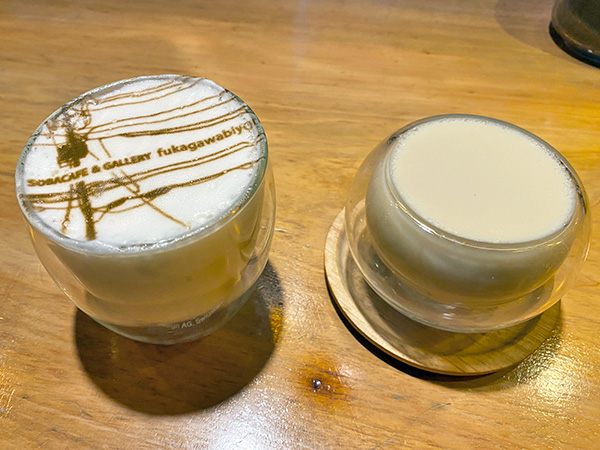 On the left here is a soy milk buckwheat tea latte (tonyu soba cha latte 600 yen) which looks extremely creamy but was actually light, nutty and very refreshing. On the right is a soba tea pudding made with soy milk (450 yen). The pudding was very soft and velvety like a Bavarian cream (babaloa in Japanese) and sits on top of a caramel sauce made with buckwheat honey. The rich molasses flavour of the caramel sauce was a perfect match for the earthy, nutty yet creamy pudding. It's a tremendous conjunction of flavours and a must-try!
Another one of the desserts, mitarashi dango, consists of shiratama balls made with half glutinous rice and half soba flour in a sauce containing buckwheat flower honey. The buckwheat honey lends a mild black treacle flavour to the sauce. Very nice at 450 yen!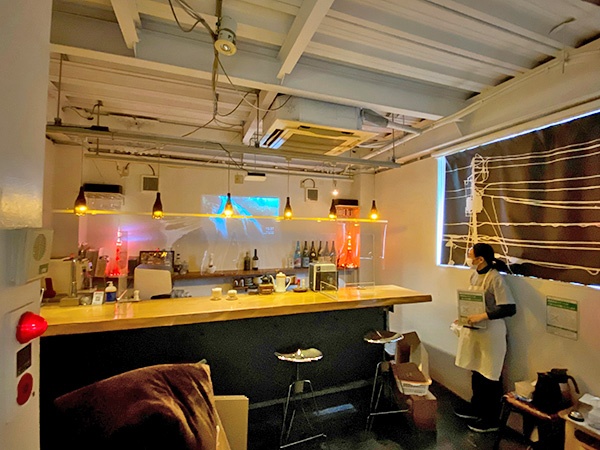 The second floor at Fukagawa Biyori is open for lunch. The latte art stencil machine is located behind the counter here; customers can enjoy watching their own drink being created!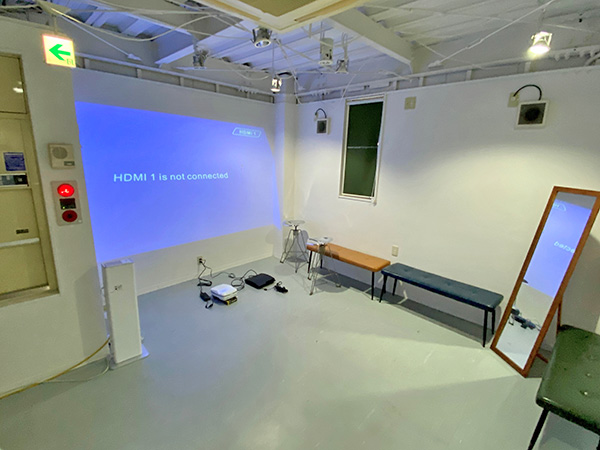 And the third floor is being transformed into a rental space for parties, art events or showing movies. Up to 15 people can use the space at one time. If you'd like your event catered just ask Mr. Kishi. Kids are very welcome, too.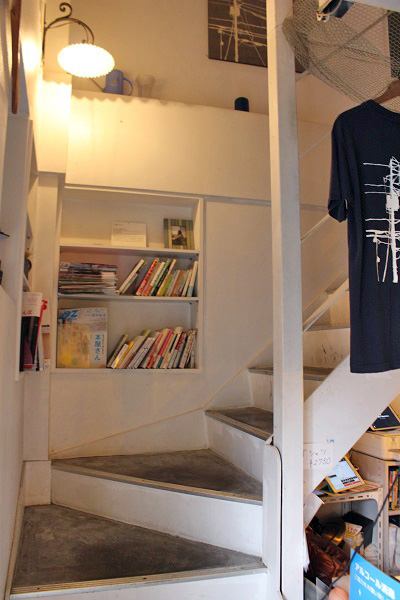 Fukagawa Biyori has a very comfortable, easy going vibe.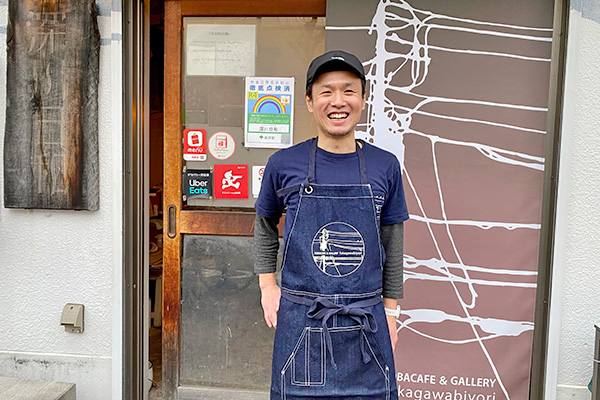 Youthful owner Mr. Kishi is full of ingenious ideas. Besides the imaginative, eclectic food there's plenty happening at Fukagawa Biyori this spring. If you're in the area, why drop in and check it out.
by Stephen Spencer