Fukagawa French Fusion at 25 Hudson
Published: January 15, 2021
Mr. Yusuke Nose has travelled the world in pursuit of his career as a French chef. His latest arrival is at 25 Hudson, a stylish venture dedicated to modern gastronomic delights just five minutes' walk from Toyocho station, in the heart of Koto-ku. Early on an unseasonably balmy autumn evening, we dropped in for a chat with the busy owner and chef.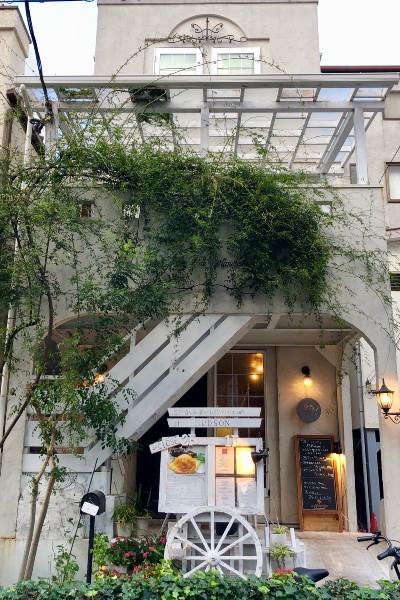 Despite being on a quiet side road just off Eitai Street, 25 Hudson is unmissable as it's the only Provencal style building in the whole of Koto-ku. White-washed stucco walls, lots of wood, an abundance of greenery and natural materials creates an appealing atmosphere
and raises expectations of culinary treats within. It's often said that you can't judge a book by its cover, but sometimes you really can.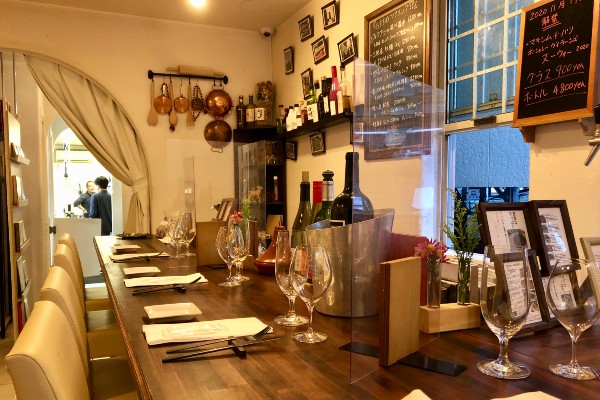 The interior style is comfortable and welcoming, as is Mr. Nose himself. A circuitous journey that took him via Kanagawa, Shizuoka, Osaka, Tokyo, and France then led him to New York, where he spent 10 years cooking in a French-based New York melting pot style. "I was making French food but using things like kimchi or oyster sauce," he explained. "On returning to Japan I wanted to open my own place, with many distinct ideas in mind. It was to be a place away from the centre where lower overheads could be reflected in lower prices, one of the current trends in New York."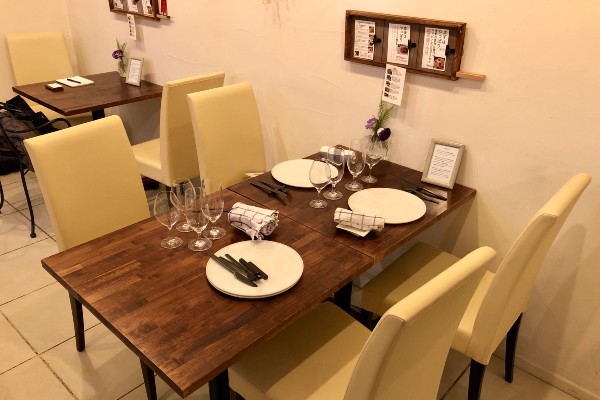 "Food mileage is an important concept these days and I wanted ready access to high-quality, fresh, locally-grown produce. The Toyocho area fits the bill with its direct route to the Toyosu Market and the plethora of local manufacturers of things like tofu and soy milk. We try to source everything from as near as we possibly can. Many of our vegetables come from the Kiyosumi-shirakawa shop Yasai no Chikara, for example. Our concept is Fukagawa French, combining traditional local culinary traditions and local ingredients with French style. We aim to add to that the current global trends of reducing food wastage to a minimum and minimizing food mileage."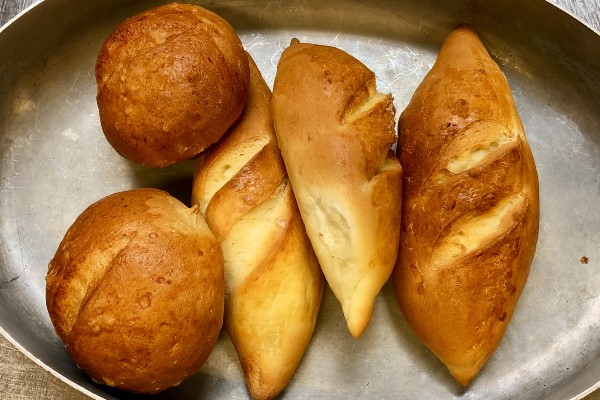 It's an appealing concept. The Fukagawa area is famous for its Fukagawa-meshi, a dish of clams and negi onions simmered in miso and served on hot rice, which traces its origins back to the early days of the Edo Period (1603~1865) when it was a fishing port on Tokyo Bay. "We have developed dishes such as a foie gras Fukagawa monaka (a kind of crispy wafer usually used for confectionery) and use local clams and other tsukudani pickles," expanded Mr Nose. The bread is all homemade, and created a gorgeous aroma in the well-appointed kitchen area.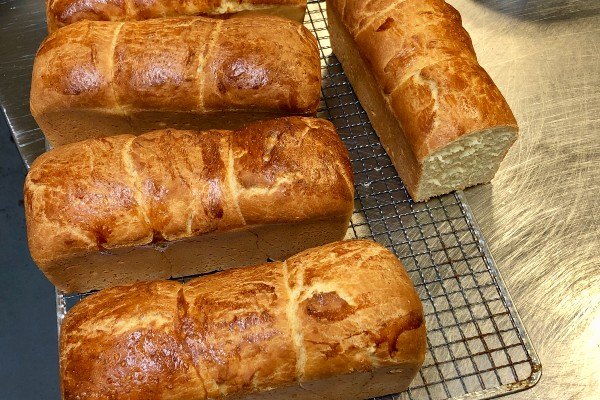 The brioche loaf looked and smelled exceptional too.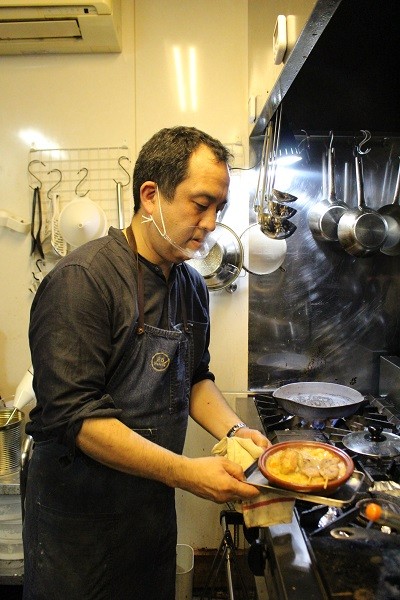 "We constantly search for new ingredients such as guinea fowl (horohoro dori) and Hokkaido venison. Currently we're serving our winter menu, hearty dishes for the colder months that are paired with rich red wines," explained Mr. Nose. One such dish is this classic from southwest France, a cassoulet of white beans, pork and lamb. "It's slow-cooked for three days to soften the beans. Then the pork is added and finally the lamb, which is the preferred style in Carcassonne, where I picked up the recipe."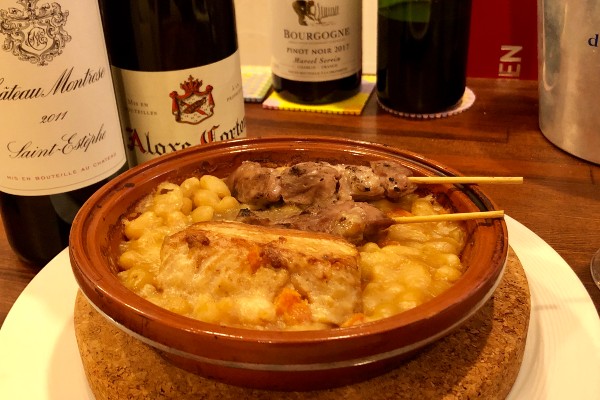 Once completed to the chef's satisfaction, the cassoulet is popped into the oven for a final five minutes. The aroma that fills the dining room is mouthwatering; paired with a glass of fragrant, robust red wine and some freshly-baked bread, it would make a perfect winter lunch or dinner. It's available as the main dish in the B Course lunch for 1,980 yen.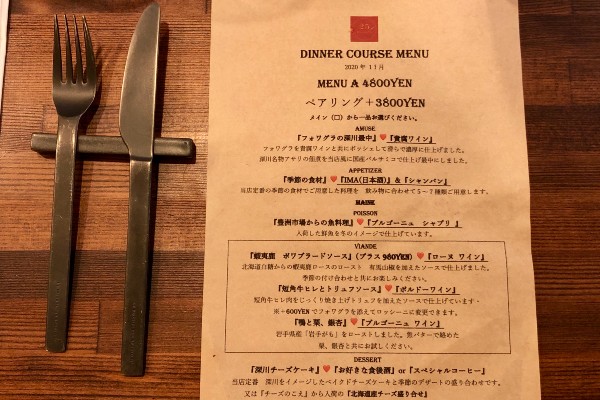 Prices at 25 Hudson are remarkably reasonable. In particular, lunches are available from 1,280 to 1,980 yen depending on the dishes, and 2,680 yen. On the winter lunch menu are free range Yamanashi guinea fowl breast in a creamy truffle sauce, Hokkaido Kamui pork with white beans en cocotte, seasonal fish baked en papillote and a wagyu Bordeaux-style steak. The à la carte menu is extensive, with dinner courses beginning at 3,800 yen.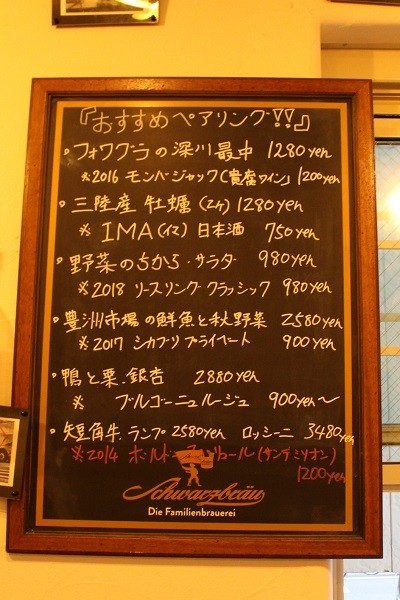 The wine selection is exceptionally fine as you would expect, with the five great French viticulture regions of Burgundy, Bordeaux, Rhone, Loire and Alsace well represented. It's not all French wine though, as Mr. Nose pairs Sanriku oysters with IMA sake from Niigata.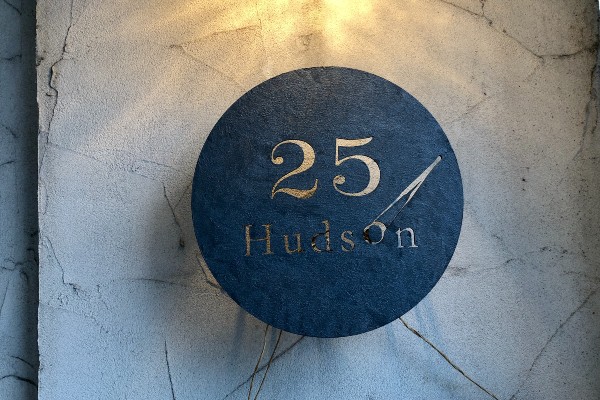 25 Hudson is named after the address of the restaurant Mr. Nose worked at in New York.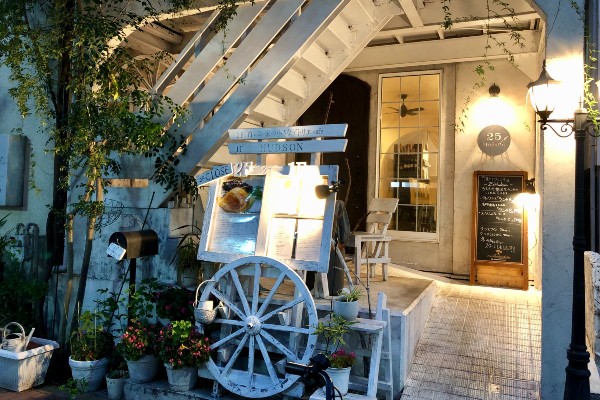 By all accounts 25 Hudson is very popular with workers at lunchtime and on weekday evenings, and local residents at weekends. Reservations are recommended. You can even just pop in for a glass of wine and a quick bite at the counter, if that's your style. The ambience is as warm and welcoming as a summer's evening in Provence, and that's high praise indeed. It's a sparkling addition to the burgeoning food scene in the Toyocho area.
Story and photographs by Stephen Spencer