Yakiniku in a Showa Surround
Published: November 7, 2018
Amid the high-rise offices and residential blocks which dot Toyosu, there is a corner of the 4-chome area which retains the atmosphere from the post-war Showa era. It is here, among the narrow alleys lined with small shops, eating places and bars that Fukagawa Ichibantei can be found.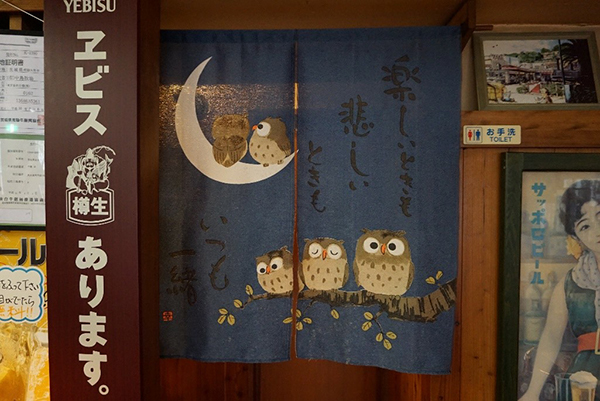 Run by Mr. Tadahide Ichimura and his wife, Junko, Fukagawa Ichibantei has two personas: at lunchtime it serves a selection of reasonably-priced teishoku (set lunches), and in the evening the menu switches to yakiniku (Korean barbeque).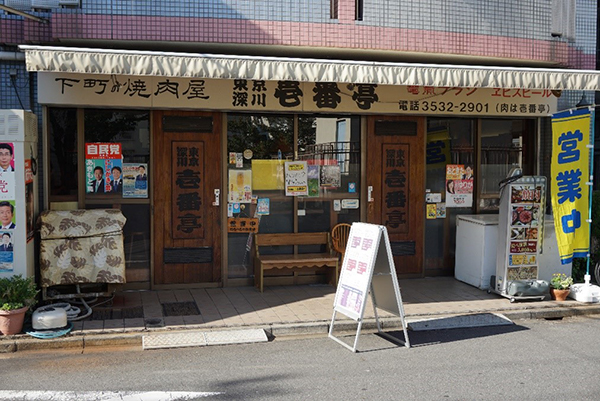 When they opened the restaurant 20 years ago, Mr. and Mrs. Ichimura decided to go for a retro touch, and stepping inside is like entering a bygone world. The floor, walls, and furniture are all in wood, and along with the beer posters harking back to the 1920s and 1930s, and the subdued lighting, make for a relaxed and cosy atmosphere.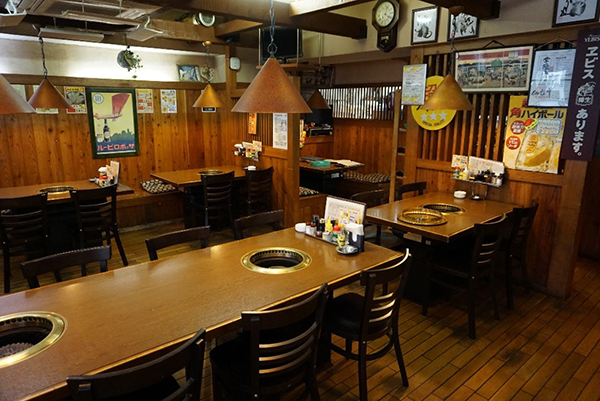 At lunchtime, local office workers, and nurses from the nearby Showa University Hospital, descend on the restaurant where they can choose from its menu of individual dishes and set lunches. According to Mrs. Ichimura, who was waiting for me when I called in during the break between the lunch and evening shifts, the two most popular dishes on the lunch menu are the beef curry rice, which comes with a salad side dish, and the sauce katsudon (deep-fried breaded-pork on a bowl of rice and covered in sauce).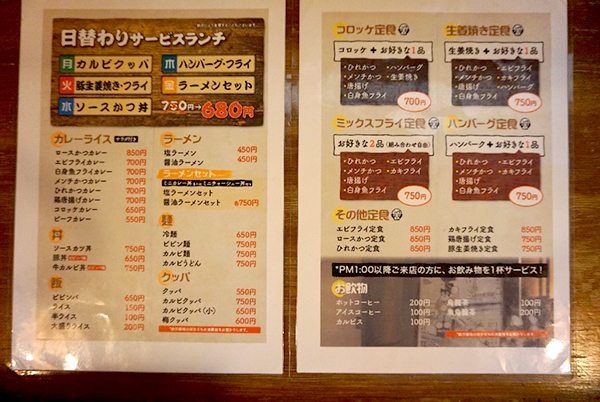 In the evening, customers can relax and spend a longer time enjoying the yakiniku tabe-houdai (all-you-can-eat) menu. At 3,000 yen for 90 minutes, plus an additional 500 yen for an extra 15 minutes, that is ample time to work your way through the wide menu.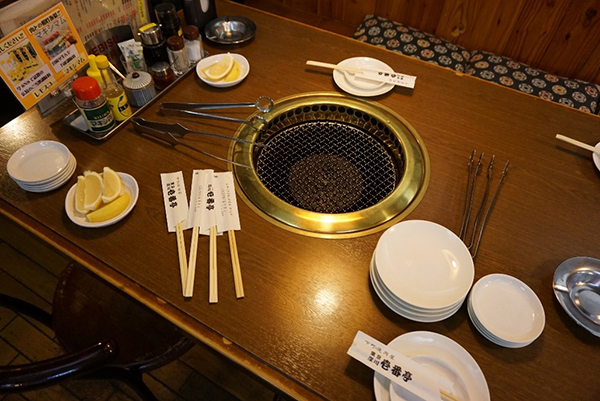 And for an extra 1,500 yen you can indulge yourself in the nomi-houdai (all-you-can-drink) menu.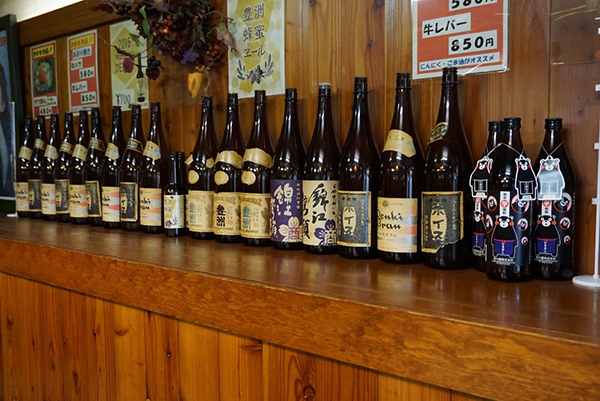 At lunchtime Mrs. Ichimura is joined in serving customers by her long-time friend and assistant, Mrs. Kanemitsu. The pair have been working together for the past twenty years and Mrs. Ichimura attributes the restaurant's success to their joint presence. She said, with a grin, that they give the place an air of familiarity and permanence; office workers posted outside Tokyo for several years have been known to resume their lunchtimes at Fukagawa Ichibantei directly upon their return to Toyosu.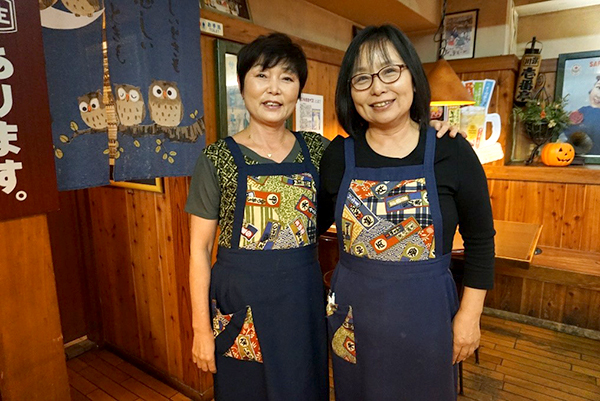 Despite being well-known for its yakiniku dishes Fukagawa Ichibantei is happy to cater to the needs of a number of regular foreign office workers whose beliefs forbid the eating of meat. Showing friendly flexibility staff will serve bibinpa, a Korean meat and rice dish, without the meat or serve up 2 helpings of fish with a teishoku, instead of the regular choice of one meat and one fish. Mrs. Ichimura laughingly told me about one foreign "regular" who comes in for lunch and sends photographs of the meals and the staff to his wife back in England to prove he is eating well.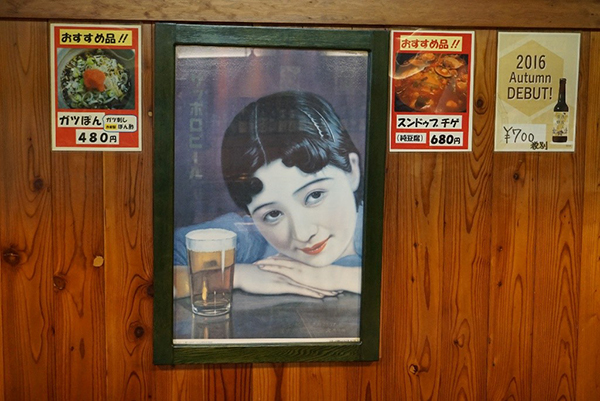 And if you thought that yakiniku was primarily for office staff out for a night's drinking and eating, think again. On Saturday and Sunday evenings families are specifically catered for with special rates for the tabe-houdai menu. Acknowledging that small children eat considerably less than adults, kids aged 3 and under are charged 500 yen, grades 1-3 of elementary school 1,000 yen, and upper grade elementary pupils 1,500 yen.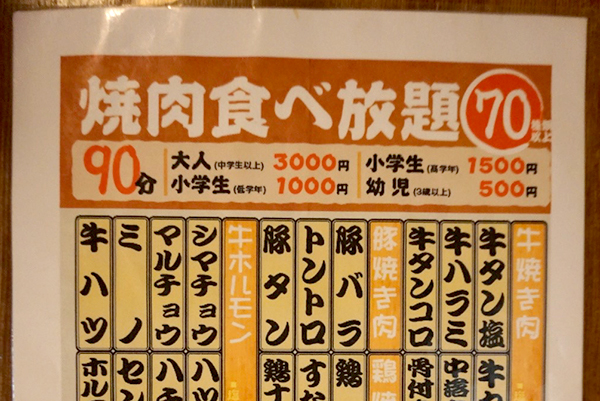 Mrs. Ichimura, who was previously a kindergarten teacher, likes children and believes in "serving delicious meat dishes at reasonable prices to parents and their children, so that they can really tuck in."
Like many establishments in Koto Ward, the owners' son is marked to take over the running of the restaurant. Before joining the family business, their son played soccer in Germany. Proudly on display in one of the restaurant's cubicles is a shirt signed by Japanese national team player, Shinji Okazaki, who played for Mainz at that time.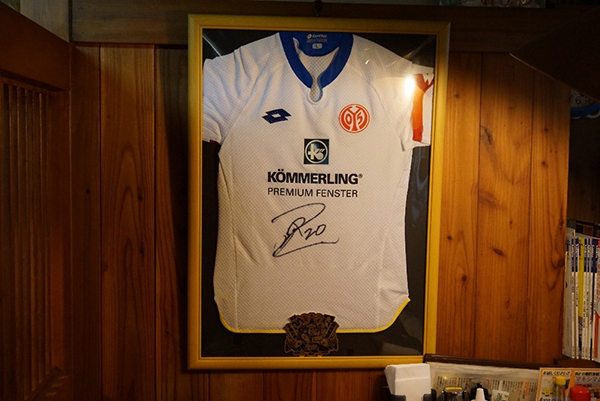 And for those of you concerned about the amount of garlic traditionally found in yakiniku, not to worry: after the meal Fukagawa Ichibantei staff provide adults with chewing gum and hand out orange-flavoured lollipops to the children. Guaranteed to take away the taste and smell of garlic.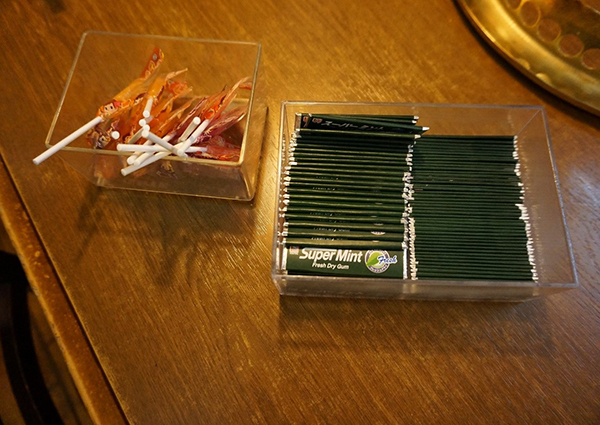 Story and photographs by Jeremy Hutchinson