Classic Senbei at Iroha
Published: October 20, 2022
Fukagawa Iroha Senbei is a  family shop selling the crunchy rice crackers beloved in Japan  for a long time. Iroha first opened its doors in 1953, then moved to its present location a couple of years after. The shop underwent a recent redesign, reopening in March 2022. On a sunny autumn afternoon I dropped in for a chat with third-generation owner Ms. Nakamura.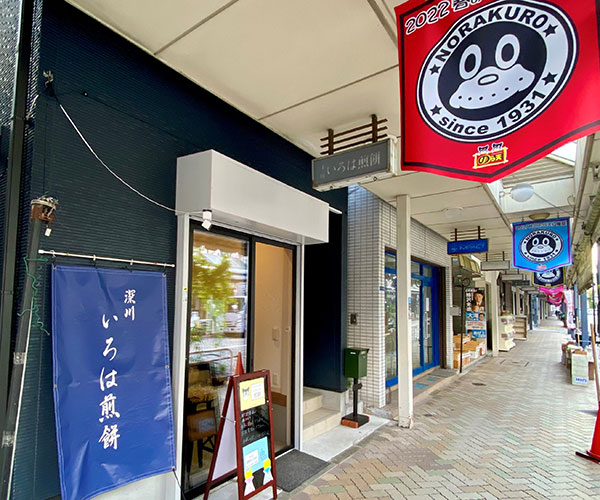 Iroha is located on the Takabashi shopping street known as Norakurodo (Noraku-road), named after the popular manga character Norakuro, a black-and-white dog first created in 1931 by local comic book artist Suiho Tagawa. The road is home to many traditional family-owned small shops with long histories, of the kind that are slowly disappearing from the Tokyo streets.
The new shop, which has a very pleasant retro-modern feel, sells senbei made to the original recipe from when it first opened.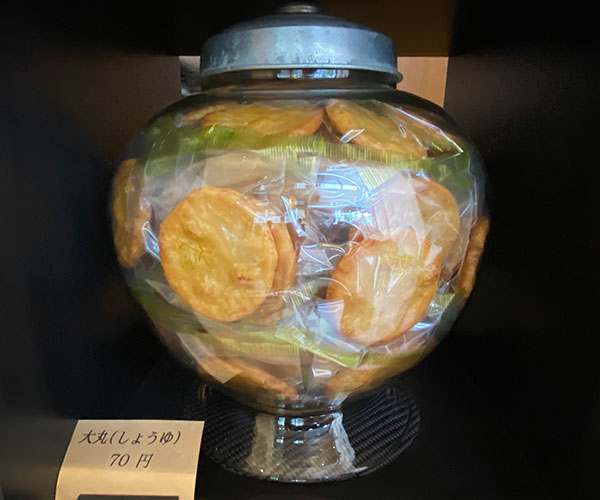 The crackers are available individually or in box sets. These soy sauce senbei are thick, crunchy and just 70 yen each. All prices are inclusive of tax.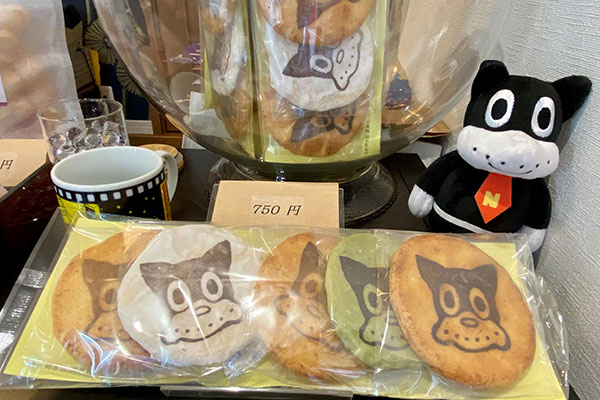 The Norakuro line of crackers were introduced in 2001 and have remained popular ever since, especially as gifts (750 yen for five). The three flavours are soy sauce, green tea and the white one is sugar glazed. They are unique to Iroha, literally the only place in the entire world that sells them!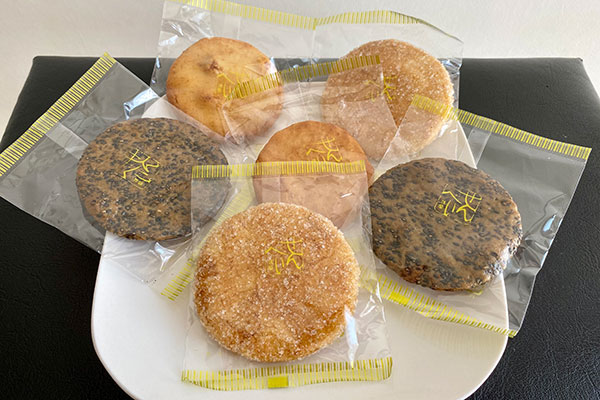 While all the senbei at Iroha are excellent, I was particularly taken with the sesame ones. They seem to contain twice as much sesame as other brands and have a really strong umami flavour, perfect with a cup of green tea for a morning or afternoon break. Just 90 yen each, too.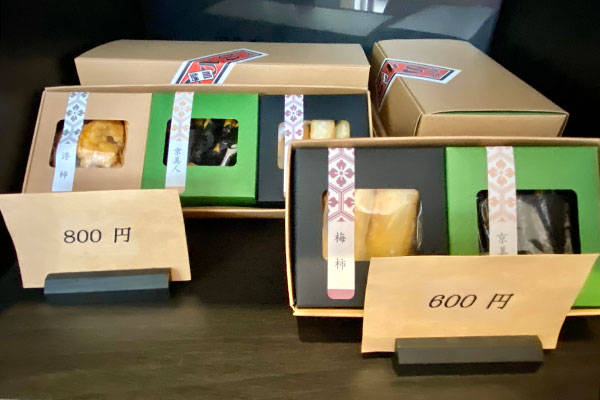 These gift sets feature a selection of smaller rice crackers (800 and 600 yen respectively).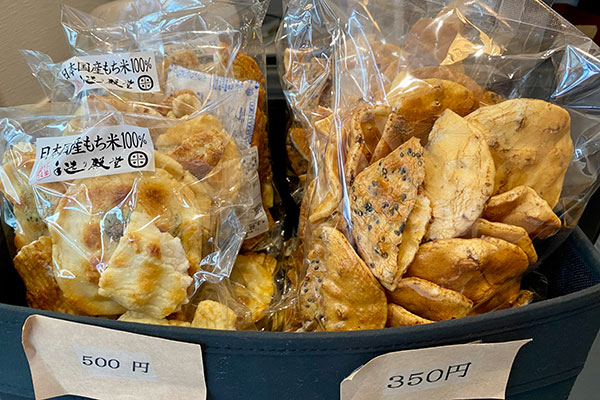 These broken senbei are reasonably priced and very popular.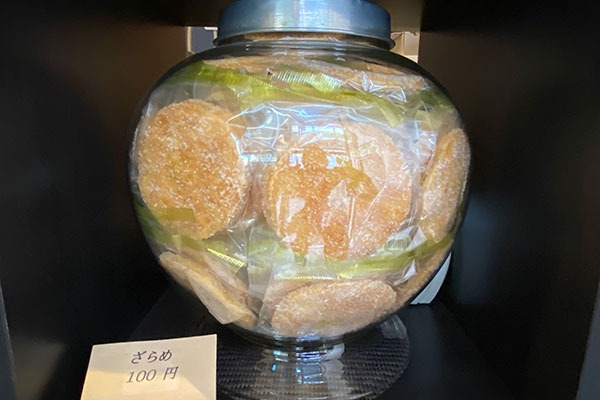 While savoury senbei are the norm, there are also sweet and savoury versions. The white senbei gain their colour from being coated with a sugar glaze, while these zarame crackers (100 yen) are covered with sugar crystals which enhance the texture. Interestingly, the large, hefty glass jars containing the senbei were rediscovered when the shop was modernised and date back to its opening in the 1950s.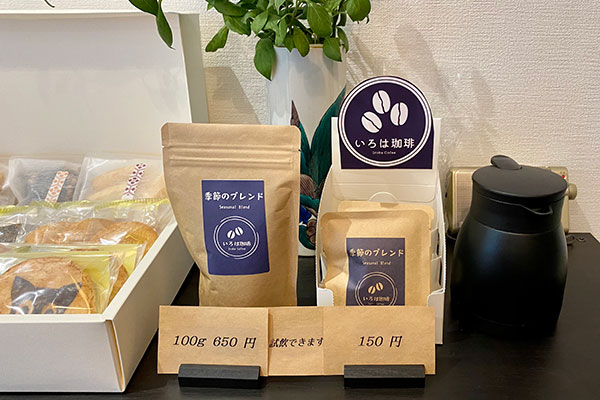 Traditional yet moving with the times, Fukagawa Iroha Senbei has produced its own brand of coffee which customers can try before they buy. I enjoyed a cup of iced coffee, light and refreshing on a warm day, that went surprisingly well with a soy sauce senbei. "The salt in senbei helps to ward off summer fatigue," as Ms. Nakamura explained.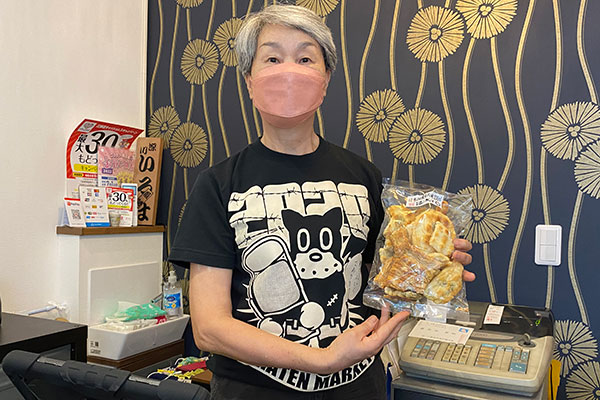 While the long-established shop may have had a makeover into a retro-modern design and Ms. Nakamura uses a pad instead of a cash register, the traditional taste of Fukagawa Iroha Senbei lives on. Noraku-road is only five minutes walk from both Kiyosumi-shirakawa and Morishita stations; it still retains the ambience of old Fukagawa and features the Norakuro Manga Museum at the Morishita Culture Centre. "We'd like all visitors to enjoy Japan's traditional rice crackers," as Ms. Nakamura said.
by Stephen Spencer