There's a certain allure to traditional Japanese arts. Many people are keen to attend a tea ceremony or craft an ikebana flower arrangement to life when they visit Japan; but few, I dare say, have reached out to learn the art of Japanese dance.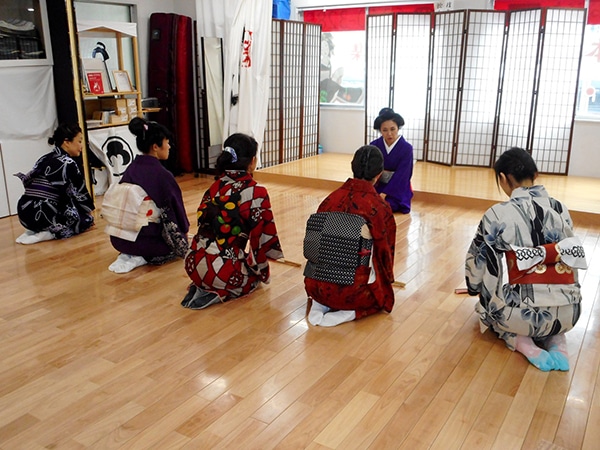 Part of that might be because Japanese dance is not something most of us have watched in real life. How does dancing in a kimono even work? And it can seem intimidating, full of strict protocol and etiquette. Plus, dancing (in front of others, no less!) requires a certain level of confidence and grace—that most of us may not feel we have.
Well, those are exactly the kind of concerns Fukagawa Odori Theatre, a Japanese dance studio (and more) in Monzen-nakacho hopes to tackle and break through. I visited the intimate classroom-cum-studio on a Wednesday morning, when half a dozen amateur dancers were meeting to learn group choreography.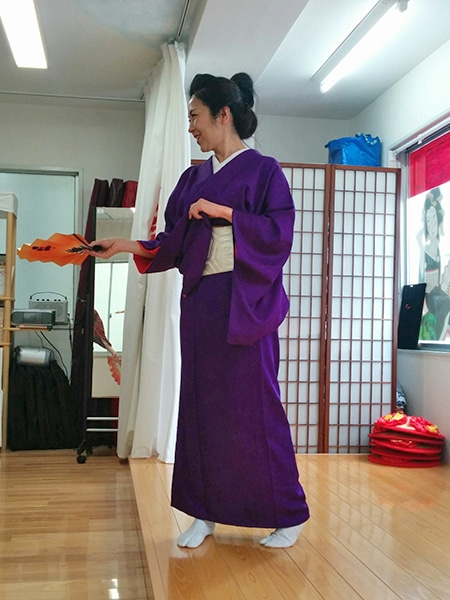 The dance classes are taught by Ms. Chisato Otomo. Aside from being a professional dancer of esteemed background, she's involved in event production and is a successful fashion designer to boot! (Ms. Otomo has worked as a costume designer for famous musicians, as well as been invited to Paris Fashion Week—she's got quite the resume!) But don't let that intimidate you—in class she's a jovial character, laughing and joking with her students in a friendly manner.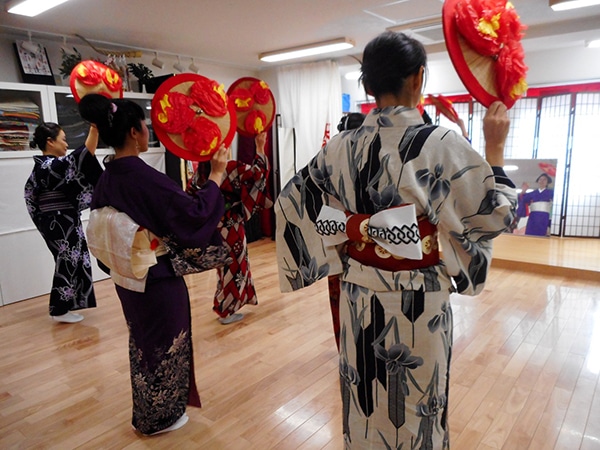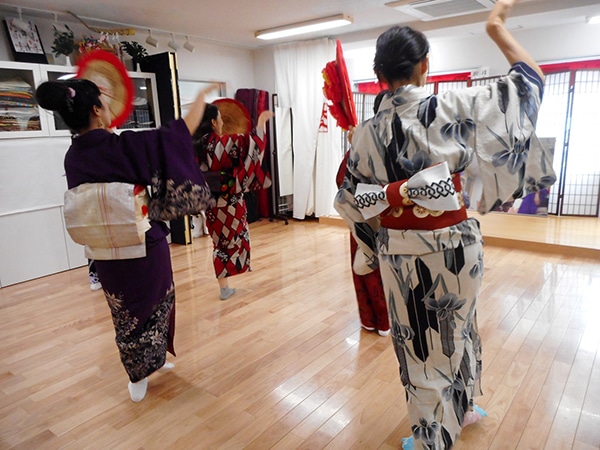 The class started with a warm-up exercise featuring a traditional dance using "hanagasa" (flower straw) hats. It was really lively! The students turned, hopped, and generally worked up a sweat. No one knew the dance well, so there were a lot of stumbles, but also a lot of laughter since everyone was in the same boat. All the while, they looked surprisingly comfortable in their kimono.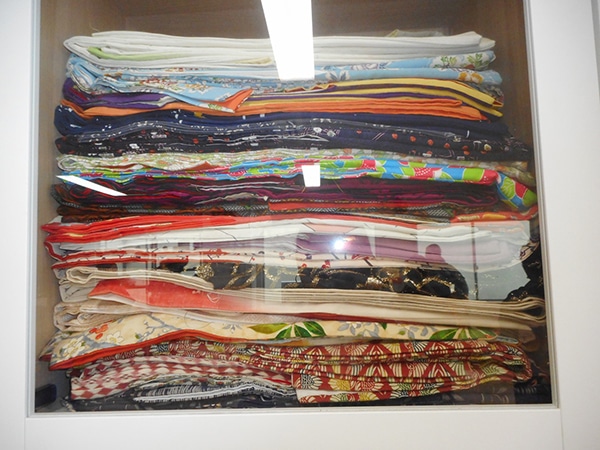 "You can borrow the kimono here," Ms. Otomo assured me, "but many students end up buying their own after a few classes." She also teaches the students how to put the kimono on properly, so no one feels lost or uncomfortable.
Those who opt to become a regular student of the theatre can even get a set for free! "I've got quite a collection," Ms. Otomo laughed.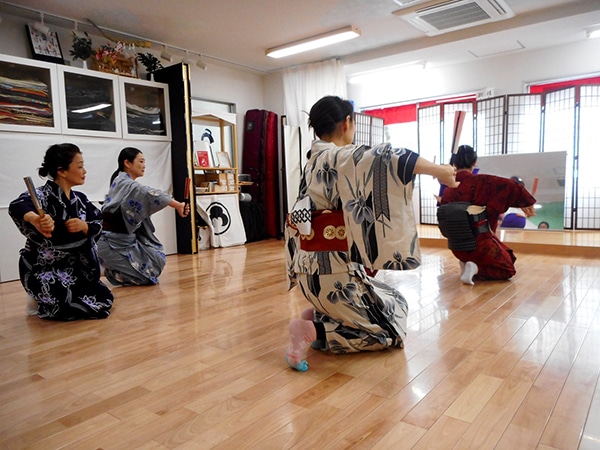 Afterwards, the class transitioned into learning choreography for a famous enka song.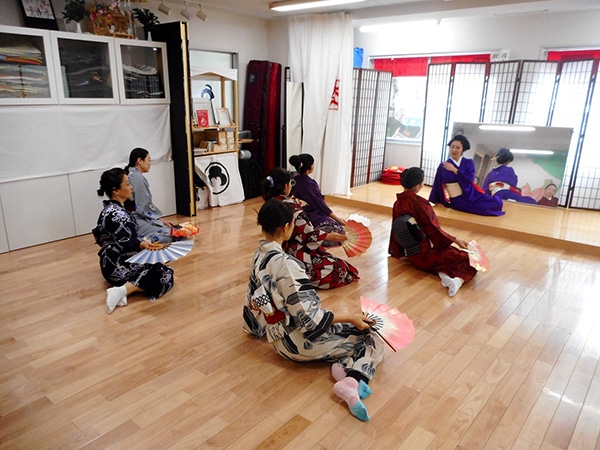 Their movements were designed flow with the lyrics and express the sentiments of the song using both dramatic movements and subtle ones; some lines are conveyed with just a strong glance or a delicate turn of the neck. To watch it unfold was mesmerising.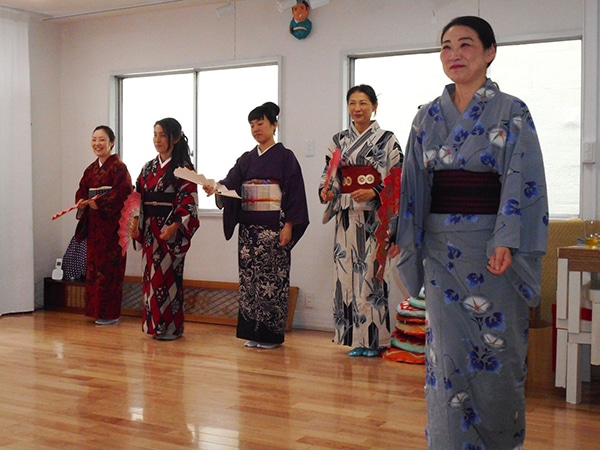 The students were clearly having fun, laughing and conversing with each other even as they practiced. Ms. Otomo peppered her lesson with tidbits of interesting information, touching upon the history and cultural impact of Japanese dance, the interpretation of the song lyrics, and so on, in a light and entertaining manner.
"We enjoy the lessons a lot," one student remarked. "Most of us are novice dancers, but it's so interesting to be able to learn a full choreography after 4 or 5 classes like this."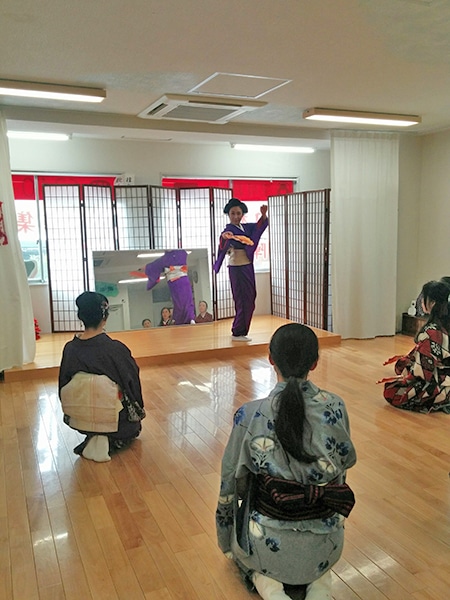 The students, and Ms. Otomo, performed the song (what parts they had learned so far) near the end of class to recap the lesson. Come spring, they hope to be able to perform the whole dance in front of a live audience.
"Having the chance to perform on stage is really motivating," one student said enthusiastically.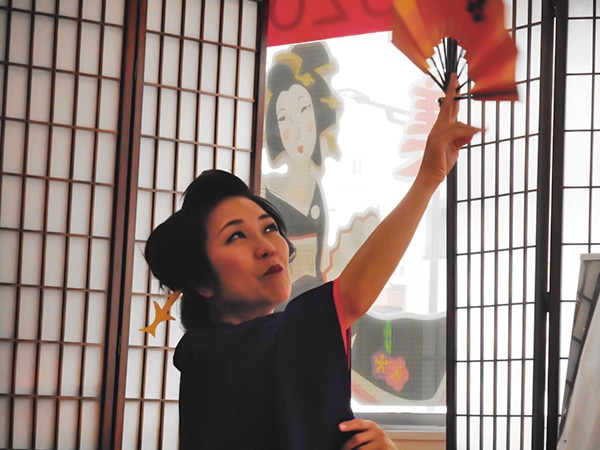 "I want to make Japanese dance, and Japanese culture, more accessible," Ms. Otomo explained afterwards, speaking passionately. "So often we don't know our own cultures well enough, and with the rise in tourism, it becomes more important than ever that we are aware of our roots, so we can share it properly with others."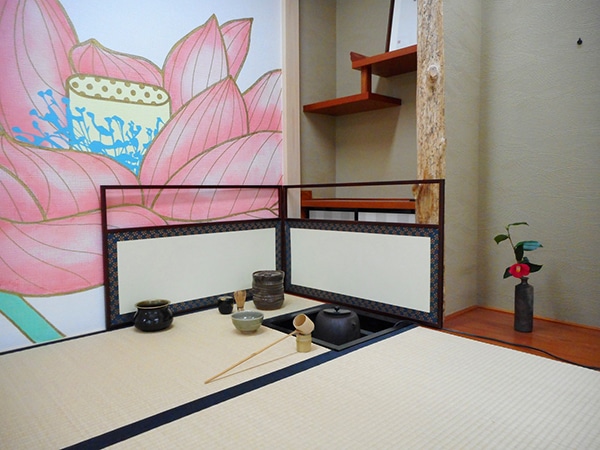 Aside from dance, Fukagawa Odori Theatre also offers courses (including a one-time class) in tea ceremony and "tate" (or "samurai-style sword battling"). These classes are very popular with foreign visitors and are taught by a Mr. Usami.
"There are group lessons but we also offer private lessons. You can even do a one-day intensive private lesson, just to dip your toes in," Ms. Otomo said. Those who are interested can visit Fukagawa Odori's English page here (http://fukagawaodori.com/english) to take a look! And of course, observing a class is always free. Dance classes generally take place Wednesdays and Saturdays at 11:00, and on Wednesday evenings at 20:30.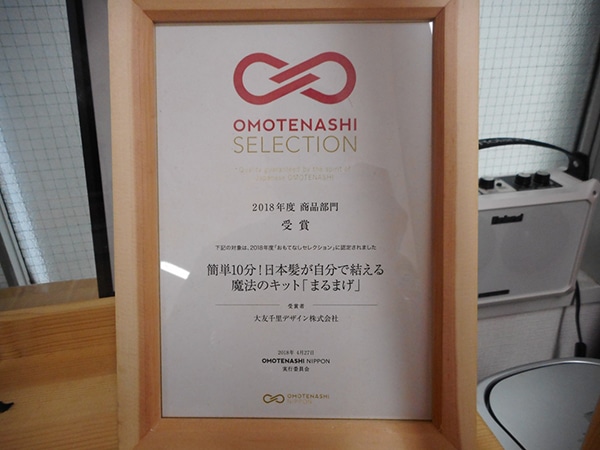 If you're curious about traditional Japanese arts but don't want to deal with the bells and whistles right away, or just want to try it once without having to commit completely, Fukagawa Odori Theatre would be a wonderful place to get introduced. It's fun, casual, and informative, and provides a great doorway to enhancing you cultural knowledge. Plus, after a lesson, you may just find that you've discovered a lovely new hobby 🙂
Story and Photos by Xianru Shen(Koto City Office Coordinator for International Relations)