A Kiba Hideaway for Wine Lovers
Published: February 13, 2018
Just off Eitai-dori Avenue in Kiba, hidden up a steep flight of stairs, is Fukagawa pompette.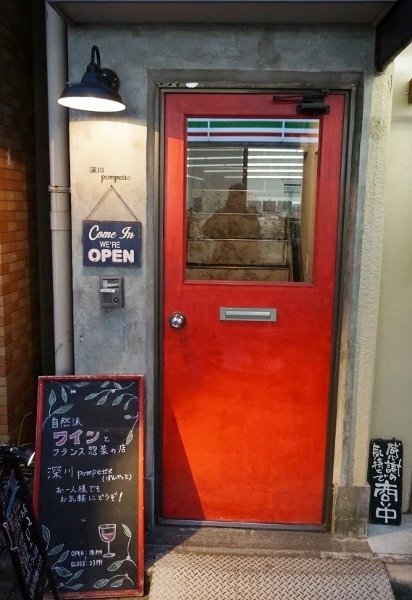 This small wine bar, with its "nostalgic" décor, and chanson gently playing in the background, evokes images of what a Parisian wine bar might look like.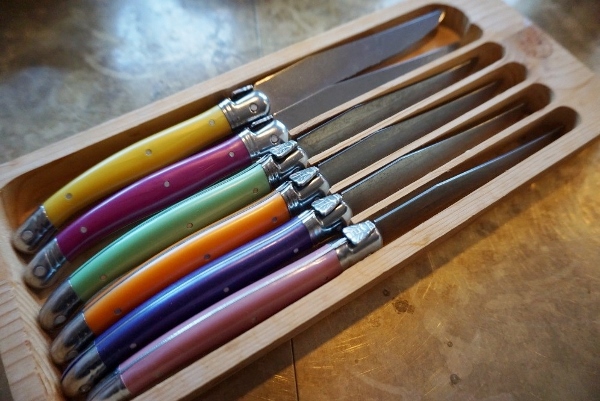 With three tables, which can seat up to twelve customers, along one wall and six seats at the metal-topped counter, Fukagawa pompette can quickly become pretty crowded. The owner, Mrs. Kiyomi Matsumoto, opened the wine bar in 2014. Since then it has become popular as a "josei no kakurega" (girls' hideaway). As well as young ladies, it is also frequented by groups of local office workers and couples, who have discovered the bar after moving into the area.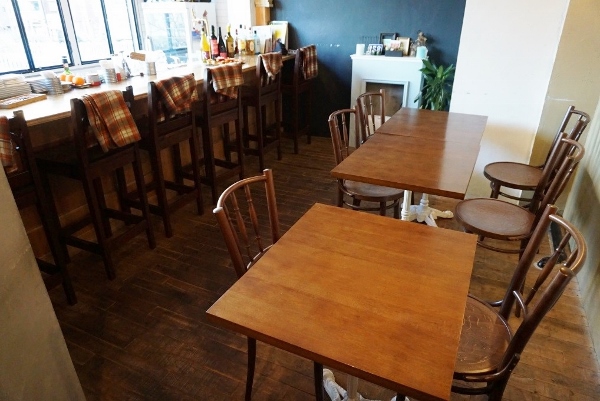 After the climb up the stairs to the second floor, the first thing to greet you as you enter the bar is the view through the tall, wide windows behind the counter: Sawaumi-bashi bridge crossing the Oyokogawa River, and the sight of Kawazu-zakura (Kawazu cherry trees) lining its banks.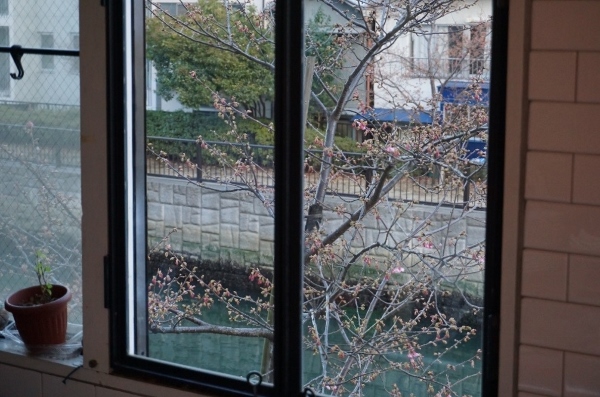 In late March and early April, the evening view of the lit-up blossom-laden cherry trees must be quite spectacular.
Mrs. Matsumoto is qualified as a "Wine Expert" by the Japan Sommelier Association and wears the association's badge pinned to her apron.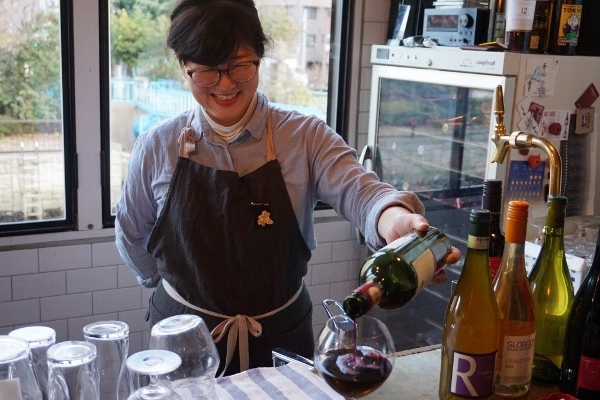 Her bar is stocked with assorted wines; she started out with French wines, and every year she visits France and comes back laden with bottles of wines which have caught her fancy, but she has also widened her selection to encompass Spanish, Italian and even Slovakian wines; she opts for natural wines, using organically-grown grapes and containing no chemical additives.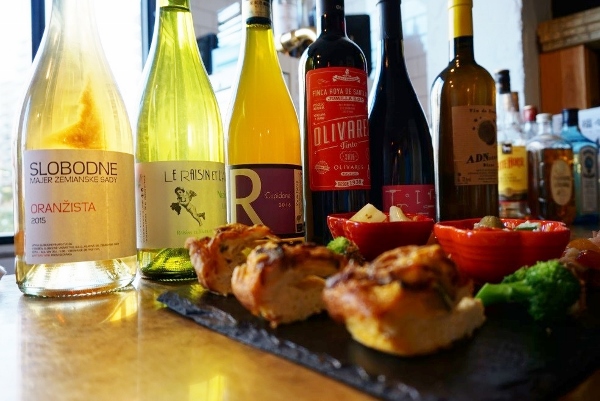 Fukagawa pompette's menu comprises a surprisingly wide assortment of dishes to accompany the choice of wines available. Mrs. Matsumoto prepares and cooks these dishes herself, although on a busy night her daughter sometimes joins to help her out. I was particularly intrigued by the Hokkaido Ezo Deer sautéed with herb salt, and the lamb and onions stir-fried with potatoes and cumin. And while you are enjoying a glass of wine and waiting for your meal to be served, you can sit and gaze out the window at the lights and the passers-by or browse the photobooks of Mrs. Matsumoto's trips to France and local events, lined up at one end of the counter.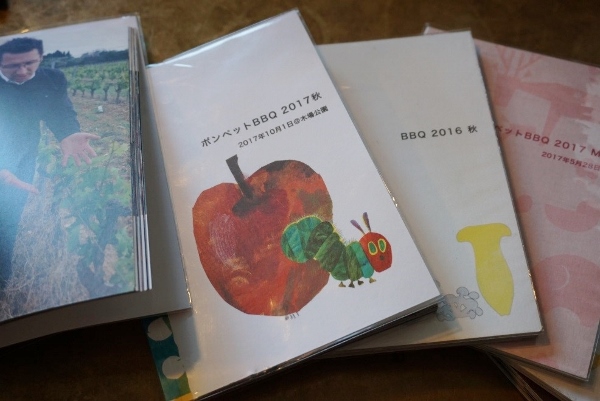 On my visit I was fortunate enough to sample an assortment of starters, which consisted of a tasty slice of winter vegetables quiche (sweet potato, lotus root and pumpkin);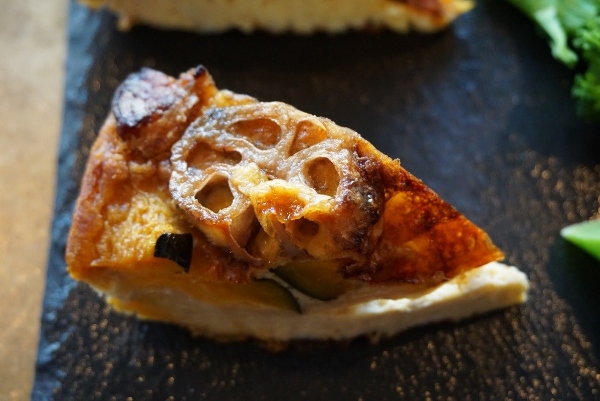 …broccoli with anchovy, garlic and mayonnaise; a piece of bruschetta topped with kinkan (kumquat) and blue cheese; and delicious mascarpone and fig, cooked in white wine and mixed with cheese, served on bruschetta.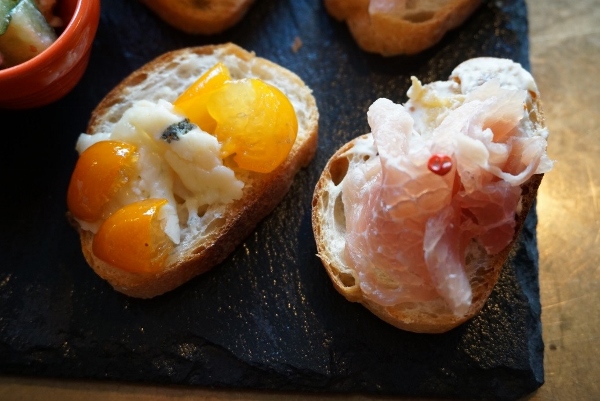 These were accompanied by a small dish of marinated long onions – very soft and vinegary – and a salad bowl of petit tomatoes, feta cheese, olives and cucumber.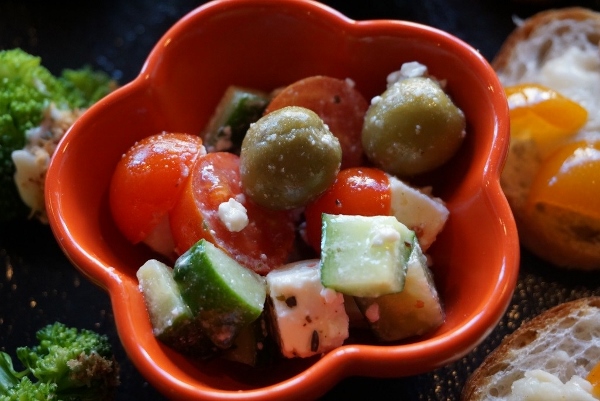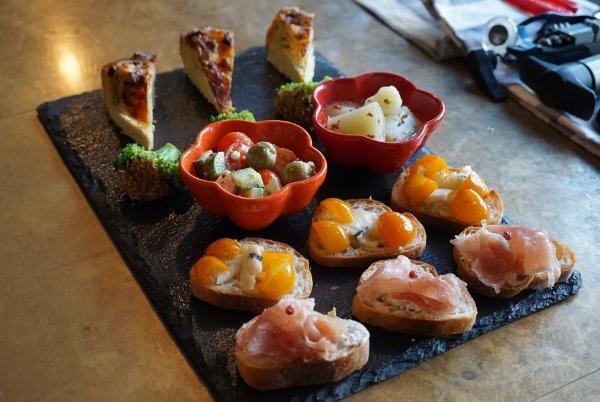 For dessert I was given a piece of homemade gorgonzola cheese cake with a sprig of mint and slices of strawberry – a nice combination of sweet and salty.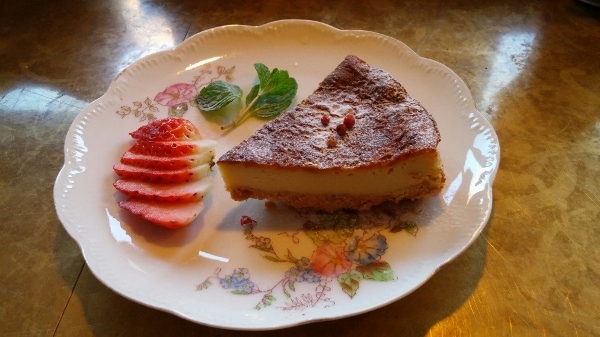 And if you were wondering about the wine bar's name, "pompette" is a French word meaning "tipsy". So after trying a few glasses of wine, be careful of those stairs when you leave!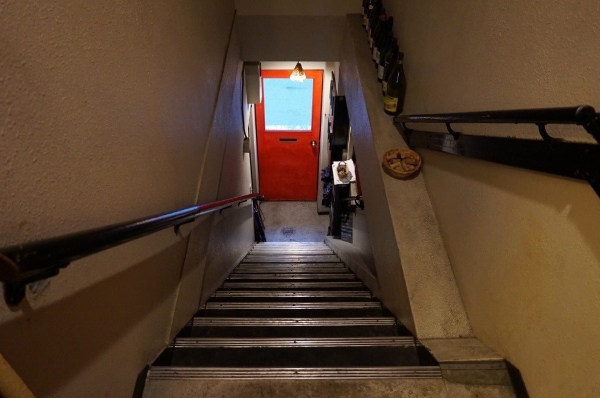 Story and Photos by Jeremy Hutchinson