Fusion-style Yakitori for the Discerning Eater
Updated: October 9, 2020
Anyone looking for a yakitori meal with a difference should book a reservation at Fukagawa Magoroku. Located in the quiet Botan area of Koto Ward, a short walk from Monzen-nakacho Station and busy Eitai-dori Avenue, this yakitori restaurant offers a bit more than the usual yakitori favourites. Read on to see what I mean.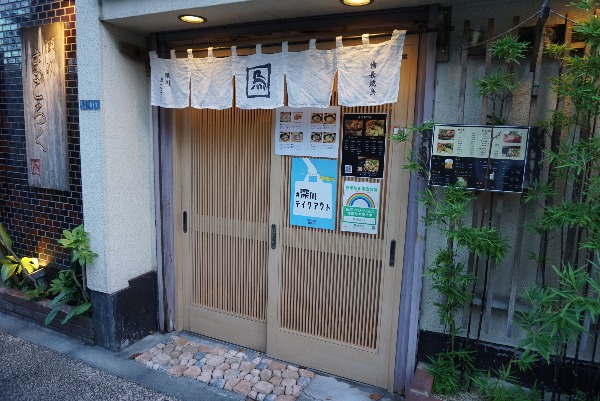 Fukagawa Magoroku, which opened in 2000, is a small, cosy establishment. With its kitchen set behind an L-shaped counter for six, with partitions, this makes for a friendly atmosphere; just right for an intimate meal for two or for striking up a conversation with the owner, Mr. Toshiya Shinbori,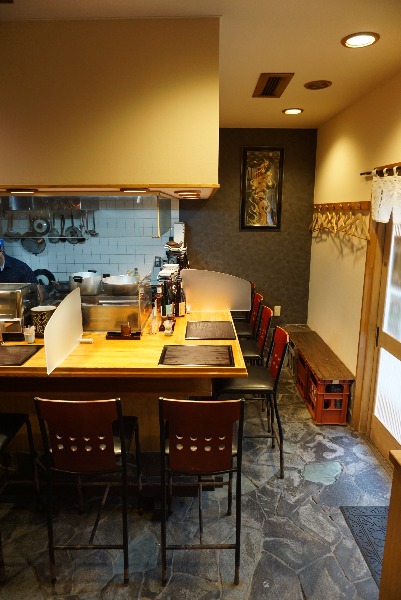 whilst in a raised room opposite the counter are four horigotatsu (a low covered table over a hole in the floor), which can seat up to sixteen persons.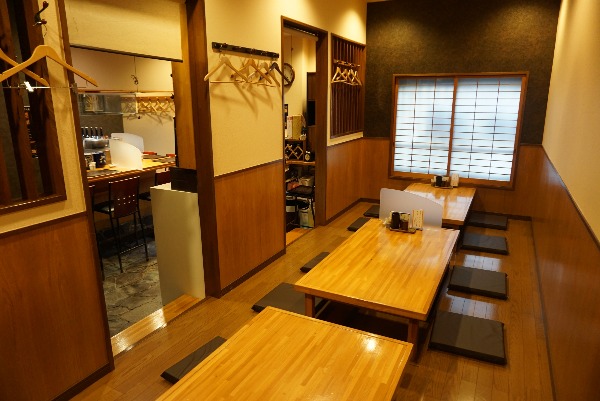 Standing in his usual place behind the counter, watching over the flaming grill and constantly turning the sticks of yakitori whilst basting them with his own special tare (sauce), made to a "secret recipe", and fanning them with a large red uchiwa (Japanese non-folding fan), a young-looking 43-year old Mr. Shinbori explained that his father had wanted him to go into the sushi business, but an allergy to fish put paid to that. Instead, after a spell at a famous Japanese restaurant, he started his own yakitori-ya.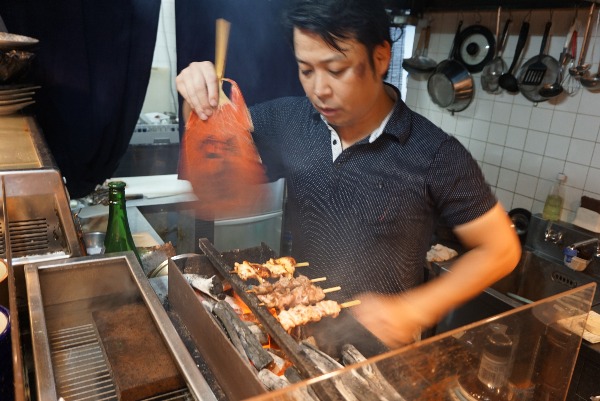 One of the things which sets Fukagawa Magoroku apart from other yakitori-ya, is the quality of the ingredients. Mr. Shinbori chooses these carefully to make sure that only those of high quality go into his dishes, and he is always on the lookout for something different to excite the palates of his customers.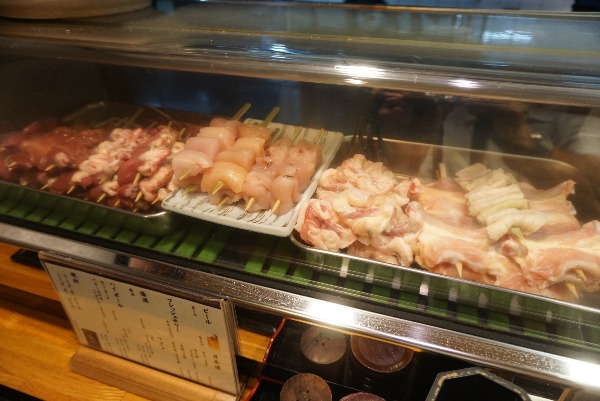 The restaurant's menu offers a selection of yakitori dishes, which includes stalwarts such as tebasakai (chicken wing tips), sasami (chicken breast fillet) and reba (liver), and a favourite of mine, tsukune (chicken meatballs),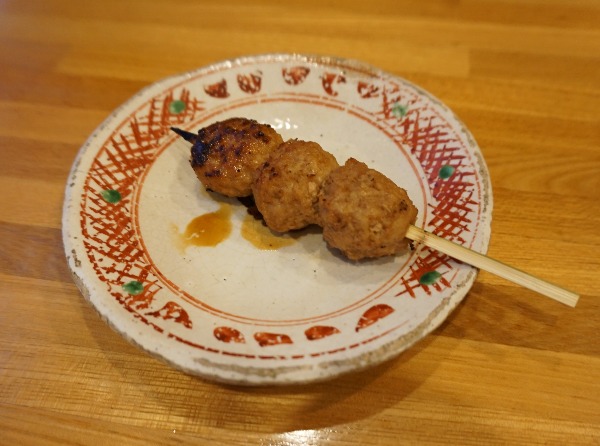 but also, less common items such as seseri (chicken neck) and hatsu (chicken heart). Another thing which makes Fukagawa Magoroku that bit special is its "European" dishes, using seasonal gibier (game), such as ezo shika (yezo shika deer) and aigamo (duck), which complement the yakitori menu.
Mr. Shinbori kindly provided us with a selection of sticks of yakitori to taste. All were tender and juicy, and with a simple dash of salt or a coating of Mr. Shinbori's tare, tasted delicious. As for the liver, it was soft and delicate and just melted in my mouth.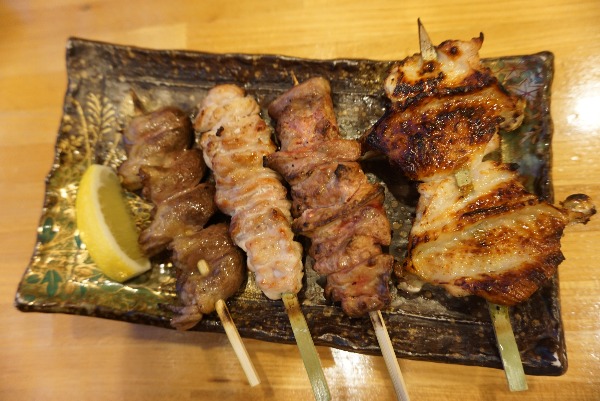 To go with the yakitori he produced a plate containing homemade white liver paté on toast, topped with blueberries, which was smooth and tasted delicious – the blueberries adding a hint of sweetness to the paté; zucchini topped with a generous helping of Scottish (!) foie gras, with its light and clean taste; and long, narrow shimeji mushrooms wrapped in tender roasted aigamo in a succulent sauce.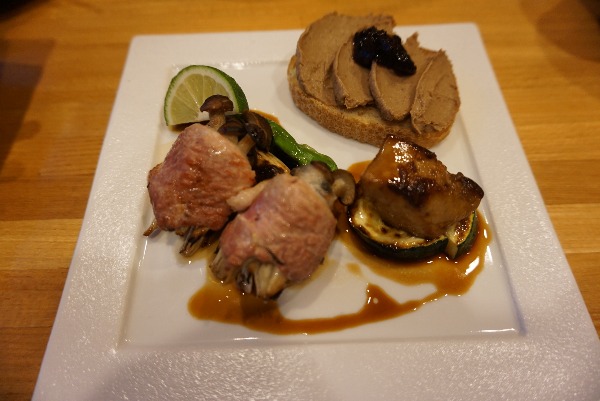 Not exactly what one expects in a yakitori-ya, but despite the unusual combination, the yakitori and "European" dishes go together extremely well.
To wash down the food and enliven the conversation, Fukagawa Magoroku stocks a range of Japanese sake; however, many diners apparently like to accompany their meal with a glass or two of the Italian wine on the menu. It must be the influence of the European touches to the menu.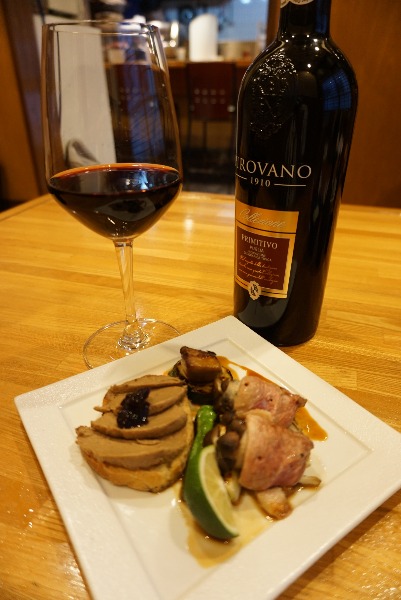 Dishes can be ordered individually or can be found as part of one of the restaurant's set menu courses, of which Fukagawa Magoroku offers a number, either yakitori or chicken hotpot based; these range in price from 2,600 yen to 5,500 yen.
During these uncertain times Mr Shinbori's customers mainly comprise of couples on dates, or husbands and wives escaping the confines of home to enjoy a pleasant meal. And with Art Blakey's Jazz Messengers playing in the background, the mood is set for a relaxed special evening.
On weekends local families come along and make use of the horigotatsu. But beware: the restaurant has had to restrict the number of customers it can seat at one time, and it is necessary to make a reservation beforehand. And since May 2020, Mr. Shinbori also offers a Take Out service, which gives customers a chance to enjoy his mouth-watering food in the comfort of their own home.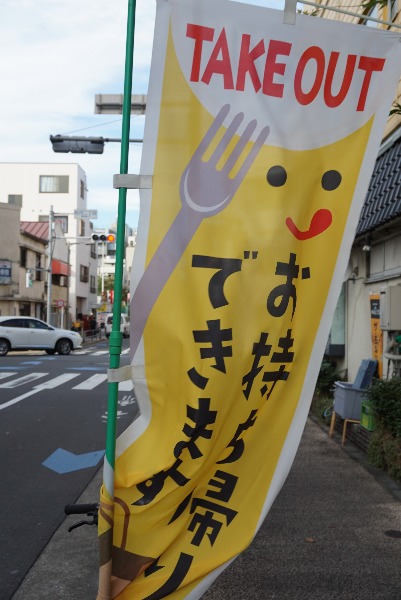 I asked Mr. Shinbori why he thought yakitori is such a popular cuisine in Japan. He considered for a moment and then said he thought it is because it was Japan's original "fast food": it is quick to cook, it doesn't involve sitting down with a bowl of rice, it is light, and it goes down easily with a few drinks. To my mind, given the quality of the ingredients and the care and attention which goes into producing the dishes at Fukagawa Magoroku, calling it a fast food is something of a misnomer, as it is definitely something you would want to linger over. Why not try it? You'll discover what I mean.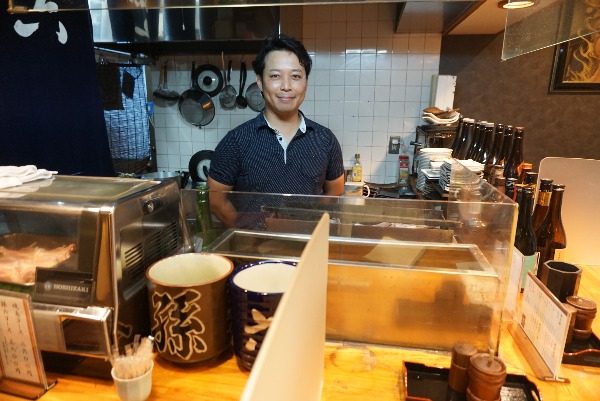 Story and photographs by Jeremy Hutchinson