Art for All at Gallery Kopis
Published: August 25, 2022
Gallery Kopis has been brightening the art scene in Kiyosumi-shirakawa for over 20 years now. Unlike many galleries where reverential visitors speak in hushed tones, it's a bright and airy place full of light and colour, where lively chat and gales of laughter are frequently heard. The owner, artists, and guests even enjoy an afternoon drink some days! On a recent sunny morning, I dropped in to discuss the gallery and its latest exhibition with the charming owner Ms. Midori.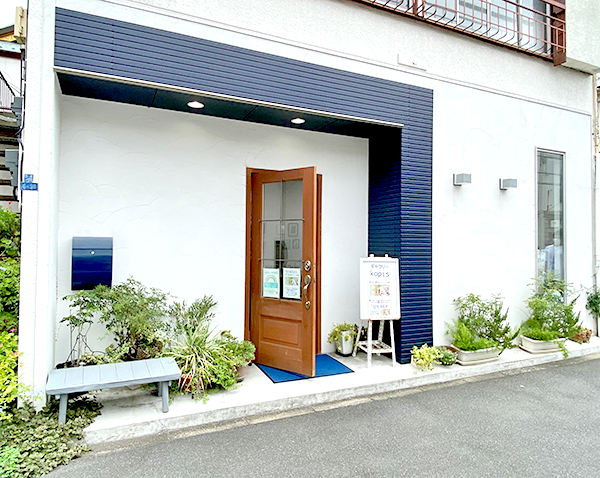 After studying art at a prestigious Tokyo university and enjoying a lengthy career working at renowned galleries in Ginza and Akasaka, Ms. Midori returned to her home area of Kiyosumi-shirakawa in 2000 to open the original Gallery Kopis just behind the station, near the Fukagawa Edo Museum. "Although the Museum of Contemporary Art Tokyo (opened in 1995) was built near here I was amazed to discover that this area didn't have a single art gallery at that time. At its peak, Ginza was home to around 500 or so," she explained.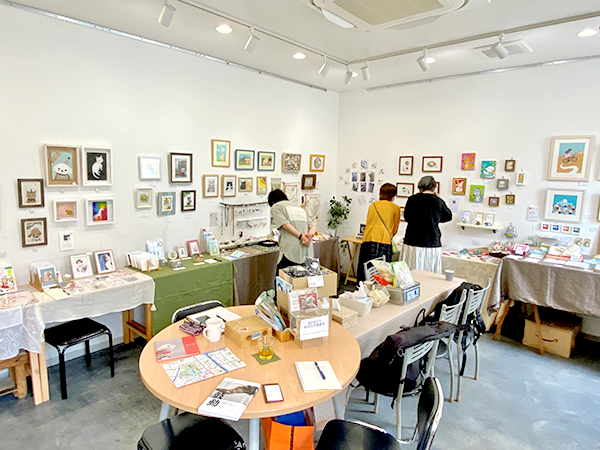 She resolved to remedy the situation and Gallery Kopis was born, hosting a vast array of exhibitions until June 2019 when it moved to the current address, some five minutes' walk away from the first location. "I wanted the gallery to be a casual, informal place attracting artists and creators of all kinds. We hold a themed exhibition every month; some have seasonal themes, some are focused on traditional Japanese arts, some are textiles, pastel works or chinaware. The artists are from all over Japan and are of all ages and nationalities," added Ms. Midori.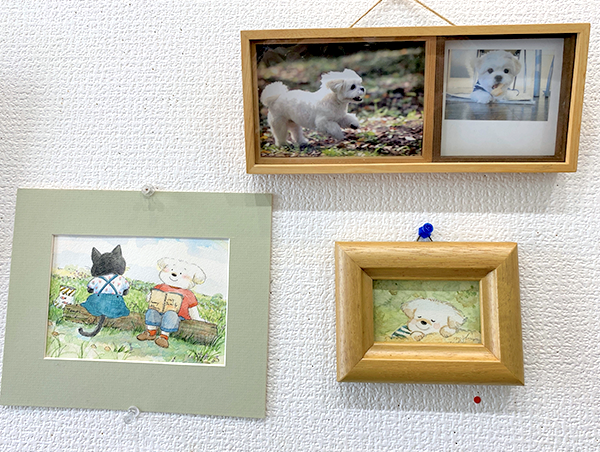 Every year at this time Gallery Kopis holds the Sunny with Animal Friends – Charity for Orphaned Dogs and Cats exhibition. Sunny was Ms.Midori's beloved dog, a Maltese and Pekinese cross, and the eponymous exhibition is to benefit a renowned Hiroshima-based animal welfare NPO which performs heroic work rescuing and caring for orphaned or abandoned animals. The NPO received nationwide recognition following its rescue of dogs and other pets from the areas evacuated in the aftermath of the Fukushima nuclear disaster that was triggered by the Tohoku earthquake in 2011. They currently look after around 1,500 dogs plus various other animals.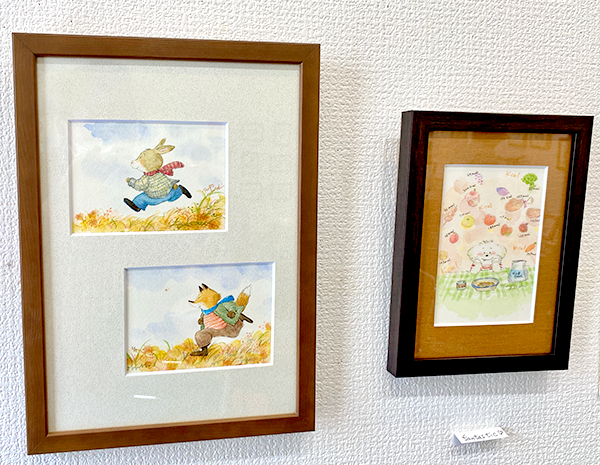 Ms. Midori's own work is on display together with that of many specially invited artists, craftspeople and creators. Everything is for sale, with a hefty percentage of the proceeds going to charity. "Sunny was an excellent dog, intelligent, and very well-behaved," said Ms. Midori. "She was so popular with everyone."
Among the many items on display are these striking acrylic paintings created by the textile designer Ms. Fujie Shinozawa.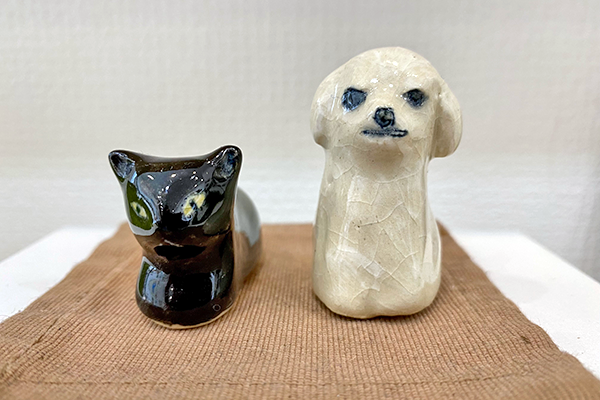 The artist Masato Kondo makes pottery cats named Fukagawa Neko, which never smile for some reason.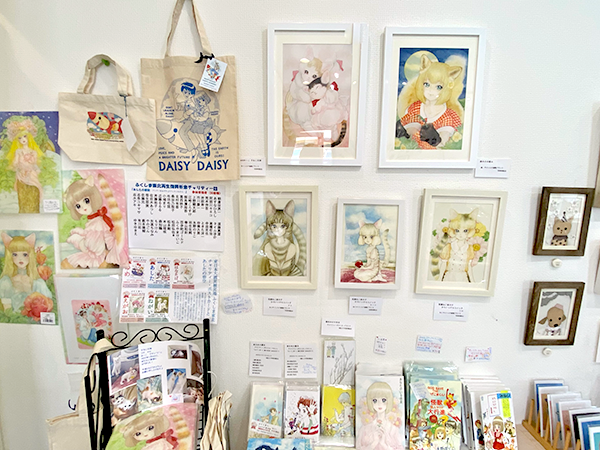 While the manga artist Noriko Nagano contributed signed prints, postcards, eco bags, books, comics, and more.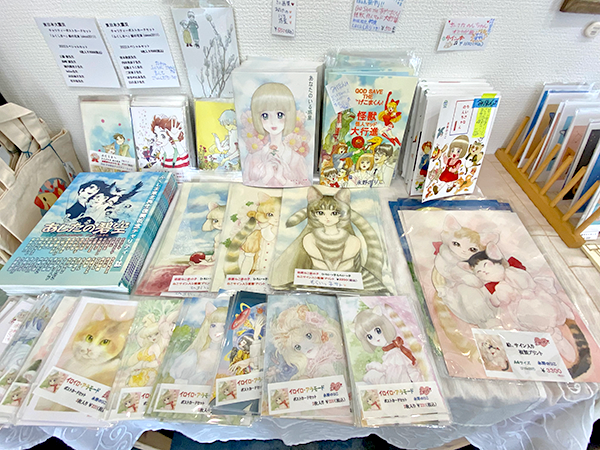 The gallery name is derived from the English word coppice, a "wood within a wood" as Ms. Midori described it.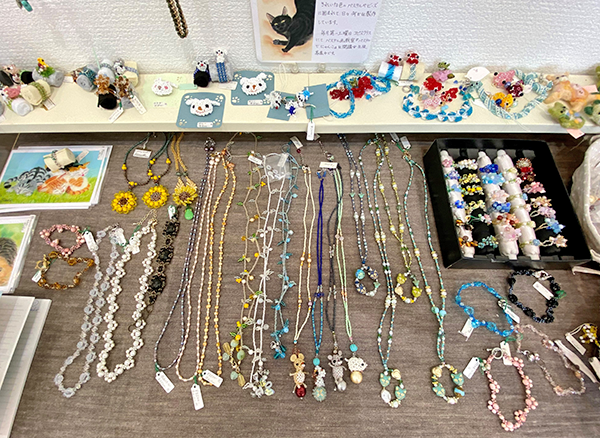 There are accessories of all descriptions, some even featuring Sunny. Can you spot him?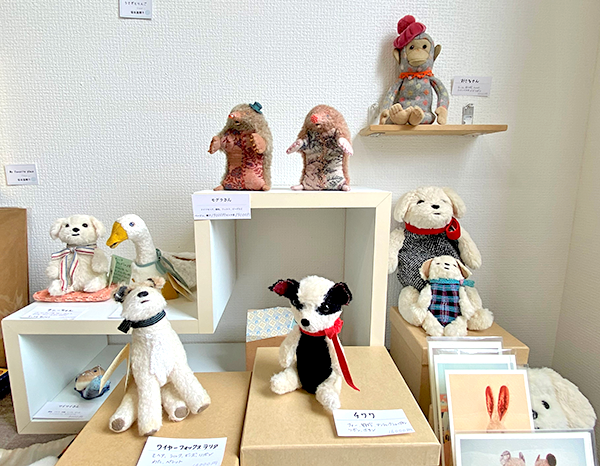 This fine collection of animal pals were just waiting to be given a new home. I particularly liked the nonchalant monkey in the stylish headgear.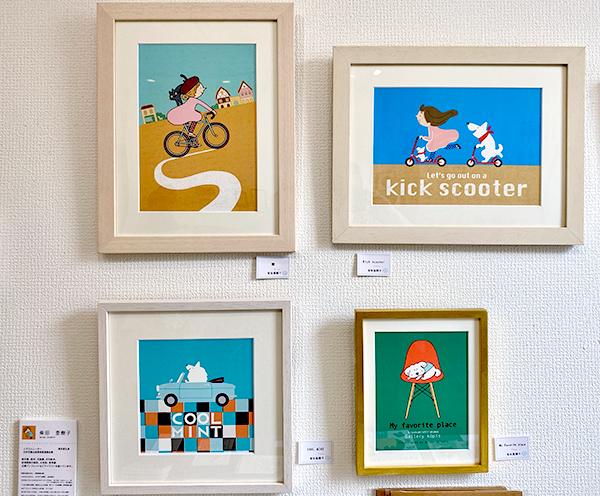 There were some beautiful prints from this well-known illustrator.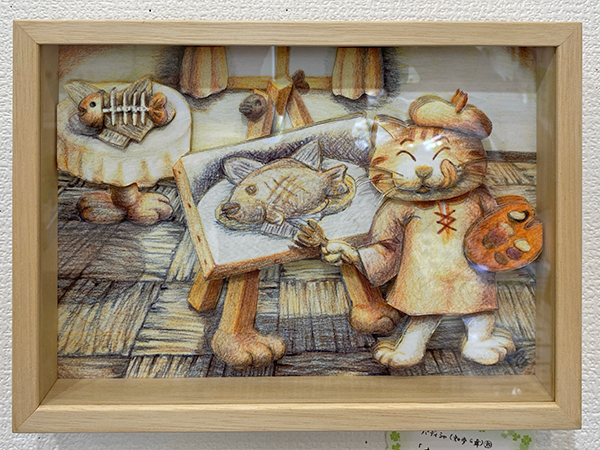 And even a 3D cat painting the fish he'd just eaten.
After the Sunny exhibition the September event will have an autumnal theme of plants and seeds. November 2022 will see an interesting exhibition by an artist Ms. Midori intriguingly described as "the Jean Cocteau of Wakayama," while the December event will have a Christmas motif. In spring 2023 Gallery Kopis will be bathed in wildly colourful, exquisite silks as an exhibition of Kyoto shibori dyeing comes to town. Sounds great!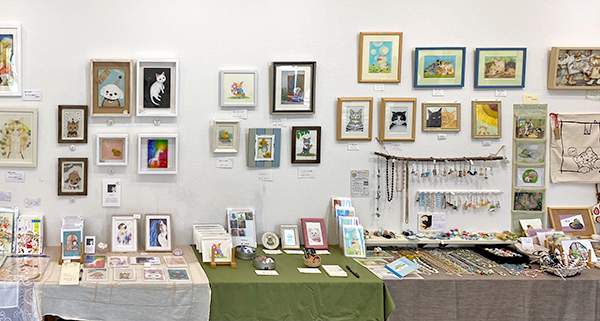 There's something for everyone at Gallery Kopis. The current exhibition would be a particular treat for animal-loving younger children, as well as fans of Japanese illustration and design. The atmosphere is really relaxed and friendly, with all kinds of people turning up for a chat and a drink in the afternoon.
If you're in the area, why not drop in to Kiyosumi-shirakawa's oldest art gallery? You might even meet this cheeky monkey!
Story and photos by Stephen Spencer