Retro Delights at Ginza Hall
Published: March 15, 2022
If Ginza Hall looks like the setting for a 1970s movie about the travails of a lovelorn salesman, that's because it could well have been. Reputedly the oldest restaurant on Koto-ku's renowned Sunamachi Ginza shopping street, Ginza Hall has been serving classic Japanese downtown dishes and more for some 60 years now. On a recent spring afternoon, we dropped in to meet second generation owner Mr. Ishiguro.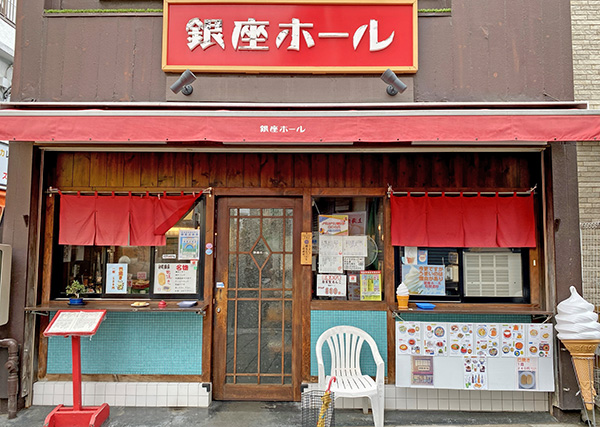 Big-hearted, friendly and loquacious, Mr. Ishiguro is the living epitome of the old town Tokyo natives known as Edokko. "My father opened Ginza Hall back in the early 60s as a milk bar," he explained, adding with a laugh, "We're an original Showa Period restaurant, not retro at all." The surprisingly extensive menu features some 78 different dishes and is illustrated by Mr. Ishiguro himself, whose talents clearly extend beyond cooking.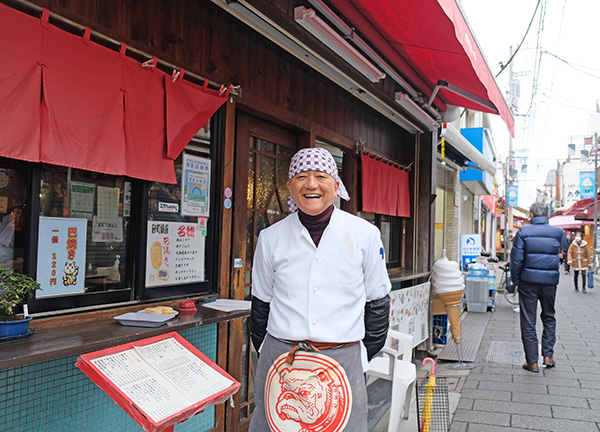 "Our most popular dish is liver on rice (jun reba don), second is Sunagin ankake yakisoba (pan fried noodles in thick, hearty sauce) and third is motsu nikomi, stewed beef intestines. The motsu nikomi goes really well with beer and makes a perfect topping for hot white rice," he explained. The set meal (teishoku) costs just 850 yen and consists of rice, miso soup, salad and a large plate of thinly sliced, stewed beef intestines. That's excellent value!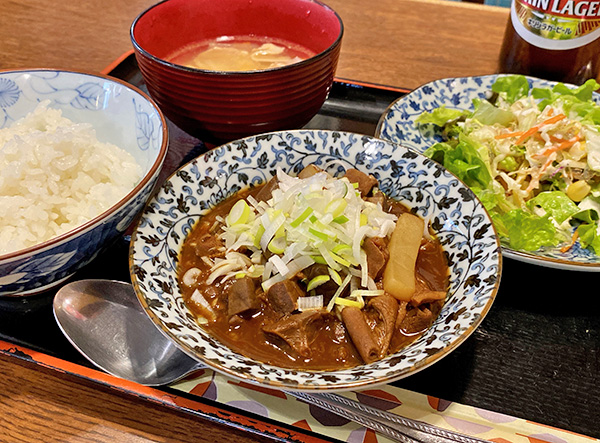 A long-established relationship with a wholesaler provides Ginza Hall with extremely fresh, high quality beef intestines, which are initially parboiled for three hours. A strongly-flavoured, dark fermented soybean paste from Aichi Prefecture (hacho miso) is then added and the intestines are simmered for a further hour.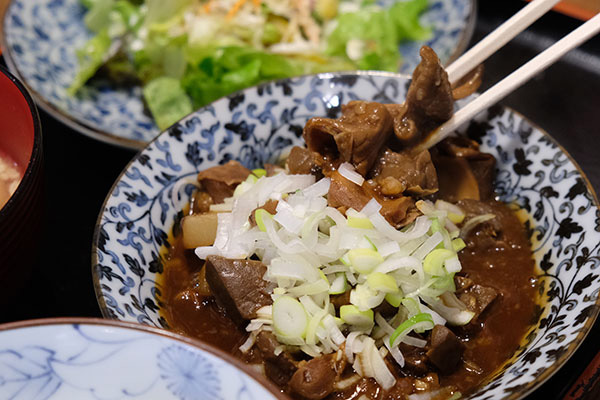 The rich, dark stew is topped with some sliced negi onions. It's incredibly savoury, the meat is so soft it just melts in the mouth.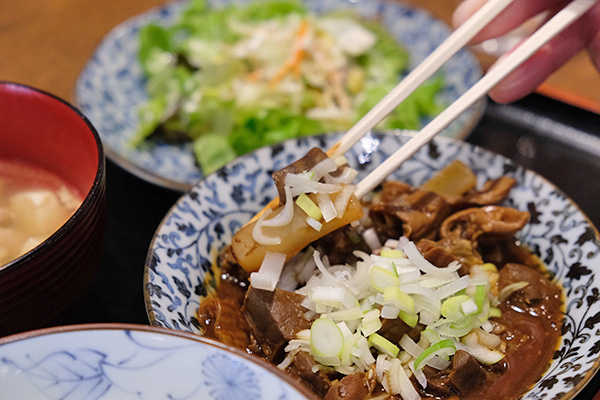 No vegetables are added to the dish, only some konnyaku jelly for texture. "Vegetables contain water which dilutes the flavour of the stew. This is the proper way to make motsu nikomi," explains Mr. Ishiguro, and he should know.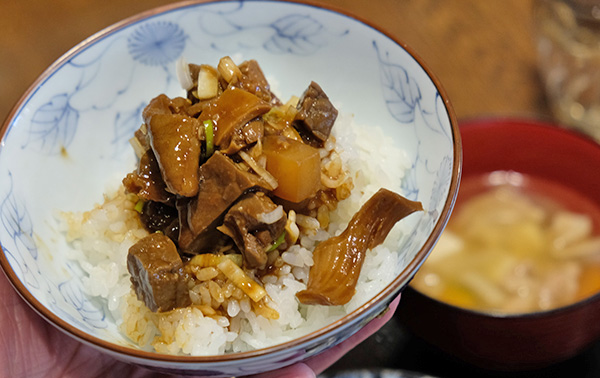 Konnyaku is often used in Japanese simmered dishes as it has little taste of its own but absorbs flavour from soups and sauces. It also imparts texture and is rich in fibre.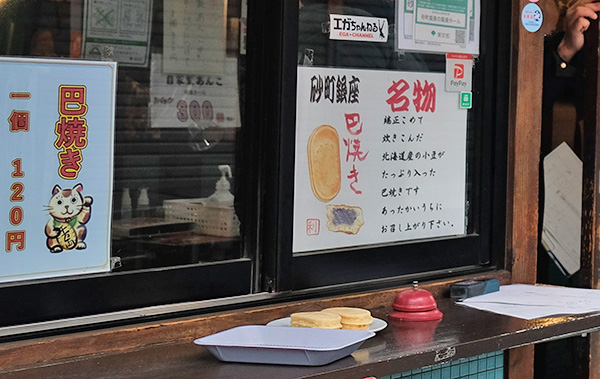 As Mr. Ishiguro mentioned, motsu nikomi is a perfect topping for rice. This is real comfort food, nostalgic and warming, with a depth of taste nearly impossible to recreate at home. My colleague was soon purring with pleasure. Even though we visited Ginza Hall after the usual lunch rush was over, a steady stream of customers dropped in, with several ordering the motsu nikomi set lunch.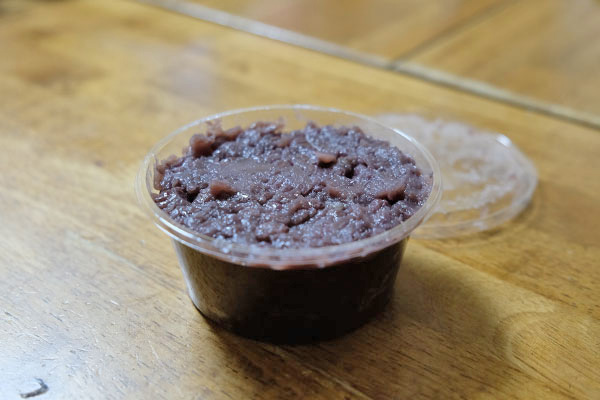 Ginza Hall is noted for many items, not least its tomoeyaki, an oval, crispy pancake stuffed with azuki bean paste, made from small azuki beans grown in Hokkaido. Perhaps better known in Tokyo as Imagawayaki, which are round instead of oval, the tomoeyaki are 120 each to take out, or 240 yen for a plate of two to eat inside the restaurant. Unfortunately they were sold out on the day we visited, which disappointed both ourselves and several customers who dropped by to pick some up for an afternoon snack.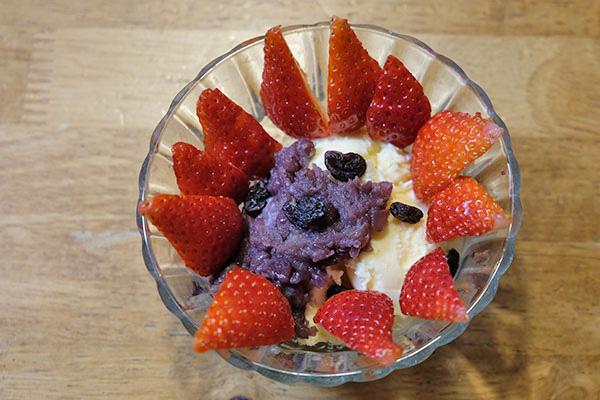 The azuki bean paste is available in cups for 300 yen, which is excellent value as it's very good indeed. Not overly sweet, the bean paste is great on bread or hotcakes.
It's perhaps best with whipped cream or vanilla ice, as shown here. Strawberries, ice cream and azuki bean paste, that's a winning combination! It's also good for your stomach, as Mr. Ishiguro explained.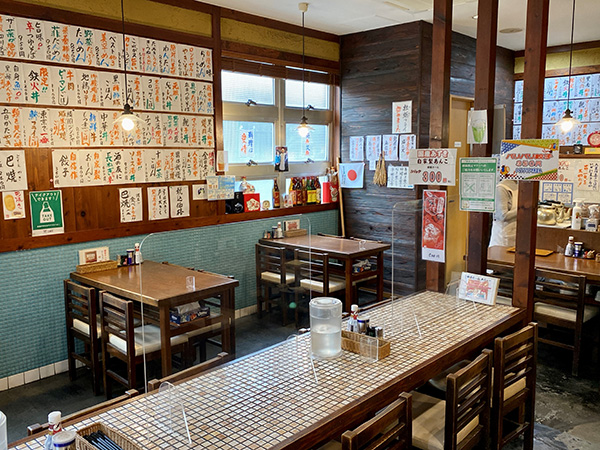 Mr. Ishiguro was insistent that while the menu at Ginza Hall may feature many items that have changed little in the seventy years or so since it opened, he's continually looking to create new dishes.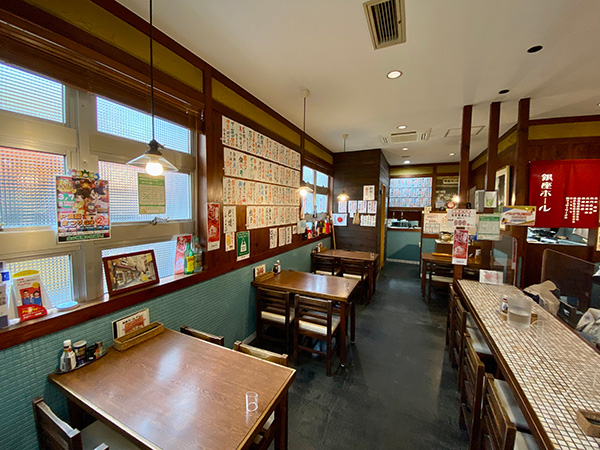 Like many parts of Koto-ku and Tokyo, Sunamachi Ginza is continually re-inventing itself as new shops open. Trends may come and go, but Ginza Hall goes on forever. For anyone in search of a true taste of the Showa Period, this is the place to visit!
Story and some photos by Stephen Spencer