As it retains its old atmosphere, Fukagawa in Tokyo is a suitable place for your historical exploration.
Spending a leisurely time in Kiyosumishirakawa-Teien garden is also pleasant…
Visiting places associated with Matsuo Basho is also popular.
Then, while you are around here, why don't you finish off your stroll at this restaurant ?
I can see it!
A brick building, whose exterior has a unique atmosphere !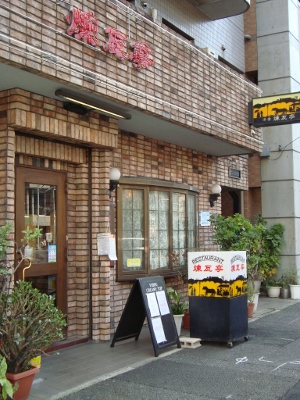 This Fukagawa-Honten was allowed to set up its business in 1928 using the name of Ginza Rengatei, itself established in 1895, and has continued in business for about 90 years! It is truly a long-established restaurant,
This is the fourth generation owner Mr. Takashi Ishikura and his mother.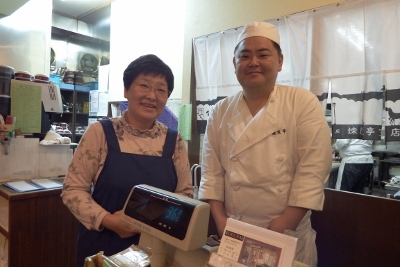 So he's the fourth generation owner? That's great !
The two of them have nice smiles and are very kind to customers !
This restaurant is the originator of the pork cutlet and shredded cabbage !
The first pork cutlet and shredded cabbage was served, amazingly, in this restaurant !
Apart from that, about 70 different kinds of Japanese-origin yoshoku (western style dish) are always available.
Well then, I'll introduce a part of the menu〜!!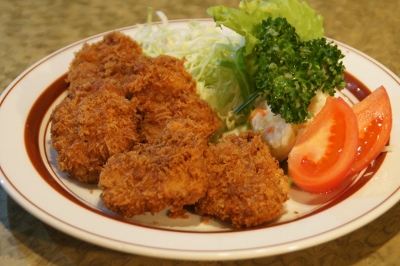 One bite-sized cutlet from the restaurant from which the pork cutlet originated. No wonder the coating is crispy 〜♪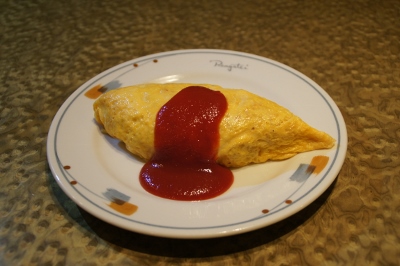 A nostalgic omuraisu (omelet containing fried rice) and …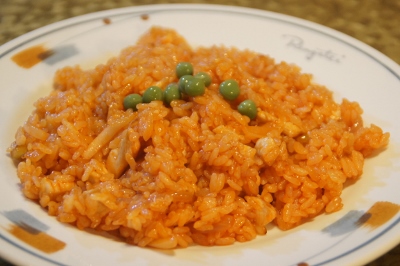 Chikin raisu (chicken pilaf seasoned with tomato ketchup).
Whatever you say, sometimes, somehow, we'd like to eat one of the dishes on the menu !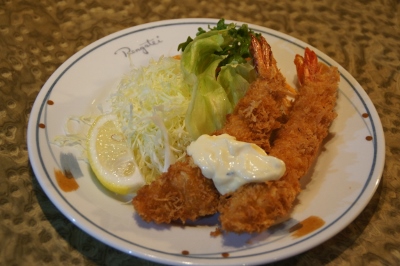 Oebi-furai (big fried shrimps)
Should I eat the pork cutlet? Or should I eat the fried shrimps?
I can't decide 〜!!
This is recommended for "take out"↓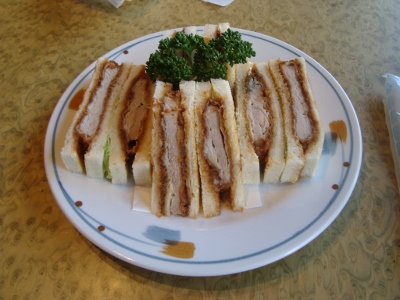 Katsu-sando (pork cutlet sandwich) ♪ A hidden favorite on the menu.
Why are there ramen noodles in this yoshoku restaurant?
Oh !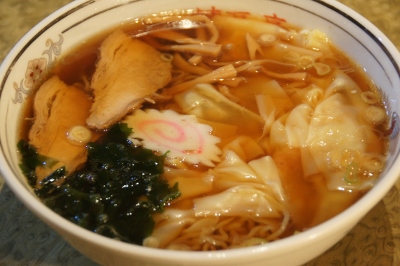 You also serve ramen noodles !
So why do you serve ramen noodles in a yoshoku restaurant?
According to Mr. Ishikura, it is said to be a remnant from the Second World War, when they had to cook meals using the limited ingredients they got as rations; therefore, they and ramen noodles shops taught each other their own recipes and tried to cook them using whatever ingredients they could lay their hands on.
At that time, people helped each other didn't they?
In those days, what they ate for a special occasion was… And nowadays…
At the time when the starting salary for a college graduate was 1,000 yen, this pork cutlet cost 110 yen.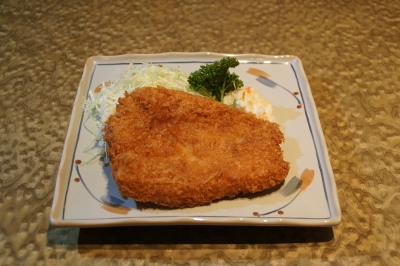 Pork cutlet was surely an extremely luxurious food for a special occasion !
But now …
We can eat the same pork cutlet for only 1,130 yen. (Somehow I feel so lucky ♪)
This is a restaurant which local people love as they can enjoy its casual atmosphere.
Oh ! Even the beer has something elegant about it..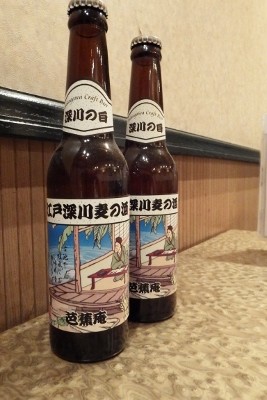 This is an original label !
It's a long-established restaurant, indeed !
Originally, they opened this restaurant in Fukagawa. However, because of The Great Tokyo Air Raids, they moved to Shin-ohashi, the present location.
Is that why the label is to do with Fukagawa?
It's on the wine, too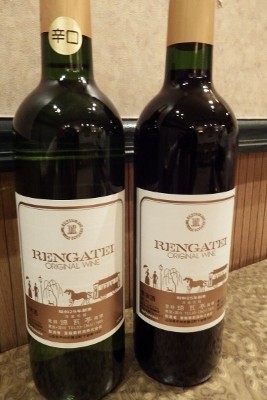 It also has its own original label !
They have served wine since the time when it was not that commonly drunk.
They are forerunners of the wine boom which came later.
Shall I drink it as a conversation piece ♪
This is the famous restaurant where Ikenami Shotaro, the great writer, also often came.
Eating pork cutlet and drinking beer, while feeling the flow of history, makes it all the more delicious.