Blow Glass Like a Pro at Glassroots
Published: May 2, 2018
If you've ever visited the famed Italian islands of Murano, known all over the world for their glassmaking, or seen glass being blown on TV, you may well have thought, "I'd like to have a go at that." Well, if you're interested in glassblowing while in Tokyo, there's a perfect place to satisfy that curiosity: Glassroots workshop and school in Koto-ku. On a recent unseasonably wet and chilly morning, we dropped in to meet and talk with the proprietors.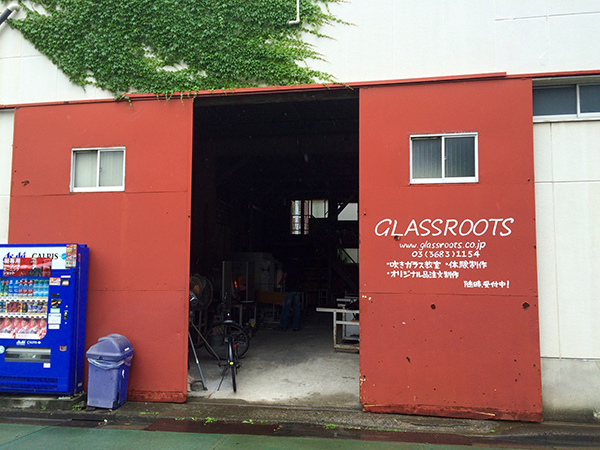 Located on a quiet backstreet midway between Kameido and Ojima Stations in what used to be an ironworks factory, the bright red door of Glassroots is easy to spot. Inside is a cavernous room that smells, not unpleasantly, of oil and heat. In the middle of the room two figures work quietly and intently at the benches, creating their latest pieces.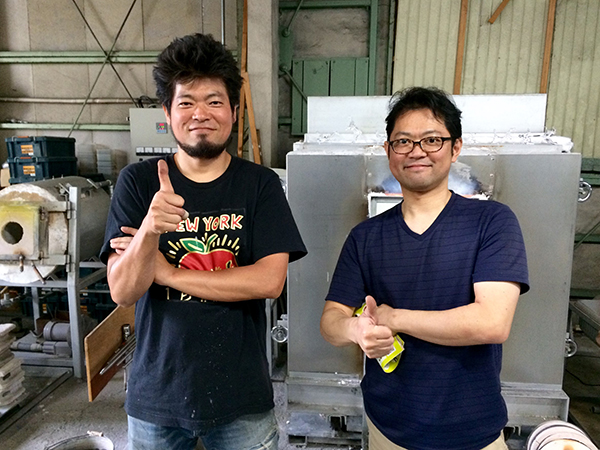 Mr. Kumagaya on the left hails from Sendai, while Mr. Tsunooka on the right was born in São Paulo, Brazil and relocated to Kawasaki with his family at a young age. How did they come to be running Glassroots together? "We're old school friends," says the affable Mr. Tsunooka, "We met at the glassworking technical school in Kawasaki where we studied together. Later we worked together and then in different places. After gaining experience, we decided to partner up and opened Glassroots 13 years ago."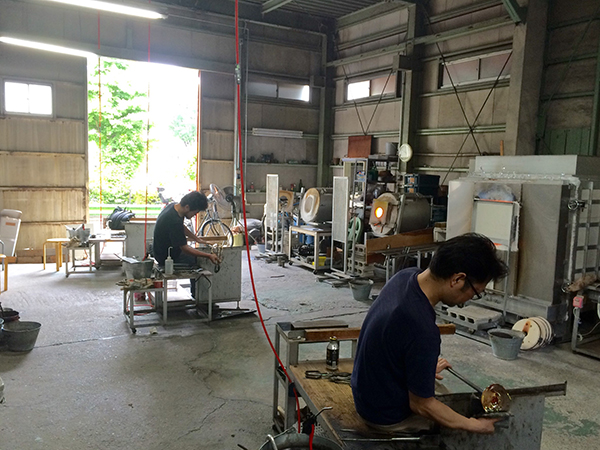 Had they always been interested in working with glass? "Not at all," says Mr. Kumagaya.
"I worked for a civil engineering company for four and a half years, designing bridges. One of my seniors suggested I try glassblowing to deepen my understanding of materials and I was hooked. I eventually quit the company and went back to school." His partner has a similar tale. "I quit my first job to go backpacking around the world," says Mr. Tsunooka. "When I was in Okinawa I visited a glassblowing workshop and was completely taken by it."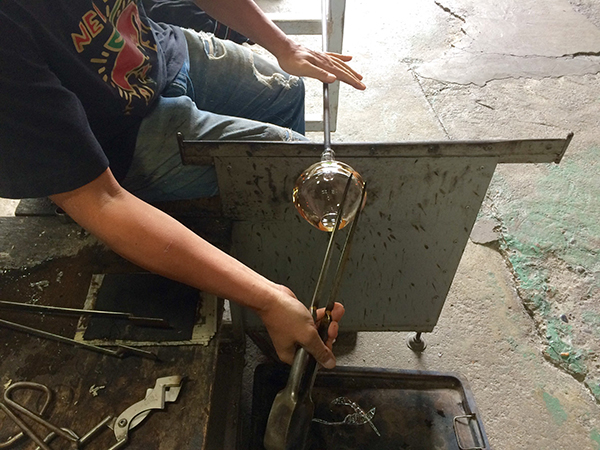 "We make our own pieces in the morning on Mondays, Tuesdays and Wednesdays," says Mr. Kumagaya. "We make all kinds of glassware, including a lot for Edo Kiriko (traditional Japanese cut glass). The Koto-ku area is one of the homes of traditional glassmaking in Tokyo. In the afternoons and evenings, we have classes. We're very busy with our own work and running the classes; students come from all over Tokyo and surrounding areas such as Chiba."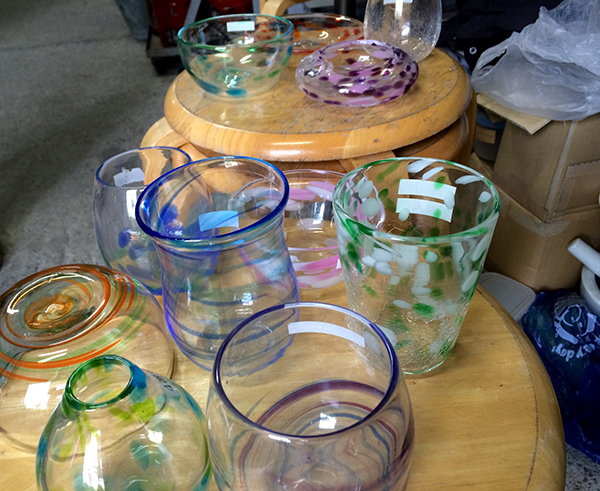 "Beginners start off making paperweights," says Mr. Tsunooka, "then move on to tumblers and glasses. Intermediate students work on developing glassblowing technique and using coloured glass, while advanced students make wine glasses and more delicate objects."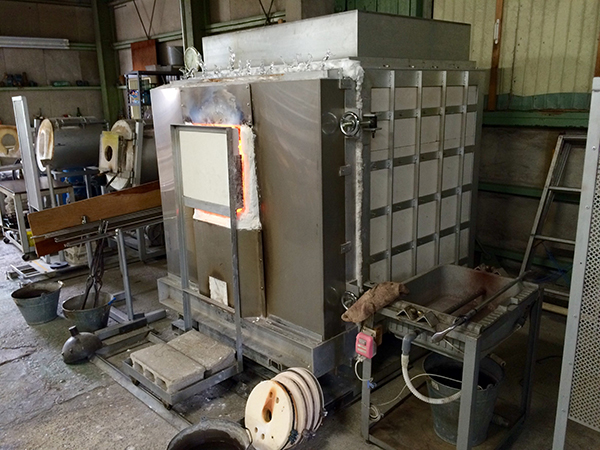 The centrepiece of the workshop is this massive furnace. "At night we put the glass batch inside a pot that goes into the furnace. The temperature reaches over 1300C, melting the glass and preparing it for the morning. The furnace stays on all the time, 24 hours a day every day, except for three times a year when we switch it off for cleaning. As you can imagine, our electricity bill is enormous, around 250,000 yen a month! We built the furnace ourselves, with another helper, a furnace specialist, to save on costs."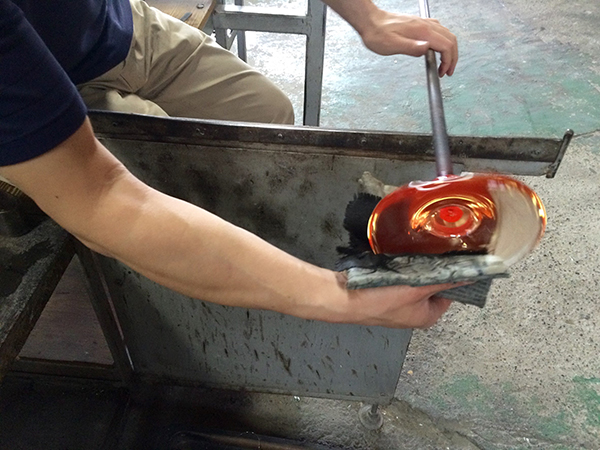 The molten glass sticks to the blowing tube and hardens as it cools. The makers rotate the tubes and use a variety of tools to create the individual, shaped pieces. It's hot, fast work and the skill of the two men is highly impressive as they work with intense focus.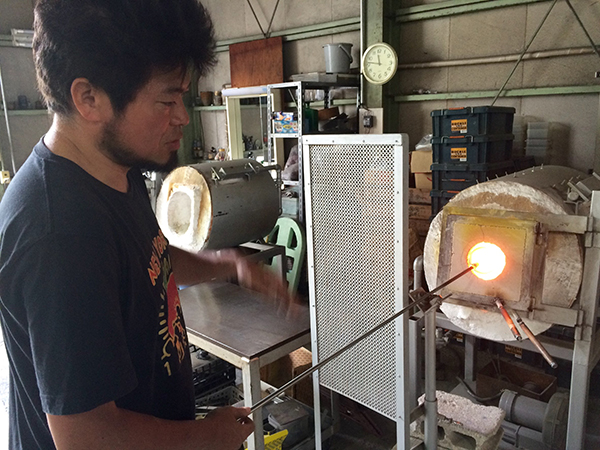 During the creation process the glass needs to be reheated and is placed into a piece of equipment known as the Glory Hole.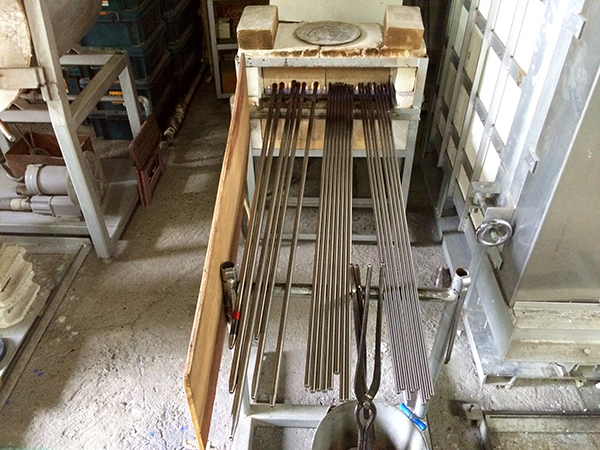 The tubes need to be preheated, ready for use. "We use different rods for making various kinds of objects. Each student can use a couple."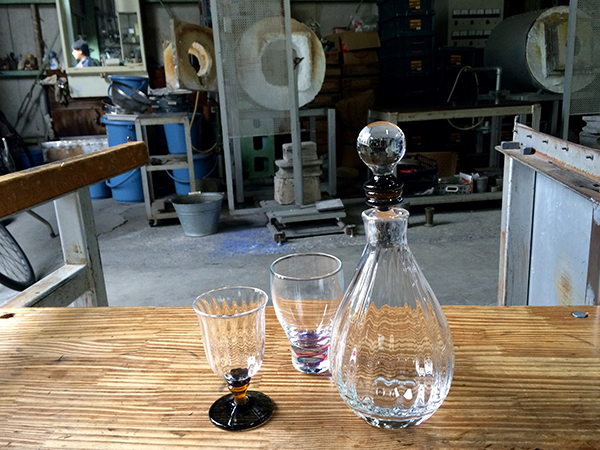 As you can see, the pieces are delicate and beautiful.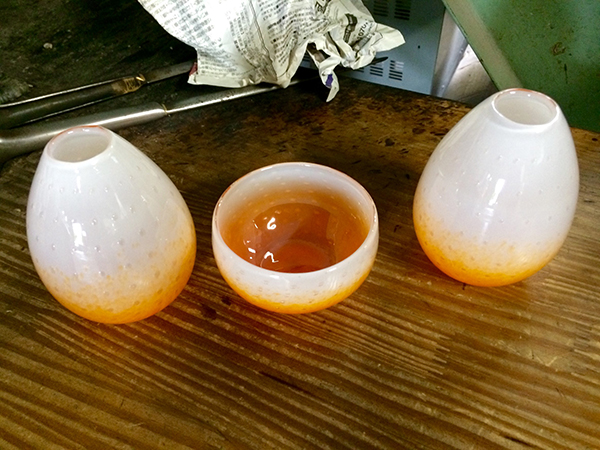 With a stunning range of colours. Prices for a trial lesson are very reasonable. For just 3,100 yen including tax, you can make one item, or 3,600 yen if you want use coloured glass. You can choose from a variety of items such as a single flower vase, a glass, a bowl, a plate or an ashtray. If your curiosity is piqued and you'd like to delve deeper, a "half course" is six 90-minute classes for 30,000 yen, while a "full course" is 12 classes for 60,000 yen. This represents excellent value for money.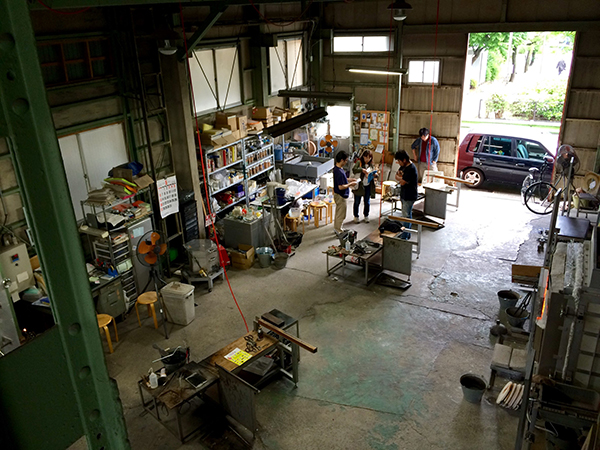 Glassroots is a great place to be. Messers Kumagaya and Tsunooka are as passionate and fiery about their art as the fearsome furnace in the workshop; glassblowing is hot and cool, both at the same time. Why not have a look at the homepage and give them a call? If you're ever had a hankering to try glassblowing, there's no time like the present!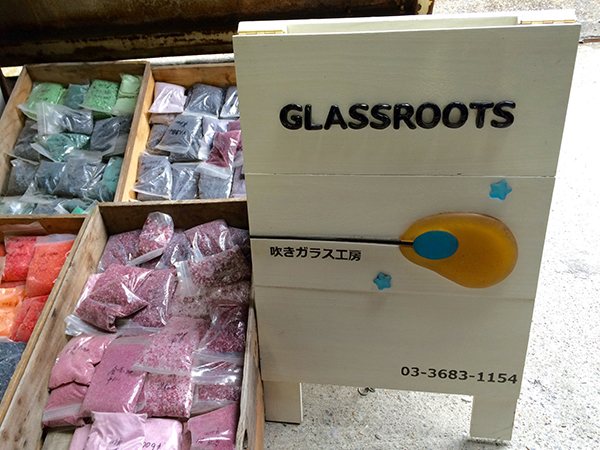 Story and Photos by Stephen Spencer