A 100 Years of Japanese Confectionary at Gonohashi Iseya
Published: June 21, 2018
Located on Meiji-dori Avenue midway between Kameido and Nishi-ojima Stations, the Japanese confectionary maker and cafe Gonohashi Iseya has been open for business for over 100 years now. On a recent sunny afternoon, I dropped in for a pleasant chat with the current proprietor, Mr. Yoshiaki Masaya, and his charming family.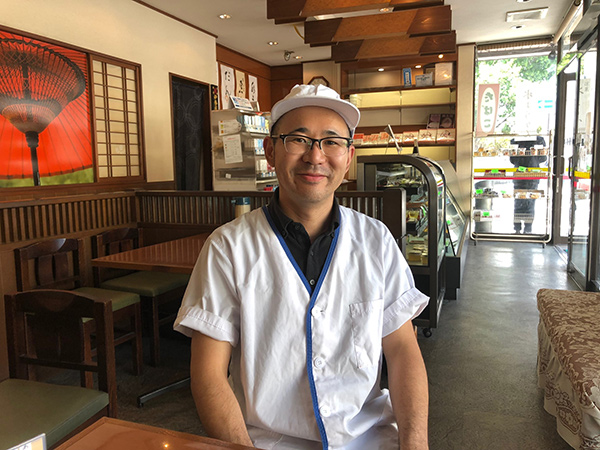 "Yes, we've been here for about 100 years now but we're not exactly certain when my great-grandfather first opened the shop. It was definitely during the early Taisho Period (1914-1926), we know that for sure. The shop has always been in the same location though, even if the surrounding area has changed dramatically. Ojima used to be an area of small factories, metal machine shops and detached houses. Many of the factories are long gone and now they are blocks of flats. Gonohashi means "fifth bridge"; the first bridge still exists near Ryogoku and the river used to come all the way up here. I'm the 4th. generation proprietor, I took over from my father seven or eight years ago."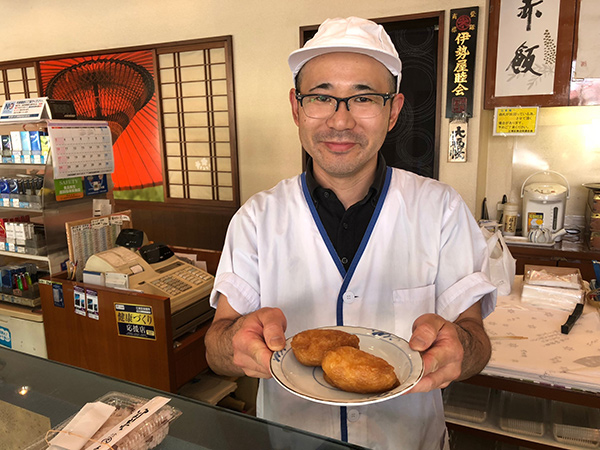 "It's an early start every day. We make pretty much everything ourselves so my parents, an artisan and I start preparing before six o'clock. The shop opens at seven for the early morning trade," says Mr. Masaya. I express my surprise that people want to buy confectionary at 7 am. "We also make rice balls ("onigiri" in Japanese) in three flavours," he explains, "Salmon, salted pollock roe, and pickled plums ("shake, tarako, and umeboshi" in Japanese). We also make gourd sushi rolls ("kampyo-maki" in Japanese), which sell out very quickly and deep-fried tofu skins stuffed with sushi rice ("inarizushi" in Japanese). Many people pick them up for lunch on the way to work."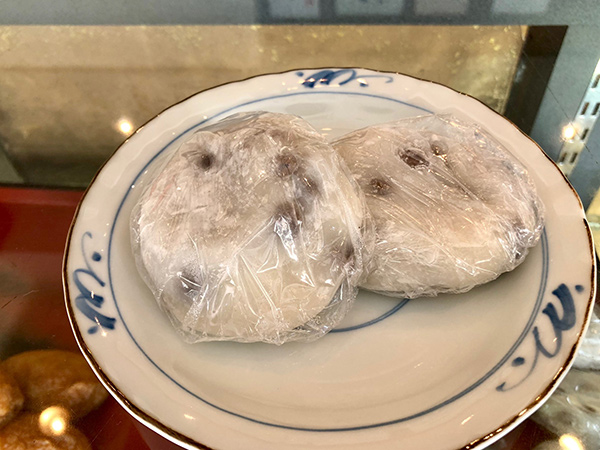 According to Mr. Masaya the top seller is mame daifuku, glutinous rice cakes stuffed with sweetened azuki bean paste ("anko" in Japanese) and whole azuki beans. These are the traditional shitamachi (old town) flavour, the real deal, slightly salty and far less sugary than are made elsewhere. The price is also very traditional; at 70 yen each they are outrageously good value. Paired with an Inarizushi you can eat a filling lunch for 147 yen. Who says Tokyo has to be expensive?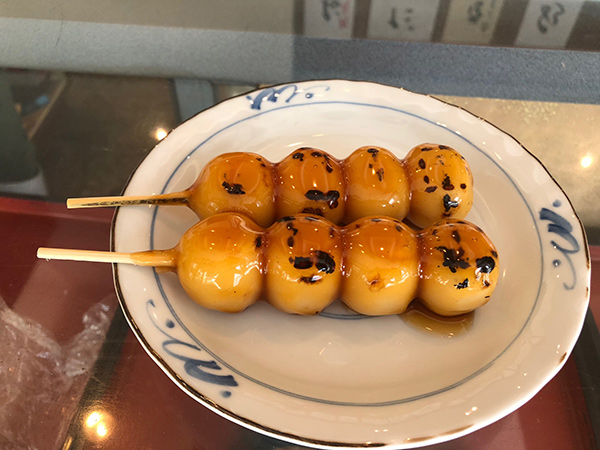 Second on the list are dango, balls of rice flour covered in a syrup made of soy sauce, potato starch and sugar. Third are dorayaki, a kind of honey pancake sandwich filled with azuki bean paste, beloved by Doraemon, the iconic Japanese manga and anime character.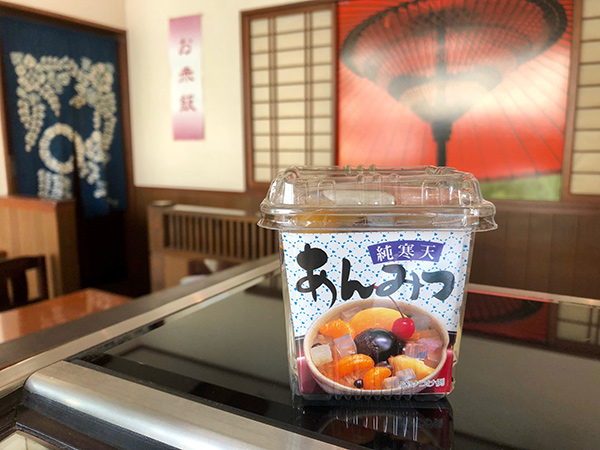 Personally though, summer is all about anmitsu. Anmitsu is a dessert extravaganza, a wild mix of agar jelly cubes, fresh fruit, sweet azuki bean paste, soft yet chewy rice flour balls called shiratama dango, boiled and chilled red endomame peas and either green tea or vanilla ice cream. The whole thing is drizzled with a viscous black syrup ("kuromitsu" in Japanese) usually made from unrefined Okinawan black sugar. The various ingredients, wildly disparate in texture and flavour, come together in an astonishing harmony; once eaten, never forgotten and unmissable if you're visiting Japan. The ingredients for anmitsu at Gonohashi Iseya are all made by hand except for the agar jelly.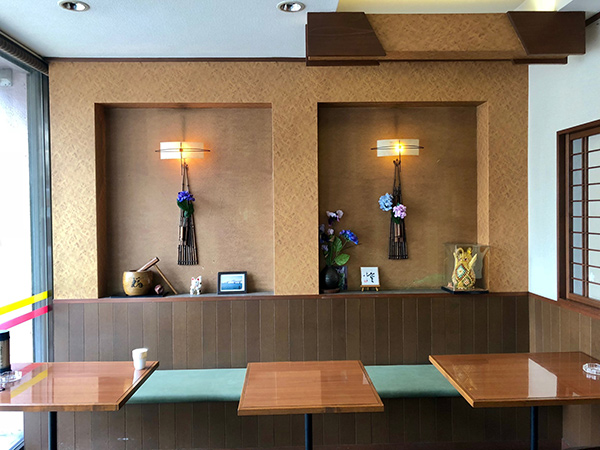 The ten-seater cafe corner is tastefully decorated. Customers can place their order at the counter or from the menu and eat here with a drink.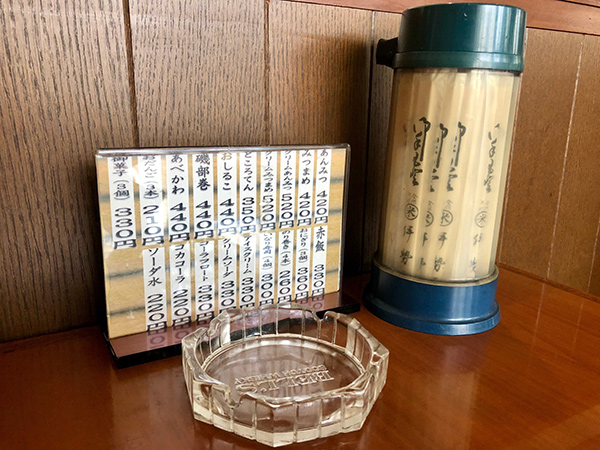 The retro feel is enhanced by the menu, ashtray, and chopsticks holder. You can even have a cream soda!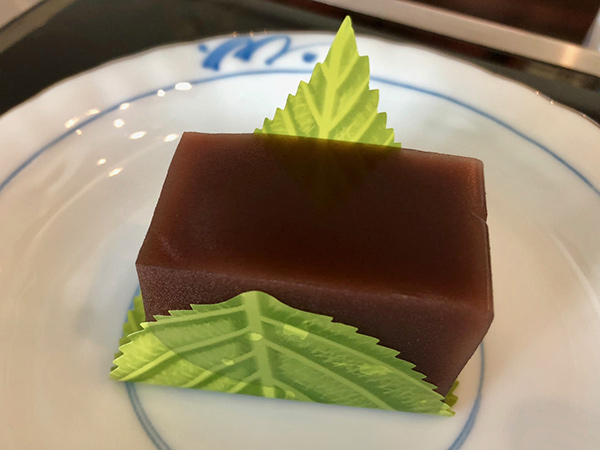 Yokan is another traditional dessert, made from red bean paste, agar and sugar. It's made in blocks and cut into slices like this. A version called mizu yokan, made with extra water, is eaten chilled in summer.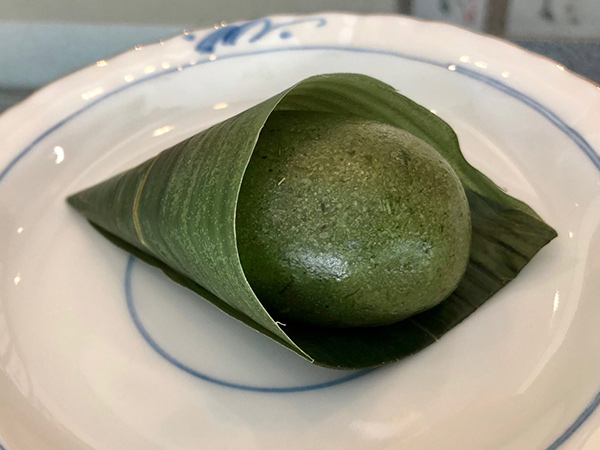 The beautiful green colour of the sasa dango comes from mugwort ("yomogi" in Japanese), mixed into the glutinous rice. They too contain red bean paste.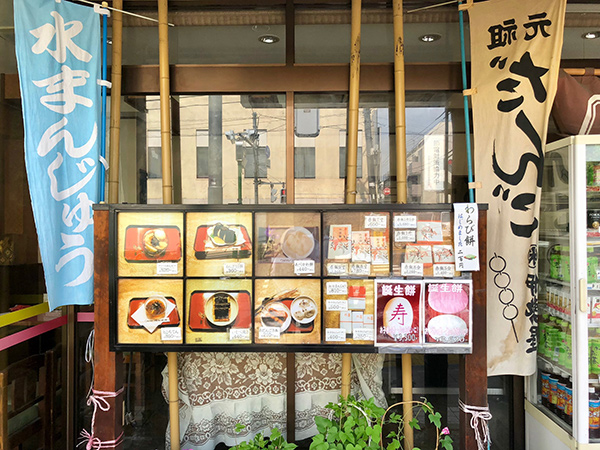 The front window features a handy photographic guide to some of the delights within. Mr. Masaya is planning an English menu and would like to promote shiruko mochi to foreign visitors. Shiruko mochi is a kind of sweet red bean porridge with a glutinous rice cake floating in it. Served piping hot in winter, the sweet porridge is balanced by the sticky rice cake. It's a great favourite of many people in Japan, a real winter warmer and filling as well.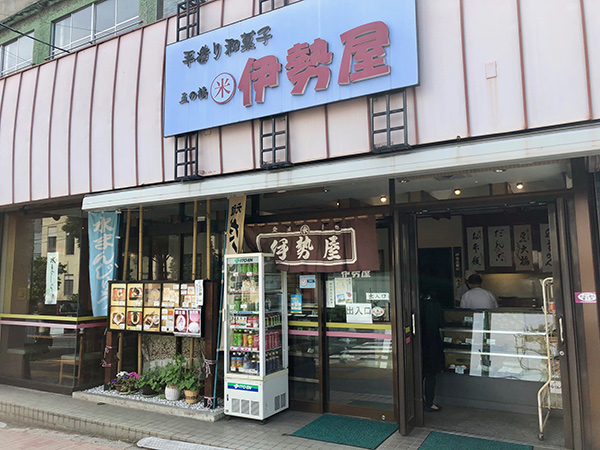 It's first come, first served at Gonohashi Iseya, as Mr. Masaya points out. "We make about a 100 inarizushi a day, a lot of rice balls, daifuku, and odango; of the other varieties, around 20 or so each. We make more on weekends. When they're sold out, that's it." I reached the shop around 2 pm and nearly everything was sold out already. Passing customers dropped in to pick up afternoon snacks for themselves or children returning from school and the phone rang frequently with people placing orders.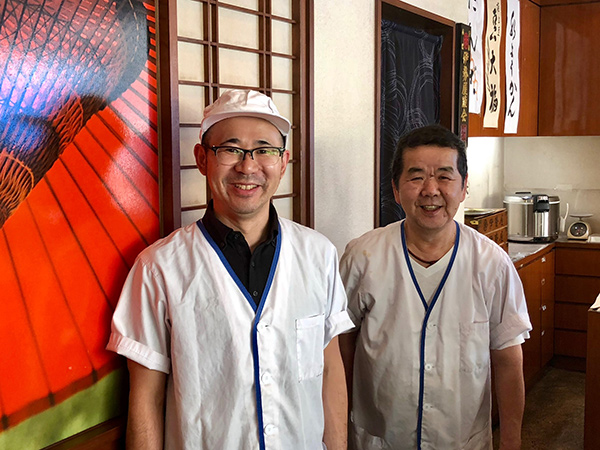 Gonohashi Iseya products represent the traditional taste of Japanese old town confectionary and over 100 years of experience. It's also a very comfortable place to relax and enjoy a change of pace. Mr. Masaya and his welcoming family are waiting for you!
Story and Photos by Stephen Spencer