Gorgeous Gelato in Kitasuna
Published: November 25, 2022
Gelateria Karasu is a brand new shop selling homemade, original recipe gelato ice cream in the Kitasuna area of Koto-ku. On a recent sunny afternoon, we dropped in to talk ice cream with manager Mr. Kanayama and sample his wares.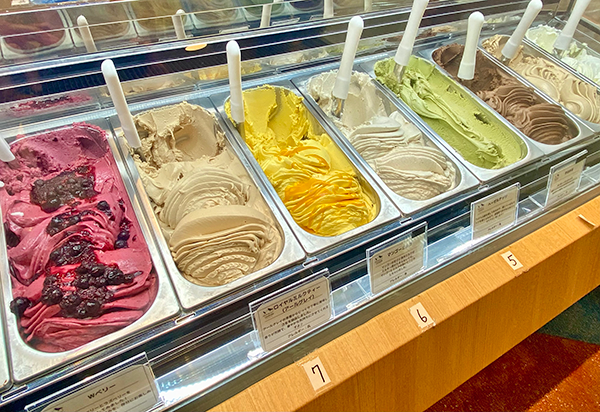 As Mr. Kanayama explained, he arrives at the shop and makes the day's ice cream fresh every morning. Fresh fruit, nuts, and cookies are mixed with a specially selected brand of milk from Nagano Prefecture in central Japan to create nine flavours for the day. We were immediately beguiled and stood in front of the showcase with our tongues hanging out like junior school kids!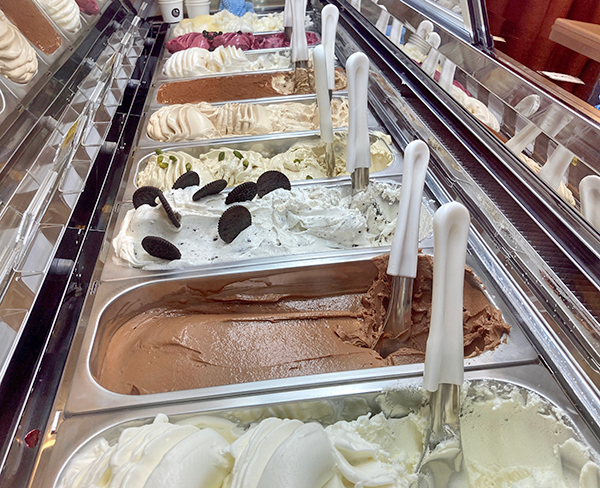 The gelato at Karasu is all natural – no flavourings or additives are used at all. "We make single recipe gelato, unlike most other places which use a milk base and just add different fruit. Our gelato uses a unique recipe for each individual ingredient," explained Mr. Kanayama. "They're designed to be richly flavoursome and highlight the natural essence of the ingredients; not overly sweet and very refreshing."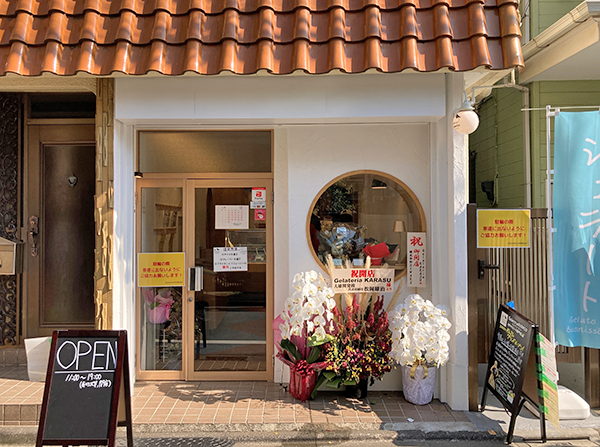 Located on a side street just off Sunamachi Ginza, the renowned shopping street that's enjoying a current renaissance, Gelateria Karasu opened its doors on October 21st, 2022.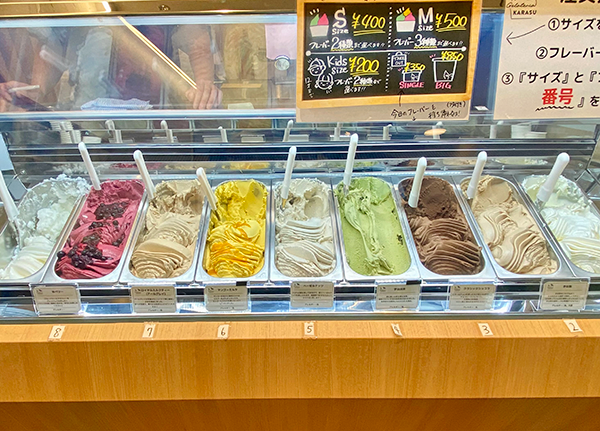 The nine daily gelatos vary depending on the season and availability of fruit but the number one top-selling 'Shinshu milk', a super rich and creamy delight, is available every day with the 'classic chocolate'. On the day we visited there was Seto lemon, hazelnut, blueberry and raspberry, earl grey milk tea, mango, Uji green tea, and kinako, the nutty roasted soy bean flour very popular in Japanese confectionery and desserts.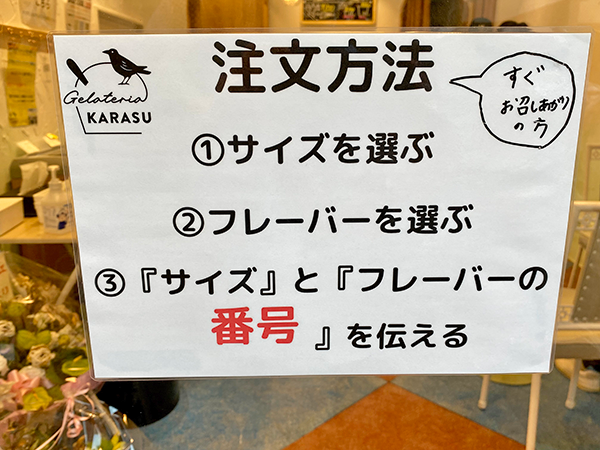 Ordering is easy: choose your size ( small, medium or kids), choose your flavours and tell Mr. Kanayama your size and the numbers of the flavours you would like. Each flavour has a number from one to nine on the front of its container in the showcase.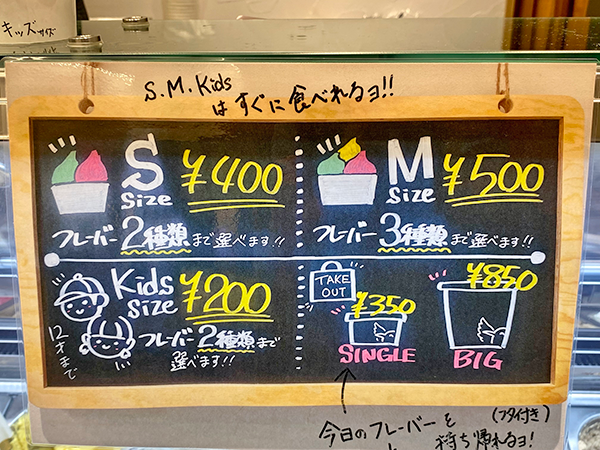 Those choosing medium size can enjoy up to 3 flavours, small is two flavours and the kids size is two flavours in a smaller cup. Kids sizes are 200 yen each and for children under 12. Medium cups are 500 yen and small 400 yen (which makes a medium size the best value!!)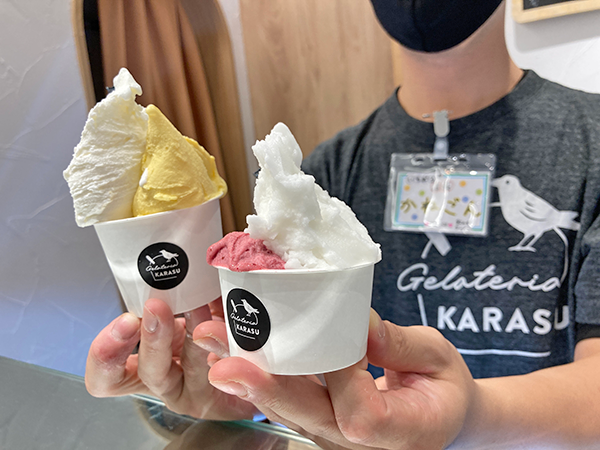 On the left is the medium size, with a small one on the right. I enjoyed a medium with Shinshu milk, hazelnuts and mango, which was a total taste sensation. The flavours are deep, rich and strong, with the gelato itself really creamy.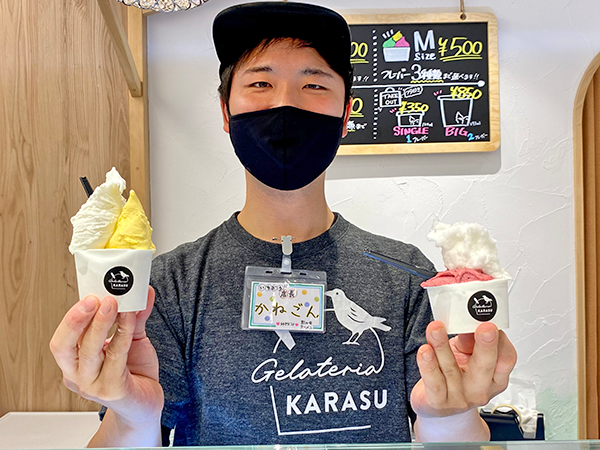 My colleague, who enjoyed a berry and Seto lemon mix, was so taken by the gelato that she went back the next day for more!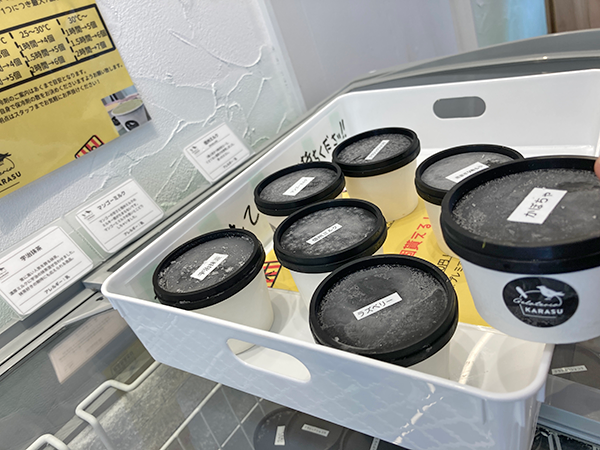 While Mr. Kanayama makes nine flavours fresh every day, customers who want to take out gelato have an even bigger selection. "Whatever's unsold at the end of the day goes into the freezer in cups," he explained, "That cuts down on food waste and creates a wider selection for our customers to enjoy." In total there are around 30 different flavours available now. "I'm looking to increase the number all the time with an eventual target of around 200," he added.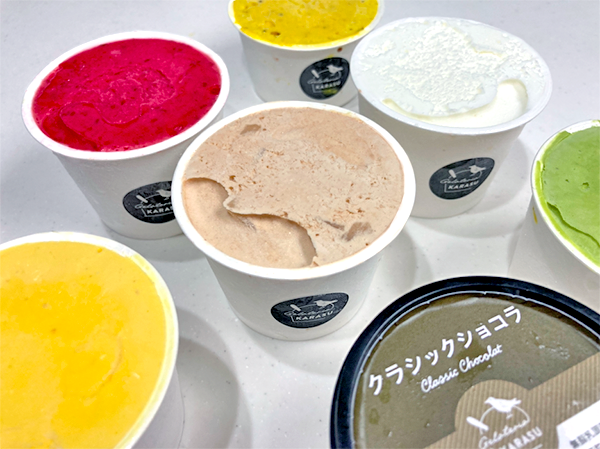 The takeout cups come in a special freezer pack to prevent melting. They are 300 yen each but if you buy six he'll give one extra for free! That's a bargain!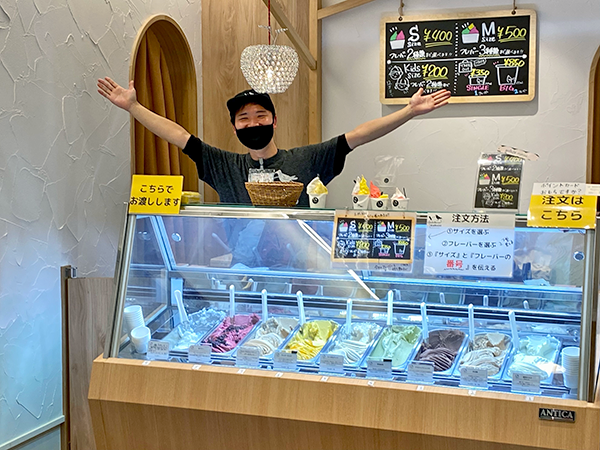 Gelato makes people happy. Making delicious gelato and sorbet makes Mr. Kanayama happy!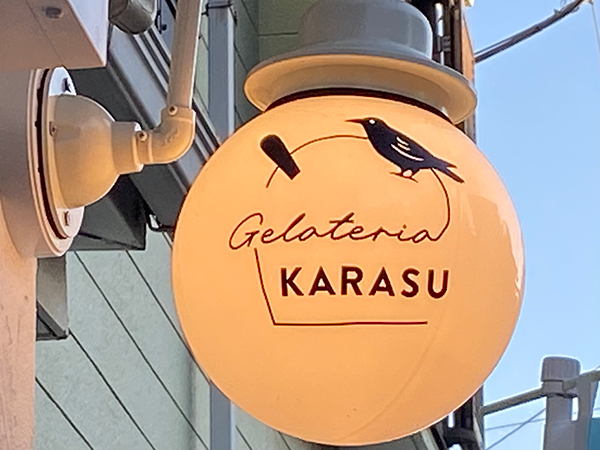 Whatever kind of day you're having, the super fruity and creamy gelato at Gelateria Karasu can only make it better. Treat yourself today!
by Stephen Spencer