Gourmet Pork Pleasure at Sansui
Published: July 29, 2022
Meat Pork Sansui is a brand new shop dedicated to serving the highest possible quality cooked pork products to the lucky residents of Koto-ku and beyond. On a recent summer morning we hotfooted it down to the Umibe area to investigate the porcine pleasures produced by Mr. Wataru Kitamura and his merry band of pork artists.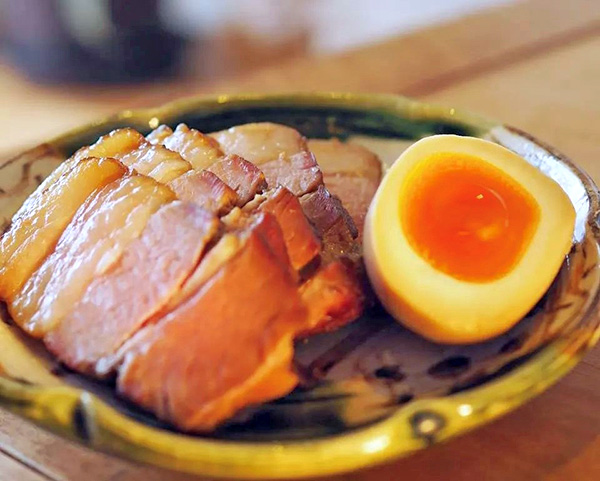 Kotomise coupon holders can enjoy a complimentary chashu egg with each purchase at Meat Pork Sansui. Boiled eggs are gently simmered in a mixture of the Sansui special sauce (taré) and the broth used to make the chashu pork belly, which allows the savoury umami flavours to sink deeply into them.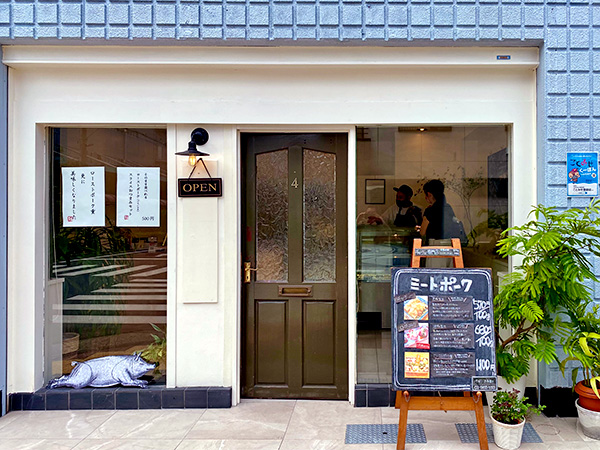 Meat Pork Sansui is located in Umibe, a quiet residential and office area midway between Sumiyoshi and Toyocho stations, a few minutes walk east of the Museum of Contemporary Art Tokyo. On first glance the shop facade appears to be that of a stylish patisserie of the kind found all over Tokyo; according to Mr. Kitamura some customers thought it was a cake shop even after they had entered.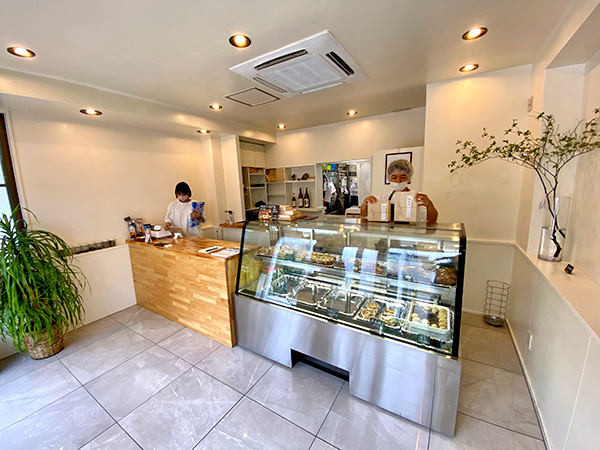 And it's easy to see why. The shop is as far from anyone's image of a pork shop as it's possible to be. The interior is light, airy and spacious, with high ceilings, a polished grey marble floor, natural greenery and some dry flowers. The smart display cabinet housing the pork products could easily have come from a Ginza cake shop. The preparation takes place in a kitchen area to the rear of the counter area.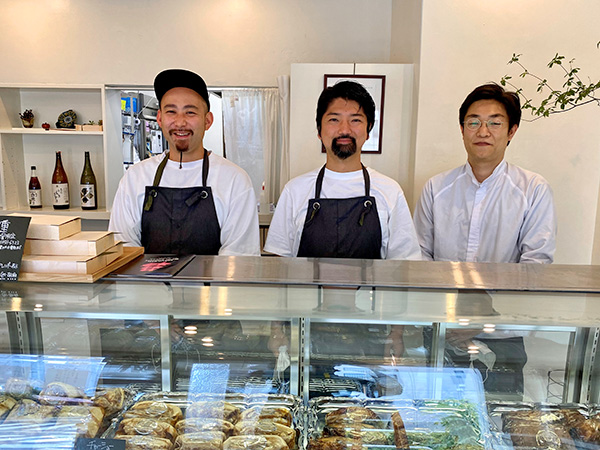 Mr. Kitamura (centre) may be intensely focused on producing the Rolls Royce of chashu and roast pork, but they're a laid back and friendly group as well.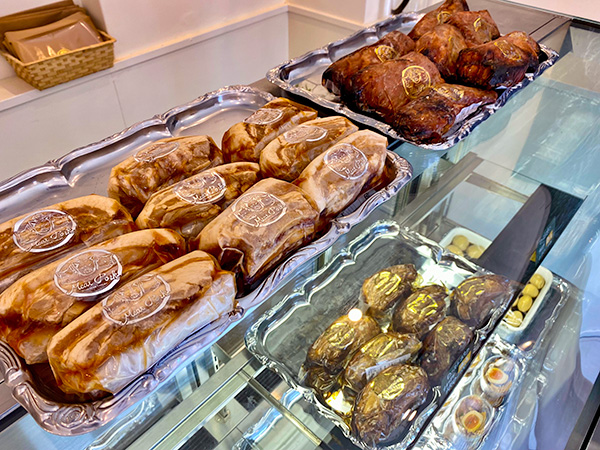 Meat Pork Sansui currently focuses on two products: a melt-in-the-mouth chashu boneless pork rib cooked to perfection with a variety of herbs and vegetables. The chashu is marinated in a sauce made from the meat's naturally sweet fat and Sansui's original taré sauce for 24 hours. Created to be eaten with rice, the chashu is soft enough to be separated with chopsticks by pork lovers of all ages. It costs 570 yen for 100g, with 200g the minimum serving.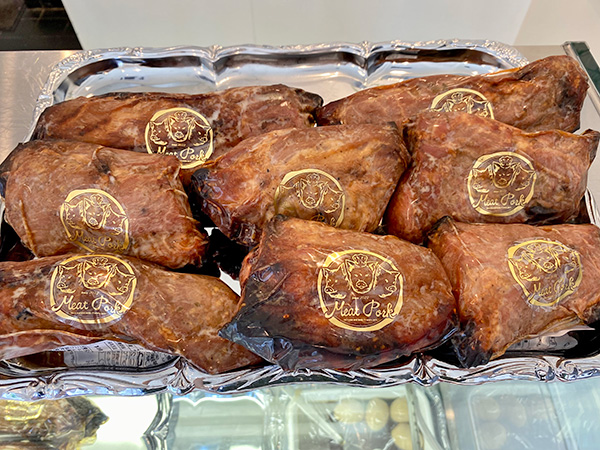 The pork shoulder roast is based on a Hong Kong chashu style. The pork is repeatedly basted with a sauce of soy sauce and miso and is lightly flavoured with an original Five Spice mix that creates a rich, savoury and salty-sweet melange of flavours that's truly amazing. It's 680 yen for 100g, with a minimum order of 200g.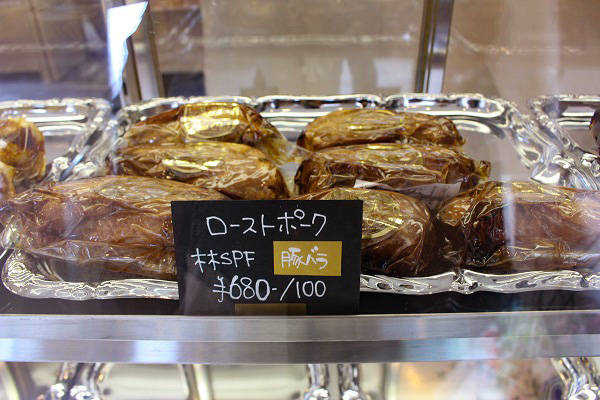 The boneless pork rib is also slow-cooked to perfection. Again it's 680 yen for 100g, with a minimum order of 200g.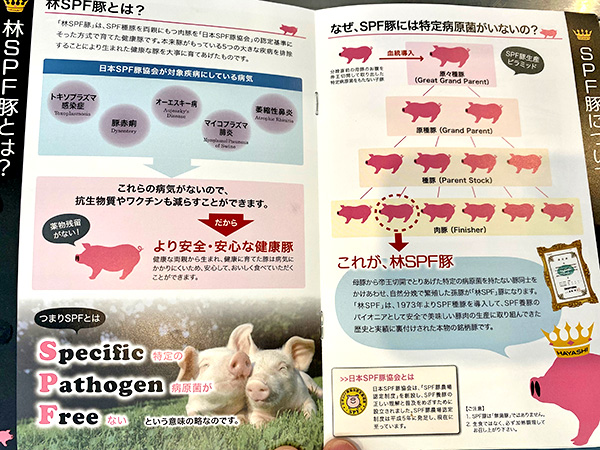 All pork used at Meat Pork Sansui is sourced from Hayashi SPF in Chiba Prefecture. It's guaranteed specific pathogen free and is of the highest quality, as are all the ingredients used to produce the exquisite pork, such as the premium soy sauce and the excellent sake (a tokubetsu junmai shu from the 300-year old Noino Brewery in Ome, western Tokyo).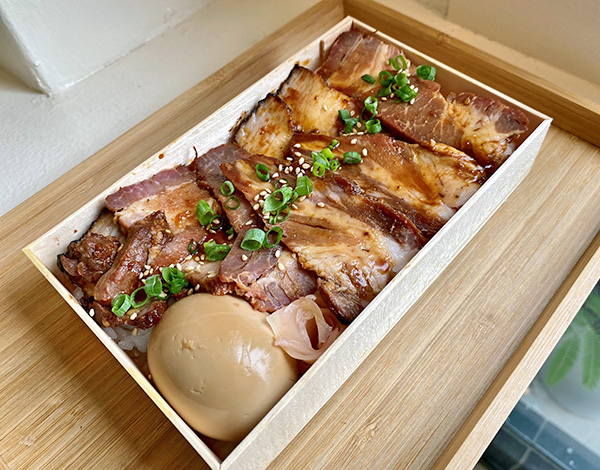 It goes without saying that this roast pork box is wildly popular. Freshly cooked rice is topped with two kinds of roast pork, the boneless rib and the shoulder, and a chashu egg for just
1,100 yen. That's crazy value! The sauce contains meat juices created when the meat is roasted, so it's incredibly savoury.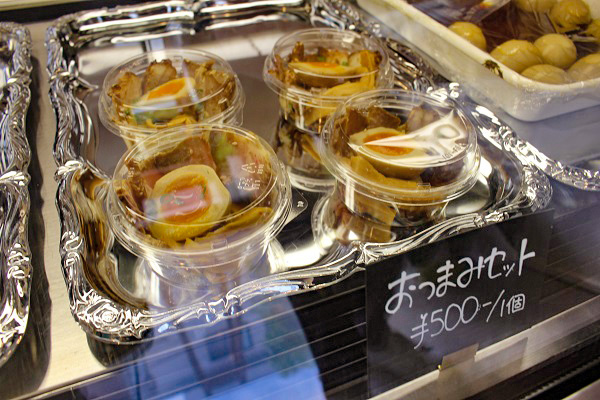 There's also a light snack side dish (otsumami set) for 500 yen. The side dish contains slices of roast pork, chashu and a chashu egg; very nice with a cold beer we imagine!
Meat Pork Sansui opened in June 2022, but Mr. Kitamura is already hatching new side dishes, such as a Sichuan-style crunchy daikon radish pickle (250 yen) which we were fortunate to try and gave the thumbs up.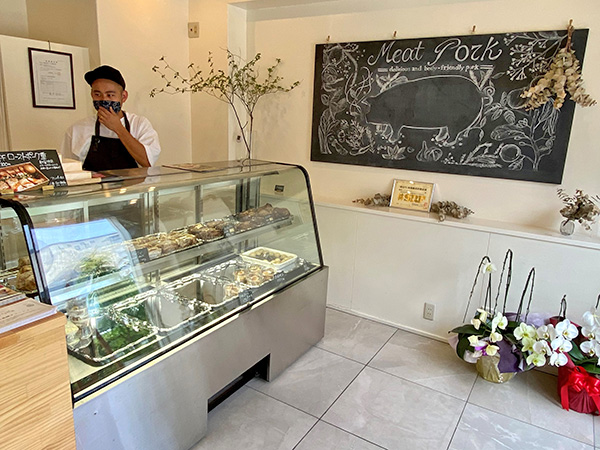 If you're in the mood for some artisanal chashu or roast pork, prepared to perfection by experts, then just head straight for Meat Pork Sansui. You won't be disappointed (and that's no pork pie, as the Cockneys say!).
Story and photos by Stephen Spencer