Gourmet Yakiniku in Toyocho
Published: November 11, 2021
Sanzenri is a major chain of yakiniku restaurants located in east Tokyo. Since the first establishment opened near Kinshicho station some 50 years ago, the consistent quality of its food and service has seen Sanzenri expand to encompass seven restaurants, two of which are located in Koto-ku. On a recent afternoon, we dropped into the Minamisuna branch, to meet with press officer Ms. Ichiki and group head chef Mr. Hiroki Itaya.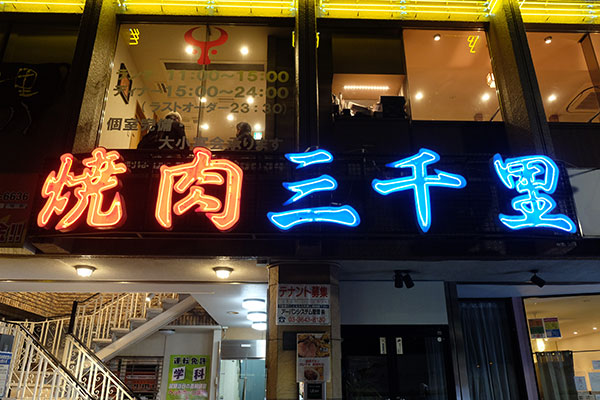 While the restaurant is named after its address in Minamisuna, it's actually located just a couple of minutes' walk from exit three of Toyocho station. Customers simply can't miss the orange, blue, and yellow neon signage that shines like a beacon at night.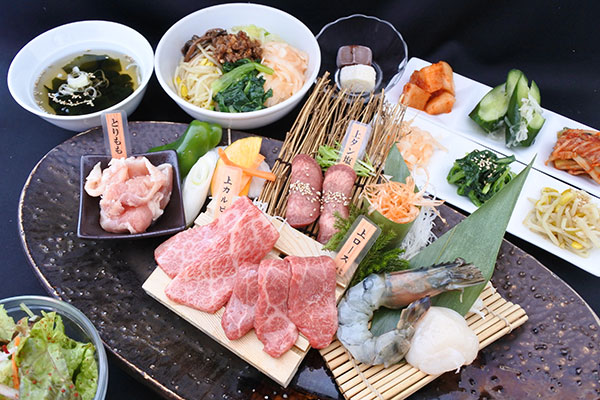 The latest smash hit from Sanzenri is this fabulous spread for a solo diner. Named kiwami gozen in Japanese, it's a veritable smorgasbord of meaty goodness, seafood, vegetables, pickles, and more, all for 3,690 yen including tax. From the front there's premium beef tongue, premium short ribs (calbi) and premium loin (rosu); the seafood is a plump shrimp and a fat scallop, with tender chicken thigh meat in a miso sauce. The chicken can also be liver. Then there's three kinds of kimchi pickles, three varieties of namul vegetable dishes, seasonal vegetables for grilling, a choregi salad and a light seaweed soup. Customers can also choose between a half-size bibimbap or a half-size chilled noodle dish (reimen), and to round it off there's an ice cream dessert. Incredible!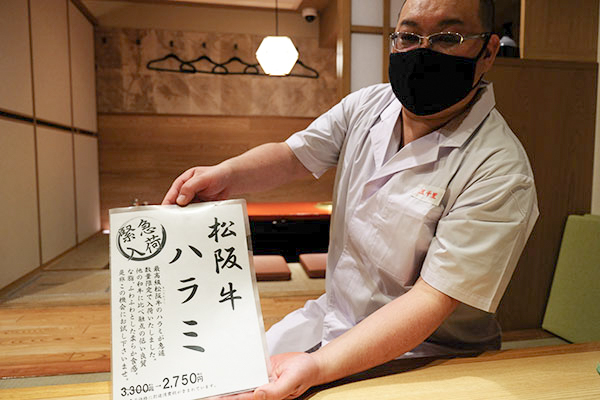 Mr. Itaya, a 25-year veteran of the yakiniku business and group head chef, was keen to introduce a rather special item currently on the menu at Sanzenri: Matsusaka wagyu beef skirt steak at the remarkable price of 2,750 yen including tax per serving. Matsusaka beef is one of the three most prestigious wagyu brands in Japan, and as he explained, "It's been difficult to guarantee a regular supply as the competition is so great, but through our long-developed connections we've obtained enough to serve until after New Year." Yakiniku dinners with family, friends or colleagues are a great way to enjoy the holidays, so why not push the boat out with some extra -special beefy goodness.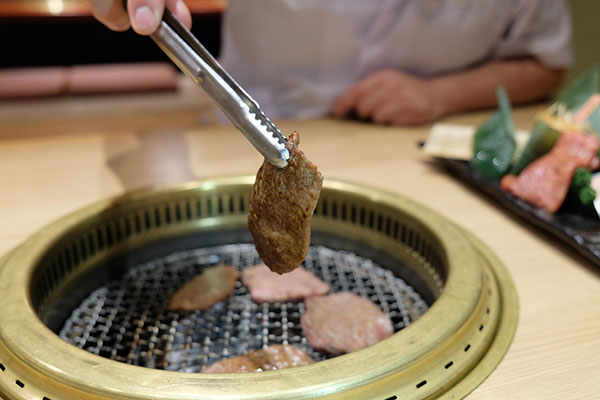 The Sanzenri menu may be massive but all meals start with beef tongue, the traditional opener. As Mr. Itaya explained, "We begin with the lightest, least seasoned meat, which is tongue. Then we progress to red meat, fattier meat and finally comes chicken in a miso sauce, the strongest flavour of all. Also, barbecuing the meat in this order prevents the net getting clogged with flavours that smother the next variety of meat."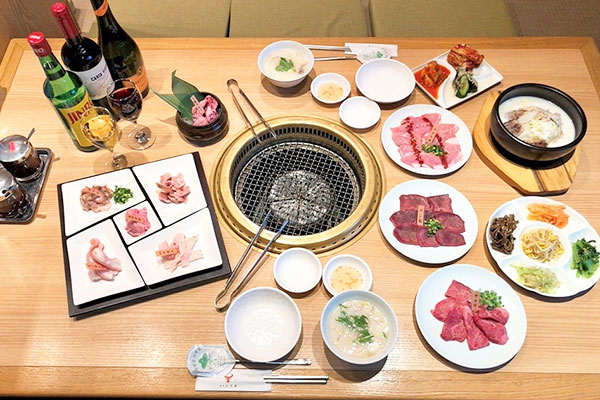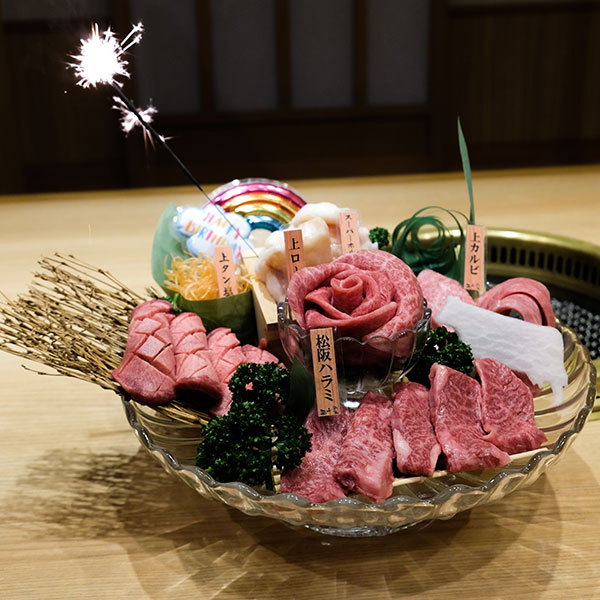 Sanzenri is a terrific place to celebrate a birthday, anniversary, graduation, special event or just about anything really. To that end, the staff have created this Birthday Special which contains a selection of premium meat fit for a king. There are thick slices of Matsusaka skirt steak, premium tongue, premium short rib and premium loin, together with "super horumon" white tripe. There's even a sparkler! Usually costing around 10,000 yen including tax, it's a set for four people.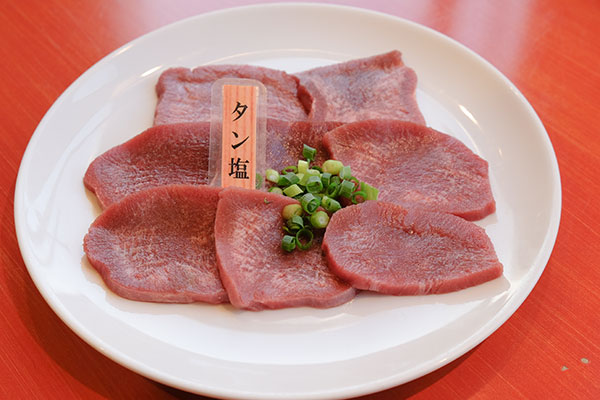 Regular tongue like this is 935 yen per plate including tax, with the premium version at 1,980 yen.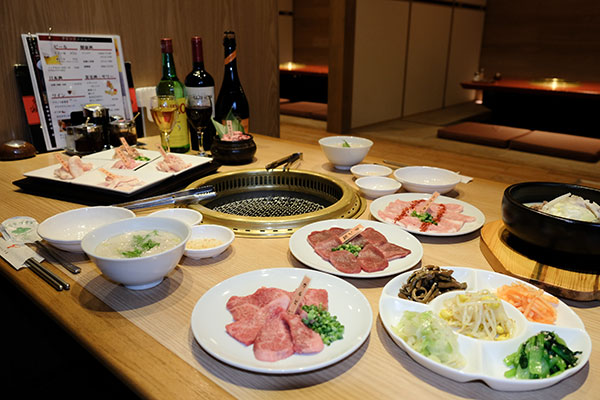 This juicy short rib, which literally melted in our mouths, represents excellent value at 1,210 yen per plate for regular, 2,035 yen for premium and 2,970 for super premium. The short rib is at the front on the right here.
Tired of beef? Why not try pork tontoro, juicy slices of pork from the neck and shoulder region, spiced with crushed chili pepper and spring onions. Very reasonably priced at just 770 yen a plate; it's the bulk buying power of Sanzenri that keeps the prices low!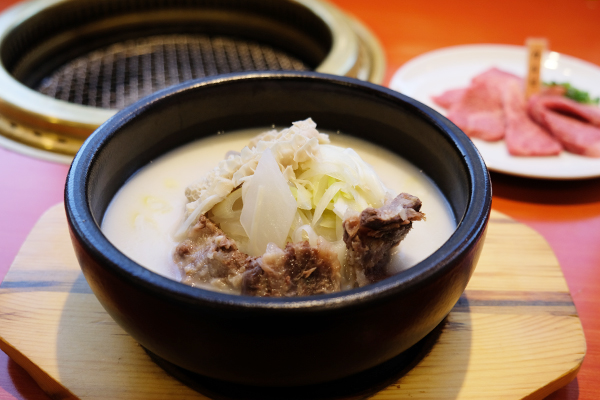 The Sanzenri menu features a whole range of hearty soups, including this extremely popular komtang soup made from ox bones simmered for eight or nine hours."We use bones from breeds of cow rich in marrow that are easy to extract. The soup makers must break the bones first then simmer them for hours to extract the full flavour. After that the soup's main ingredients are cooked and the two combined in what's a really labour intensive process," explained Mr. Itaya. The soup contains oxtail that literally melted in the mouth, incredibly soft honeycomb tripe and bok choy cabbage. The soup was wonderful, a milky white colour, deep and rich in flavour. "It's full of collagen so it's really good for your skin, and very popular with female customers," he said. At just 880 yen for a bowl, enough for two to share, it's a must-eat!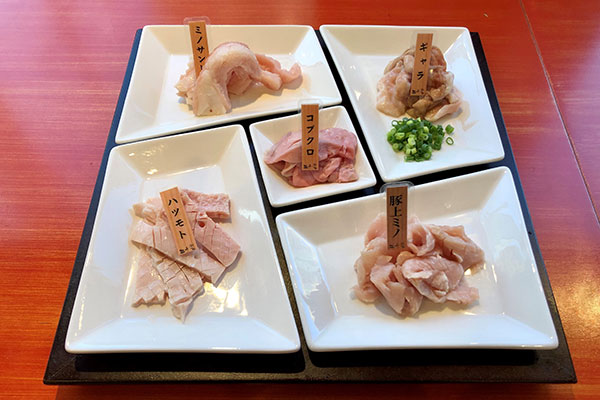 Offal is known as horumon in Japan, a Kansai (Osaka area) word meaning "things thrown away" as the internal organs, stomach and intestines were not eaten in the past. Recent years have seen a huge revival in horumon popularity in Western Japan, a boom that has spread to Tokyo. Horumon is slightly cheaper than yakiniku, is very healthy, and contains a lot of collagen. This Sanzenri kodawari (speciality) horumon set features from top left: rumen (mino), abomasum (giara), premium pork rumen (buta jo mino), pulmonary artery (hatsumoto) and womb (kobukuro). It's a very reasonable 1,815 yen.
Given its proximity to the Koto-ku Ward Office and the many major companies in the bustling area, it's no surprise the weekday customers are mainly businesspeople, with families and local residents at weekends, as Mr. Itaya explained.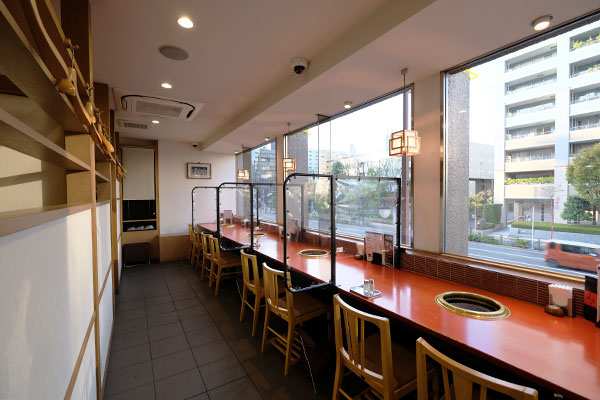 Inside, Sanzenri is divided into three areas. Firstly, there's a counter for couples that overlooks Eitai Street; perfect for solo yakiniku eaters, girlfriends and dates!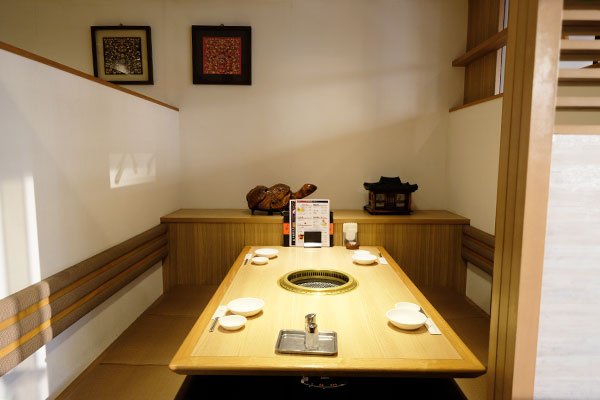 Behind the window counter is a section of four seaters, some of which feature sliding doors for more privacy.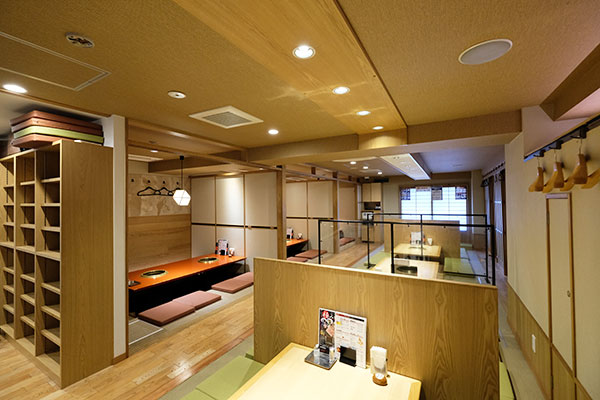 While at the back is the largest space for groups and parties. The ongoing pandemic may have prompted the rise of solo eating but yakiniku is a communal affair above all. Whether with a date, family, colleagues or friends, Sanzenri has seating to suit all moods!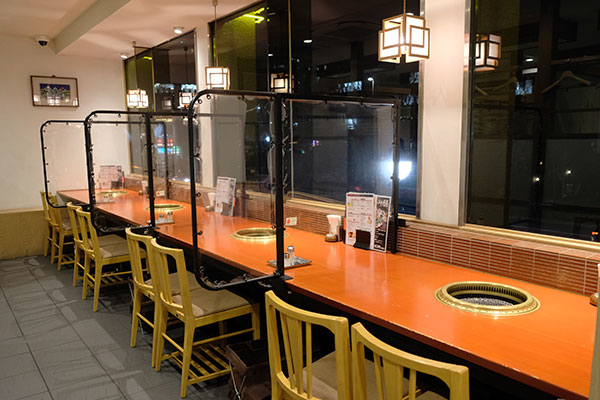 After dark it becomes very cosy for couples by the front window.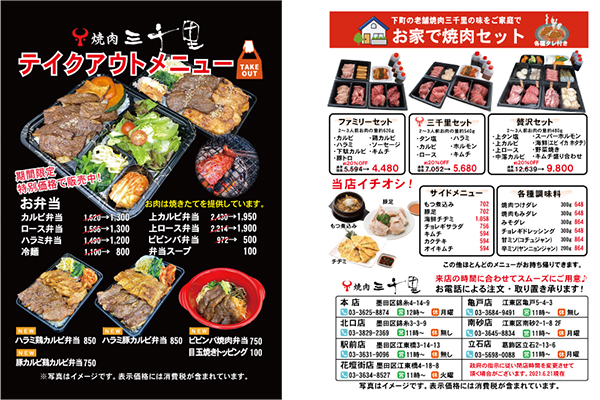 Lunch is available from 11:00 am to 15:00 pm and costs between 630 and 1,400 yen. "It's packed at lunchtime so my advice is to either come early or slightly later," said Mr. Itaya. There's also a take out menu and cook-at-home sets. Whatever you want, Sanzenri has it covered!
Story by Stephen Spencer