Dear Readers,
Today, I am on a quest.
Today… I am going to get my hair cut.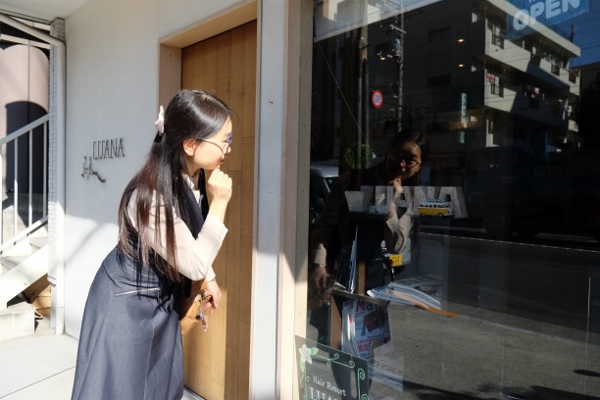 Okay, so quest is neither glorious nor epic, but it is one that I've been putting off for a long time for the following reasons.
One: Uncertainty over the quest's difficulty status. (How do hair salons operate in Tokyo? Is it by reservations only or can you drop in? Does the cut price include a shampoo treatment? Do you tip, or does the never-tip-in-Japan-unless-you-want-to-start-a-war rule still apply?)
Two: Finding a chic salon that doesn't break the budget.
And three: racking up the Experience Points (and nerve) necessary to converse precisely with the hairdresser about what I want.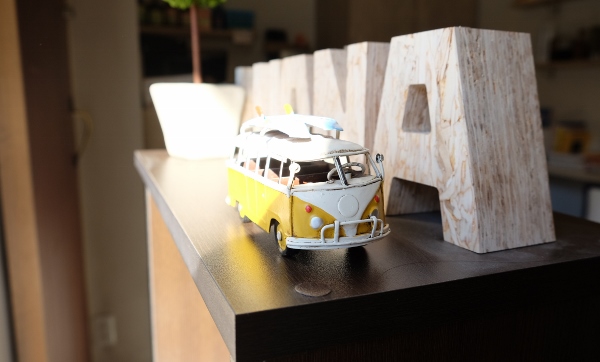 Destination: Hair Resort LUANA
After a winding journey to Sumiyoshi, Koto City (read: I got lost), I reach Hair Resort LUANA. The simple design outside and the large, inviting window gives a peek at the salon's cozy interior.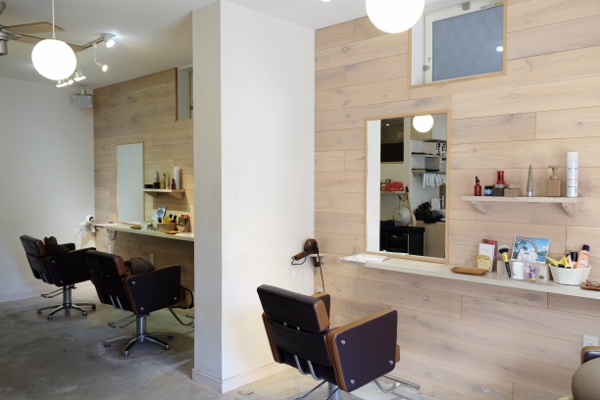 I cautiously approach the reception counter.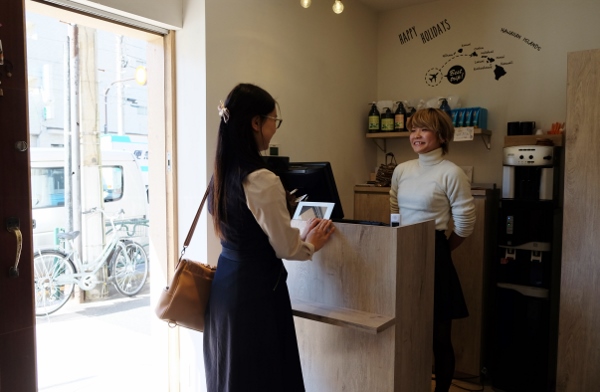 "Do I need to make a reservation?"
"Not at all!" Miss Zamami, the assistant, answers me with a bright smile. "Of course, it depends on how busy we are, but we welcome drop-ins, too."
She leads me to an empty chair and sets a blanket over my lap which comes with a built-in cushion. I'm getting a good feeling about this…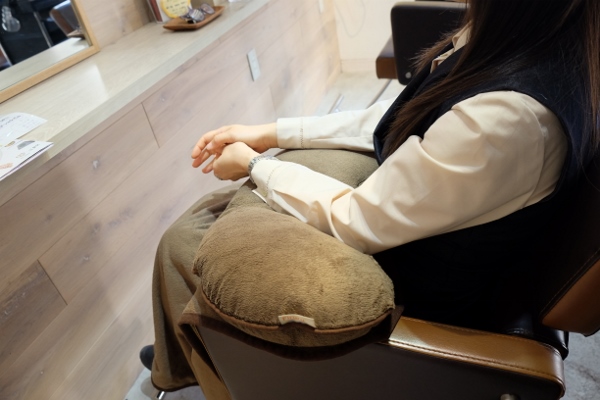 A few minutes later, I am greeted by Mr. Okamoto, my hairdresser for today.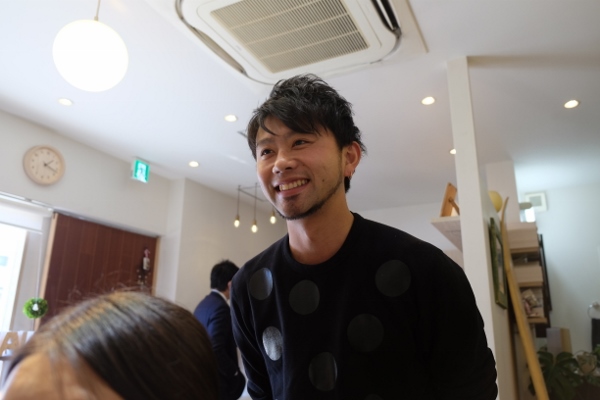 "It's nice to meet you!"
(Everyone here has such nice smiles…)
A Proper Consultation
The hardest thing about going to a new hairdresser is feeling comfortable enough to take the time to voice all your concerns. After all, this is a complete stranger to whom you've entrusted a big portion of your outward appearance…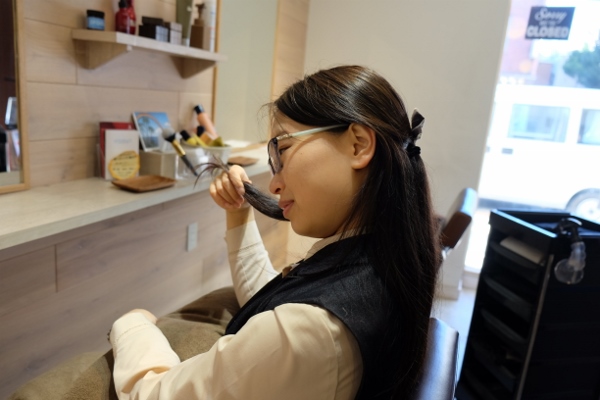 (I wish I could just leave it to him to tell me what would look best. How much easier would it be if hairdressers could read minds?)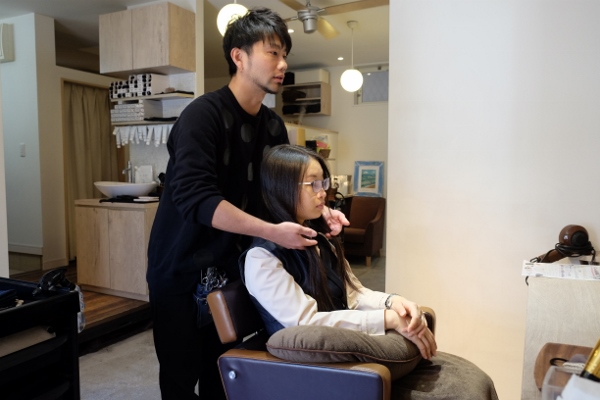 "Judging by how it feels, about 6 centimeters from the tip is where the texture of the hair changes, so I'd recommend cutting it at least to here."
(!)
"And a length somewhere between the cheek and chin would suit you best if you want bangs that are versatile."
(!!)
…Never mind, maybe some of them do read minds! (o_o)
The trick, of course, is that Mr. Okamoto is 1) an expert of the field and 2) an extremely patient listener who gives you lots of chances to actually converse with him, so the onus of making decisions rests neither solely with the customer nor with the hairdresser.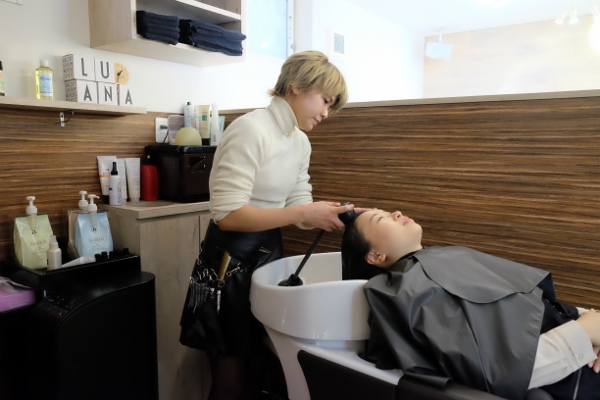 Once we've settled on what to aim for, Miss Zamami handles washing and shampooing my hair. While this can vary (and you should always check), at LUANA the shampoo treatment is included in the cut price. Yay!
Snip, snip and away!
After my return, Mr. Okamoto starts cutting. His hands move without pause, but he also manages to put me at ease by simultaneously carrying on a conversation.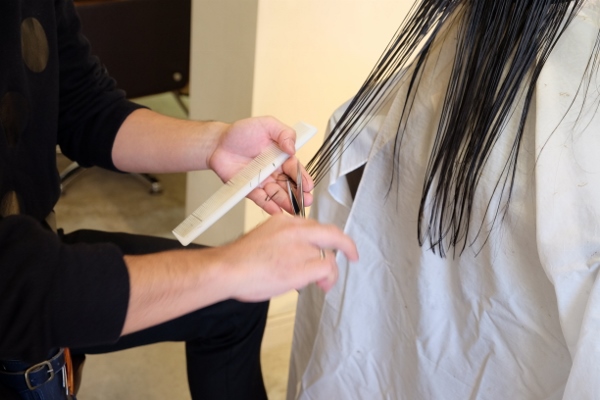 The chatter is nonchalant, as we talk about work, the holidays, and hobbies…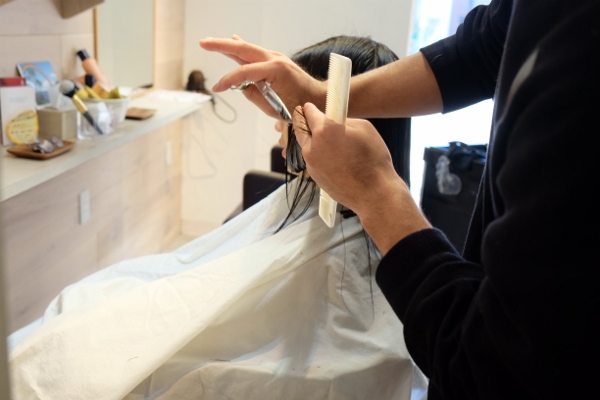 In fact, I'm more focused on the conversation than the scissors, and barely notice what's going on!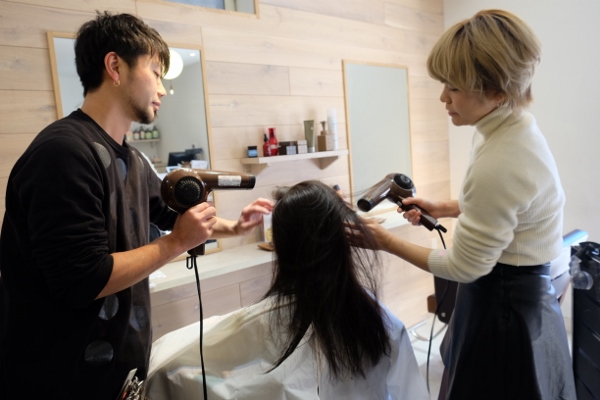 After trimming my hair to the proper length, Mr. Okamoto and Miss Zamami tag team for the blow-drying.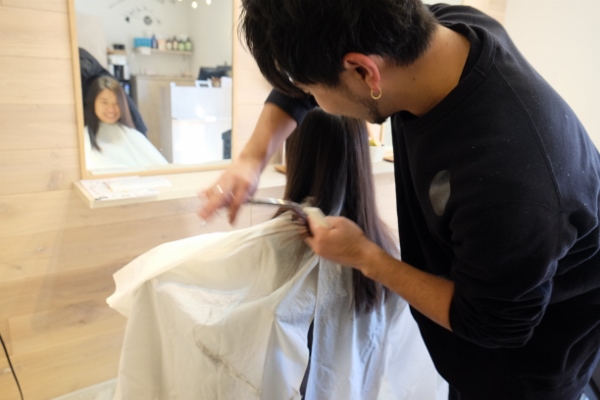 Then, a second round of cuts to style the hair…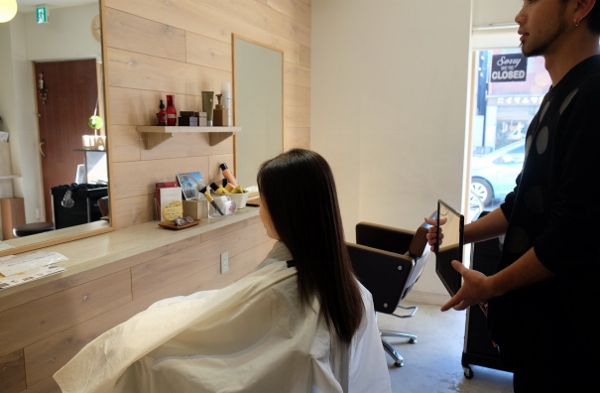 And Ta-da!
Mission complete!
(Now, if only my hair looked this good ALL the time…!)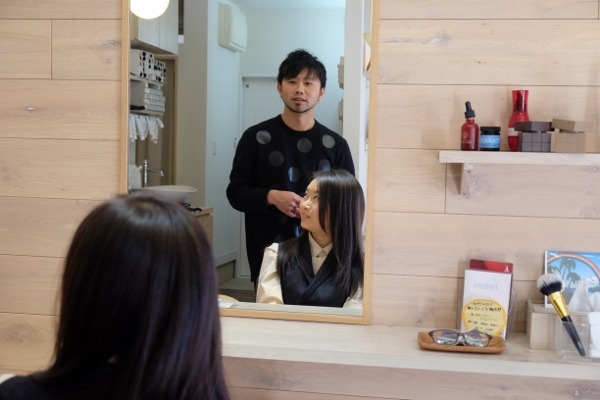 "If you blow-dry your hair this way, it'll create a softer impression and allow your hair to maintain this style better."
(!!!)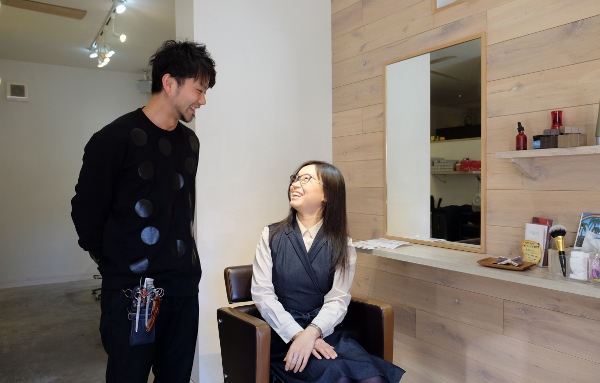 Mr. Okamoto then gave me advice about upkeep, styling, and even what hair arrangement would look best. It really does make a difference when you get advice from a professional.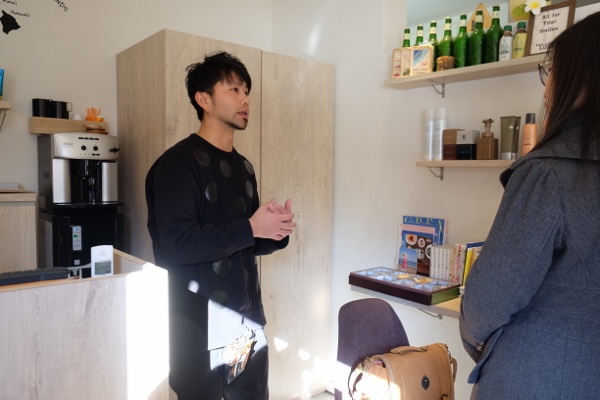 "Our job is to bring out the best in people."
"The most difficult part of the job is when I get requests that are impossible—there are things even we can't do. What we can do though, is give advice that helps every customer to show their best self."
"I'm always thinking about what and how the customer might be doing between visits. We chat, and from the conversation I gain insight into their everyday life. I then try to create a hairstyle that suits their lifestyle. Even the most inane-sounding conversation is actually extremely important to me."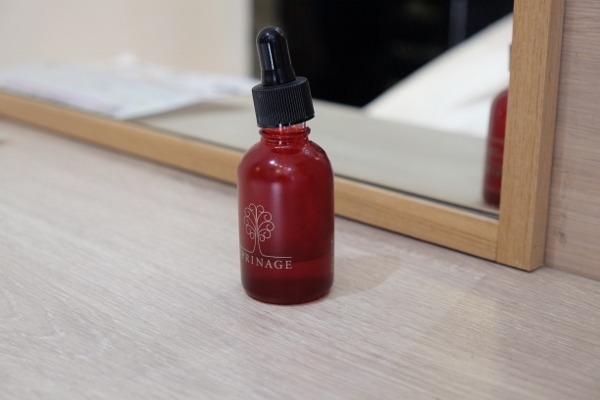 It's clear that at LUANA, customers are given the treatment they deserve, even as their hair is treated with carefully selected, high-quality products 😉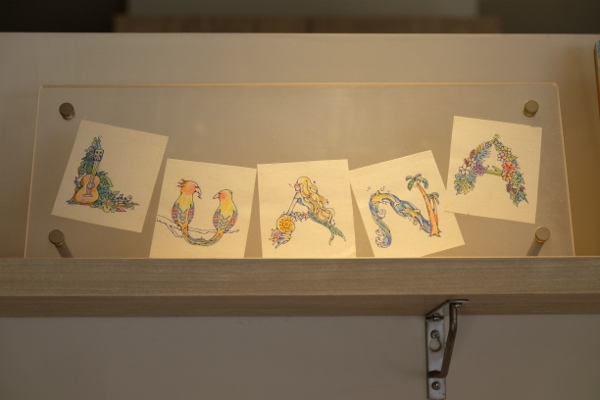 Indeed, "LUANA" is Hawaiian for "to be at ease" or "to relax and be content", and the salon is infused with this wish for all visitors.
There are few people capable of being a "complete stranger" and a "trusted confidante" at once, and hairdressers are on that list. That's maybe why it can be a difficult quest to find the right one, and why once found, we cherish their presence so much.
So, for visitors and residents of Koto City who are still waiting to find just the right salon…well, I think you know where I'd recommend. (Oh, and by the way, you do NOT need to tip :D)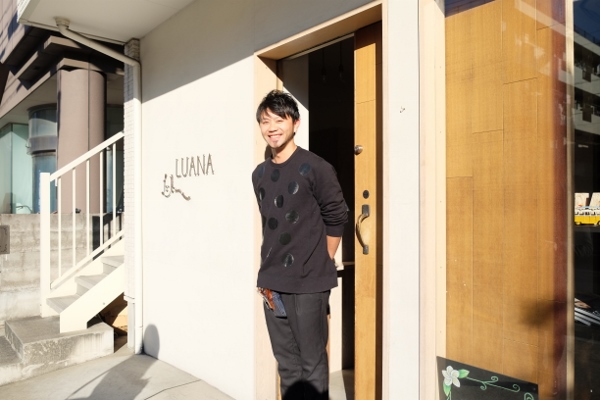 "I love my hairdresser!" is a phrase I've often heard from friends and greatly envied.
I think I can finally say it right back♪
editor: Xianru Shen (Koto City Office Coordinator for International Relations)