Winning Luck Beer at Hakko Bunka Oendan
Published: July 26, 2017
The story of Winning Luck Beer is the story of man's triumph over adversity. Located on a corner of the approach road to Katori Shrine, a few minutes' walk north of Kameido Station, we find the bar and nomiya (Japanese drinking house), Hakko Bunka Oendan (Fermentation Culture Supporters) and its proprietor, the "winning luck man", Satoru Kirekawa. "Fermentation is the basis of Japanese seasonings such as soy sauce and mirin (sweet rice wine), miso (fermented bean paste) and so on. Sake (known as "nihonshu" in Japanese) is also fermented and as such represent the highest level of fermentation technique in the country. I mainly sell sake here and wanted a striking name as part of the local revitalization project."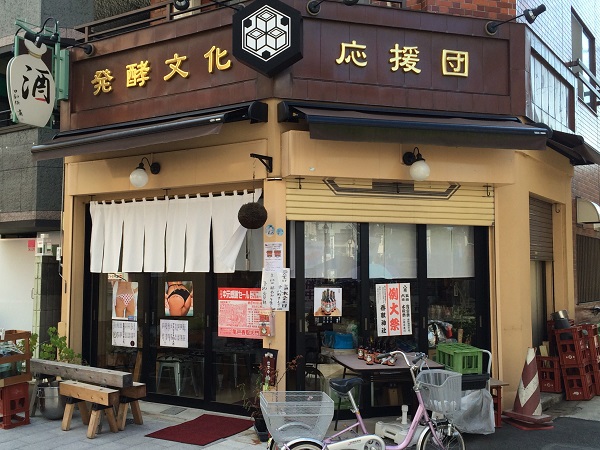 Several years ago Koto-ku developed a plan to revitalize the approach road to Katori Shrine. The shrine, established in 665 to commemorate the victory in battle of a Heian Court bureaucrat over a rebel samurai leader, has long been associated with victory and is very popular with athletes praying for good fortune. It is also popular with people seeking to overcome illness. The street leading to the shrine had fallen on hard times however, and many shops were shuttered. Under the plan, telephone cables were buried under new pavements, retro shop fronts and antique streetlights were installed, and the local trade association changed its name to Kachiun Shotengai (Winning Luck Shopping Street). Approximately half of the shops reopened as new endeavours, and one was Hakko Bunka Oendan.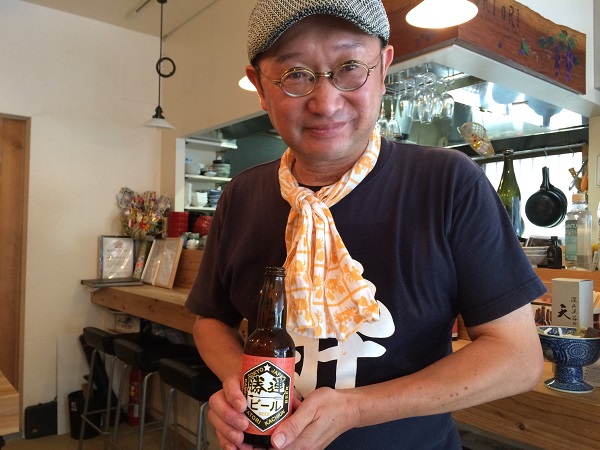 Construction was completed in December 2010, just in time for the busy New Year period. The official grand opening was scheduled for March 12th 2011, but disaster struck on the preceding day as the Tohoku earthquake and tsunami devastated the northeast of the country. "Everything was cancelled, we donated our budget to charity and started again from zero," remembers Mr. Kirekawa.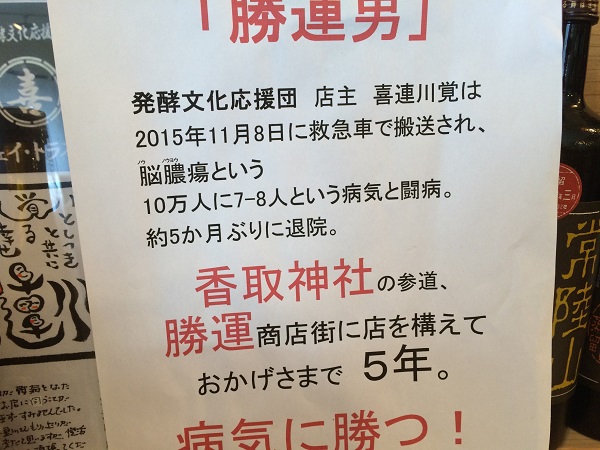 After many years of hard work to make the project a success, tragedy struck again when Mr. Kirekawa was felled by serious illness. "I had major surgery, spent months in the hospital and then three months doing rehabilitation. I left the hospital on July 1st of last year. I believe I owe my miraculous recovery to blessings from the Katori Shrine and wanted to show my appreciation in some way. That was the germ of the idea for a new beer."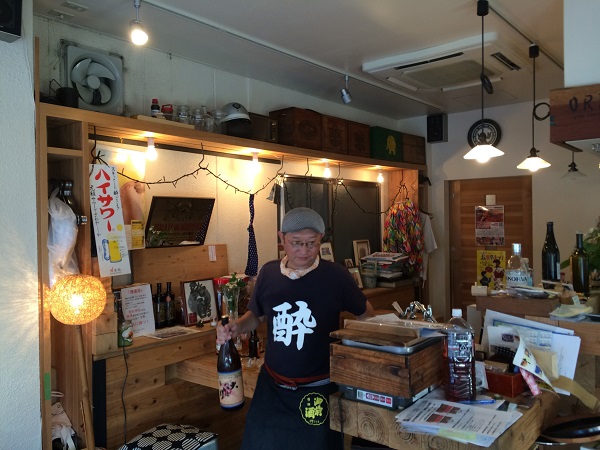 He had previously developed a unique white beer, registered as a happoshu (low-malt beer), for sale in Hakko Bunka Oendan from its opening; but the brewery he'd partnered with decided to cease manufacturing products for other brands. That led Mr. Kirekawa to approach the venerable sake and beer maker Reijin Shuzo in Nagano. He attended a beer tasting event and subsequent negotiations were successful. The target was to have the beer on sale for New Year, which left around three months to plan, design, produce and market it–an incredibly short time. Working with the brew master in Nagano, Mr. Kirekawa wanted a "hoppy, slightly bitter flavour that would appeal to adults." The Kachiun–or, Winning Luck beer–was born.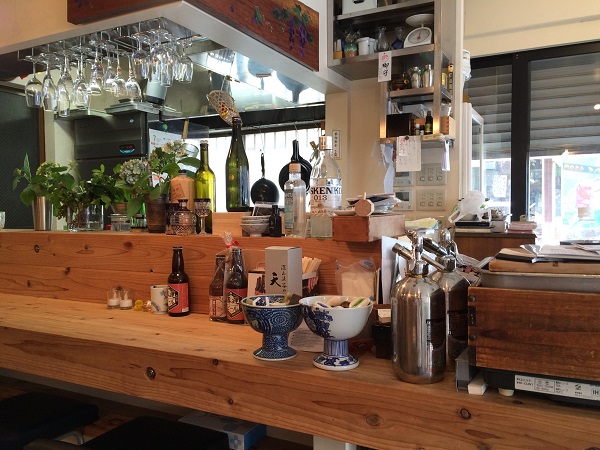 The designer tasked with producing the label was so desperately busy balancing both home and work life that it seemed the beer would go on sale unlabeled. However, a series of fortuitous circumstances combined to create a window of opportunity for her to produce a design and send it to Nagano in the nick of time. "Everything seemed to fall into place. It was like a miracle. The finished beer arrived on December 29th and we were able to serve it to our customers as we stayed open all night on New Year's Eve."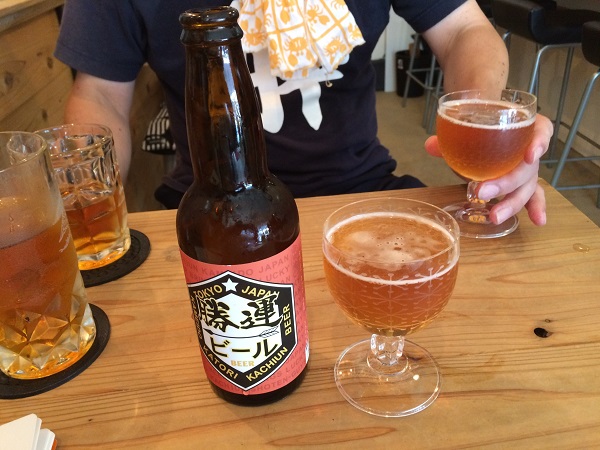 The Winning Luck beer is delicious. A rich, hoppy, full-flavoured confection with a hint of sweetness, it's beer to be savoured and enjoyed for its multifaceted taste.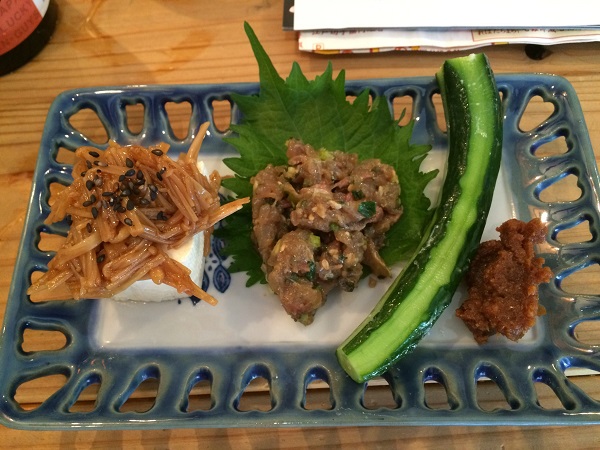 As previously mentioned, Hakko Bunka Oendan specializes in sake. Mr. Kirekawa is as passionate about Japan's national drink as he is welcoming and we soon began a brief tour of the country, in alcohol form. A plate of tempting summer treats appeared featuring, from right to left, enoki mushrooms with tofu, namero (Chiba-style chopped and minced raw fish with miso, negi onion and other seasonings) and miso with cucumber. Yum yum.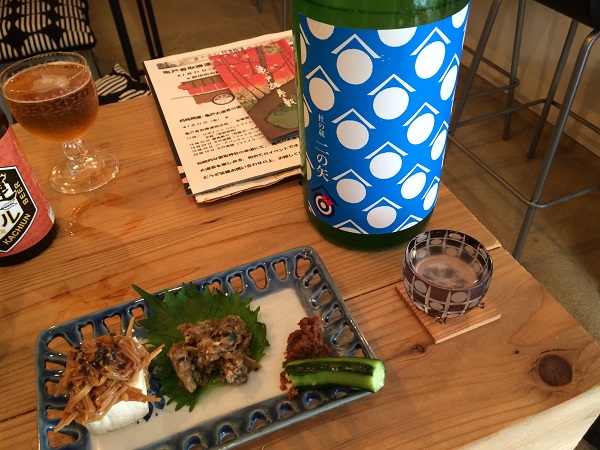 Mr. Kirekawa's home prefecture of Fukuoka may not be as renowned for its sake as other areas in Japan, but still boasts something like 70 breweries. This summer special from Morinokura Brewery, Ninoya Yumei Ikkon (杜の蔵 二の矢 夏生 夢一献) was light, refreshing and at 15% alcohol only slightly more potent than wine.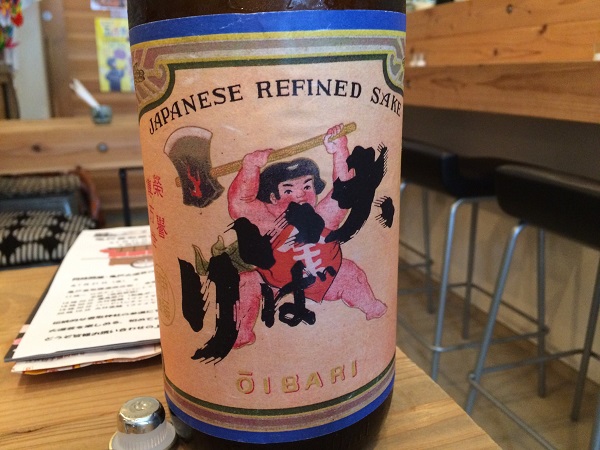 Heading north to Gifu we encountered this limited edition, unpasteurized sake from Wakaba Brewery. A fresh, lively flavour well represented by the label featuring Kintaro swinging his axe.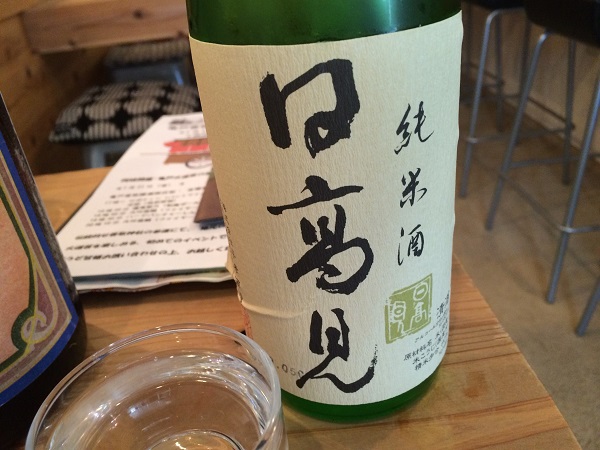 We arrived in Ishinomaki, Miyagi Prefecture for a glass of Hitakami from the Hirako Brewery. A very toothsome drop indeed, with a flavour that seemed to expand in the mouth, becoming richer and deeper over time. Ishinomaki was one of the places devastated by the Tohoku earthquake in 2011 and this fine beverage is a fitting tribute to the resilience of the people of that area. Amidst even the greatest adversity, people still want something tasty to drink and the brewery refused to admit defeat.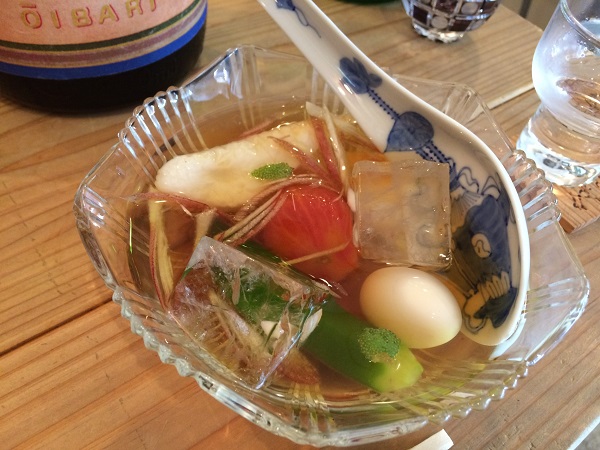 Mr. Kirekawa's original summer oden features tomato, okra, cucumber, chicken tenderloin and myoga (Japanese ginger) all in a chilled bonito-based broth. Bonito is used in the summer, flying fish (called ago in Nagasaki) in the winter. The soup is refreshing and invigorating, very welcome on a hot and humid Koto-ku summer afternoon.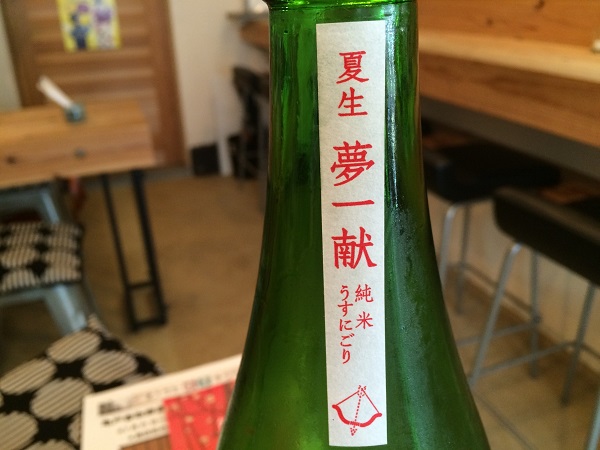 The Kachiun Shotengai is hosting a variety of street performers on Friday July 28th and August 4th, from around 5pm to 9pm.  Hakko Bunka Oendan features traditional Japanese ghost stories performed in the Kodan style by Mizuno Tanabe on the second Friday of every month.
The food is delicious, the drinks superb and the host most welcoming. Everyone should pay a visit to Hakko Bunka Oendan and Katori Shrine in Kameido. Perhaps they can become a "winning luck man" (and woman) too!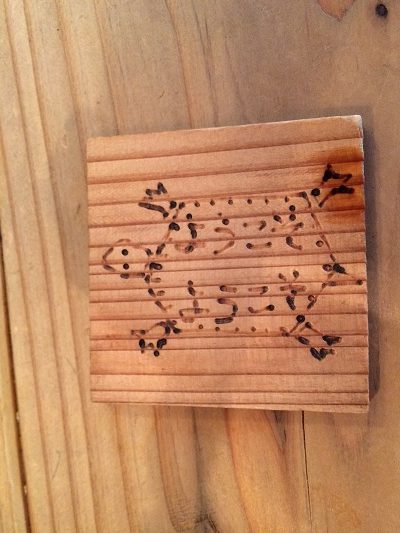 Story and Photos by Stephen Spencer