Inari is the name of a Shinto deity whose many shrines, attended by statues of foxes, can be found on roadsides and in temples grounds around Japan. By tradition, inarizushi are offered to the statues of foxes which guard these shrines to intercede on a worshipper's behalf.
If you happen to go to Kameido to visit the Tenjin Shrine, be sure to call in at Hanainari. This small shop sells inarizushi and is located on Kuramaebashi-dori, almost opposite the short road leading up to the shrine.
The shop opened in February 2013. It is run by Ms. Akari Ichimura, ably assisted by her mother, Michiko, who taught her the traditional techniques of making inarizushi.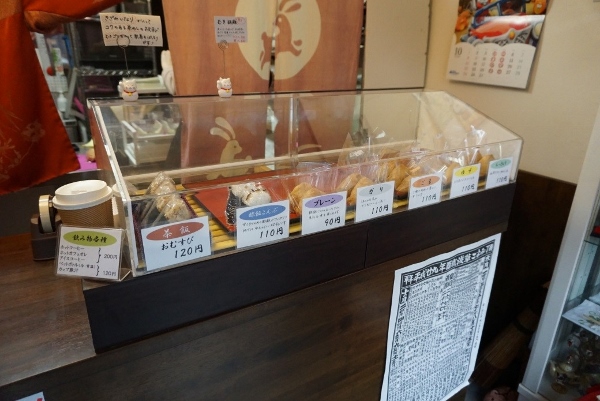 Inarizushi are balls of rice flavoured with sushi vinegar and wrapped in an envelope of abura-age (fried tofu).They can be eaten at a picnic or as part of a sushi meal or just on the go. Now, whilst I like inarizushi, I feel they sometimes can be a bit large in size and the flavouring generally lacks variety. Here at Hanainari, however, the Ichimuras have come up with something a little different.
Firstly, the size of the inarizushi are slightly smaller than traditional homemade ones, and you don't come away feeling bloated after eating a couple. Secondly, the outer layer of abura-age has less of an oily aftertaste than some inarizushi; third and most importantly, these inarizushi come in various flavours.
What the Ichimuras have done is add several different flavours to the rice filling to make the contents of the inarizushi more interesting. The afternoon I dropped in, there were four different fillings besides the plain inarizushi to choose from on sale: gari (chopped pink ginger pickled in sweetened vinegar), goma (two types of sesame), rakkyo (finely chopped small pickled onions), and yuzu (white citron peel).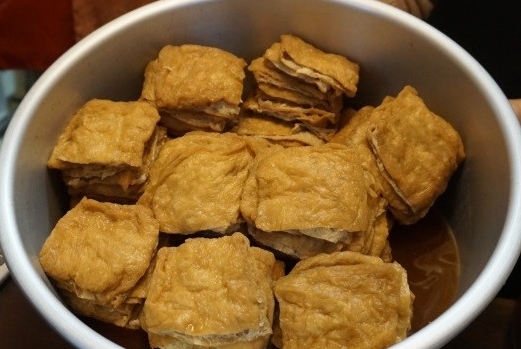 Ms. Ichimura is particularly proud of Hanainari's process for making abura-age. In explaining the process she stressed the importance of steaming the fried tofu to take away the oily aftertaste. She and her mother then add soy sauce, sugar, dashi (stock) and seasoning, and leave the abura-age for two to three days to absorb the taste. The abura-age is then heated and pressed to remove any excess oil. Finally, it is hand wrapped around the different types of flavoured rice.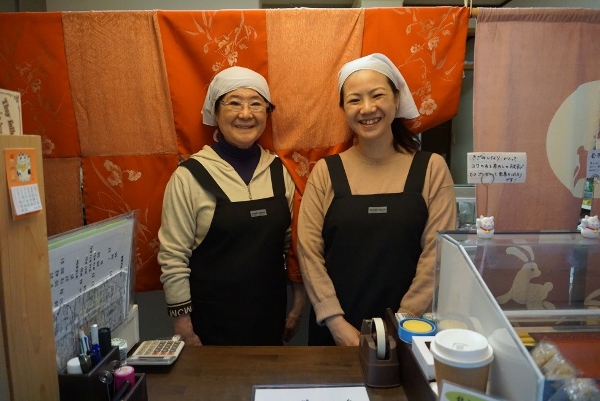 In addition to inarizushi, Hanainari sells omusubi (flavoured rice balls wrapped in dried seaweed) and seasonal specialities, such as cha meshi—a rice ball containing soy sauce, dashi flavouring and pieces of abura-age—in autumn, and umeinari—filled with shiso (beefsteak plant) and an umeboshi (pickled dried Japanese apricot)—in February and March, to coincide with the Tenjin Ume (Japanese apricot) festival.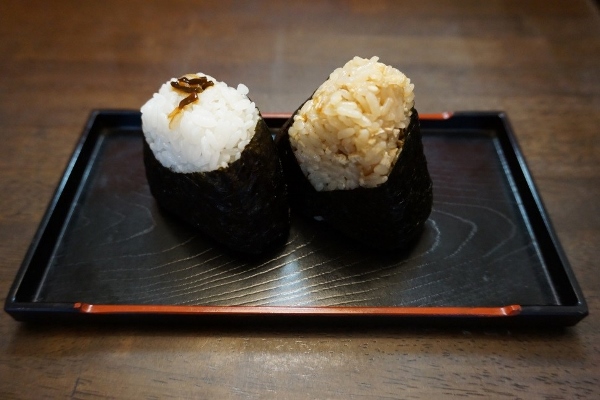 The shop's customers tend to be the older generation during weekdays, with families and young couples calling in on weekends. And then there are always the visitors to the Kameido Tenjin Shrine. I can imagine it is nice to sit on the bench outside the shop and watch the world go by whilst savouring a selection of inarizushi. Unfortunately, the day I went was cold and wet, so I had to wait until I got home before I could enjoy my inarizushi.
Not only were they tasty, but Ms. Ichimura advised that they are relatively low in calories (the plain variety are only around 100 calories) as well as being healthy with all that tofu and vinegar. The price of the inarizushi is very reasonable, with the plain type costing 90yen and the flavoured varieties 110yen each. The cha meshi cost 120yen and the omusubi 110yen.
Ms. Ichimura is pleased that her clientele includes customers from overseas. One couple enjoyed the inarizushi so much that they left a short message of thanks, which is hung up in the shop.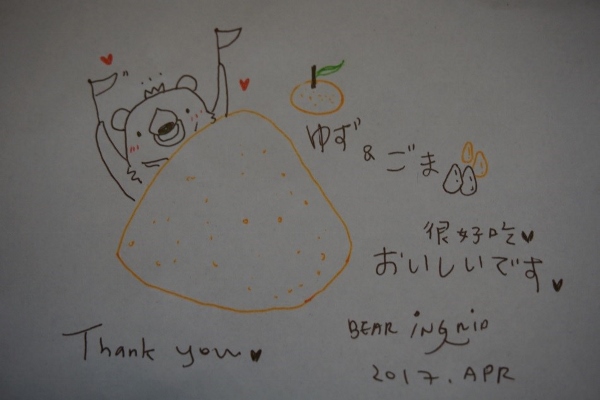 I know I look forward to an opportunity to go back to Kameido, so that I can call in at Hanainari and savour their delicious inarizushi again.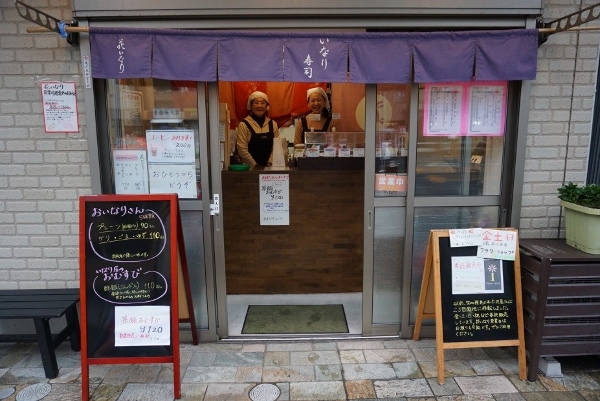 Story and Photos by Jeremy Hutchinson