Handmade Ready-wear at Gallery As
Published: September 25, 2020
Although Tokyo may not have large sprawling markets like other major cities, instead, small galleries and satellite shops are a regular sight. Gallery As is one such location, where owner Hisako Oro brings together local artisans of different disciplines and provides them a space to showcase their wares.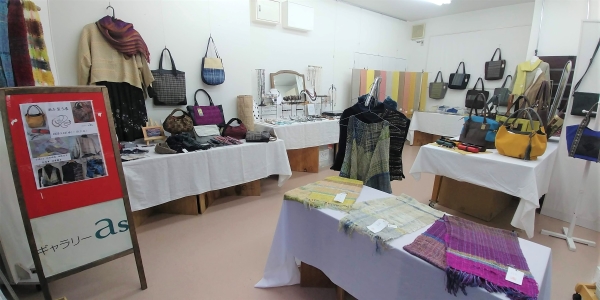 We arrived to a flurry of activity as preparations were well underway for the upcoming exhibition aptly titled, "dress yourself for autumn" (aki wo yosou ten) from Thursday, September 24th to Saturday, October 3rd.
"I had to close the gallery for 3 months due to COVID-19, so we missed our spring exhibition," explains Ms. Oro, "So everyone is really excited to be back."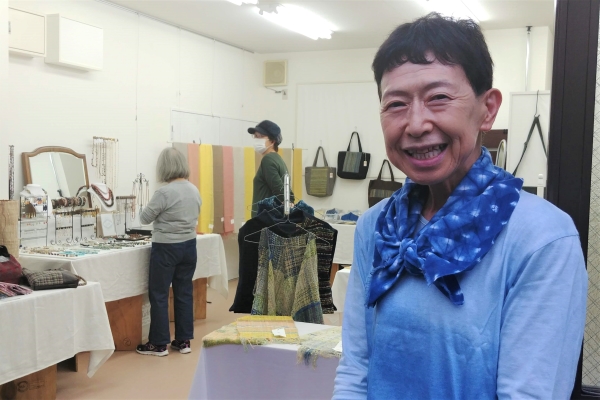 Dressed from head to toe in an indigo-dyed ensemble, Ms. Oro hardly got a moment to sit down and chat with us as she was constantly answering set-up inquiries and stopping to speak with local women peaking in from the street. One cheeky lady even sneaked in to quickly buy a pair of gloves.
"I've been running a gallery for about 13 years now, but this space has only been open since March of this year. Rather bad timing unfortunately," she laughs wryly. "I also do pop-up shops across the city and I'm hoping to do more in the next few months."
For this exhibition, there are 5 different artists participating.
Accessories with natural stones and wood – Mai Hanaoka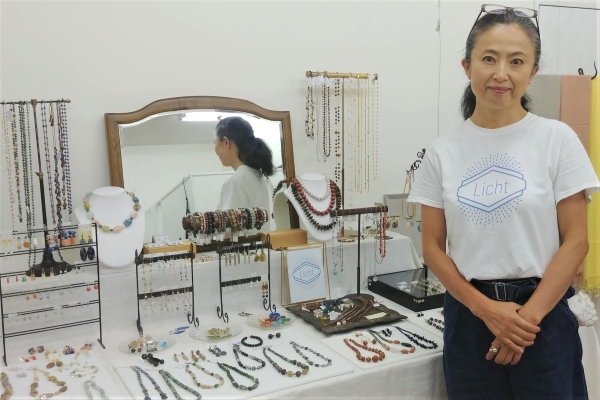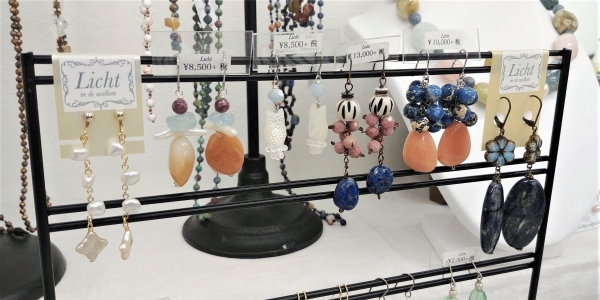 Wearing her own branded T-shirt, "Licht", Ms. Hanaoka showed us her wide array of jewellery and accessories. "The word means 'light' in Dutch. I like to create beautiful things that bring people happiness." Using natural materials, Ms. Hanaoka creates earrings, necklaces, broaches, and more that are perfect for ever day wear.
Natural Dyed Fabric (indigo, vegetables, flowers) – Reiko Watanabe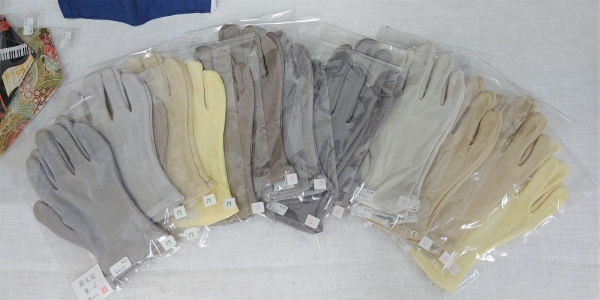 At the back of the room is a gorgeous display of shawls in pastel hues. "I use different fabrics, mainly hemp and rayon, and dye them naturally using plants, such as rosemary, cherry, and indigo. I never quite know what colour I'm going to get!" Ms. Watanabe also does weave work and sells handmade gloves, all using her naturally dyed fabrics.
Leatherwork (hikawa) – Akemi Kawahara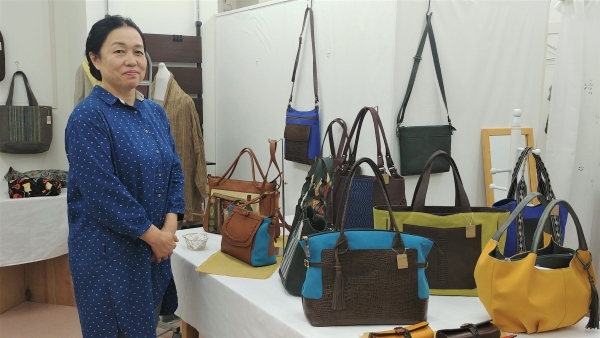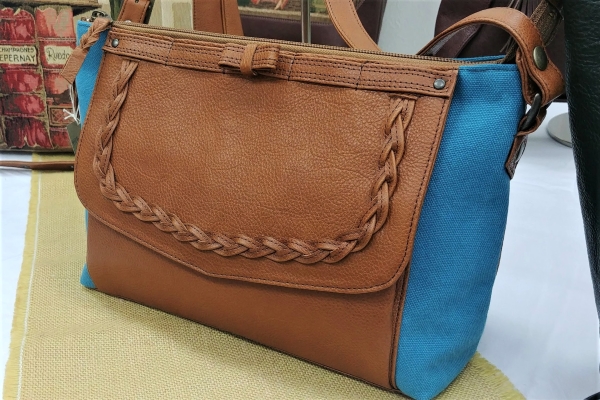 Ms. Kawahara creates beautiful intricate leatherwork in form of bags, satchels, and glasses cases. "A bag can take me about 3-4 days to complete and I do custom orders if someone wants something specific." Recently, Ms. Kawahara and Ms. Omata have collaborated creating bags that combine leather and weave work.
Weave work, mixed fabrics (orimono) – Kayo Omata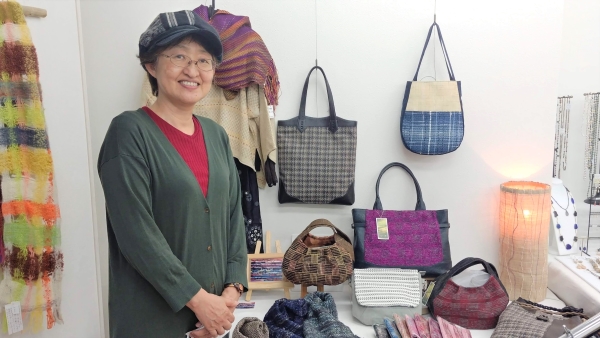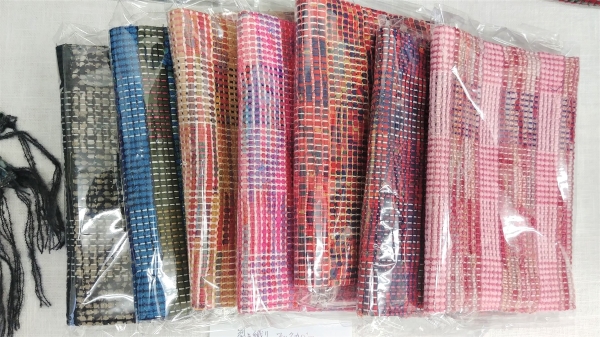 Ms. Omata uses salvaged fabrics and brings them back to life as bags, scarves, clutches, and clothing. "I like to combine different colours and textures that are unexpected." An eco-friendly approach, she breaks apart or cuts fabric that would otherwise go to waste, creating long strips that can then be woven on a loom.
Weave work (wool) – Nobuko Nishihashi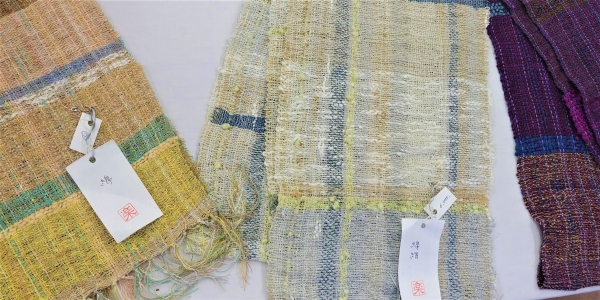 Using a blend of colours, Ms. Nishihashi creates scarves, vests, and tops that are perfect for stylish layering in the crisp Japanese autumn and winter. The fabric is mainly fine wool that is soft to the touch.
In the age of fast fashion, there is a certain pride that comes in wearing something handcrafted and made to last. At Gallery As, Ms. Oro is passionate about creating a place that brings together craftspeople and eager fans who want to support their artistic talent.
If you're looking to treat yourself or perhaps find a one-of-a-kind gift, make sure to check out the Gallery As blog for the latest exhibition and pop-up shop dates.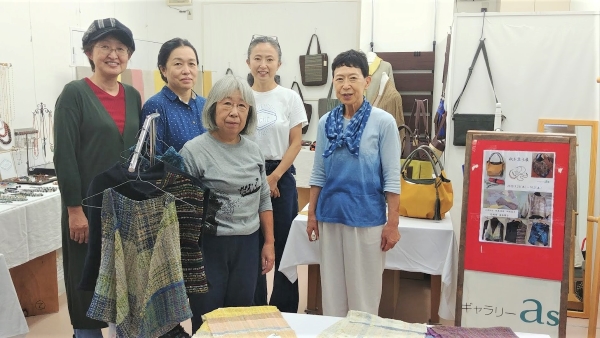 Story and photographs by Jenna Wilson