※This store was moved to Kameido 6-17-2 in November 2019. The information in this article is as of 2015.
Some people love the idea of getting massages, but many are skeptical: the pushing, pulling, twisting and squeezing that goes into relieving knots and msucles isn't exactly everyone's cup of tea. But at Healing Salon Mite (pronounced mee-teh), the pressure is off—for both the masseuse and the massaged.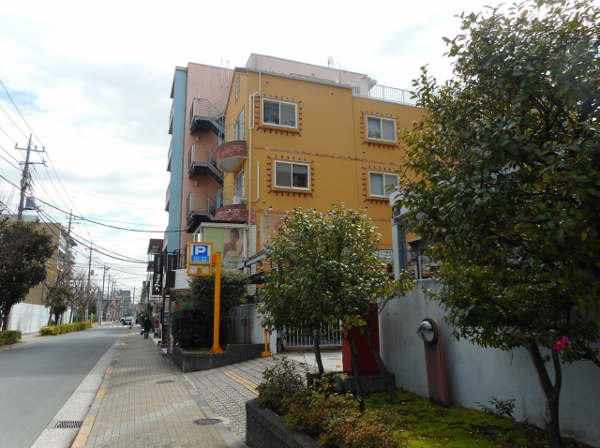 Located down a side street in Kameido, Healing Salon Mite can be found by looking for the mustard yellow building which houses it.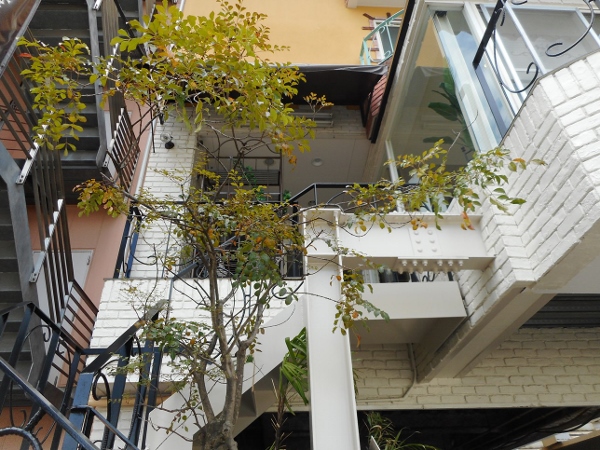 The salon is located on the second floor. Climbing up the staircase with its cast-iron handles, it felt as though I was coming upon someone's villa.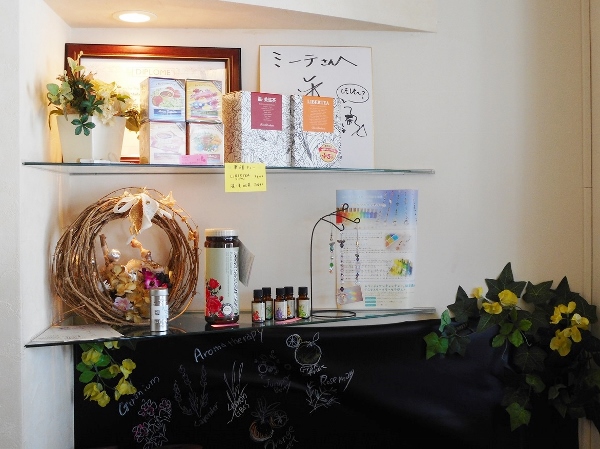 The inside is lovingly decked with little feminine touches: flowers, wreaths, greens, and cute ornaments line the available spaces, giving the air a soft, homey feel.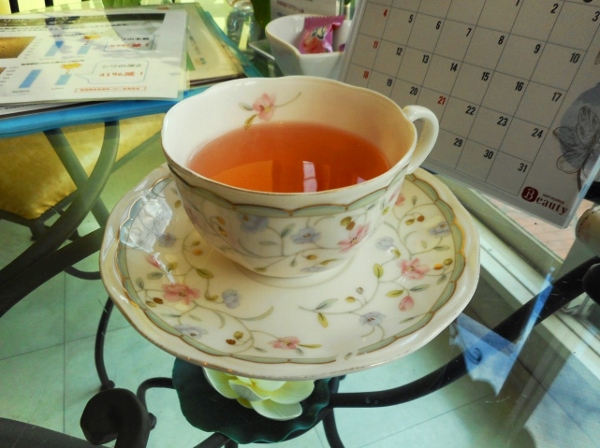 Ms. Shirai, a therapist at the salon, welcomed me with Mite's customary complimentary cup of tea. The herbal blend used changes every day; the day I went, it was lemon.
After settling in, the first thing I had to ask was: what is a "healing salon"?
"Well, when people think of massage parlors or salons, they imagine it will hurt, right?" Ms. Shirai said to me. "But our purpose, first and foremost, is to allow customers to relax, and heal. Our massages are meant to be comfortable, not painful. That's why instead of calling ourselves an esthetic salon, we call it a healing salon."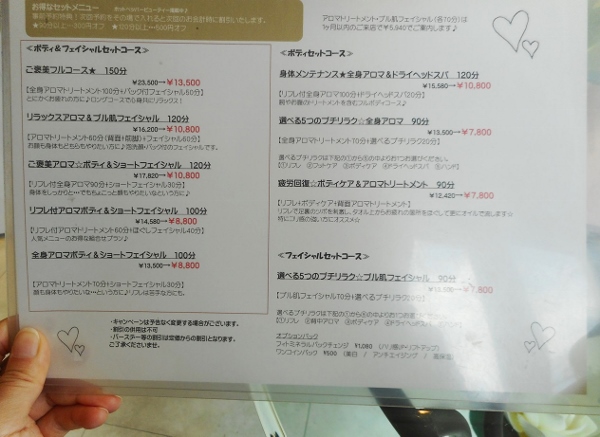 She also wants people to be able to visit the salon with a sense of ease. She showed me the salon's menu, which included everything from head spa treatments, facials, reflexology, to whole-body treatments, but then pointed out that it's far better to try the "sets".
For example, if you go for the "Gohoubi Full Course" (Treat Yourself Full Course), you can be pampered with a full-body aromatherapy treatment (100 minutes), and a facial including a face mask treatment (50 minutes) for 13, 500 yen, down from the 23, 500 yen it would cost if you were to get the two treatments separately! The great discount resulting in a more-than-reasonable price, and customizability of mixing and matching, makes the salon feel much more familiar and friendly.
It also means you can change up the treatments to target exactly what you need the most. Maybe you're on your feet a lot and could use some foot massage (reflexology); or, maybe you enjoy being enveloped in different aromas and would like to experiment with aromatherapy.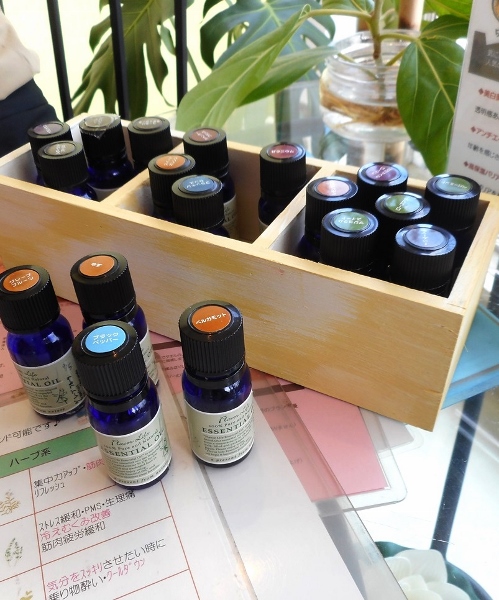 "We have many essential oils available, and customers can choose to mix their own," Ms. Shirai said. Like the body treatment menu, being able to choose your fragrance is a huge selling point for Mite.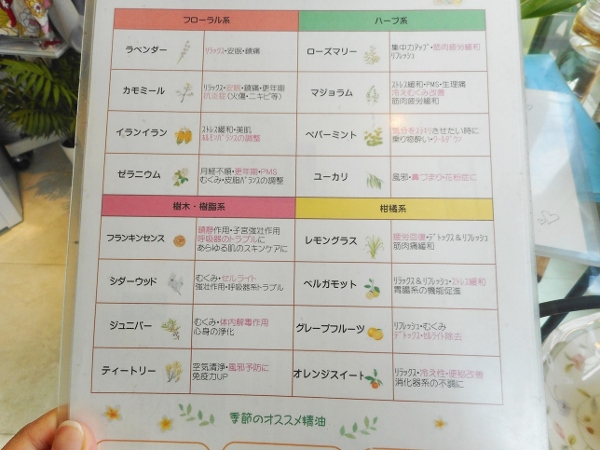 She showed me a chart explaining what each essential oil is good for, such as camomile for inflammation, geranium for biorhythm, and juniper for bloating.
"We actually got the inspiration from restaurants," laughed Ms. Shirai; "a sort of create-your-own-meal, if you will."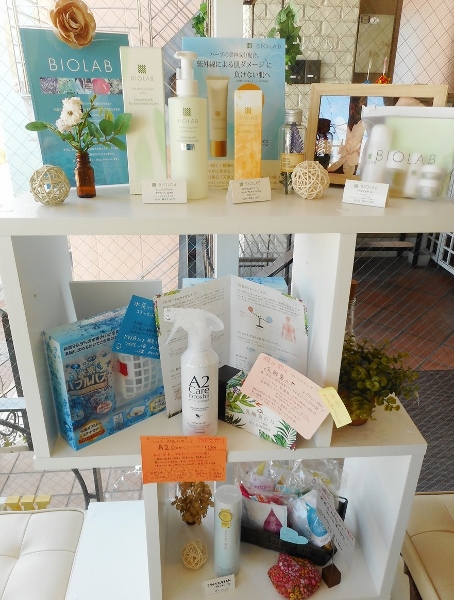 Additionally, the products used and sold in store are of the highest quality, and made in Japan.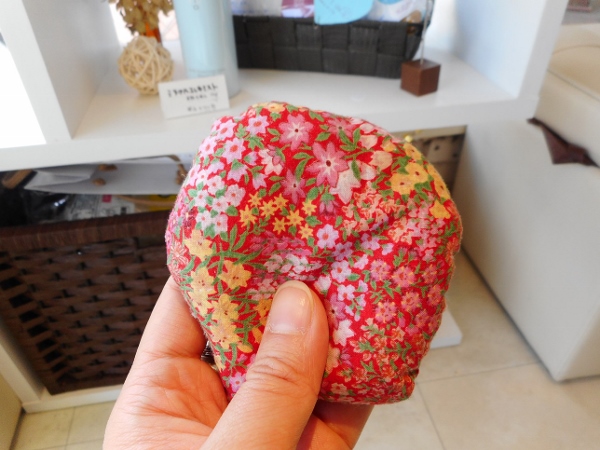 They also sell these pouches filled with rice bran, which can be used to warm up parts of the body. You simply put the pouches in the microwave and heat them up! The shoulder pads in particular felt like they would be great to have on hand during long hours typing on the computer.
(Plus, they smelled really yummy, like warm oatmeal. Mmm.)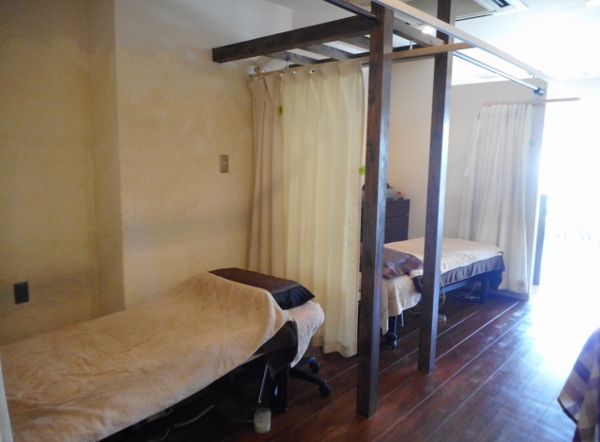 On the premises, there are three beds in total, where the treatments take place. Two are in the same room separated by curtains, while a third was in a small, closed-off area farther in the back.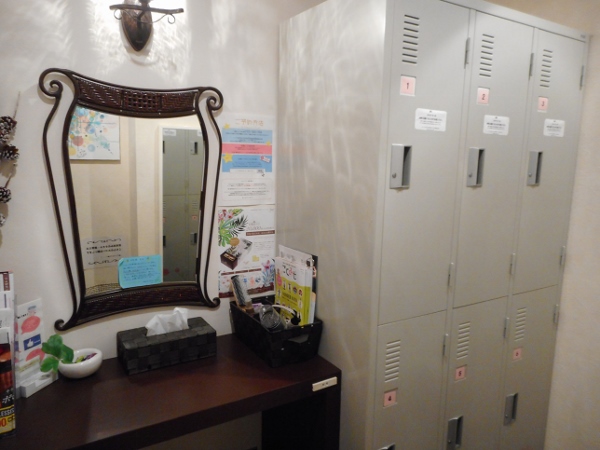 The changing room was cute and cozy, with nice, secure lockers for customers' belongings!
"We recently started a foot bath treatment for our customers," Ms. Shirai said after she'd shown me around. "Foot care is so important. Many of our customers find reflexology addicting, because your feet contain nerves connecting to every organ. So, taking care of your feet can help take care of other parts of your body, too."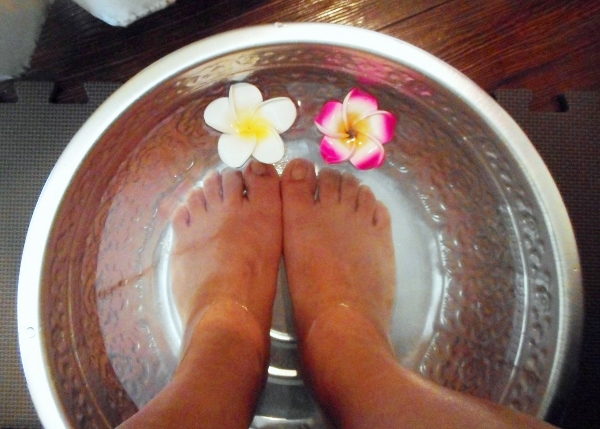 She offered that I try the foot bath, and prepared a tub of warm water for me. Into it she dissolved salt crystals gathered from the Dead Sea, which is known to be rich in minerals.
After a while, my feet began to warm up, and the improved circulation really did make me feel a little lighter, taking away some of the tiredness I'd been carrying around of late!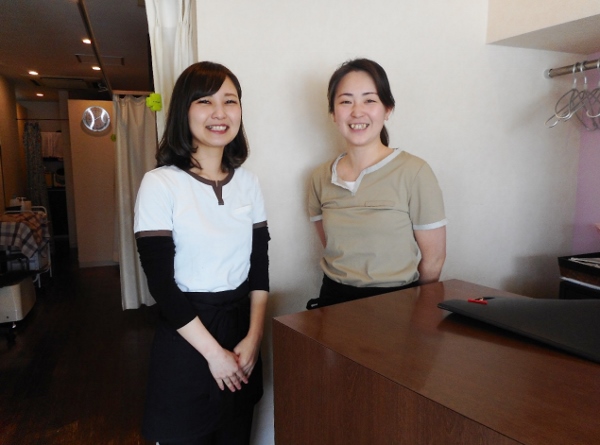 "I used to love going to massage salons and spas when I was younger," Ms. Shirai says, "though I never expected to be running one myself. Mite has been around for twelve years now, and in that time we've changed owners and staff members, but I think we've been a supportive establishment for the ladies in the community, and I hope we can keep it that way."
Although Healing Salon Mite is generally for women only, making it a safe haven for ladies to relax and unwind, men can also attend if they choose the "pair plan" with a female friend; in the "pair plan", two people can get a 70 minute treatment for 5000 yen each! "Of course, it doesn't have to be a man and a woman," Ms. Shirai assured me. "The pair plan is also great for two female friends, or a mother and her daughter."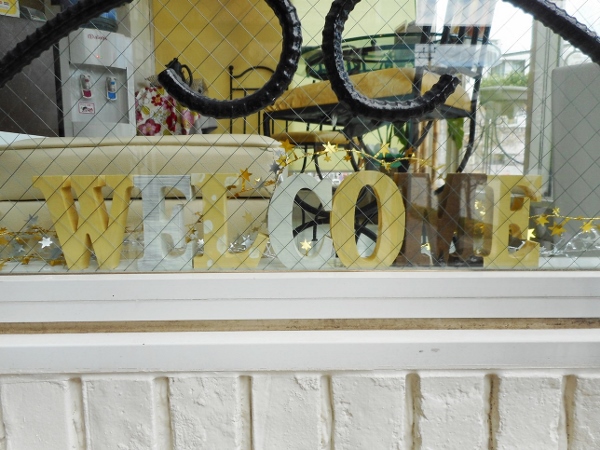 As for the name, Ms. Shirai told me that "mite" is Italian for "warm". Though the salon holds no connection to Italy, its warm ambience makes the name a perfect fit. It's the kind of place where you'll be able to escape the stresses of daily life and come out refreshed—both in body, and in your heart.
Story and Photos by Xianru Shen(Koto City Office Coordinator for International Relations)