Healthy Lunchboxes and Sides
Published: December 5, 2022
Hopetta is a lunch box and side dish shop in Kameido, the brainchild of cookery teacher Ms. Shinobu Kanno, which offers homemade, nutritionally-balanced, and healthy food enjoyable by everyone from eight to eighty. On a recent afternoon, we dropped in for a chat with the owner.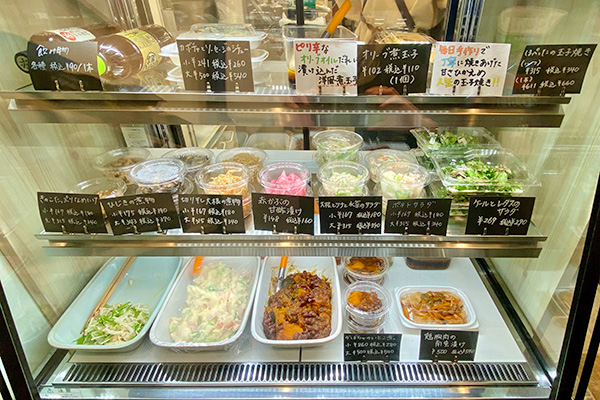 Every day there's a wide variety of side dishes and salads in the showcase.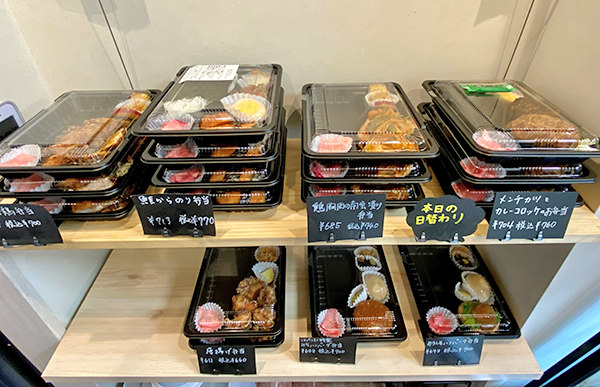 Ms. Kanno and her staff prepare six varieties of lunch boxes every day, plus two more made specifically for the evening. All contain seasonal ingredients and change daily. Around 15 individual items are also available for take out. Hopetta uses nanatsuboshi rice from Hokkaido because "it tastes good hot or cold," as Ms. Kanno explained. The shop also sources its miso paste from Kameido legend Sano Miso, which is just around the corner.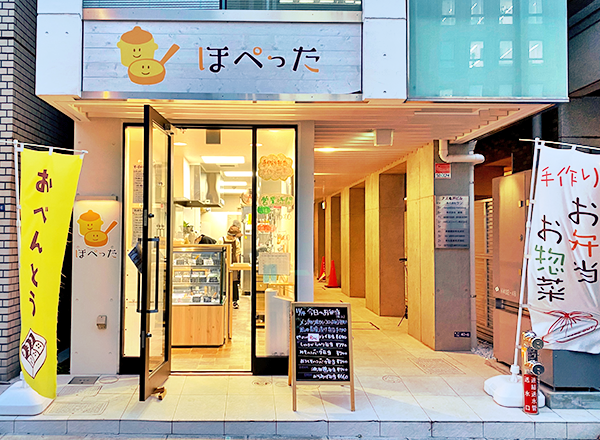 Hopetta is located right on Keiyo Street, just two minutes walk from Kameido station, on the ground floor of a new building. It's an ideal location, you can't miss it.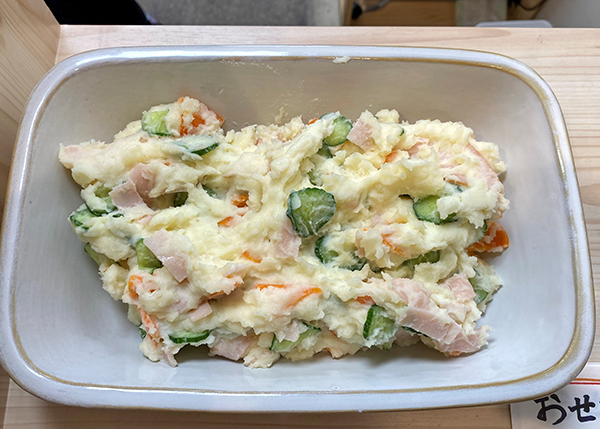 Ms. Kanno recommends her potato salad. "It took me five years of trial and error to perfect the recipe," she explained. The potatoes used vary depending on the season so the flavour may change slightly, but it's always mild and gentle, with a touch of salt and sugar.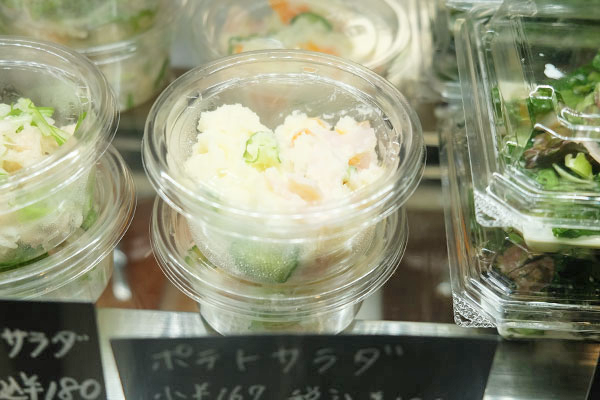 On this particular day the potatoes used were the May Queen brand. Large cups are 340 yen, with the small ones at 180 yen. It's very tasty indeed and makes a perfect accompaniment to any meal.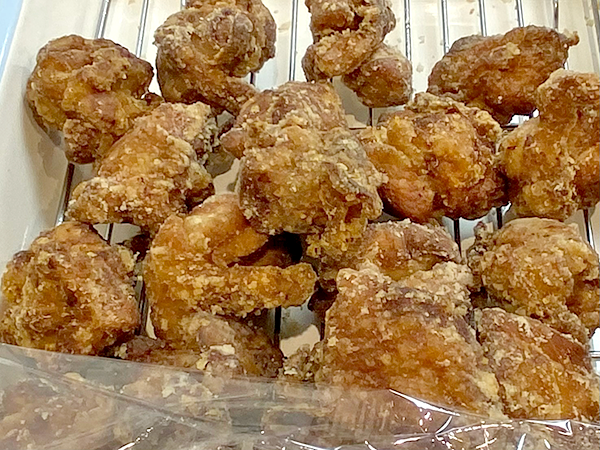 Fried chicken is another popular item at just 110 yen per piece. Flavoured with a hint of garlic and a touch of soy sauce, the crisply fried chicken is light, flavourful and juicy. It's a winner with customers of all ages, for lunch, dinner or as a lunch box addition. It would also make a tasty snack with an after work beer too, no doubt.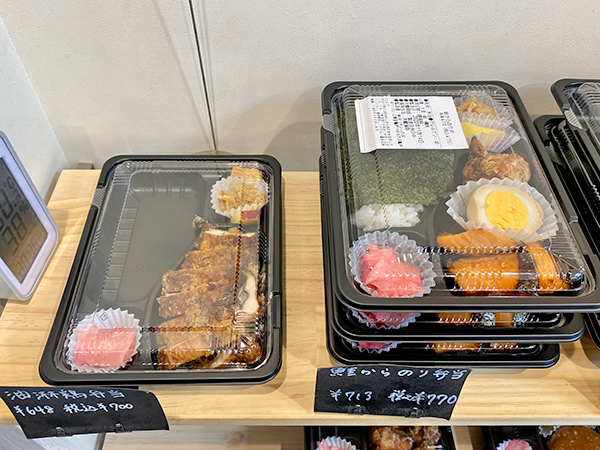 The main ingredients for the lunch boxes are cooked and loaded into the trays, then freshly-cooked rice is added as the customers make their orders. On the day we visited there was deep fried chicken in sweet and sour sauce (yurinchi), salmon, hamburg with miso sauce, and hamburg with grated daikon radish sauce. Prices are very reasonable, from 660 yen to 770 yen.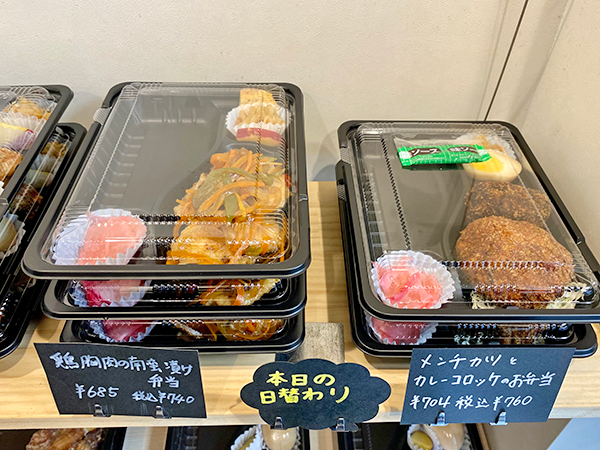 The daily specials were chicken with vinegar and tartar sauce (nanban-zuke, 740 yen) and a minced meat and potato cutlet with a curry croquette for 760 yen. Nice. For a broader and more colourful view we'd suggest readers check out the Hopetta instagram link on the right.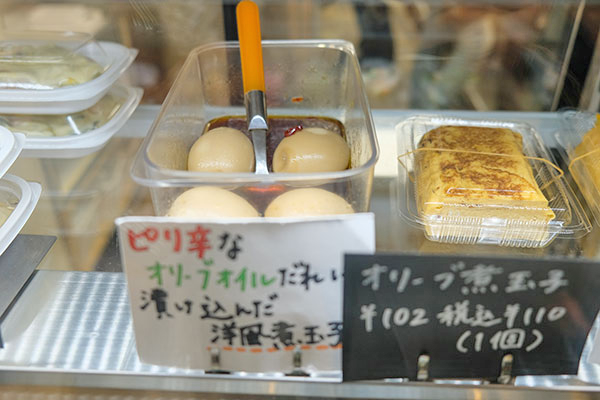 The lunchboxes feature nutritional vegetable side dishes such as hijiki (a brown seaweed rich in iron) and pickled daikon radish. These boiled eggs steeped in a spicy chili olive oil are also top sellers at just 110 yen apiece.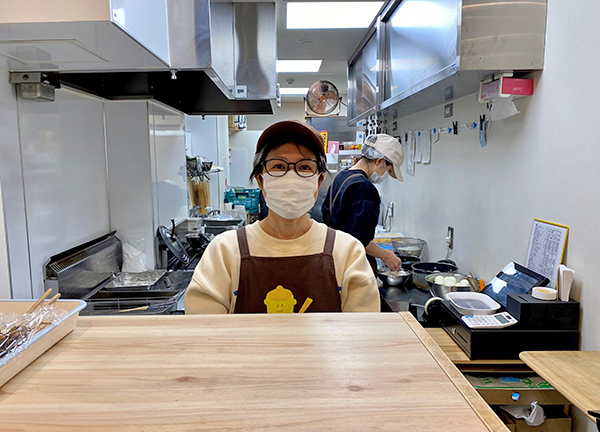 As Ms. Kanno explained, "We use additive-free seasonings and condiments, cane sugar and brown sugar, canola oil for frying and very fine breadcrumbs that only absorb minimal oil during the deep frying." Before opening Hopetta Ms. Kanno worked full time and ran a weekend cooking school in her home, the Washoku Kitchen Shinobu, which is ongoing still now. She opened Hopetta in October 2021. "During the pandemic I wanted to assist working mothers, busy home-makers and working people with healthy, nutritious, and quick meals," she added.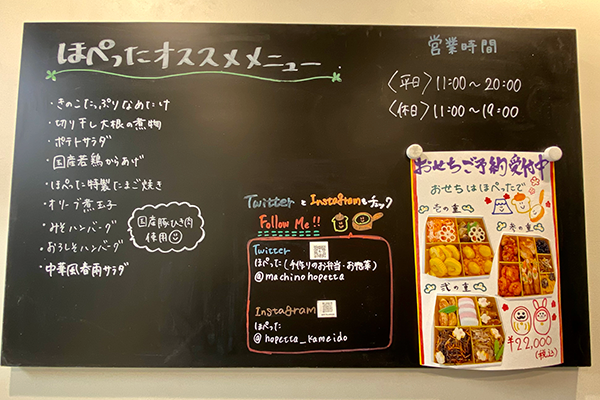 Ms. Kanno will also prepare lunch boxes and hors d'oeuvres for events, while the Christmas hors d'oeuvres and New Year osechi line-ups are available for perusing on the web site. Whatever your needs or budget, Hopetta has something for everyone.
by Stephen Spencer