Hearty Korean Cuisine with Original Recipes
Published: March 30, 2021
Manimogo is a brand-new restaurant serving modern Korean cuisine a short walk from Monzen-nakacho station. It may be a new entrant in a competitive area but it's already creating a burgeoning buzz, despite opening during a global pandemic. On a recent spring-like afternoon, we dropped in to meet the husband and wife team behind Manimogo.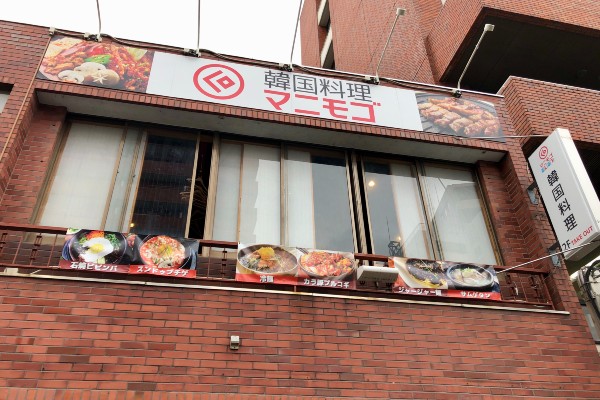 Manimogo is located in a red brick building on Kiyosumi street, just one minute from exit 6 of Monzen-nakacho station. It's on the second floor and is reached by a central staircase, the walls adorned with posters of K-Pop stars and the culinary delights within.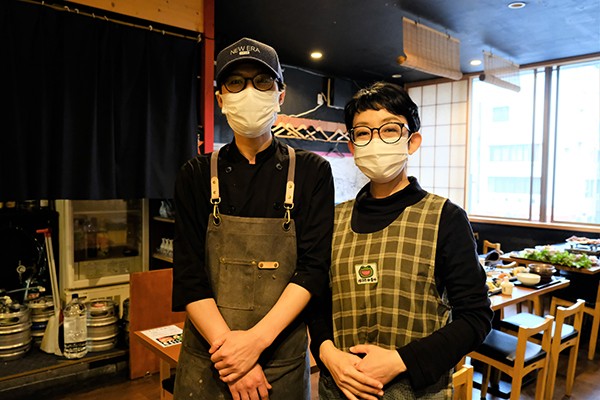 Professional musician Ms. Uehara met her future husband Mr. Cha when she was playing in South Korea. "My husband has 20 years experience as a chef, in particular as head chef at a well-known resort where parts of Winter Sonata were filmed," she explained, referring to the global smash-hit Korean drama. "We had originally planned to open our own restaurant in the spring of 2020 but rescheduled and relocated to Monzen-nakacho, opening here on October 25th 2020."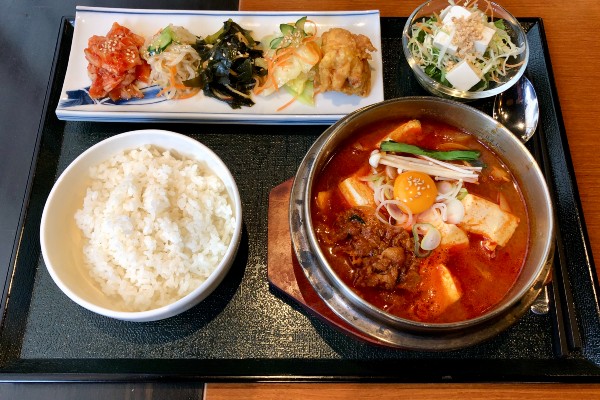 Manimogo means "eat a lot" in Korean and it soon becomes clear why this name was chosen: to say the portions are generous would be an understatement. This is the pork sundubu, a pork, soft tofu and vegetable stew in a spicy sauce. It comes with four varieties of pickled vegetables (namul), a piece of fried chicken, a small salad and a bowl of rice, all for 800 yen plus tax. It looks great, tastes fantastic, is very healthy and won't break your wallet!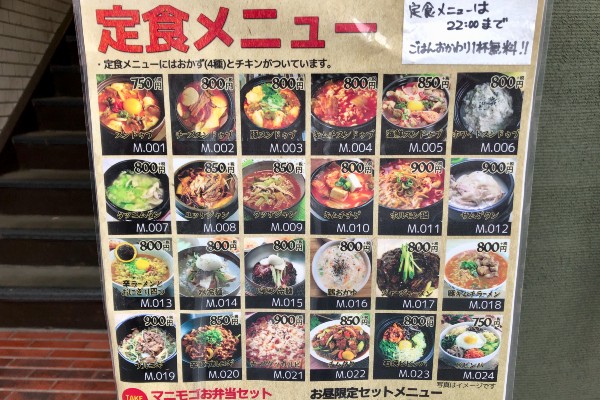 Manimogo offers 24 different set lunches, all served with the pickles and a chicken piece, which range in price from 750 to 900 yen plus tax. A host of favourites are featured including five other varieties of sundubu, together with bibimbap, kimchi jjigae, spicy ramen, chilled noodles (reimen), bulgogi, jyajyamen and cheese dakgalbi.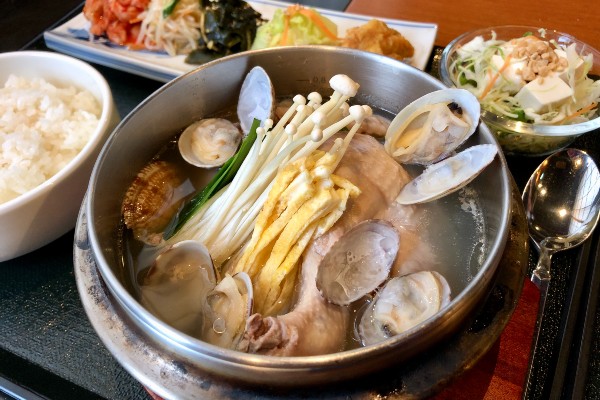 Samgyetang, chicken ginseng soup, is one of the iconic dishes of Korea. Traditionally eaten on the three hottest days of summer, it's a restorative soup that can be enjoyed all year round. A small young chicken is stuffed with sticky rice and boiled in a rich broth with ginseng and jujubes. At Manimogo, it's served with garlic chives (nira), enoki mushrooms, and a little sliced egg omelette. Mr. Cha has also added some clams to this version "for health" as he explained. An absolute bargain at 900 yen plus tax.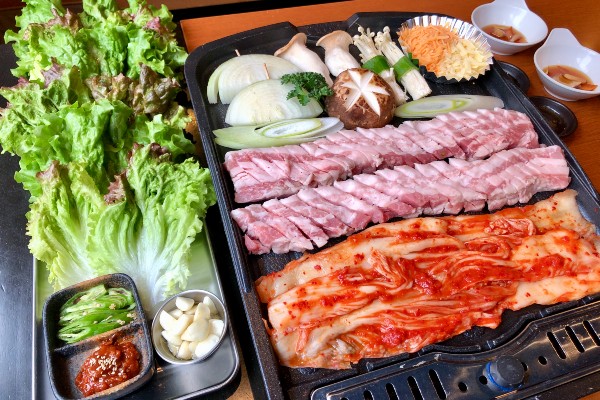 While the lunch sets are both delicious and incredible value, the big stars come out at night, with none bigger than samgyeopsal, the grilled pork belly extravaganza and Korean summer dish par excellence. This massive selection of pork belly, kimchi, onion, negi onion, three kinds of mushrooms (shiitake, eringi and enoki) and two kinds of cheese (mozzarella and cheddar) is just 1,628 yen per person including tax.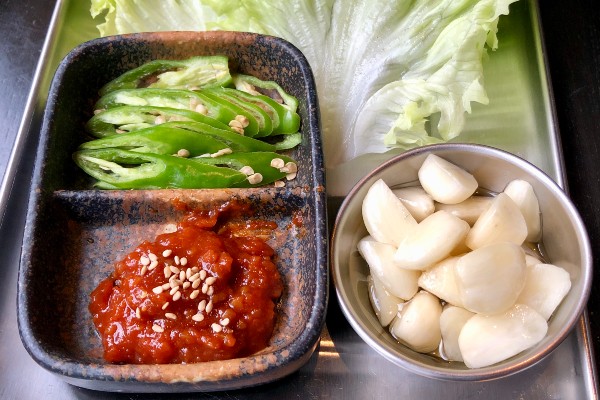 Korean sangchu lettuce, spicy ssamjang sauce, raw green chilis, two kinds of homemade sauce and a spicy negi onion salad round out the set.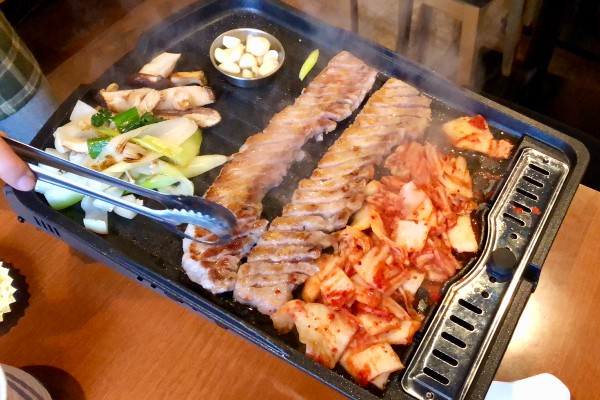 Manimogo serves Iwanaga pork, a brand from Iwate Prefecture. Chef Cha slices the meat on a diagonal to increase the surface area and provide for easier cooking.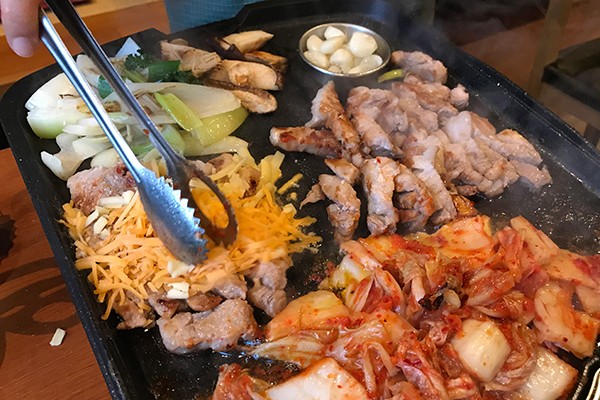 The grill is set at an angle over the gas burner so the excess fat drains down to the runnel at the bottom. Half of the cooked pork is mixed with the cheese.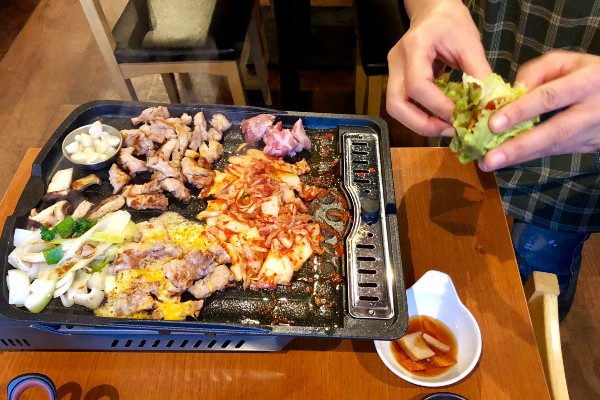 When everything is cooked thoroughly, it's time to eat. Customers take a piece of sangchu lettuce in one hand and fill it with pork, kimchi, vegetables, mushrooms and onions, finally adding the toppings they fancy. The whole thing is then deftly folded, dipped in one of the sauces and eaten whole. Ms. Uehara performed this with practiced deftness, myself less so. It was fantastically tasty, a real savoury explosion of juicy meat, garlic, chili miso, spices, vegetables and kimchi. Umami heaven!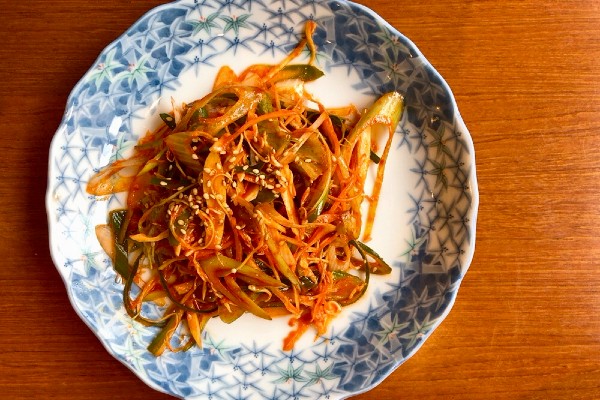 For those unable to eat kimchi, the negi onion salad is a fine alternative for wrapping. It's a touch piquant but also sweet. It's another winner from Chef Cha.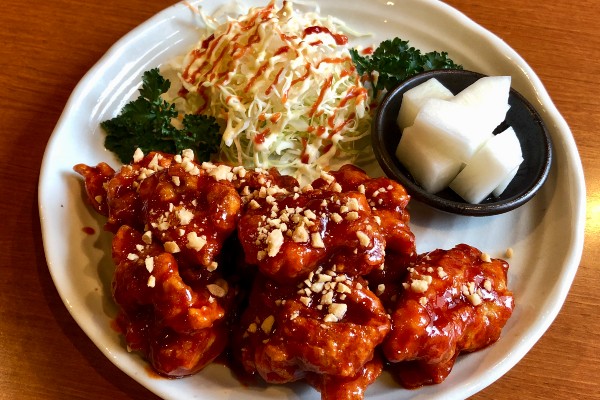 While sundubu, samgyetang and samgyeopsal are traditional dishes, it's fried chicken that's taken Korea by storm in recent years. The current favourite is yangnyeom chicken, a double-fried delight that has the chicken pieces coated in a sweet and spicy sauce made from gochujang red chili paste, garlic, tomato sauce and various other ingredients. Freshly made it's crispy, chewy, sticky, spicy and brain-meltingly fantastic, an almost perfect accompaniment to beer. Topped with grated peanuts and served with shredded cabbage and pickled daikon radish, it's a must-eat at 880 yen.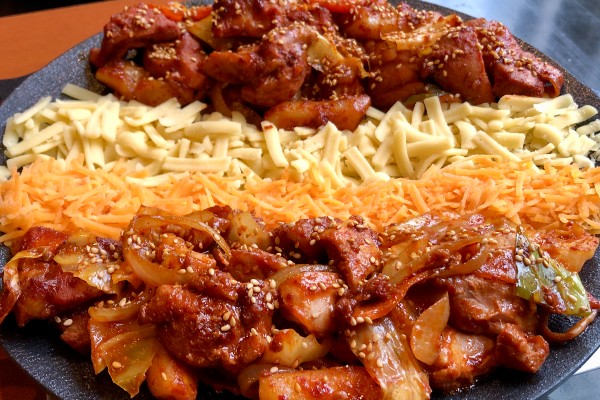 Or you could order the yangnyeom chicken as part of this cheese dakgalbi, another dish that has taken Korea by storm of late. Dakgalbi is marinated chicken stir-fried with rice cakes and vegetables. Customers can order two of their favourite chicken dishes on one mighty plate, which is then recooked on the gas burner to melt the cheeses.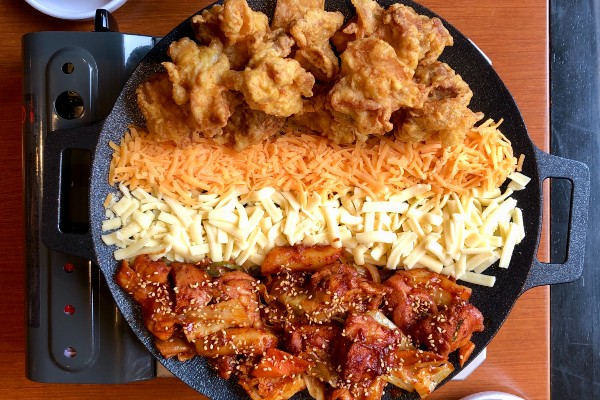 Here it's regular fried chicken with mozzarella and cheddar cheeses, and the dakgalbi. Soy sauce flavoured chicken and the yangnyeom chicken are also available. At 2,728 yen including tax it's another hearty bargain.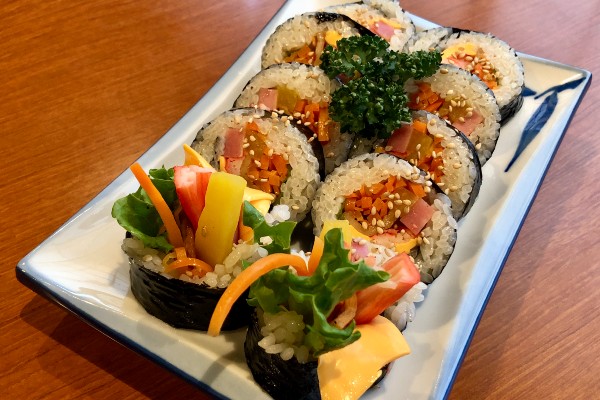 Kimbap, the Korean rice roll contains a variety of ingredients, mainly vegetables such as carrot, burdock root and pickled daikon radish, rolled up in rice and seaweed paper. The regular version costs 770 yen, with cheese it's 880 yen. They're a popular lunchbox item, served with a piece of yangnyeom chicken. The regular lunchbox is 756 yen, the cheese version 864 yen.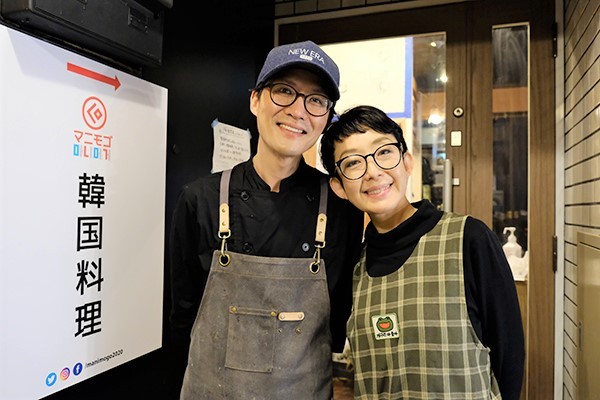 The food at Manimogo is exceptionally tasty, very reasonably priced and comes in huge portions. Not only that but many of the recipes are originals, featuring homemade sauces and even homemade kimchi, all prepared by chef Mr. Cha. Quite how he manages to prepare and cook it all by himself is quite astonishing, really. Manimogo also plays K-Pop and has Korean television on tap, as well as a variety of drinks such as 'makkori', beer and fruit juices. Ms. Uehara, Mr. Cha and the staff are most welcoming, too. Do yourself a favour and head to Manimogo the next time you're in the Monzen-nakacho area. Your taste buds will certainly thank you for it!
Story and photographs by Stephen Spencer