Heavenly Chinese at Tenryu
Published: March 10, 2021
Tenryu is a longstanding Chinese restaurant in Kameido that recently underwent a renovation and change of management. On a pleasant spring afternoon, we dropped in for a lengthy discussion with manager Mr. Li, veteran chef Mr. Cho and youthful president Ms. Kashiwa.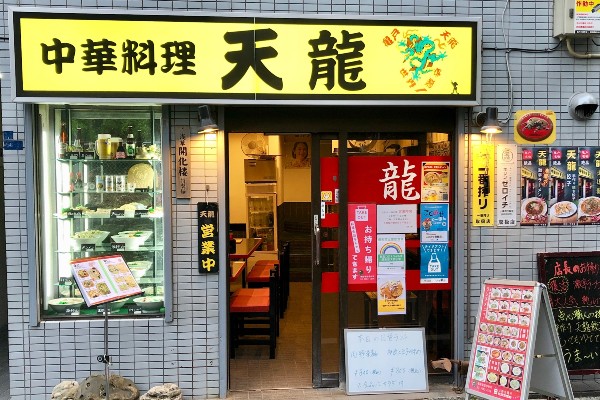 Tenryu is located on the narrow road that runs between Keiyo street to the south and the Sobu train line to the north, 150 metres or so from the east exit of Kameido station. It's a nice location, within easy walking distance of the station but removed from the thundering traffic of Keiyo street, an arterial road that links Tokyo with Chiba Prefecture, and the bustle of the west and north sides of Kameido station. The lemon-yellow sign board is hard to miss.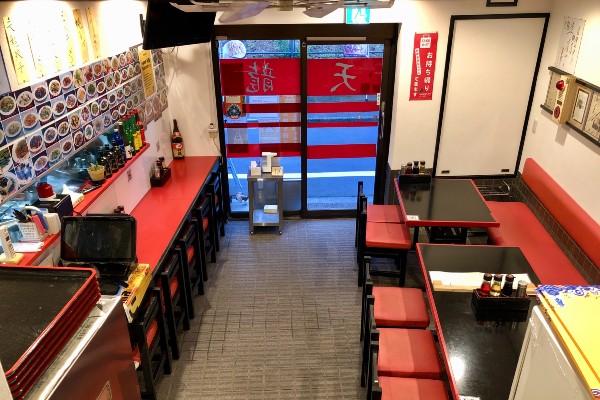 "Tenryu first opened in 1967," explained the welcoming and eloquent Mr. Li. "The previous owner ran the place for 53 years, until he decided to retire last year. We took over, pledging to continue his glorious tradition of serving top quality, authentic Chinese food at reasonable prices, and had a grand re-opening in September of 2020. The menu and recipes are the same as before. Our chef Mr. Cho is from Suzhou and we serve mainly Shanghai cuisine. Many of our customers are Shanghainese living in the area."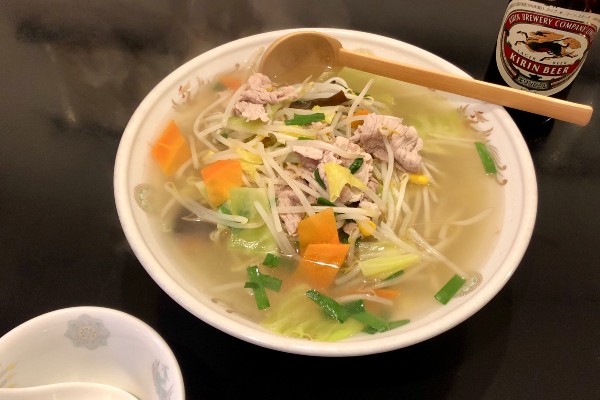 Although Mr. Li had told us that the tanmen, Tenryu's most popular dish, was large, we were stunned by the enormous steaming bowl of noodles he placed before us. Containing pork, cabbage, wood ear mushrooms (kikurage), carrot and two bags of bean sprouts in a refreshing, lightly salted soup over 150g of noodles, it's amazing value at just 780 yen, excluding tax.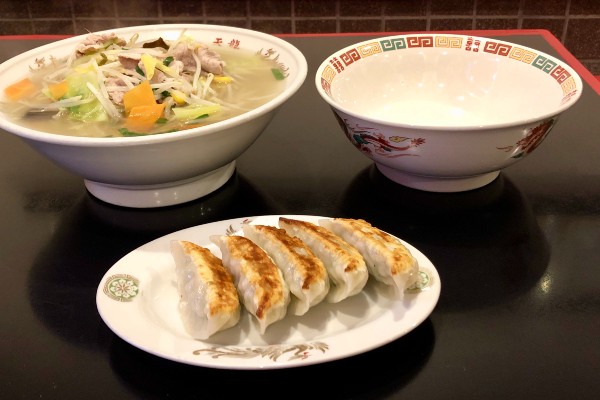 For comparison, on the right is a normal sized donburi bowl! Of course, size isn't everything and we were happy to discover that the tanmen was delicious, the vegetables crispy and crunchy, the soup rich but not overly salty. It's no wonder Tenryu does such a roaring trade.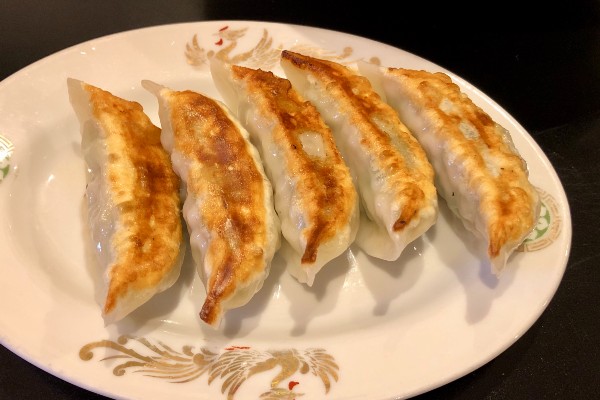 The fat, juicy gyoza are made to the same recipe perfected by the previous owner over his 53 years running Tenryu. Crispy on the front, soft and chewy on the back and stuffed with vegetables and spiced pork. The homemade chili oil (raiyu) was a fine accompaniment but so flavourful are the gyoza, they can be eaten as they come.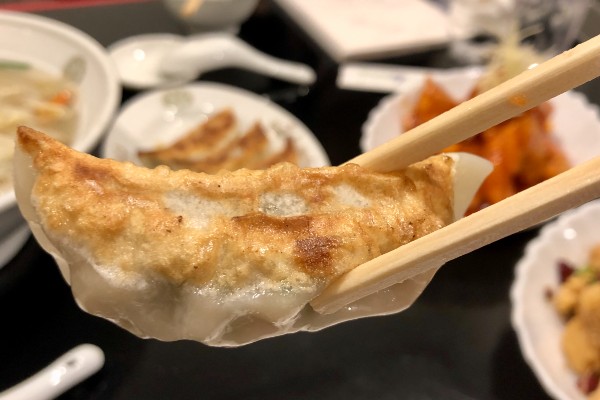 Like the tanmen, the gyoza are incredible value at 380 yen for five, excluding tax. For the princely sum of 1,276 yen the pair can be yours. Visit Tenryu with a friend and share a plate of ten for 700 yen, excluding tax, for an even bigger bargain.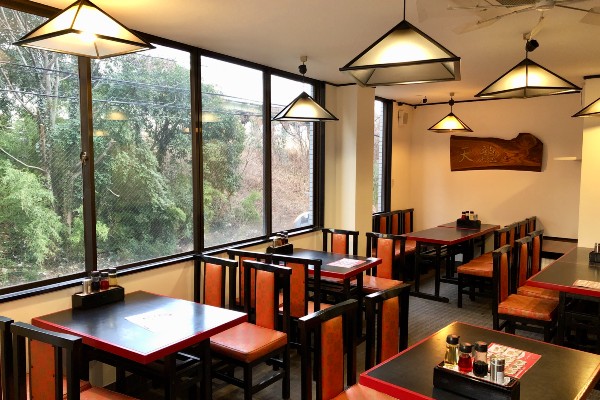 The second floor at Tenryu is surprisingly spacious and also very quiet. The screen of trees partially obscures the Sobu line trains that pass frequently; one can easily forget that the teeming streets of Kameido are just a stone's throw away.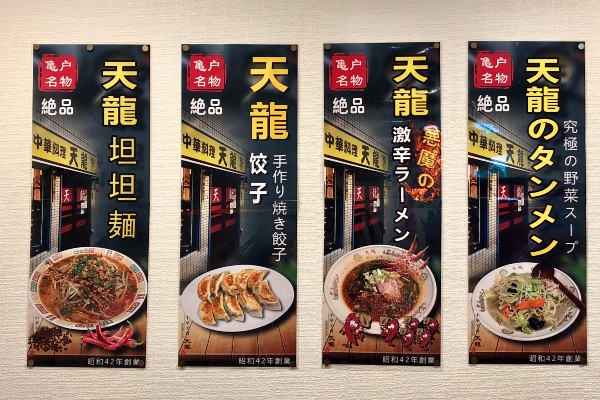 Popular noodle dishes at Tenryu include the tantanmen (left, 1,080 yen), the spicy Sichuan via Shanghai favourite that combines chili paste with sesame paste, minced pork and vegetables. The bright red geki-kara ramen (super-spicy) is 800 yen for regular heat, 950 yen for "big" and 1,000 yen for "demon". The spicy fermented bean paste used in the super-spicy ramen contains 20 different ingredients, all carefully blended. A variety of other noodle dishes are available, such as wontonmen (880 yen), negi onion ramen (800 yen) and pork with garlic chive ramen (nira ramen, 780 yen).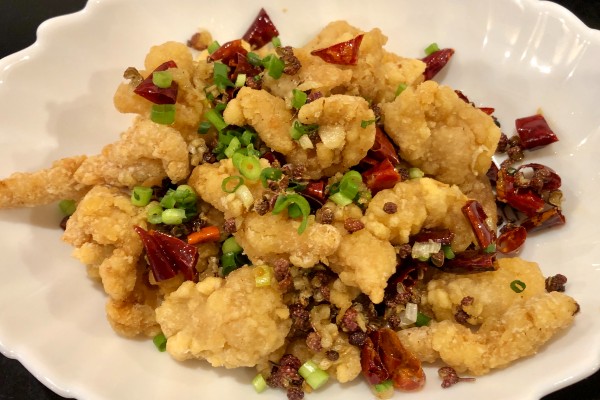 The hits just keep on coming. Here, strips of pork loin were deep fried with Japanese sansho peppercorns and chilis to create a perfect accompaniment to a cold drink. Non-oily, crispy and spicy with that unique tingle only sansho pepper produces, this dish is immensely popular in the Suzhou and Shanghai areas. Despite the large amount of chili and sansho pepper, it wasn't particularly hot. Mr Li's top tip was to order this dish for a take-out and save the roasted peppercorns and chilis for your own next meal. Great idea! Superb umami savouriness and only 980 yen. Cheers!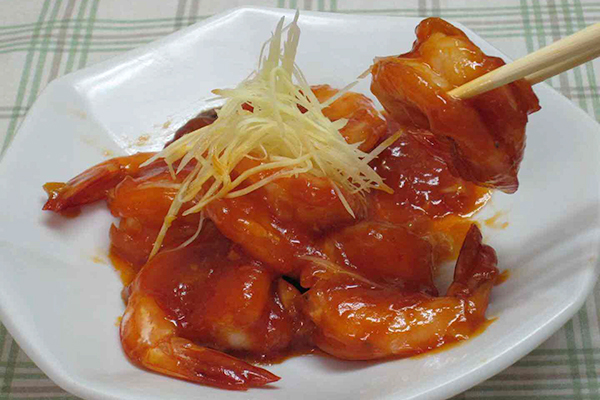 While prawns in chili sauce is a staple of Chinese restaurants worldwide, the dish gets a refreshing makeover at Tenryu. It looks the same, plump Japanese tiger prawns in an eye-catching sauce, but the flavour is a surprisingly sharp sweet and sour, made with sweet vinegar (amazu) seasoning.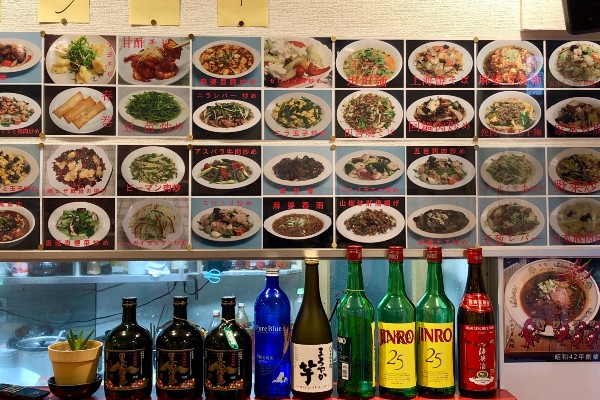 When asked about his personal favourites, Mr. Li chose another Sichuan dish, the fragrant and spicy mapo dofu, together with Chinese cabbage, pork and vegetables in a light, creamy sauce thickened with starch (hakusai ankake 780 yen). "Many of our regular customers don't actually use the menu," he explained, "they just say what they want to eat and Mr. Cho makes it."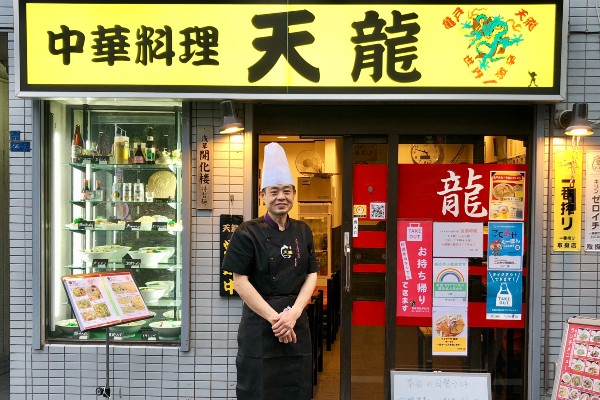 Veteran chef Mr. Cho has 34 years' experience cooking in both Japan and China. He began his career in a vocational junior high school and has been honing his skills ever since.
For take-out, just phone in your order and it'll be ready in 30 minutes or so. As Mr. Li said, "We just want our customers to go home happy, patting their stomachs." We certainly did, and would unhesitatingly recommend Tenryu to people hungry for top quality Shanghai, Suzhou and Chinese food at unbeatable prices.
Story and photographs by Stephen Spencer