Hidden Gem Home Cooking
Published: November 28, 2022
Some hidden gems hide in plain sight behind bland facades, while others are just hidden. Sosaku Ryori Fujioka and Cafe, which serves traditional Japanese home cooking using top quality ingredients at reasonable prices, falls into the latter category. On a recent afternoon, we hiked the backstreets of Higashisuna to meet proprietor Ms. Michiko Fujioka.
Owner, proprietor and chef Ms. Fujioka studied cooking then spent 30 years running her family's sushi restaurant, before opening Sosaku Ryori Fujioka on the ground floor of her own house. Using contacts built up during her long career she can offer high quality dishes such as this conger eel lunch set for just 850 yen. Served with rice, miso soup, and vegetable side dishes, the lunches represent remarkable quality for the price.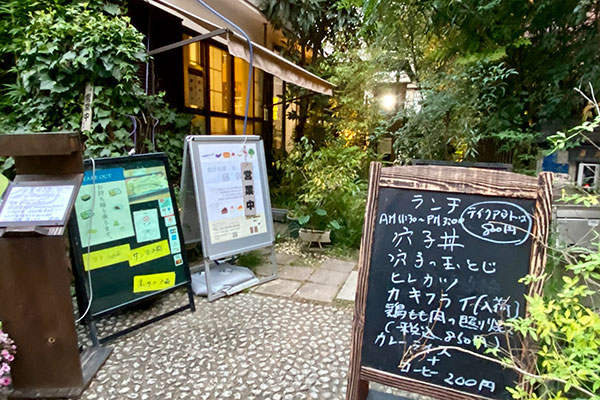 Sosaku Ryori Fujioka is located on the ground floor of Ms. Fujioka's house, just south of the Onagi River and equidistant from Ojima and Higashi-ojima stations. It's on a side street off the main road and invisible from it, so please check your maps carefully!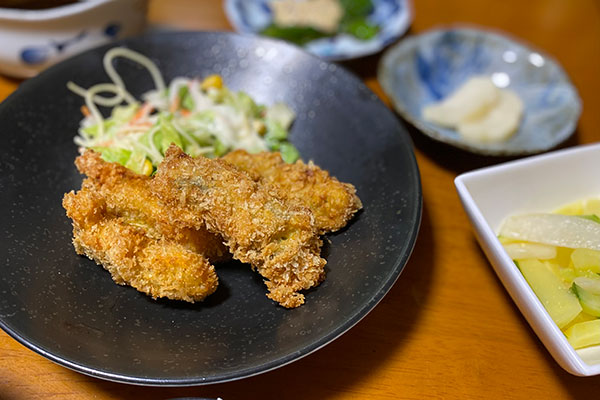 The emphasis is on fish and seafood. The saltwater conger eel (anago) is a great Old Tokyo favourite, a sweet, lighter and less fatty version of the more expensive freshwater eel (unagi). We were very impressed with the plump fried oysters. "The weather begins to get colder from now and the oysters are exceptionally good, it's really something to look forward to," said Ms. Fujioka. Again, extremely good value at 850 yen for lunch.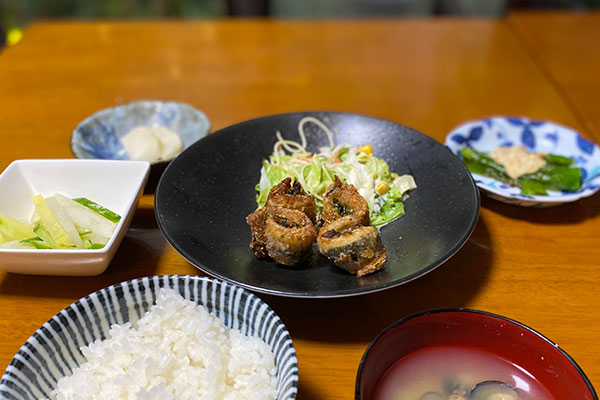 These deep fried sardines were rolled with homemade honey pickled apricots (umeboshi) flavoured with shiso leaves. Fried to perfection, they were crispy, moderately sour and slightly sweet, an absolute knockout.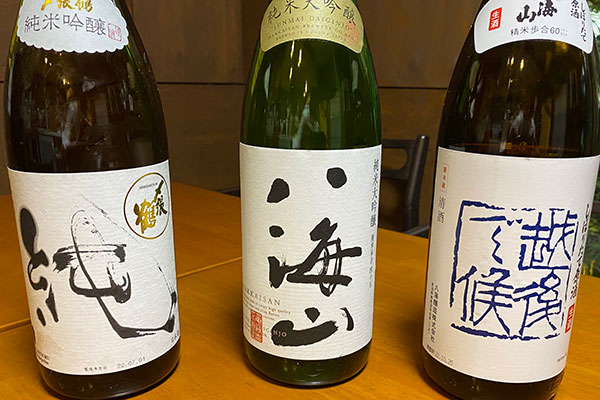 Readers may have spotted that all the above dishes pair very well with sake, and Ms. Fujioka offers a small but high quality selection of Japanese beverages. Hakkaisan, Shimeharitsuru and Denshu, all renowned sake brands, are on the menu.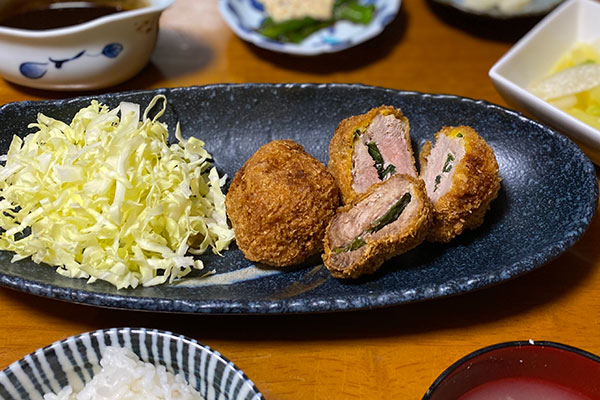 Meat eaters fear not, as there's a suitably tasty pork dish to tempt you with. These are pork tenderloin cutlets, rolled with green shiso leaves and deep fried. The outside is crispy and light, while the inside is juicy and soft, with the tang of shiso. The set came with a seasonal side salad of thinly-sliced Japanese pear, cucumber, and potato that was equally fantastic, and will doubtless be a household favourite next summer. One such complimentary dish comes with the use of the Kotomise coupon.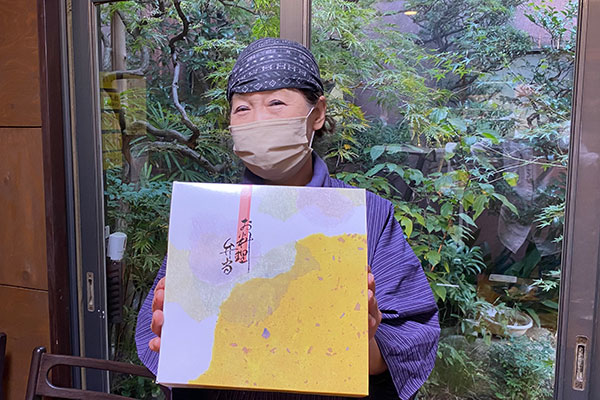 Ms. Fujioka will turn any of the lunch sets into a take out lunch box for those working from home, for just 800 yen. That's a bargain! If you need larger lunch boxes in greater numbers for special ceremonies or events, just drop in to discuss it. They're 2,500 yen apiece and hold a variety of items.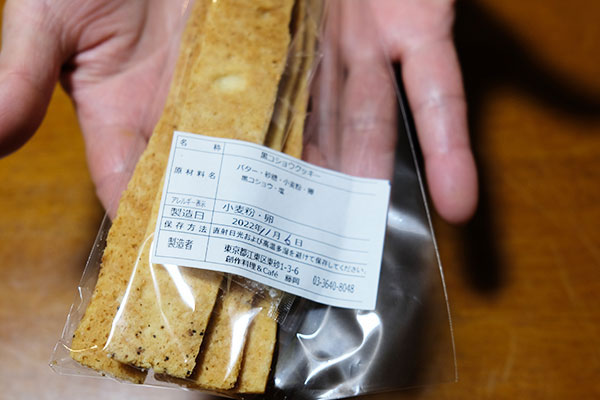 Not only is Ms. Fujioka a sushi and Japanese cooking expert, she's also studied Chinese cuisine and making confectionery. We were very taken by these homemade black pepper cookies. Crisp and pungent, they'd make a perfect accompaniment to a glass of wine in the evening.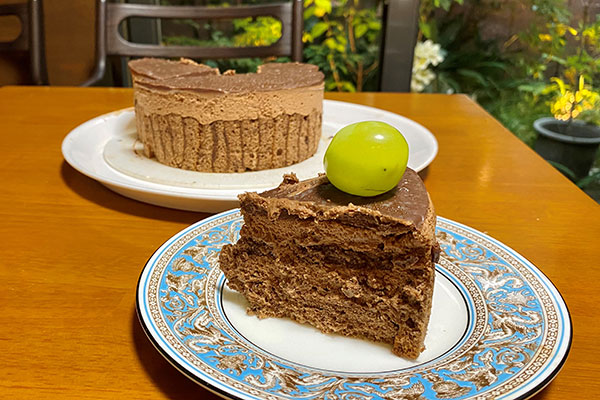 Ms. Fujioka also makes cakes, and what wonderful cakes they are too. This dark chocolate cake with 66% cacao was incredibly rich, exceptionally good for just 350 yen a slice. She also makes rare (no bake) cheesecakes and double cheese cheesecakes, while customers can order birthday cakes, Christmas cakes, and decorated cakes as they like. Yummy.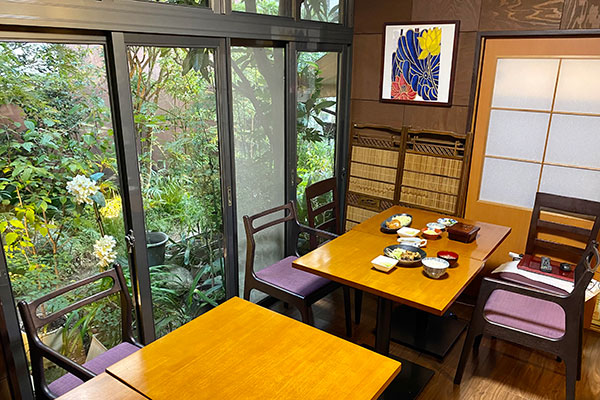 The great food is not the only attraction at Sosaku Ryori Fujioka.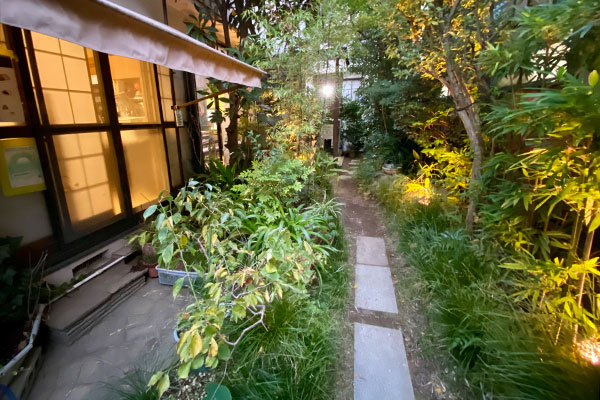 The comfortable, homely atmosphere and attractive garden are very appealing, especially illuminated at night.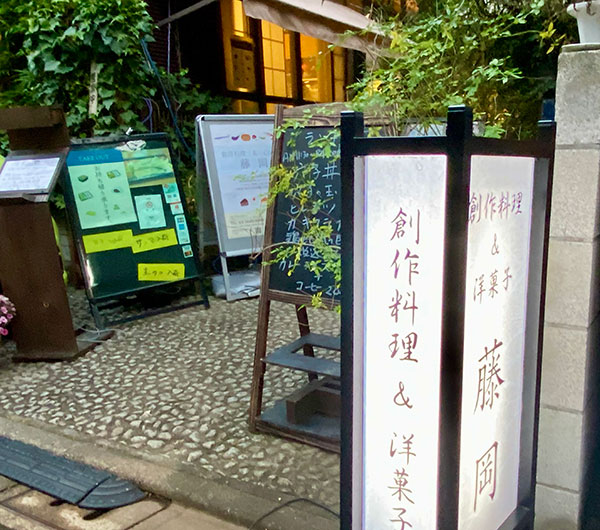 Just follow the signs and head through the garden to the entrance. Great food, drink, and a unique atmosphere, that's Sosaku Ryori Fujioka and Cafe. If you're in the area, drop in and treat yourself to some superior home cooking!
by Stephen Spencer