Step onto the Dance Floor with Hirama Apparels!
Published: January 19, 2018
About a decade ago, ballroom culture hit the spotlight in North America thanks to a couple of well-produced TV shows. I remember watching the episodes every week, gazing awestruck at the beautiful men and women who seemed to glide across the floor effortlessly. It wasn't long before I yearned to try it myself.
But I wasn't sure where to go or how to get started and, truthfully speaking, I was equally intimidated as I was attracted to the idea. I think many people believe ballroom dancing to be a difficult world to get into—aside from learning the dance itself, there are outfits, shoes, etiquette and finding a partner to consider. It can seem overwhelming to a curious beginner who just wants to dip their toes in casually.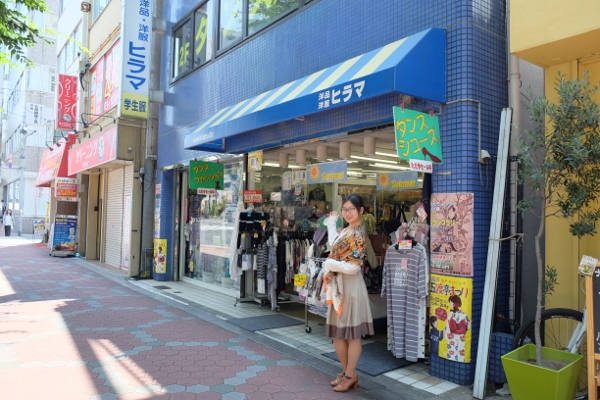 So the people of Koto City are lucky to have Hirama Apparels: a clothing shop that specializes in all things ballroom.
Mr. and Mrs. Hirama are both dancers themselves. "Once we got started, we found ourselves hooked," Mr. Hirama said.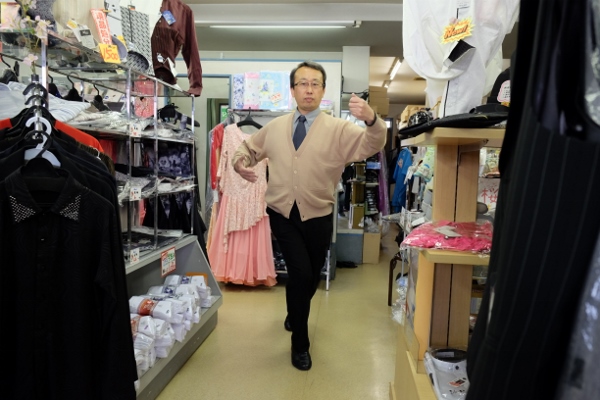 True to the shop's name, the first floor of the shop is full of clothes. At the front are useful everyday items for local ladies and gentlemen such as shirts, pants, sweaters, seasonal accessories and even underwear and pyjamas…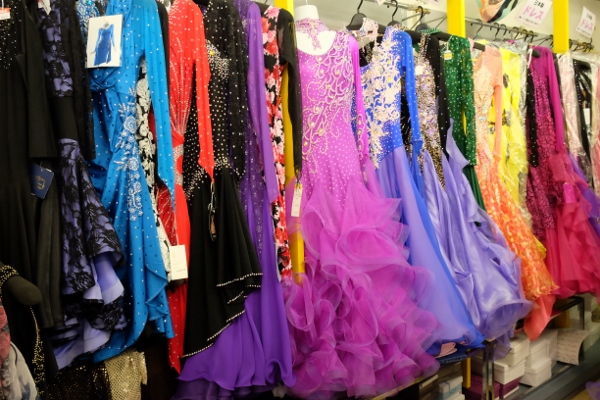 While the back is full of apparel for dancing! (Selected specially and curated by Mrs. Hirama's good taste.)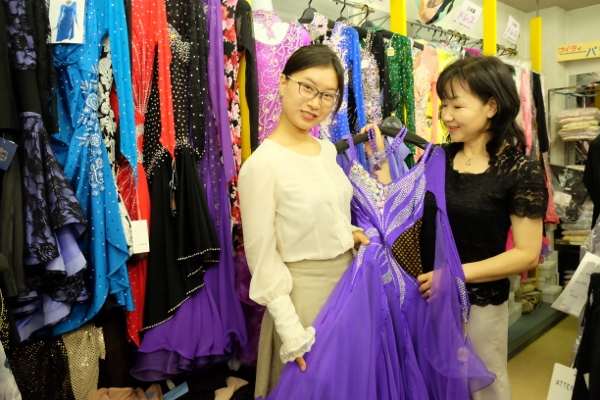 "Isn't this lovely?" she says as she shows me one beautiful dress after another. The variations in colour and cut are stunning, and each one sports those delectably heavy frills designed to spin out in gorgeous circles like flowers in bloom on the dance floor.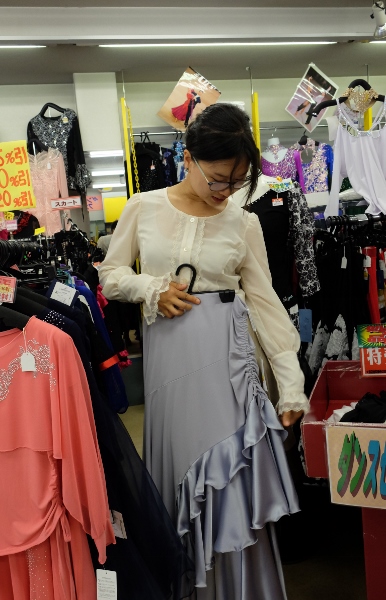 "We also have simpler ones for practicing, if you're just getting warmed up to the idea of ballroom dancing and aren't looking for competition dresses."
Ah, yes. I think something like this would be easier to get started in!
Going through the racks, there were tops, skirts, dresses, pants, and shirts available, enough to satisfy every preference.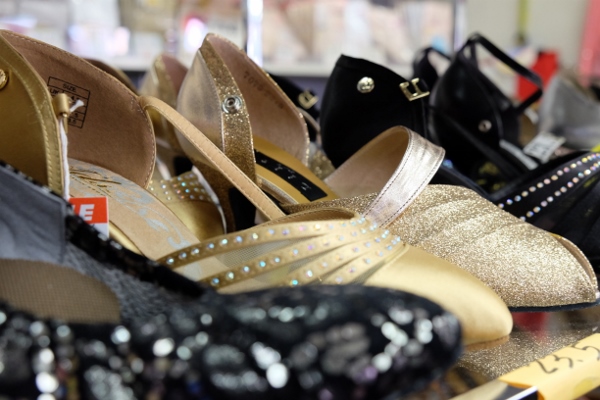 …Not to mention a spectacular selection of shoes for both ladies and gentlemen. Proper dance shoes are cushioned in specific places to prevent fatigue and pain, so having the right pair can make all the difference.
"Let me show you upstairs," Mr. Hirama said after I'd had a good turn around the first floor. To my surprise, what greeted me once we climbed up a set of wooden stairs at the back was an entire dance studio!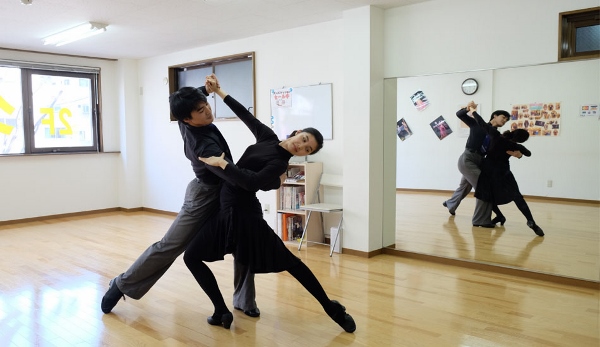 Here, dance classes are held on a daily basis, taught by up-and-coming stars in the ballroom dancing world. "We wanted to create a space where people could experience ballroom dancing easily and casually," Mr. Hirama says. Thanks to his generosity, the dance studio is free to rent for teachers, which means lessons cost a mere 1000 yen per an hour-long class for the students! This low cost allows beginners to see whether they enjoy the sport or not before committing too deeply.
"Why don't you give it a try?"
Really?
The Hiramas gave me permission to put on a dress and shoes especially so I would be properly dressed.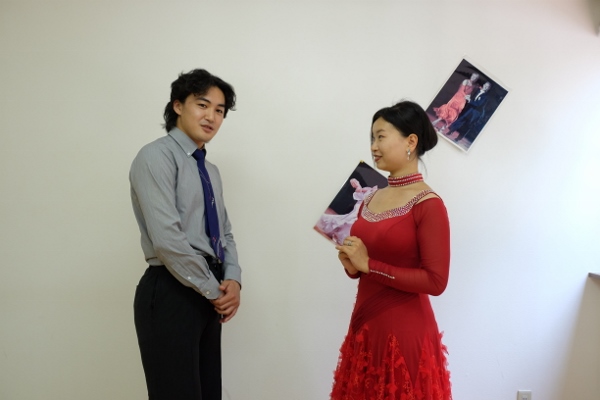 And then Mr. Ito, a young professional ballroom dancer with several awards under his belt, spared a bit of his time to teach me some basic steps!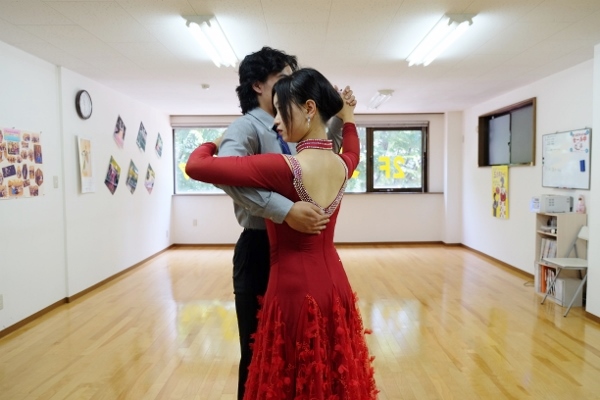 Mr. Ito teaches standard ballroom (waltz, foxtrot, tango, quickstep and the Viennese waltz) here on a weekly basis. "The ladies love him. I think they come here to learn to dance, and end up becoming his fans," Mrs. Hirama confided in me with a giggle.
But the charismatic teachers are truly part of the appeal, and what makes the classes fun! Under their guidance, ballroom dancing loses its intimidating edge. Split between standard, Latin (samba, rumba, cha-cha, paso doble and the jive), and mixed ballroom classes, students are free to come to whichever lessons they like during the week, when they have the time. Oh, and no partners necessary!
"We usually have a good mix of men and women, but we always make do regardless," Mr. Ito assured me.
"It's fun, it's social, and it's a great way to keep young," both Mr. and Mrs. Hirama added. Plus, it's a nice way to get some exercise into your day without going to the gym!
Schedules for the ballroom lessons are available on the Hirama Apparels website in Japanese (link in the shop description below). So if you, like me, have ever harboured a desire to learn how to step onto the dance floor with grace and confidence—this may be just the place to start!
Story by Xianru Shen(Koto City Office Coordinator for International Relations)