Bancha, Genmaicha, Gyokuro, Hojicha, Matcha, Mugicha, Sencha, Shincha. What all these names have in common is that they are all types or grades of Japanese tea, and they can all be found for sale at Hiranoen.
Hiranoen is a small shop, which sits on the picturesque Nakamise pedestrianised street connecting Eitai-dori Avenue with Fukagawa Fudoson Temple. This small shop, which has been in business for over 50 years, is run by a friendly couple, Mr. and Mrs. Kiichi Taguchi. Mr. Taguchi's mother previously ran a "komamono" shop on the site, selling accessories, such as combs, hair pins, origami etc. to local geisha, but he felt that this was not a suitable occupation for a man and so he switched to selling Japanese tea.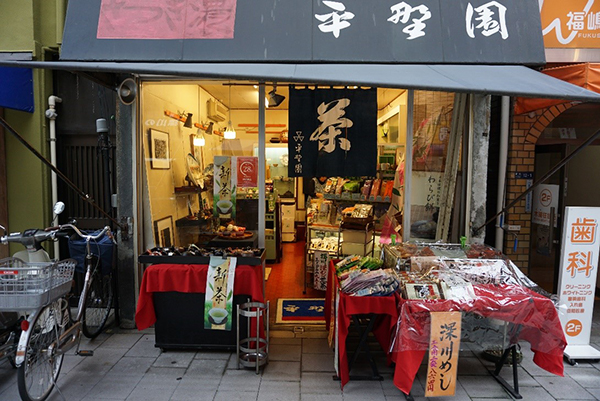 The teas listed above, most of which I had never heard of, come in various grades of quality, and in loose leaf or in teabags. The shop sells tea from all over Japan, but predominantly fukamushi (deep-steamed) green tea from the Kakegawa area of Shizuoka prefecture.
Sitting on a small cushioned bench at a table where customers can sample tea before deciding on a purchase, I asked the Taguchis what the secret is in making a good cup of Japanese green tea. Straight away they came up with the following do's and don'ts:
don't pour the water straight onto the tea leaves, but instead pour it around the edge of the inside of the tea pot;
don't leave the tea to brew, unlike black tea, but after a few seconds pour it into the tea cup, otherwise the tea becomes bitter;
if serving more than one cup, pour a little at a time into each cup in turn, until they are all full; and
depending on the type of tea, the hot water should not be boiling, but instead the temperature should range from between 60°C (for Gyokuro) to 80°C (for Sencha).
Then Mr. Taguchi kindly handed me a pamphlet in several languages describing the main types of tea and the way to brew them to get the best taste.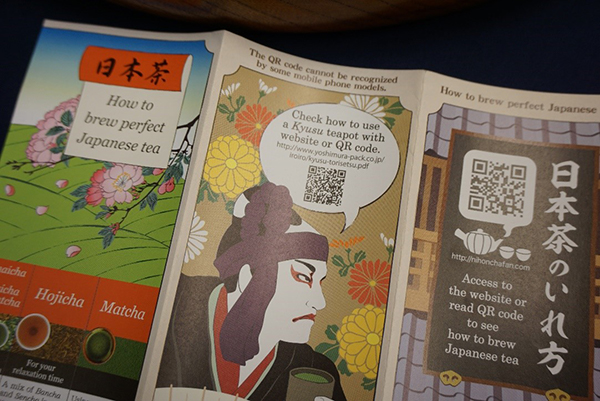 Placing two small cups in front of me he then gave me a tasting demonstration to see if I could tell the difference between two types of teas, both priced at 864 yen per 100gms. Into the first kyusu (teapot) he put two spoonfuls of tea, and then one spoonful in the other. Picking up the delicate, white yunomi (tea cup), I sipped one then the other. Both were a light green colour, but, surprisingly, the second tea had a very slightly stronger aroma and a hint of a bitter taste, but for my untrained palate it was difficult to tell them apart. However, both tasted pleasant and refreshing.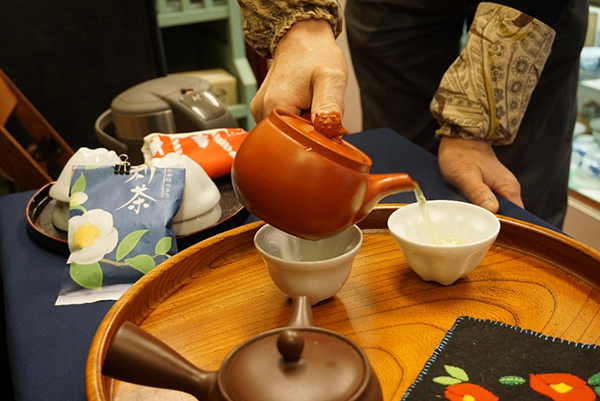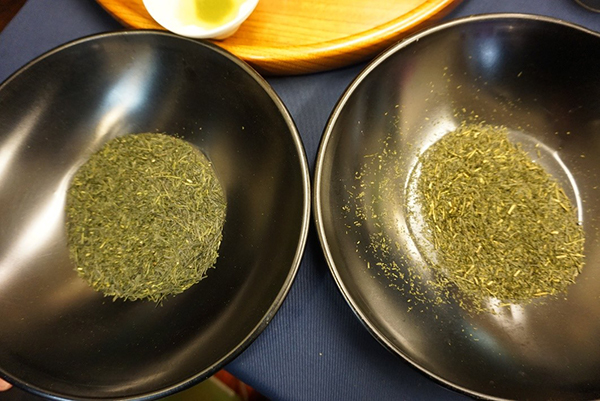 As we sipped our tea, Mr. Taguchi explained that as well as being a relaxing drink, taken hot or cold, green tea is said to be beneficial for your health and with its antioxidants, such as catechin, is said to inhibit bacterial growth and lower cholesterol and may even improve brain function. Hmm~, not only refreshing but healthy!
Hiranoen's shelves hold a broad range of Japanese teas in packs, at varying prices, depending on the type and quality.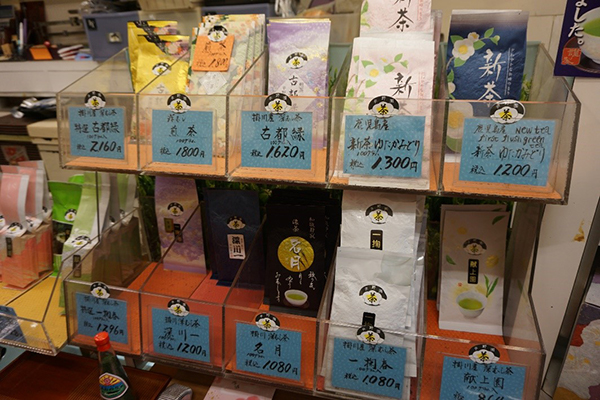 According to Mr. Taguchi, the shop's best-selling teas are Kenjo-en, Fukagawa-ichi and Ichikikushun, which all come vacuum packed.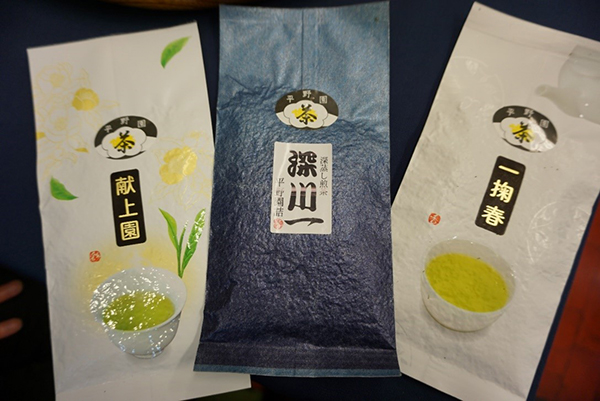 There are speciality packs, such as the comically-labelled Shichifukucha, made from barley and other grains, which drunk chilled is considered a refreshing drink for the hot, humid Japanese summer.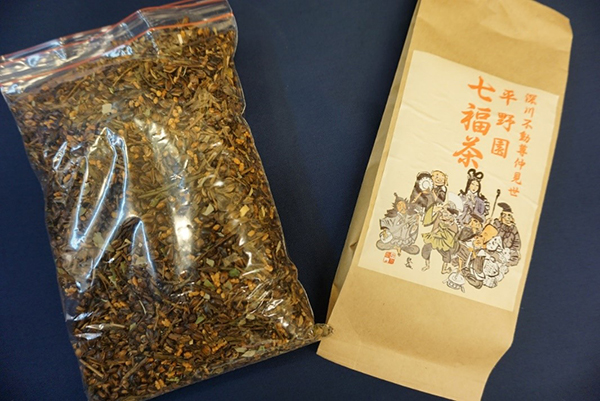 And for practitioners of the Japanese tea ceremony, there are tins of various types of powdered Matcha to choose from.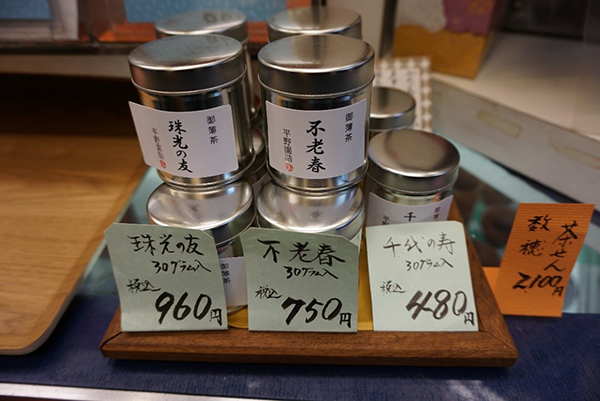 Then there is Hatomugicha, which is made from pearl barley, and is considered a medicinal tea. This is sold in packs containing twenty-four 5g tea bags.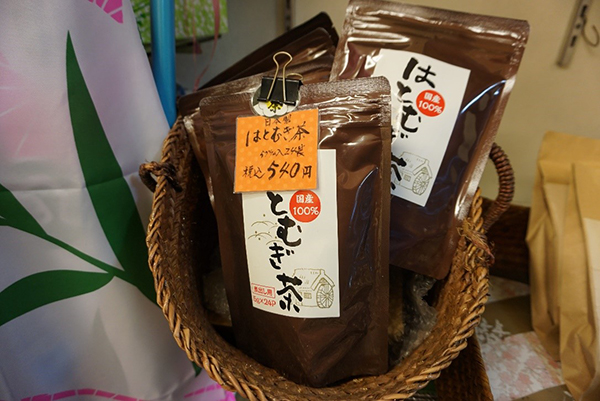 As well as tea, there is a selection of eye-catching kyusu (teapots) for sale on display. These are not just plain, functional items but works of art with their rich colours, individual designs and beautiful surfaces. Even so, some of the prices struck me as very reasonable.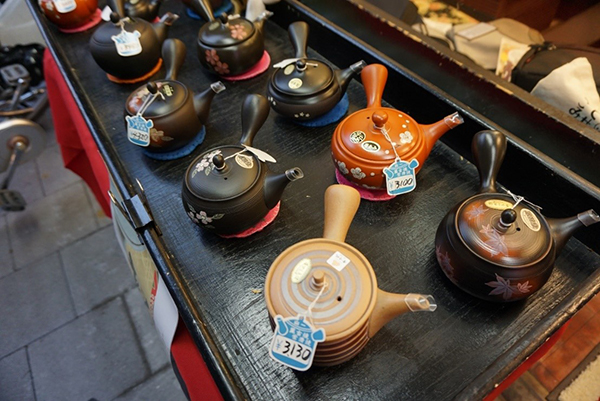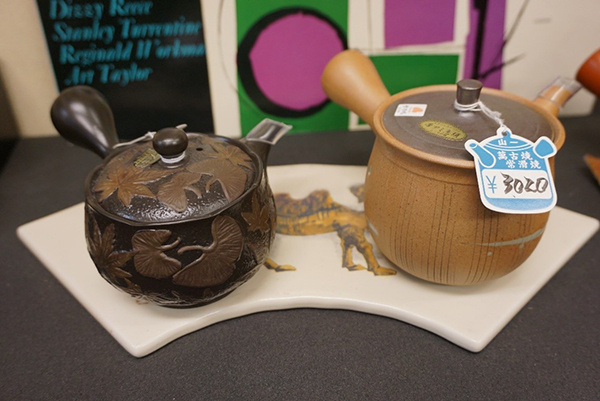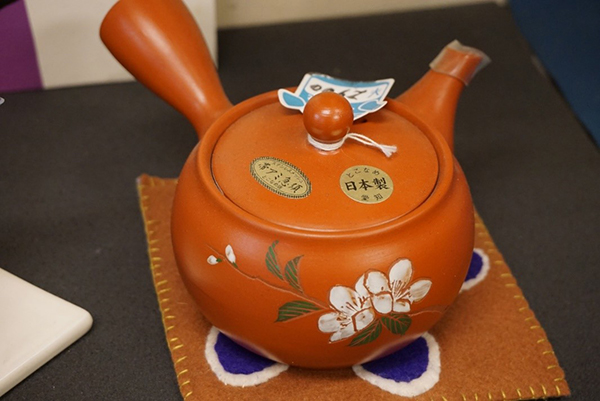 Mrs. Taguchi also showed me a cheerful pair of chazutsu (tea caddies), one in a blue pastel design representing summer and the other in pink representing spring; both with Mt. Fuji in the background. I thought these would make ideal inexpensive presents for family and friends.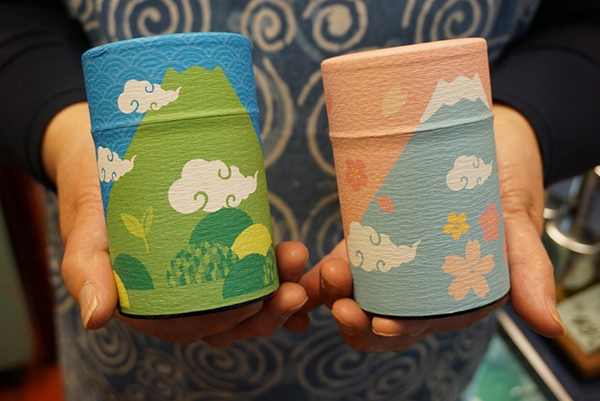 Times change and whereas in the past Mr. Taguchi would sell loose leaf to customers who would bring along their own tea caddies, Hiranoen now sells vacuum-packed bags of tea, prepared on the premises, which will keep their taste and flavour for a considerable time.
Truly a Japanese tea lover, Mr. Taguchi claims to drinks 30 cups of tea a day. However, his wife confessed to being partial to a cup of coffee for breakfast, and his daughter, heaven forbid, as a hobby studies the art of making a good cup of English tea – all this could drive a man to drink!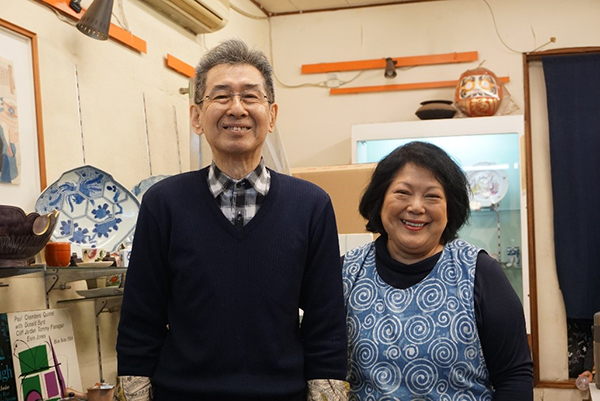 Story and photographs by Jeremy Hutchinson