Hands-on Massage
Published: July 19, 2018
Have you ever felt in the mood for a really "tough" massage to ease those tired muscles and aching shoulders? If so, you should head along to Honkaku Kenko Hogushi clinic, just a 5-minute walk down Meiji-dori Avenue from Kameido Station.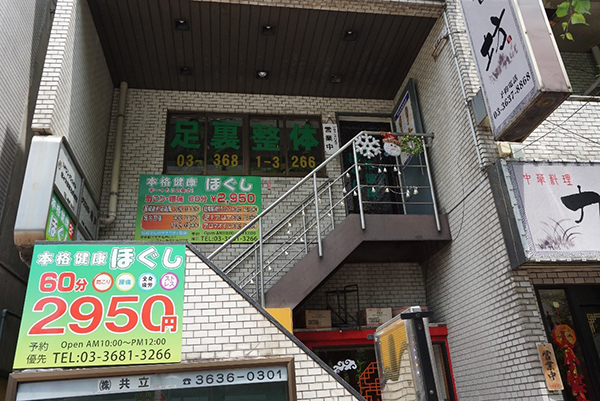 Run by Ms. Sho-hon Chen and Mrs. Rina Isozaki, who between them have 24 years' experience in the massage and manipulation business, Honkaku Kenko Hogushi offers Chinese-style massage designed to untangle those knotted muscles. As well as massage and manipulation, they use traditional Chinese therapy which relies on the use of the thumbs on pressure points ("tsubo" in Japanese) on the body to treat various pains and ailments.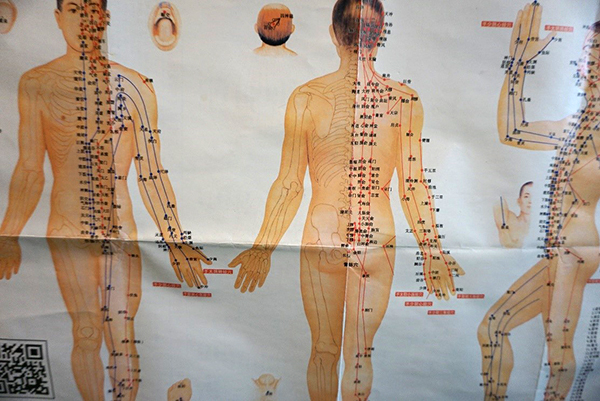 Entering the second-floor clinic I was met by swathes of cooling green foliage and the relaxing sight of small tropical fish gliding around an aquarium, oblivious to the vigorous treatment being given by Ms. Chen and Mrs. Isozaki.
There are four massage/manipulation cubicles plus a cubicle containing a French-made massage bed for use by customers waiting for treatment.
After interviewing a customer to assess his or her lifestyle and to find out what ailments he or she is suffering from, Ms. Chen and Mrs. Isozaki will suggest a course of treatment; this may range from the popular soothing "Oil Rinpa Course", consisting of gently rubbing oils along the limbs, to a real "hands-on" massage and manipulation involving thumbs and elbows. Courses last in time from 30 to 120 minutes and, to my mind, seem very reasonably-priced (2,950 yen for a 60-minute massage). Customers pay for treatment using a ticket vending machine; something which I usually associate with my visits to ramen shops.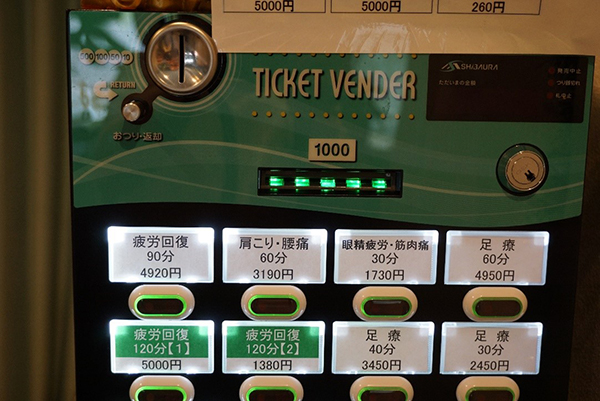 I agreed with Mrs. Isozaki's suggestion that I try the Momihogushi treatment. This was not just a surface massage but a massage which delved deep down into my muscles and was accompanied by the rigorous stretching of my joints. It started with her strongly massaging my tired shoulders and using her thumbs to get right into my shoulder muscles. She then followed this by methodically pummeling my body, arms and legs, as well as massaging my spine.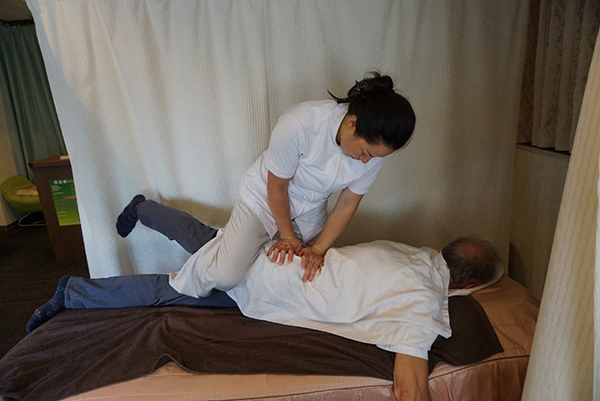 Then came my pelvis. In a grapple worthy of the wrestling ring, Mrs. Isozaki took hold of one leg and proceeded to twist and stretch it to an extent I didn't think possible, all the while telling me, "Relax and stop tensing your muscles".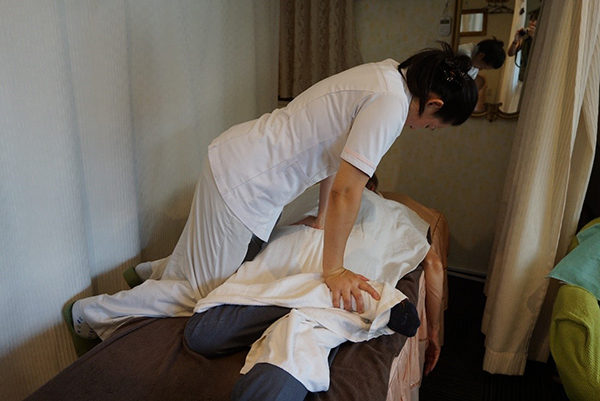 She repeated this technique on my other leg, twisting and bending it to bring out the tension in my muscles.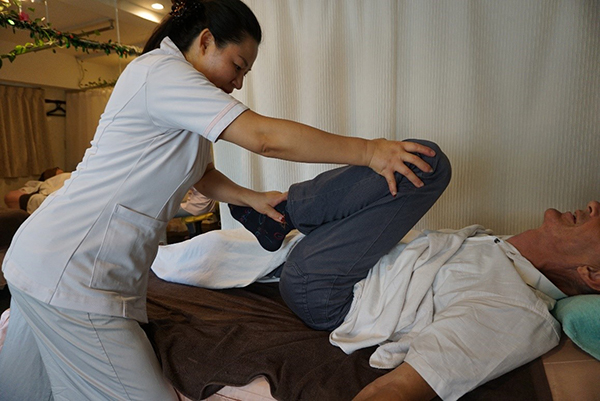 My feet and hands were not spared; next Mrs. Isozaki's thumbs got to work on the muscles and the joints in them. By the end of it all, I do not think I had a tight muscle left in my body. I can honestly say the staff work really hard at finding and relieving those tense muscles. But don't worry; Ms. Chen and Mrs. Isozaki will adjust the strength and pressure used to suit the customer.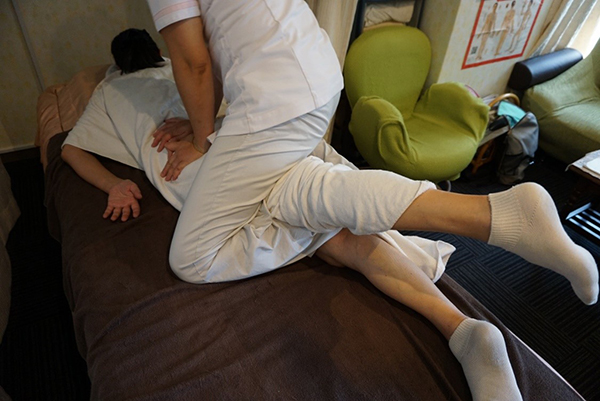 When the treatment was over and I flowed off the massage couch, I commented on the strength and energy necessary to perform the massage. Mrs. Isozaki replied that practitioners of the Chinese style believe that you need to use power to take the aches and tiredness from the customer and that if you don't do this properly it has no meaning. Her job satisfaction comes from seeing a customer leave relaxed and able to sleep well at night. My muscles certainly felt relaxed and light after the thorough "going over" by Mrs. Isozaki, who really seems to enjoy her work.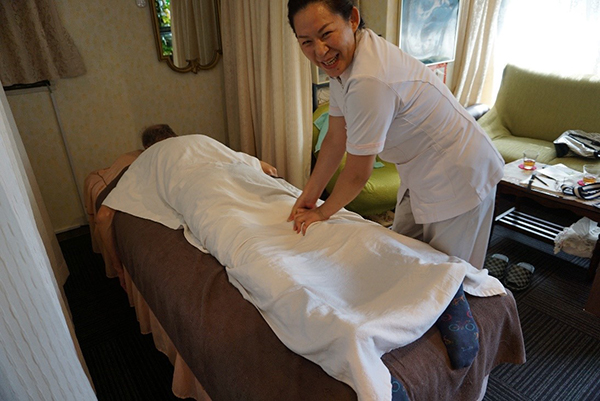 Honkaku Kenko Hogushi's customer base covers both men and women of all ages; whilst I was there a housewife came in for a whole-body treatment which commenced with her feet being immersed in a wooden tub filled with warm water (35-38C) and Chinese kanpo (herbal medicines). Very relaxing.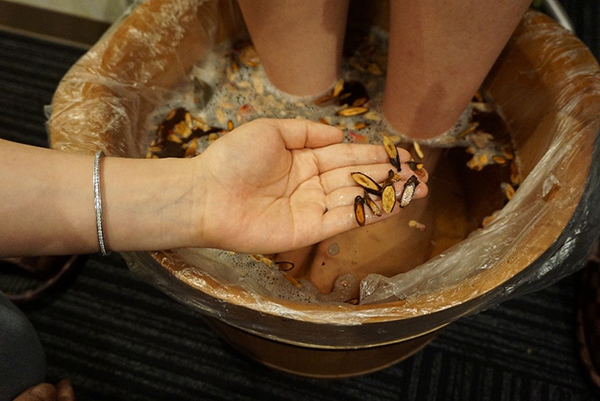 And as I was leaving a young athletic-looking man came in for treatment. For pregnant women from 4 to 7 months, the clinic offers gentle relaxation massages, as well as post-natal sessions, which include "pelvic recovery". And for mothers with young children, the staff will look after them whilst their stress and tiredness are being massaged away.
And when work is over for the day the staff take it in turns to give each other one of Honkaku Kenko Hogushi's remarkable massages. What better recommendation than that can you have?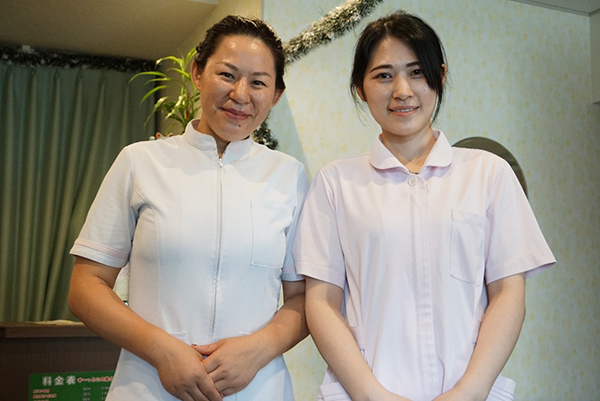 Story and Photos by Jeremy Hutchinson