Hot Skillet Heroics at Sora
Published: December 14, 2021
Sora is a long-established Monzen-nakacho izakaya restaurant that specialises in iron-skillet dishes featuring a variety of ingredients. Located just one minute's walk from exit 4 of the station, it has been a popular attraction in the area since 2009. On a recent autumn afternoon, we dropped in for a chat with proprietor and chef Ms Shizue Goto.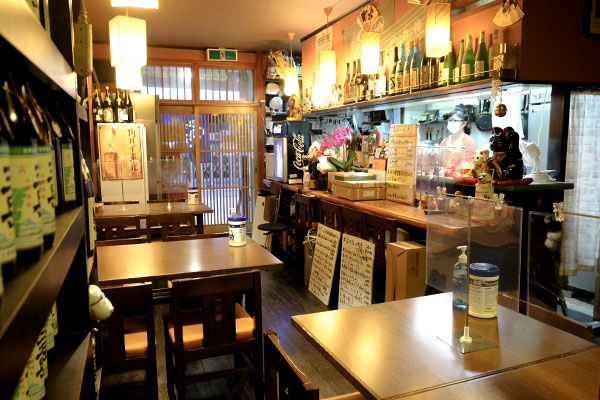 Monzen-nakacho born and raised Ms. Goto explained the evolution of her establishment, saying," I'm from old town Fukagawa and I've always liked teppanyaki (hot plate) food such as monjayaki, but there's a lot of hard work and maintenance involved in cleaning the large iron hot plates. I definitely wanted to use them in some form so I decided on a more casual menu with iron skillets. They proved popular and then the menu expanded as customers made requests for other dishes. Over the years it has become enormous," she said laughing.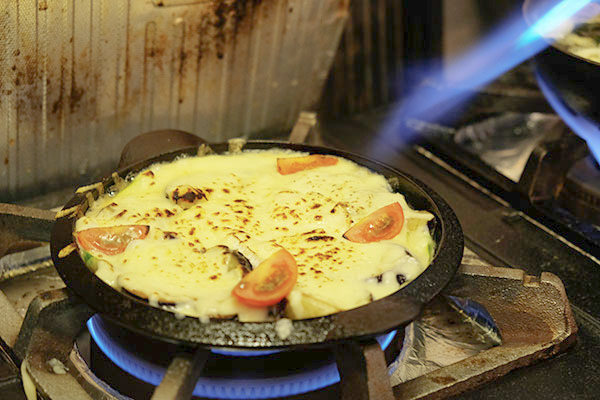 One of the most popular skillet dishes is this eggplant and asparagus with camembert cheese (880 yen). A whole camembert cheese is placed in the centre and surrounded by vegetables, with shredded cheese on top. It's baked on the range then browned with a blast from the gas burner.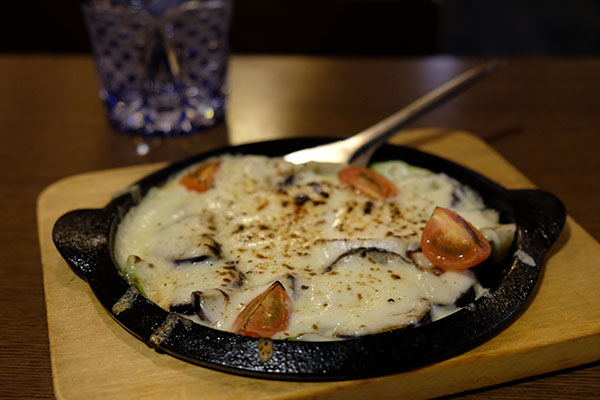 "One of my customers asked for grilled cheese, so I came up with this," said Ms. Goto. It's a savoury explosion of melted cheese and vegetables that had us purring with delight when we sampled it. Perfect for a chilly winter evening!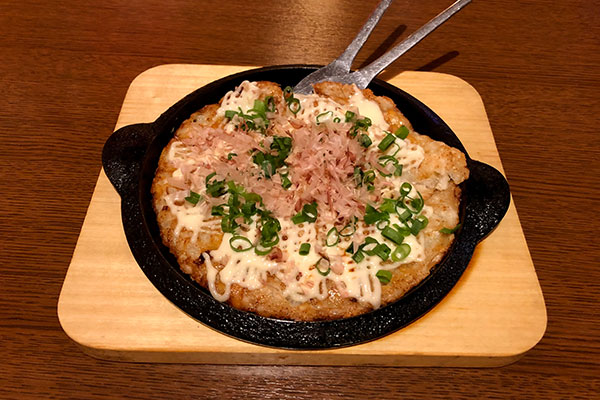 If cheese is one unmissable ingredient of skillet or hot plate cooking, then pollack roe (mentaiko) is another. This is the mountain yam and pollack roe skillet (nagaimo mentaiko fuwafuwa yaki, 860 yen). It's a Sora-style skillet monjayaki, as Ms. Goto explained, and a personal favourite as it reminds her of her childhood days.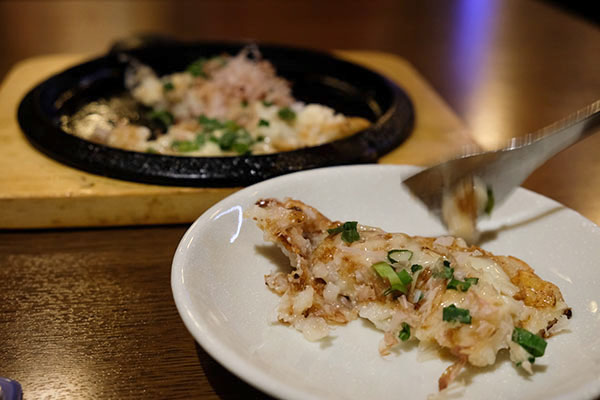 The yam lends a chewy texture and blends perfectly with the pollack roe and melting cheese in a special batter made with Ms. Goto's secret weapons, two kinds of broth. Every day without fail she makes both a chicken broth and another that combines kelp with dried bonito flakes. The two are then combined to create a mix for this monja-style hot plate. The finished item is topped with thinly sliced green spring onions, bonito flakes and mayonnaise. Once again it's a winner, fluffy and savoury, an ideal match for a post-work drink.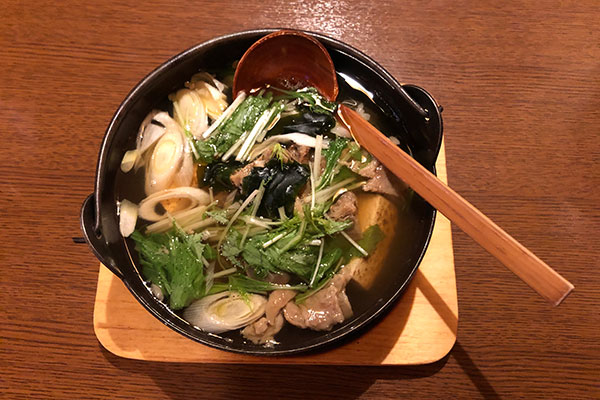 It's not just skillets at Sora. Ms. Goto also makes a range of incredibly hearty soups in iron pots, like this beef tendon and tofu at 1,080 yen. The beef tendons are slow cooked three times to create a melt-in-the-mouth softness and a rich, warming broth brimful of collagen. There's also seaweed, tofu, negi onions, and Japanese mustard greens (mizuna) to add flavour, colour and volume. Three people can easily share a pot of this classic winter warmer; it's guaranteed to beat the cold!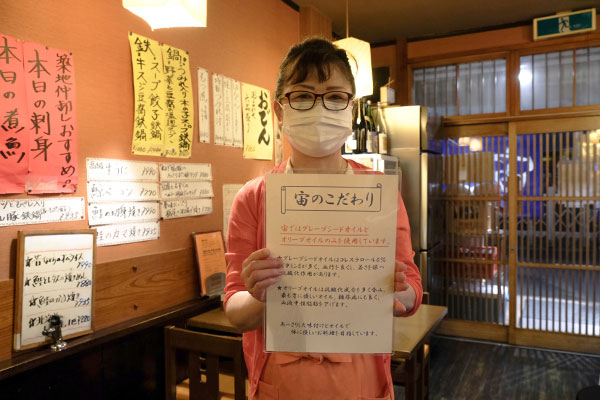 We polished off the entire pot down to the last drop of soup. "The beef tendon soup uses the broth I created for my oden," explained Ms. Goto, referring to the winter staple hot pot that features a variety of fish cakes, vegetables, and boiled eggs simmered in a rich broth. "Oden wasn't actually on the menu until a regular customer asked me to make it. This is how the menu has grown so large." Many of the walls are covered with handwritten menus, there are blackboards dotted around the place with more items on them and there's a regular menu as well. It's probably easiest to just ask for what you'd like to eat rather than scouring the various menus to find it!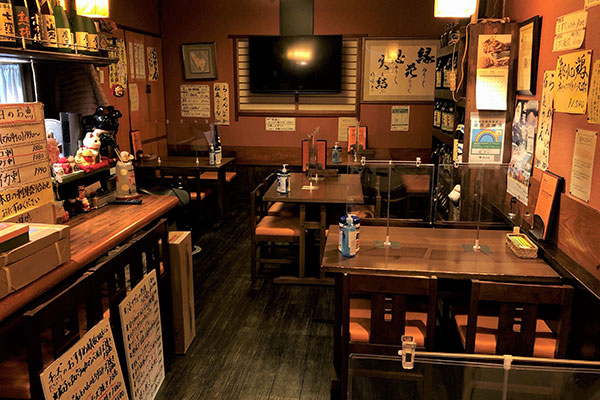 The oden has proved so popular it's on the menu all year round now, as is another iron pot dish using the same base broth, soup gyoza (1,080 yen). The menu also features a very wide selection of seafood, all sourced from a long-standing contact at the Toyosu Seafood Market in southern Koto-ku. There's sashimi, grilled fish and simmered fish (nimono) too.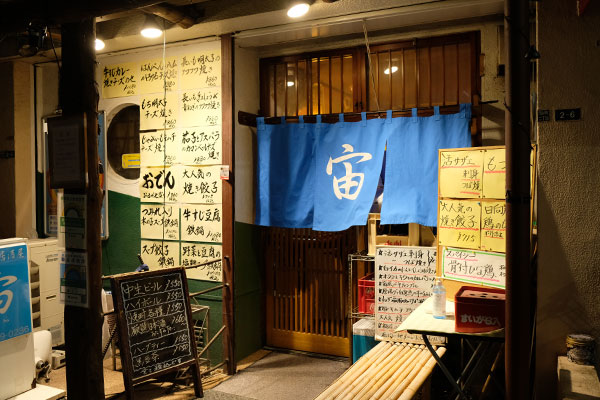 "Many of the customers like to drink, so I try to prepare healthy food to offset the effects of the alcohol," said Ms. Goto. "This includes using grapeseed oil which is high in vitamin E and antioxidants, together with olive oil which is well known for possessing many health benefits." So, not only is Sora a very comfortable place with fantastic food, it's very healthy too! If you're in the Monzen-nakacho area and in the mood for top quality hot plate dishes, soups and sashimi, together with a host of drinks, just head for Sora!
Story and some photos by Stephen Spencer