Ichigotei Reborn as Cake Shop and Cafe
Published: September 26, 2022
Ichigotei, the long-established cake shop just around the corner from Sumiyoshi station, underwent a move and a total makeover in 2019. On a recent sunny afternoon, we dropped in to chat with the Tamura family and cast our eyes over the chic new cafe and the gorgeous cakes.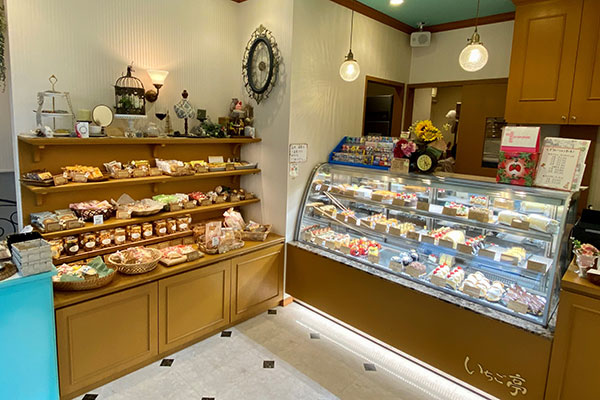 The shop was originally opened in 1985 by patissier Mr. Minoru Tamura, who still works in the kitchen today, making cakes using traditional recipes.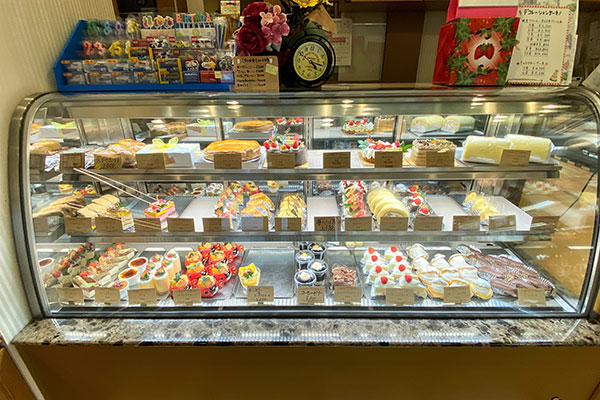 "We're an old style Showa Era (1926-1989) cake shop where taste comes first," he explained. "Our cakes are produced to the original recipes, except where new fruit such as shine muscat are used." The shop is a local landmark and immensely popular, with a steady stream of customers of all ages picking up cakes for afternoon tea or dessert.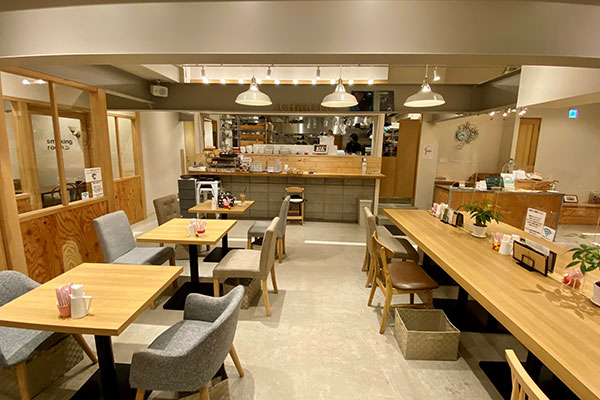 What has changed is that in 2019 the premises moved a few metres to the left as the entire building was redesigned into a cake shop and cafe. The cafe, which is accessed via a door next to the cake shop, incorporates the steel girders and original interior ceiling of the factory that previously occupied the space. It looks terrific, an industrial design that's both contemporary and very comfortable.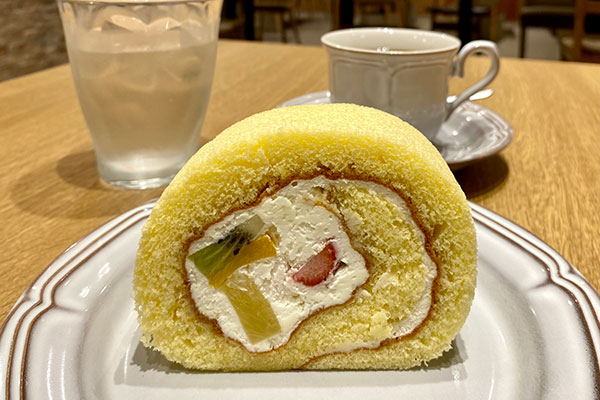 While the cakes may be orthodox they're extremely delicious. I thoroughly enjoyed this fruit roll cake (330 yen, including tax); soft, light sponge, rich but not overly sweet cream and a selection of fresh fruit pieces. Perfect for an afternoon break with a cup of coffee or tea.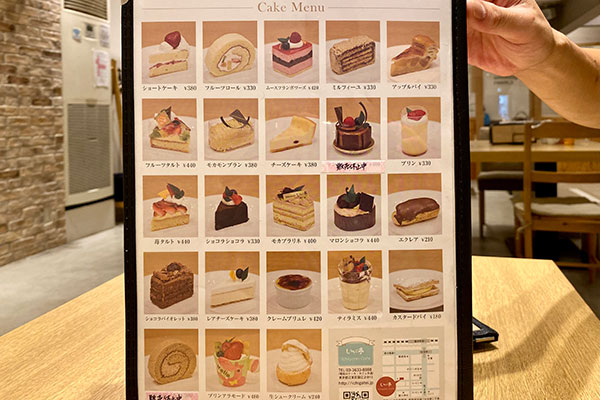 The cafe is managed by Mr. Masakazu Tamura, son of the founder. Cool jazz tinkled from the speakers as he explained the various menus. The cake set is very popular at just 650 yen including tax; customers can enjoy a coffee, tea or milk drink and one of the daily selection cakes, such as the fruit roll, chocolate cake, apple pie or mille feuille, for example. The full cake menu is more extensive, featuring a variety of seasonal items as well as the regular cakes.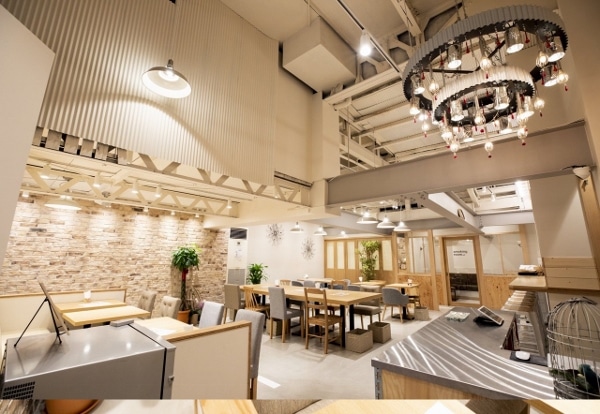 The interior is eye-catching; the girders, lattices and trusses of the original factory remain, while a chandelier, stylish lighting and an air conditioning system have been added.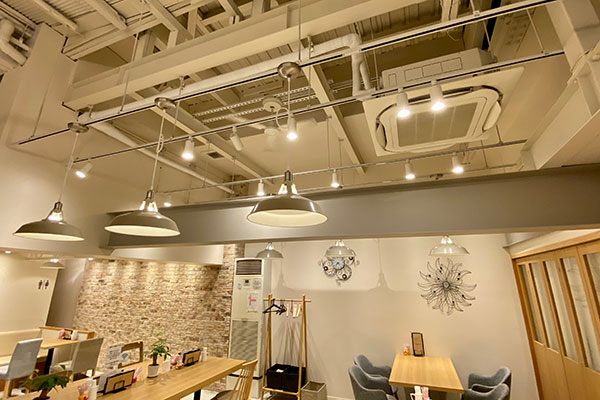 The high ceiling is the original wood, and creates a spacious, relaxing atmosphere. Mr. Tamura added that he's already planning autumn cake specials featuring figs, chestnuts, and sweet potatoes!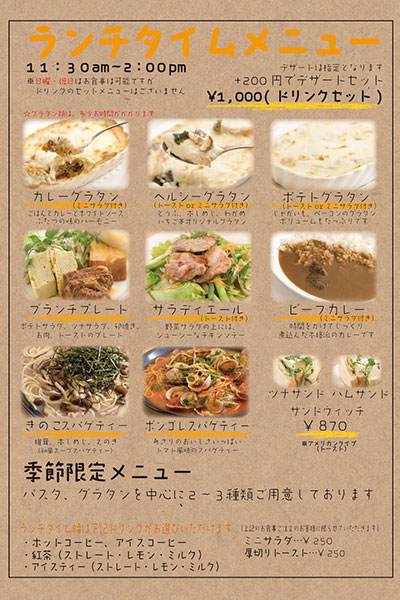 The lunch menu has been updated and now features a variety of tasty items, such as gratins, mushroom or vongole pasta, chicken salad, a mixed lunch plate or beef curry all at 1,000 yen, together with tea or coffee, hot or iced. A dessert can be added for an extra 200 yen, which seems like very good value indeed. Tuna or ham sandwiches are also available at 870 yen each.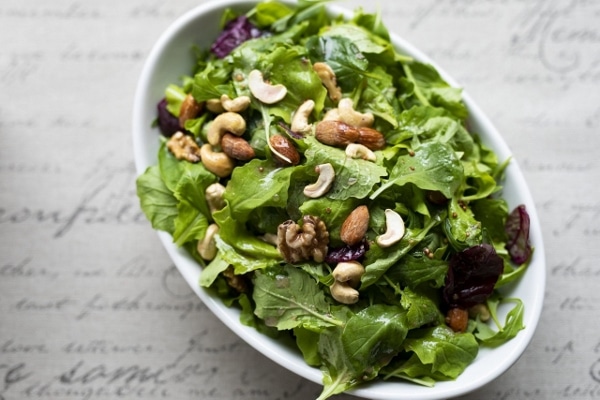 The dinner menu features yet more dishes, from fried shrimp, grilled chicken, and roast beef to six kinds of gratin and five pasta dishes. The number one choice though is this Tokyo Salad, which features organic vegetables grown in Mr. Tamura's own hydroponic garden in Tokyo. There's a base of baby leaves and half a dozen other fresh vegetables, topped off with a homemade dressing. A full salad is 680 yen, while a half is 350 yen. Looks great, doesn't it!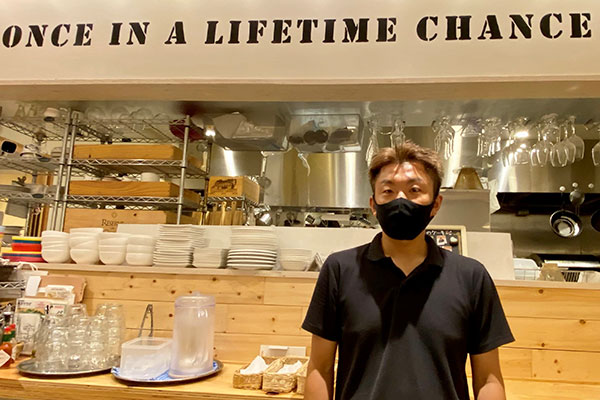 For customers who'd like an alcoholic drink there's beer, whiskey, wine, cocktails, and a selection of sours. As the younger Mr. Tamura explained, Ichigotei is named not after strawberries (ichigo in Japanese) but comes from the proverb ichigo ichie, which loosely translates as "one time, one meeting" and encourages people to treat each encounter as a once in a lifetime chance.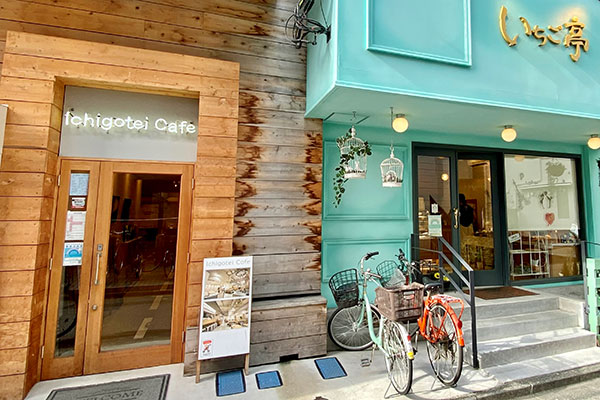 The Ichigotei cake shop is open from 10:00 to 19:30 (18:00 on Sundays and public holidays) while the cafe is open from 10:00 to last orders at 22:00. Last orders are at 21:00 on Tuesday and Wednesdays and 18:00 on Sundays and public holidays. Ichigotei is closed every Monday and on two Sundays a month. Please check the website to avoid disappointment!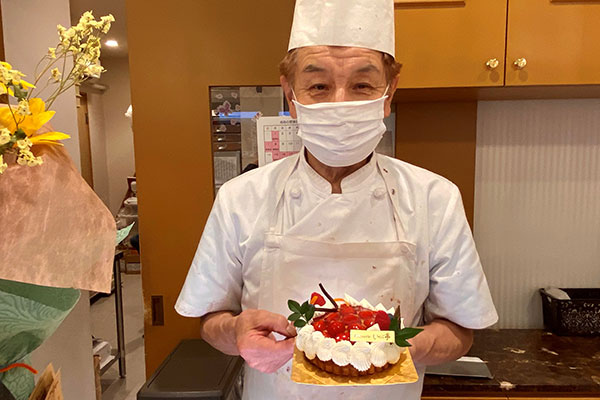 Whether it's delicious traditional cakes or organic salads, Ichigotei has something for everyone. If you're in the Sumiyoshi area, do yourself a favour and drop in. It really is a once in a lifetime chance!
Story and photos by Stephen Spencer