Interior Goods from Design Specialists
Published: February 21, 2023
Zero Co. is a housing and commercial space renovation and interior design company based in Kameido, Koto-ku. While their business is primarily B2B, the Zero headquarters is also a showroom selling a variety of eclectic and interesting items to brighten your home or workspace. On a recent afternoon, we dropped in for a quick chat with Representative Director Mr. Shoji Takamura.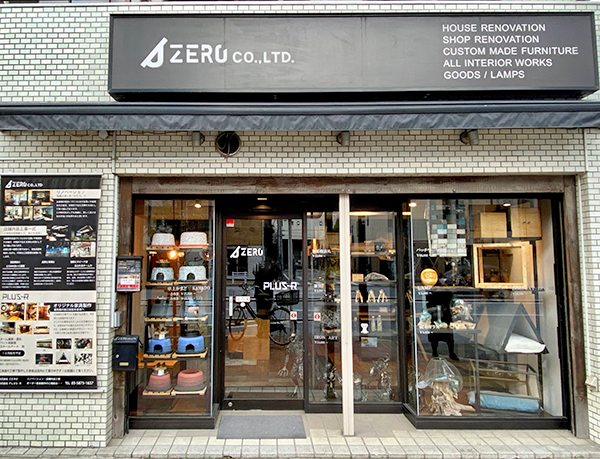 The shop is located on Kuramaebashi Street, just around the corner from the renowned Kameido Tenjin shrine and about equidistant from Kinshicho and Kameido stations.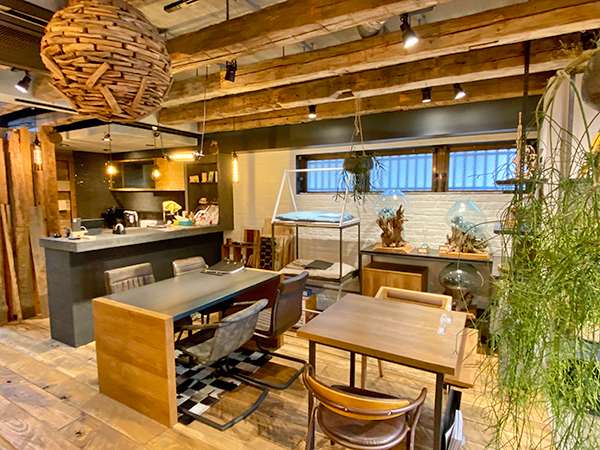 One's initial impression of the showroom is wood, iron, and leather! It's very comfortable, like a stylish cafe designed by a heavy metal guitarist.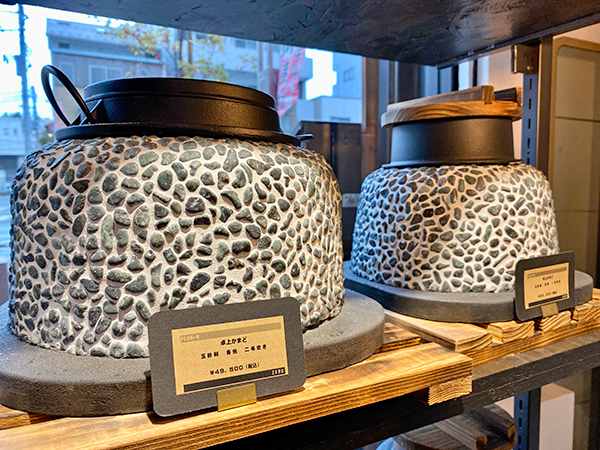 "Everything with a price tag is for sale," explained Mr. Takamura. Many of the items are original designs made to order by craftsmen only for Zero, such as these traditional kamado wood-burning iron rice cookers. The cookers come in a variety of materials and styles, with either a one or two cup capacity.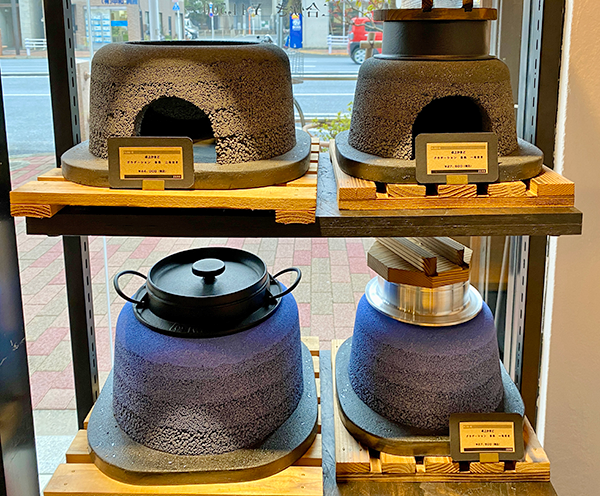 Simply add the washed rice and water to the iron pot and start a solid fuel fire underneath. Many people claim kamado-cooked rice is better than that made with electricity or gas, and they may be right. Practical items but also beautifully made and designed, suitable for display as decorative objects. Prices begin at 27,500 yen for the one cup size and 44,500 for the two cup ones.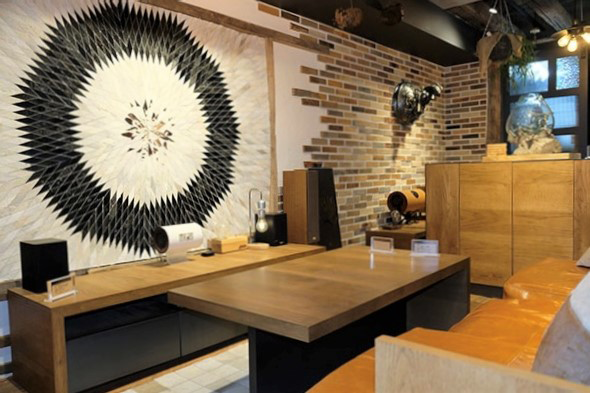 The furniture in the Zero showroom is hefty and striking. Made to order from a furniture workshop in Hokkaido, the tables use solid wood and steel in a stylish combination suitable for home or office. The long, narrow television cabinet (160cm x 60cm) is 187,000 yen.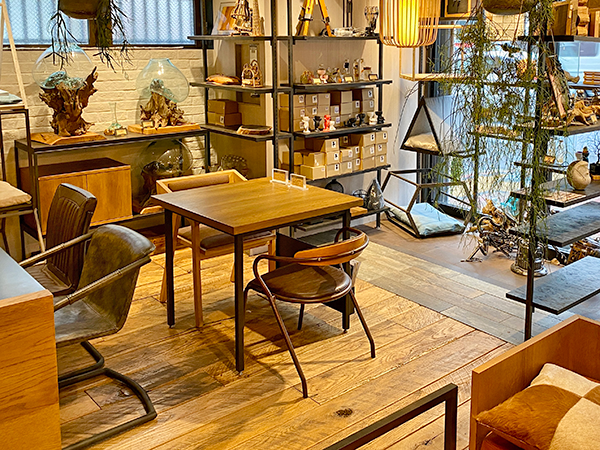 The 80cm x 80cm dining tables are 110,000 yen each.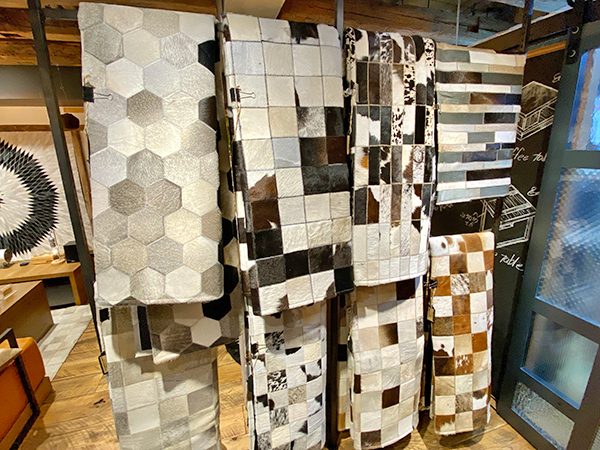 Zero also boasts a fine selection of cowhide patchwork rugs in a variety of shapes, sizes and colours at 66,000 yen each.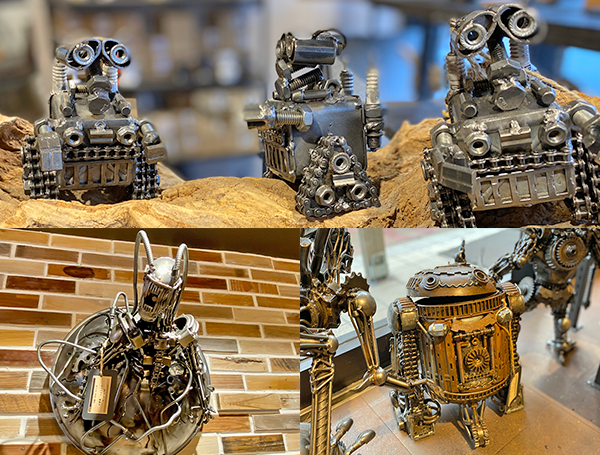 Perhaps the most striking item at Zero is the selection of iron figures, ranging from these cute little robots, to an alien bursting through the wall (110,000 yen).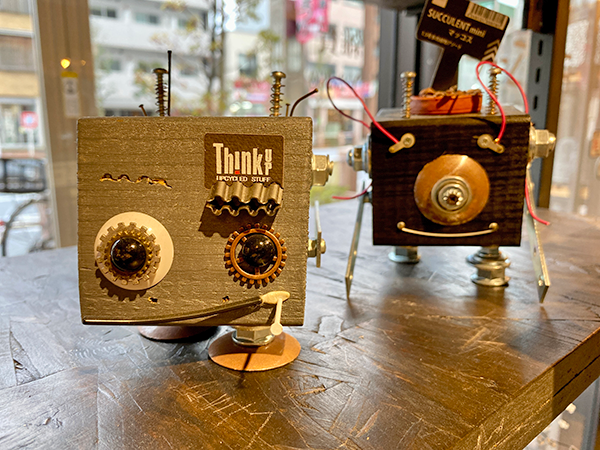 Less metal but equally industrial are these cute robots made from nuts, bolts, screws, and other upcycled bits (2,750 yen each).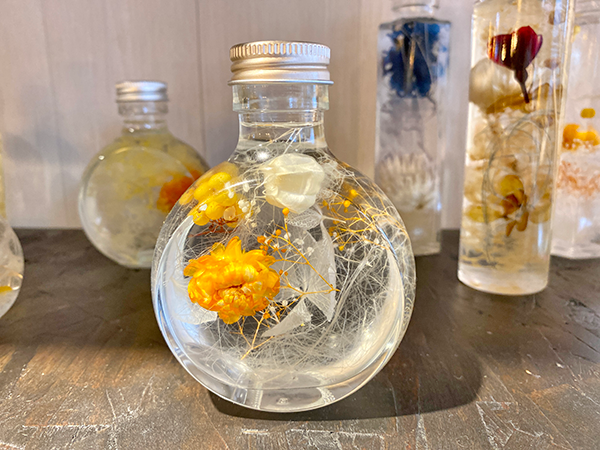 It's not all metal and leather though. These herbariums add colour and light to a room (small 1,650 yen, medium 2,200 yen and large 2,750 yen including tax). Pictured here is a large size.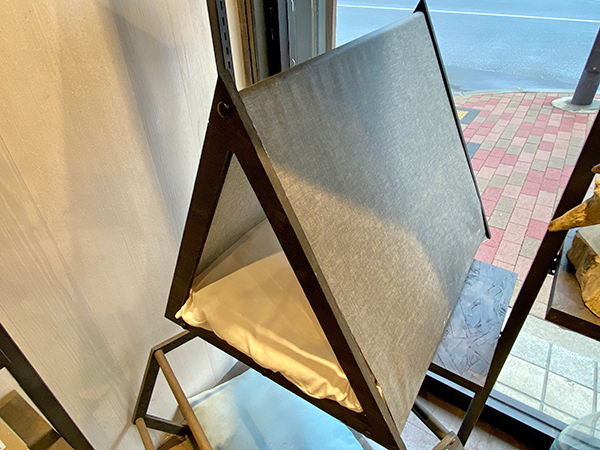 This triangular dog or cat house made quite an impression.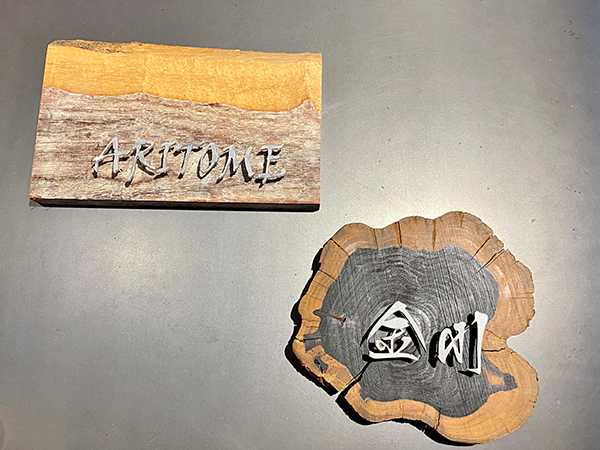 Fancy a unique, laser cut steel nameplate for your house or business? For just 22,000 yen Zero will make you one!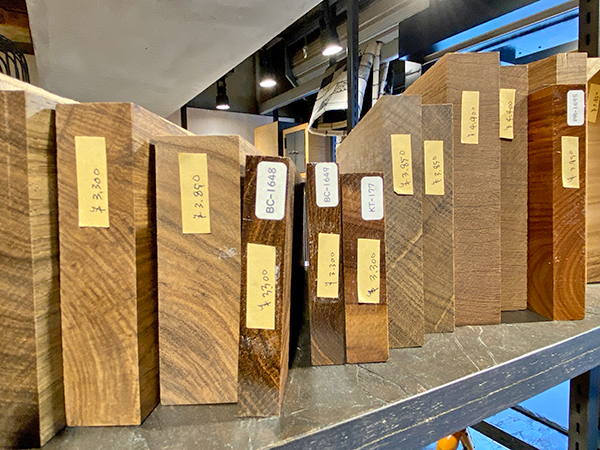 The shop also carries a wide selection of woods for flooring or walls.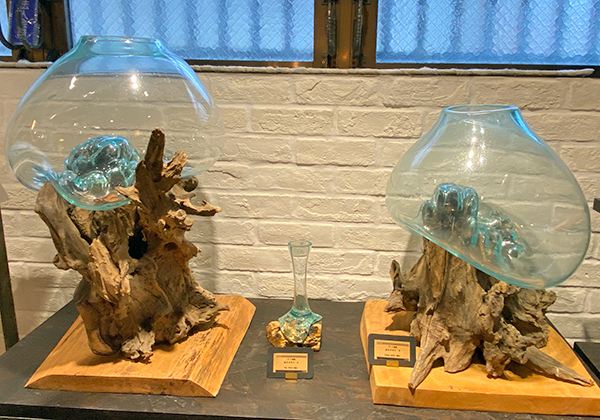 Together with an array of glass and driftwood art objects guaranteed to add character to any room. Whatever your taste, budget or needs, Zero surely has something for everyone. If you're in the area, why not drop in and check out a truly eclectic collection!
by Stephen Spencer