Fabulous Fish at Kameido Hidden Gem
Published: September 24, 2020
Despite being just a four-minute walk from Kameido station, Izakaya Daian isn't the easiest place to find. It's on the second floor of a ten-storey middle Showa Period building that faces Keiyo Street but there's no signage at street level; raise your eyes and you'll spot a hand-drawn poster. Entering the building is a real time slip back to the 1950s, the kind of retro place that is slowly disappearing as time passes. There was nothing retro about the friendly welcome from manager / owner Mr. Katsutaro Uno and his charming mother Matsue though, when we arrived for a chat.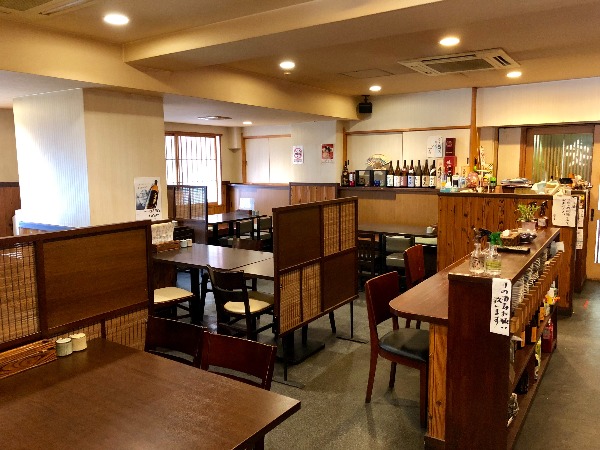 If the first surprise was the nostalgic feel of the building, the second was the size of Izakaya Daian: it's huge. Even with corona virus social distancing safeguards in place it can easily seat 80 people. "Before the current pandemic began, we could comfortably hold at least a hundred people," explained the affable Mr. Uno, the third-generation owner.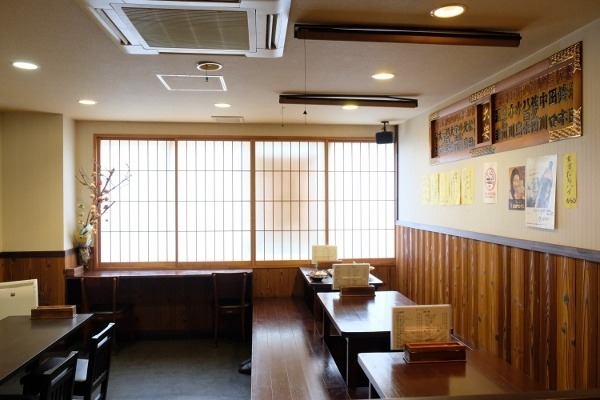 The back room, with its original wood paneling, raised seating area and translucent paper screens, is the very epitome of a traditional Japanese izakaya. The hurtling traffic of Keiyo Street and the blazing heat of an August afternoon seem a world away in this cool oasis.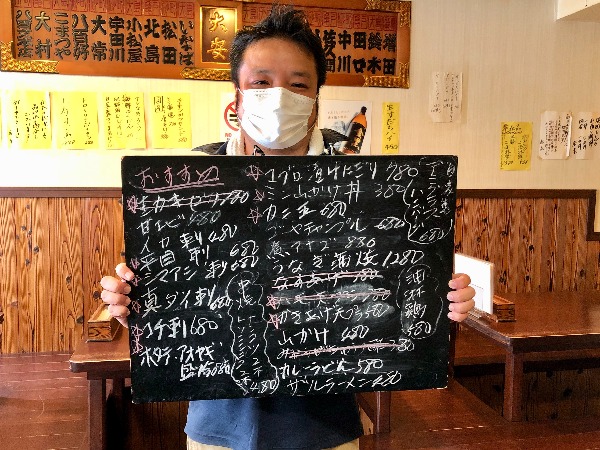 "Fish, and tuna in particular," says Mr. Uno when asked about the menu."I go down to the Toyosu fish market every day and buy what's best at the most reasonable prices. My grandfather opened Daian back in 1975 and over the years we've built up long-term relationships with the big fishmongers in Tsukiji and now Toyosu, so we can source top quality at low prices." Mr. Uno chalks his daily "catches" on the blackboard, erasing those that are sold out. "It's first come first served," he says, laughing.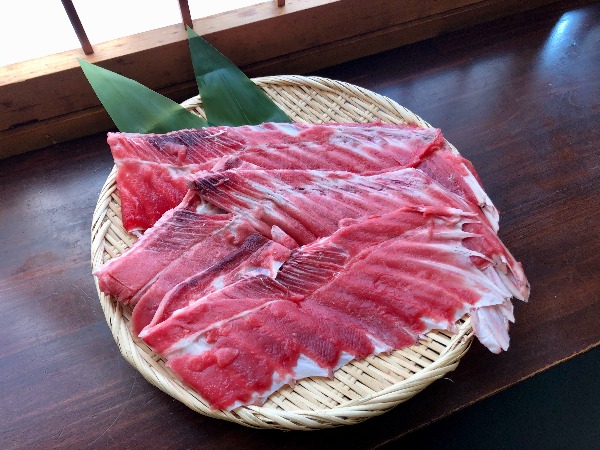 "I want to emphasise that our fish is all natural, not farmed or cultivated fish," says Mr. Uno. On his morning trip to Toyosu he'd managed to pick up these tuna ribs (nakaochi), a real delicacy sure to sell out quickly in the evening, especially at the astonishing price of 680 yen for two pieces. "I don't have these every day, I just got lucky today," he says. The early bird catches the tuna, so to speak, so it's no surprise to hear that Daian fills up pretty quickly after opening at 5pm.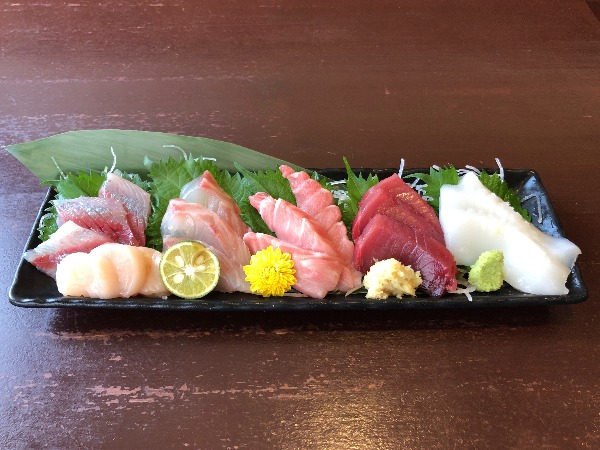 The sashimi again represents seasonal, all-natural fish. This selection for three people, costing 2,000 yen, features large slices of six different kinds of fish. From left we have horse mackerel (aji), a late summer delicacy, with plump raw scallops (hotate) in front and sea bream (tai) alongside. The bright pink is fatty tuna belly (otoro) with the dark red of autumnal skipjack tuna (bonito) providing a contrast. The autumnal bonito/skipjack tuna is known as "returning bonito" (modori katsuo) as the fish return from their migratory routes into the far ocean as autumn approaches. Finally, there is neon flying squid/red flying squid (akaika) another late summer and early autumn favourite.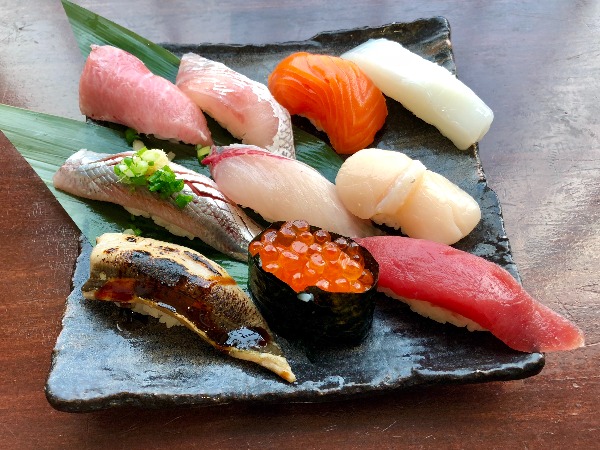 The sushi available at Daian (service nigiri zushi) is dependent on seasonal availability but always features fatty tuna, squid, scallops and salmon. This day's specials included the increasingly rare summer delicacy of striped jack/white trevally (shima-aji in Japanese), simmered conger eel (ni-anago) and salmon roe (ikura). This selection costs 980 yen. Yes, that's not a misprint, it's 980 (before tax) for ten pieces of sushi straight from Toyosu.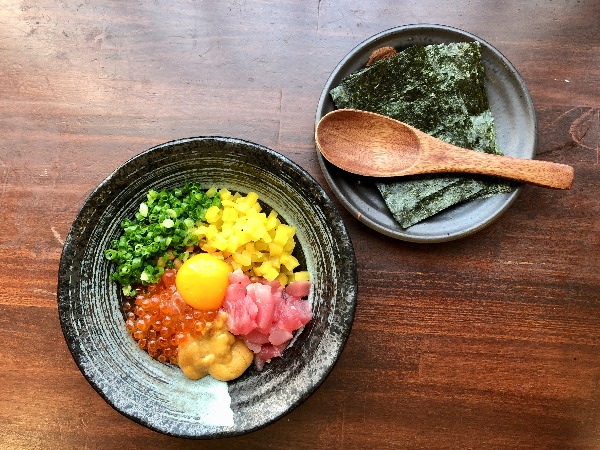 This colourful beauty goes by the name of "bomb" (bakudan in Japanese). From the top right it's pickled daikon radish (takuan), tuna, sea urchin (uni), salmon roe (ikura), green negi onions and a raw egg. Underneath are the perennially divisive fermented soy beans (natto), the sticky but healthful staple rice topping. At just 880 yen it's a bargain!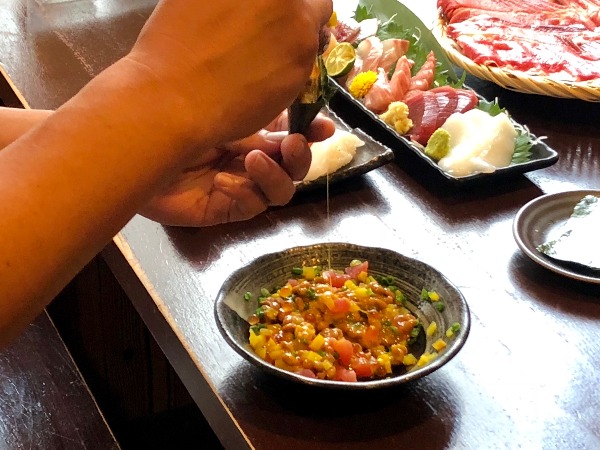 Mr. Uno just mixes it up into a superbly gooey mess.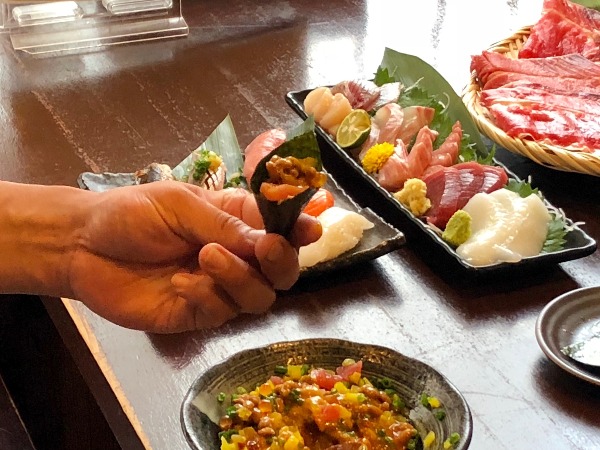 The bakudan comes with 10 sheets of dried seaweed paper (nori).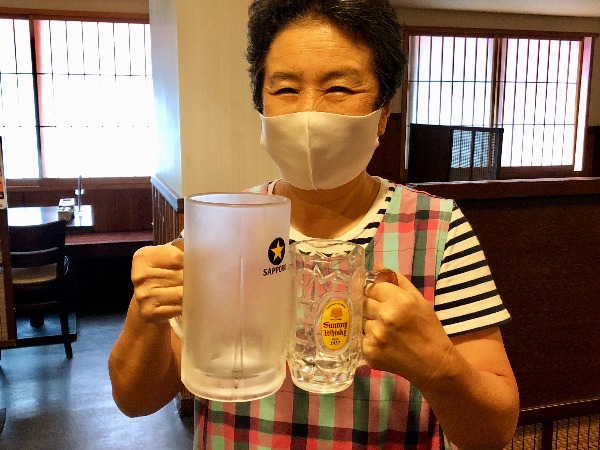 Like all good izakayas Daian has an extensive drinks menu, from draft beer (Sapporo), bottled beers (Kirin and Sapporo), several varieties of sake and shochu, highballs, cocktails and wine. All are reasonably priced. The most popular of the summer drinks though is the mega-highball (whiskey and soda) at 780 yen. And that's possibly because it comes in a one litre glass. Cheers!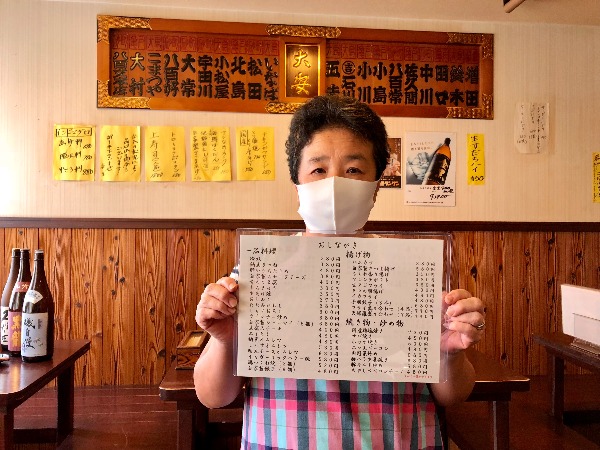 While Mr. Uno was justifiably keen to promote the quality of his fishy delights, his mother pointed out that many items on the extensive menu were homemade. Minced fishcakes (satsumaage 580 yen), gyoza (six for 480 yen), shumai (five for 680 yen) are all very popular, as are the homemade crab cream croquettes and the deep-fried horse mackerel (aji furai 680 yen). For those who prefer their fish cooked there's mackerel ( saba 450 yen), Okhotsk atka mackerel (hokke 500 yen), squid, octopus and a variety of seasonal fish.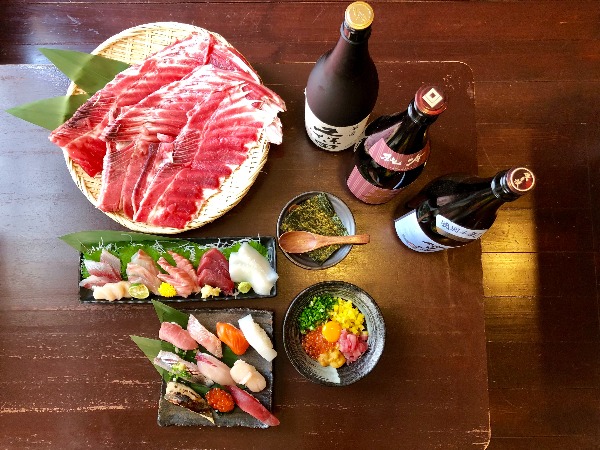 "Before they opened Izakaya Daian, my parents owned and ran a vegetable shop in this same building," said Mrs. Uno, shedding light on the incredible cost performance. "They received advice and support from other shop owners and merchants in the area when they decided to open a restaurant." The names of these supporters are inscribed on the brown wooden board (kanban) hanging on the wall. "We've never advertised; the quality of our dishes and word of mouth has always been enough."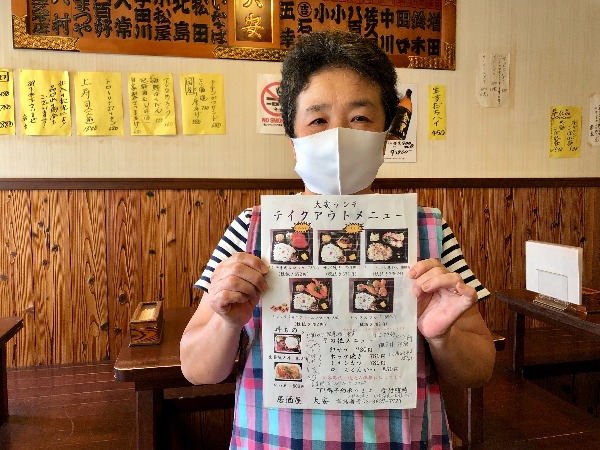 Daian also offers a variety of lunch boxes, ranging in price from 730 to 850 yen. They feature rice and free miso soup plus main items such as mackerel, crab cream croquettes, pork cutlet, shrimp, chicken, and the like. The lunch boxes are on sale from 11:30.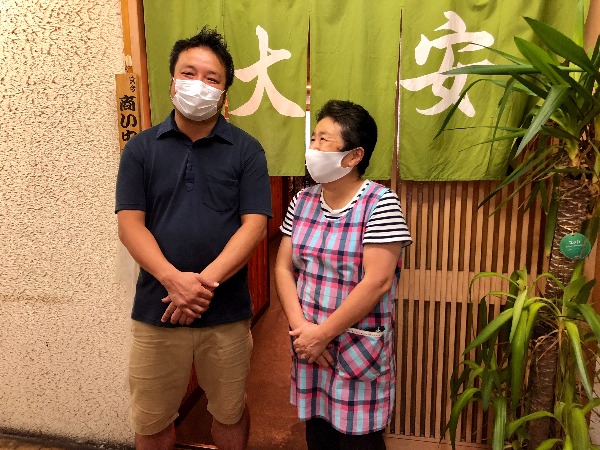 It's a real family affair at Izakaya Daian. For fish lovers and those in-the-know, this is the place to go. If you're in the Kameido area and in the mood for a classic izakaya experience, head to Daian. Your taste buds and wallet will be pleased you did!
Story and photographs by Stephen Spencer