Sparkling Treasures, Set in Stone
Published: July 3, 2018
Visiting a jewellery shop can be a rare, but special occasion for many people.
So it makes sense that you'd want quality service, trustworthy craftsmanship, and a touch of unique artistry to go with what may be a Very Significant Investment.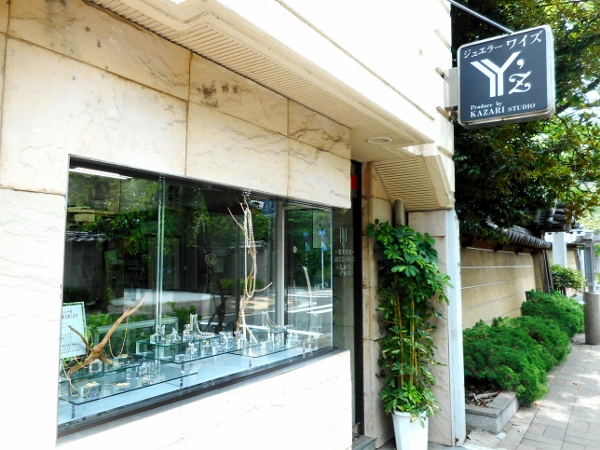 At Jeweller Y's in Kiyosumi-shirakawa, Mr. Tanaka has been providing all of the above for some twenty years—and this goes for whether you're buying something new, getting a favourite piece repaired, or having old jewellery remade.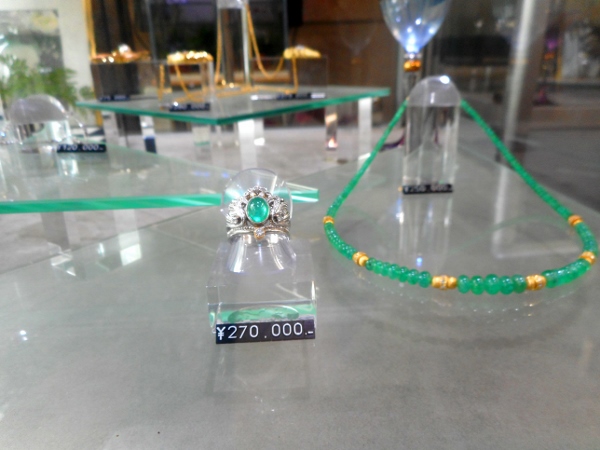 "I do a lot of repairs and remakes—resizing rings, remaking brooches into necklaces, and the like; many of the pieces are family heirlooms. Something grandma wore can be re-made into a keepsake for a granddaughter's wedding day, and be given new life."
Isn't it wonderful to think that the jewellery you wear today might be passed down to others in the future?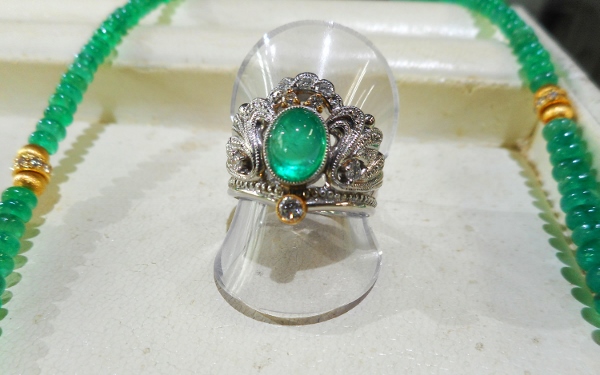 He also makes original pieces. This gorgeous ring and necklace pair, for example, was inspired by the recent Royal Wedding in England.
"It's been a while since I made something this complicated," Mr. Tanaka laughed, referring to the tiara motif on the ring. Both the ring and the necklace are outfitted with gorgeous emeralds.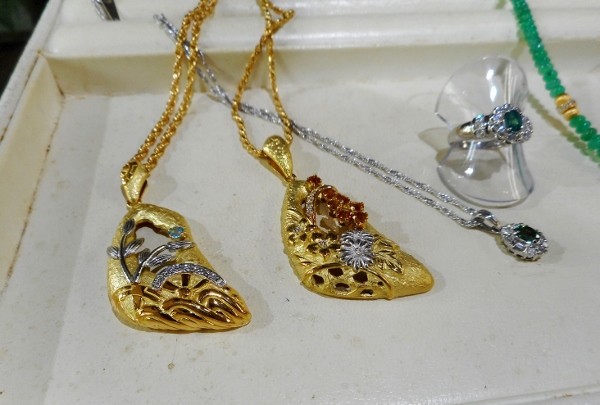 Nearby was a set of pendants with beautiful Japanese designs, made for the New Year's holidays. The design on the left is for good luck (inlaid with a wheel symbol) while the design on the right was inspired by autumn fields.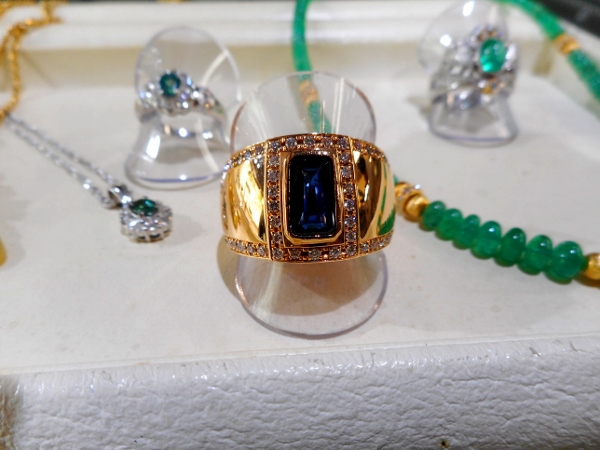 And while jewellery shops can seem like places that cater mostly to women, Mr. Tanaka says he sees male customers regularly as well.
"This ring is designed for men," he told me, pointing out a large, eye-catching gold ring set with a deep blue sapphire.
"Sometimes I get customers who come in with fashion magazines, and they'll show me an accessory they like, but want to customize. Maybe the size is good but they want it done with platinum instead of gold; or they want a design altered. We talk about it, discuss their taste and their budget, and then I get to work."
His desire to please customers, however, often means that he is working on commissioned projects. "As such, my original pieces tend to take a long time to complete."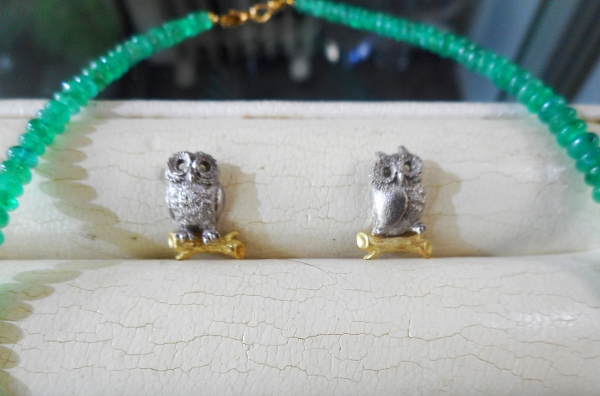 Not that Mr. Tanaka is terribly bothered by this. He prefers to take time with his own creations, like these adorable owl earrings.
"I want to set gold diamonds into their eyes," he explained, before adding that he'll get around finishing them "eventually".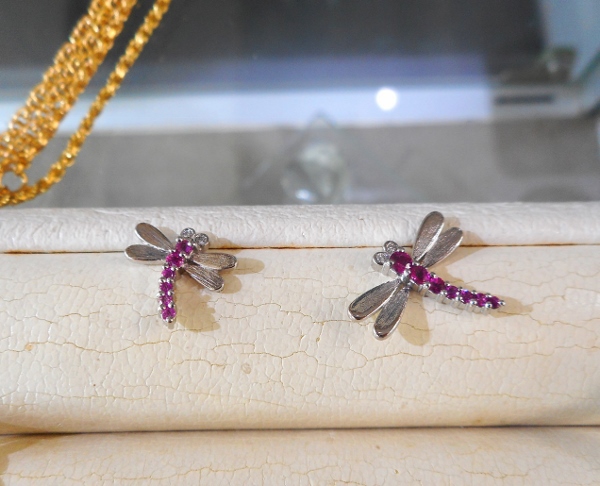 "Asymmetrical earrings are very trendy now," Mr. Tanaka explained, showing me another set; you can catch the trend with these dragonflies, decorated with lovely magenta rubies.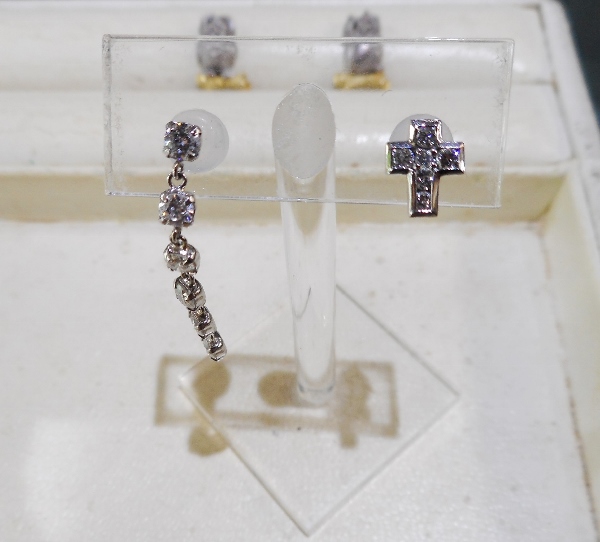 Or, with this cross and chain set, sparkling with diamonds!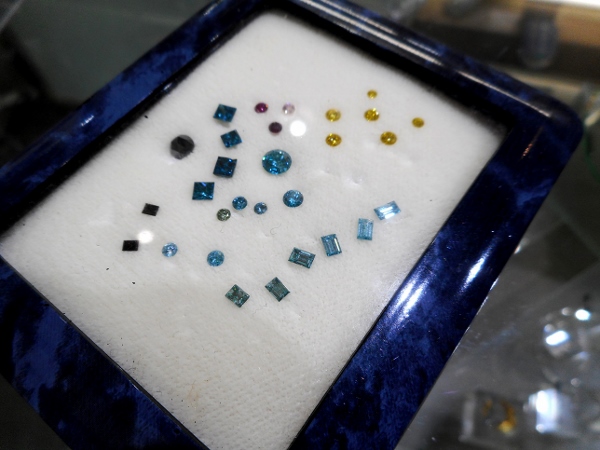 More than anything else, Mr. Tanaka takes care to stock good stones. "Whether you make a piece from cheap materials or high-quality materials, the time spent is the same. In that case, why not make it from the best material possible?"
His collection is expansive. The diamonds alone range a variety of sizes and colours…
And when I told him of my fondness for aquamarines, he pulled out this case to show me! Aren't they stunning?
"You don't see this colour with aquamarines very often," he told me proudly. "I got this at a jewel show in the States ages ago. The stones were procured from Santa Maria."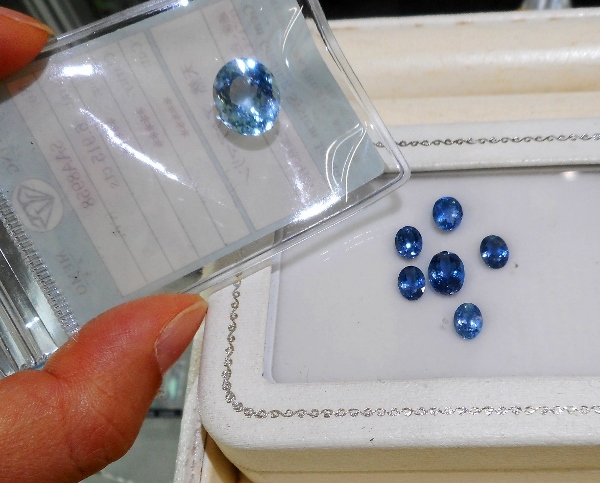 Compared to a more "regular" aquamarine, the difference is crystal clear (though the lighter stone was also extremely high in quality, and already a deeper blue than most).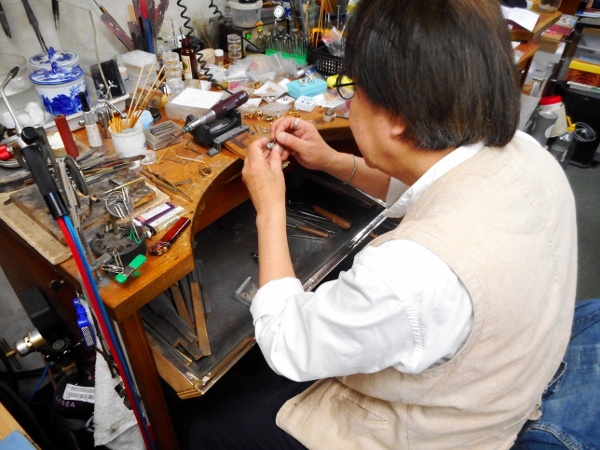 What becomes evident after meeting and talking with him is that Mr. Tanaka is a true craftsman. He entered this path some 40 years ago; a gentleman in his neighbourhood was a jeweller and, finding the art fascinating, Mr. Tanaka himself went on to become an apprentice to a famous designer, before starting his own business. His favourite jewels to use are diamonds and pearls (the latter in particular which, he laments, fewer and fewer people seem to wear on a casual basis), but he has plenty of other stones in his stock as well. If you've a favourite, asking him will no doubt result in a wonderful meeting with a precious find.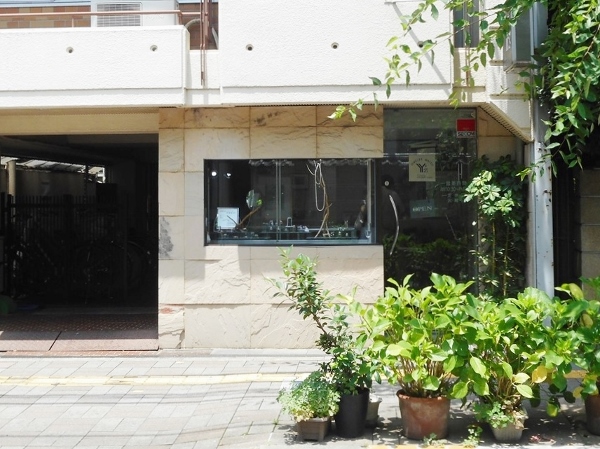 One thing I learned coming away from Jeweller Y's is that while jewellery is precious, it doesn't have to be serious. There's a lot of room for creativity, personalization, passion and fun! After all, you're here to pick out new favourite sparkly companion. So while a jeweller's might not be a place to visit often, it is a place you should always be able to walk away from smiling.
Story and Photos by Xianru Shen(Koto City Office Coordinator for International Relations)