A Kimono Store That is More Than Meets the Eye
Published: September 27, 2017
Upon walking into Kameido Kinokuniya, I had to stop and double check the sign on the door. Having read up a little bit on the place, I was expecting rolls of Japanese fabric, dainty wicker basket bags and maybe a few accessories like obi clips to greet me. Instead, what I saw was this: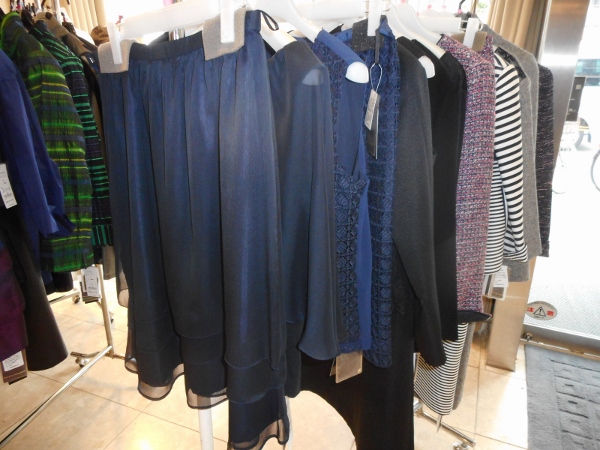 Racks of chic, modern clothing. Well. I had clearly wandered into the wrong boutique.
"Oh, no, you're in the right place—we've put away the kimono because we're having a special clothing event right now!" laughed Ms. Chie Mizukami, proprietor of Kinokuniya.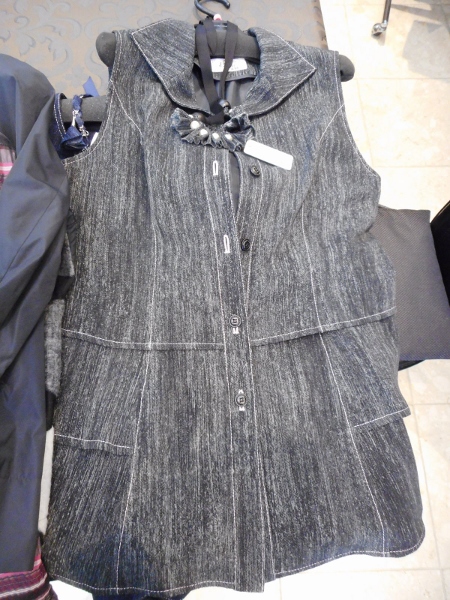 While Kinokuniya usually deals in kimono (fabrics, tailoring, cleaning and repairs), they often turn the entire store around for special sales and events. Back in the summer they had a Pearl Fair, focusing on quality jewellery; during my visit in mid-September, they happened to be in the middle of showcasing the Autumn/Winter clothing collection by a brand from Kyoto.
"It looks like denim, right? But it's actually chirimen fabric," Ms. Mizukami said with a twinkle in her eye.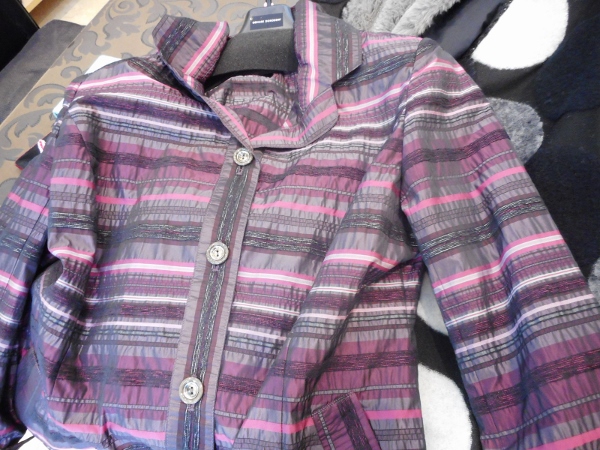 Chirimen: Fine Japanese Fabric
"Chirimen" is Japanese crepe, and chirimen fabric is popular for making kimono because it is light, drapes beautifully across the body, and doesn't easily crease. Most people recognize chirimen as being distinctively Japanese, since it is often used for accessories, handbags, plush animals, etc. in popular souvenir stores. It is extremely rare, however, to see it being used for non-traditional clothing.
These clothes were all made in the Tango region of Kyoto, using high-quality "Tango chirimen".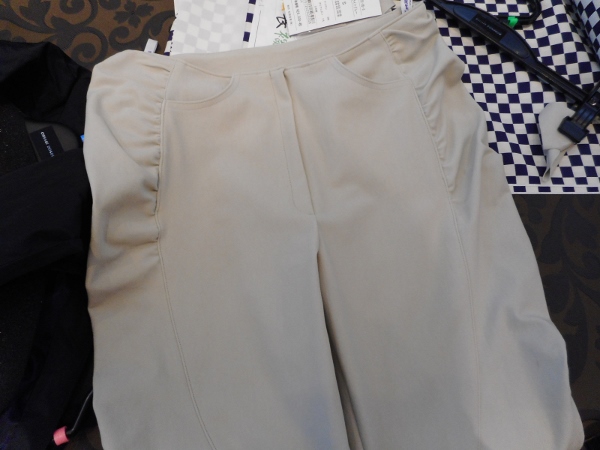 Clothing made from chirimen fabric are wonderfully light to the touch, and don't pinch. "This is mostly for the benefit of older ladies," Ms. Mizukami explained to me. "As women age, we want to stay fashionable, but due to the way our bodies change we're often forced to compromise style for comfort. I wanted to offer clothing that was vibrant and cute, but also gentle and understanding toward the bodily limitations of the older generations." The clothes are also machine-washable for easy maintenance.
She showed me the amusingly named "gyoza" pants pictured above, which have creases in the front and a unique design to help "tuck away the tummy, lift up the hips and lengthen the legs without causing discomfort". Sounds positively magical!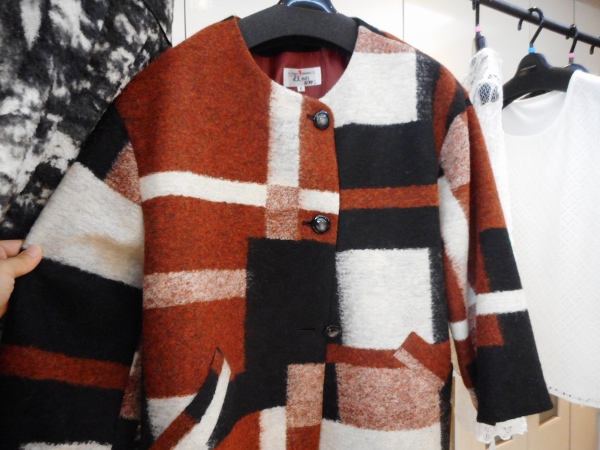 There were also some adorably chic coats and jackets available. Though light, chirimen is also known for its superb insulation.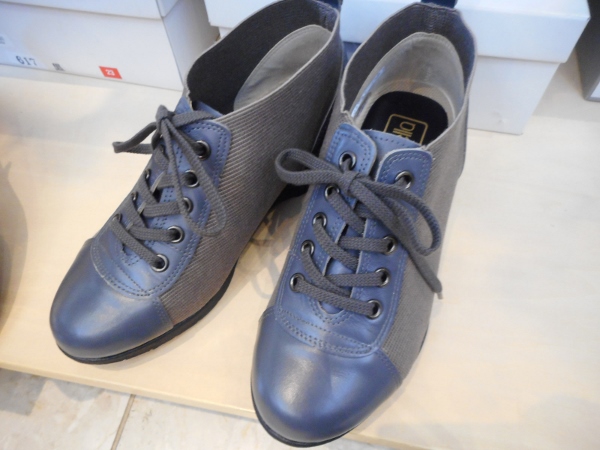 There was even a collection of low-heeled shoes made with lots of stretchable material. Despite their formal appearance, each pair had elastic components to help gently fit against the feet and promote painless walking.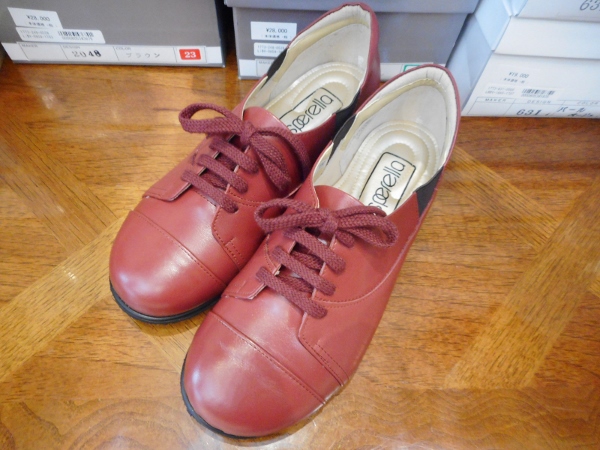 This colour is perfect for autumn! I wouldn't mind owning a few pairs of these shoes myself, and any ladies who struggle daily to maintain professional appearance by wearing high heels might want to take a peek at Kinokuniya's ergonomic selection.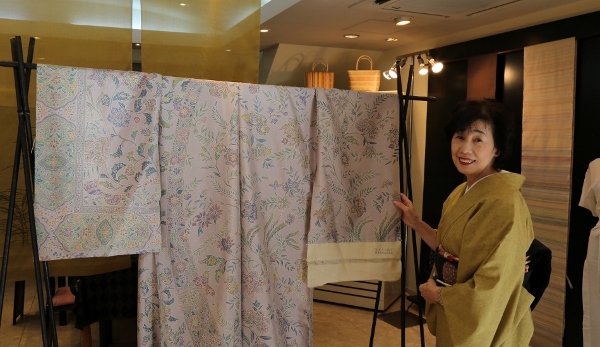 Any other time of the year, Kinokuniya will look more like this. Ms. Mizukami is an avid lover of kimono wear; though she's already very knowledgeable in the subject, Ms. Mizukami nonetheless insists that she is still just a novice with much left to learn.
"The kimono culture affects everything else—tea culture, flower culture, food culture… To understand the kimono is to understand all aspects of life."
While kimono culture—and especially the number of artisans who can weave and dye fabric the traditional way—is dwindling in modern-day Japan, Ms. Mizukami is hopeful that people who visit her store to learn about the true value of the kimono might help keep the passion alive for future generations.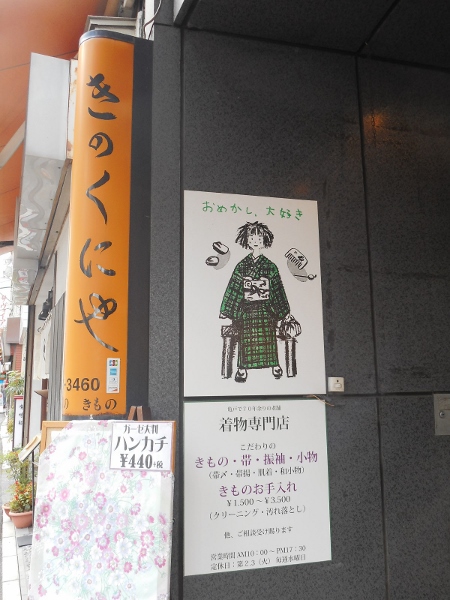 Kinokuniya is a wonderful place to learn about kimono and Japanese culture, but also fun to check into every few months to see the store transform to accommodate seasonal wares. Around New Year's they plan on having another event focused on the Zodiac animal for 2018 (the dog), so if you're passing through Kameido around then, I recommend making a pit stop. Just don't be surprised if the store looks completely different by then!
Story and Photos by Xianru Shen(Koto City Office Coordinator for International Relations)