Keys, Shoes, Bags and More!
Published: February 12, 2021
Qty Toyocho is a key cutting shop that specializes in the repair, remodeling and cleaning of leather goods. In particular damaged, distressed or seemingly unrecoverable items that require high levels of skill and technique are most welcome here. On a recent afternoon, we dropped in to meet the remarkable Mr. Masuda and Mr. Tezuka, repairers extraordinaire.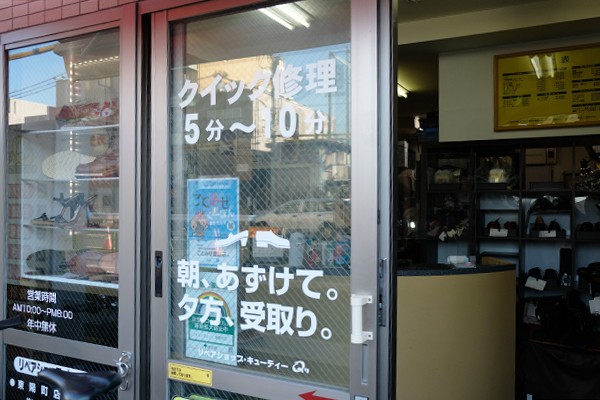 Qty Toyocho (pronounced cutie) is located on Yotsume street between Toyocho station and the Koto-ku Ward Office, an extremely busy stretch of road indeed. It has two sister shops, one in Arakawa-ku and the other in Toyosu, the latter of which is also registered with Kotomise. While the shop entrance is just as one would expect, neat and tidy, conforming to all current health and safety protocols, the workshop in the back is amazing.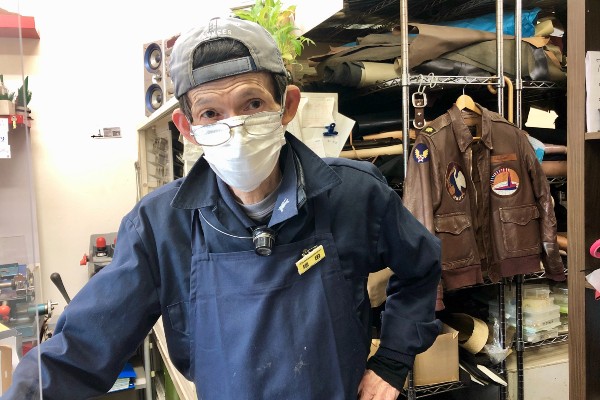 Veteran repairman Mr. Masuda has spent a lifetime cleaning and fixing things. "I'm originally from Kagoshima in Kyushu," he explained. "I've been doing this job for around 50 years now, all over Japan; I had no teacher or textbook, I just learned by experience. I guess I'll be doing it until I drop, too. I always wanted to go to Africa."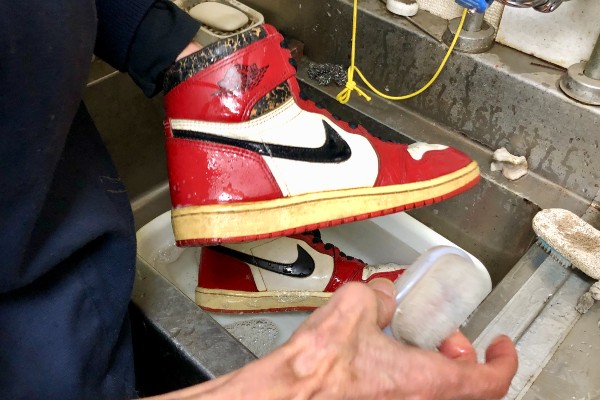 When I entered the shop, Mr. Masuda was in the back cleaning a pair of vintage Air Jordans. "I'm entrusted with items that are precious to people. Some folks even bring things that are mementos of family members no longer here; these items all have stories and when I hear them, I'm inspired to do the job for the customers. Even though we're getting paid I'm still moved to tears when the customers thank us for what we've done." The cleaning procedure involves a variety of chemical washes and soaps, plus old-fashioned elbow grease and pro-use leather creams. It takes between two and three weeks to thoroughly clean and dry a pair of shoes. A bargain at 3,500 yen for men or 3,000 yen for ladies.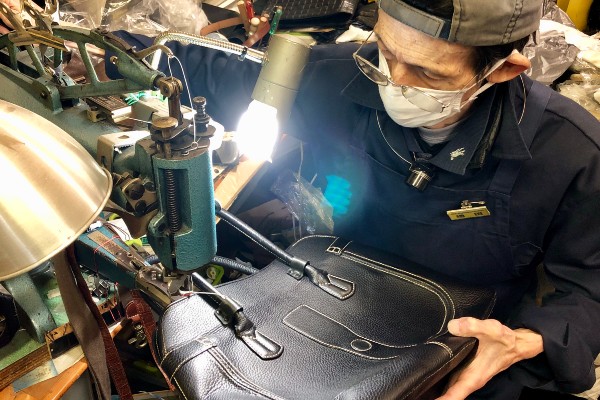 Mr. Masuda's friendly and sympathetic manner has spread far and wide in tandem with his remarkable ability to repair even the most damaged items. Even his colleague Mr. Tezuka, himself a ten-year veteran of the repair business, seemed in awe saying, "We're snowed under with work and that's thanks to Mr. Masuda. He's amazing, he really can repair things no-one else can."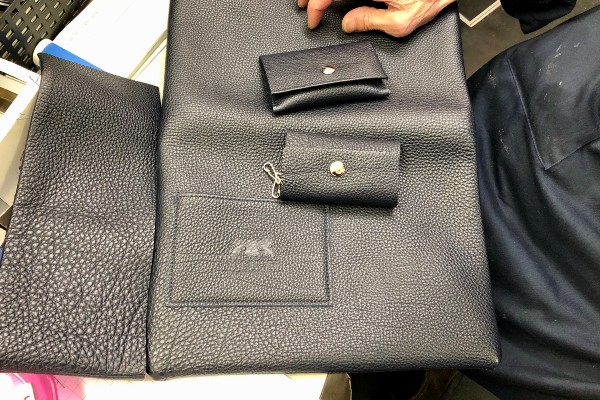 Among Mr. Masuda's many talents are remodeling items. In this case he had resized a large, high-quality leather bag into a smaller one, and then used the cut-off to make a small coin purse and a key case. Very smart. Jobs like this one take around 3 weeks and are labour intensive, hence a cost of 8,000 yen.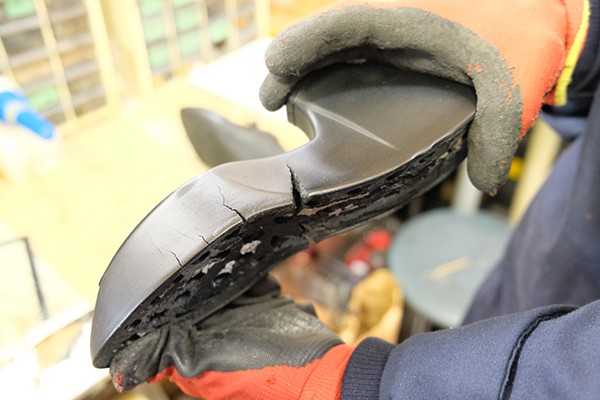 Mr. Masuda not only cleans shoes but repairs them too. "It's the bulk of our work," he explains. "Shoes, keys and bags in that order." The sole on these shoes had completely split. It looked to be an immense challenge…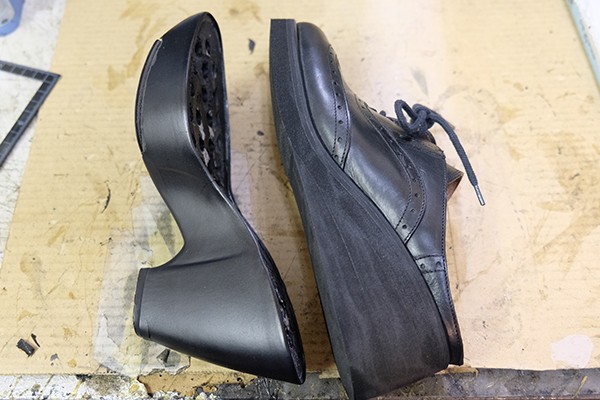 But the veteran's skill and technique restored the shoes to a pristine condition! Mr. Masuda even spoke about turning long boots into short ones and using the cut-off leather to make key cases and the like.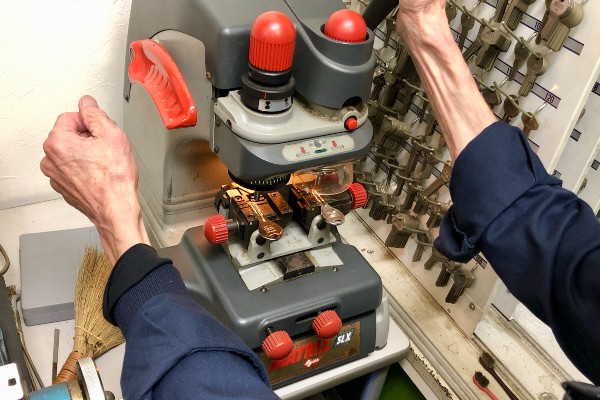 Keys are 600 yen for house or office, with cars and bikes costing a little more at 800 yen apiece. AKG keys are 1500 yen, with the increasingly popular dimple style costing 2,500 yen.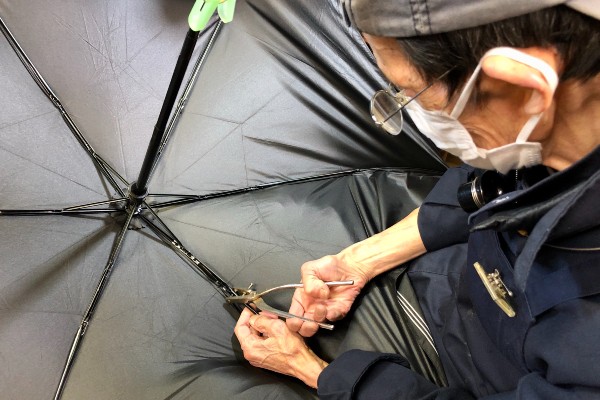 The shop also receives many umbrellas to repair. "Many of our customers are older people," explained Mr. Masuda, "who tend to cherish well-made longer-lasting things." The 500 yen charged to straighten a rib or repair a frayed spot could easily buy a discount shop umbrella, yet many prefer to fix their trusty gamp.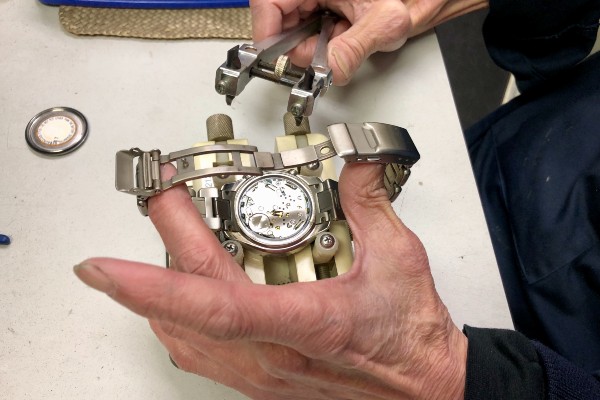 There's also a watch battery replacement service. It'll cost 1,000 yen for domestic watches, 1,500 yen for foreign luxury watches, 2,000 for digital, and a modest 800 yen to adjust a watch strap.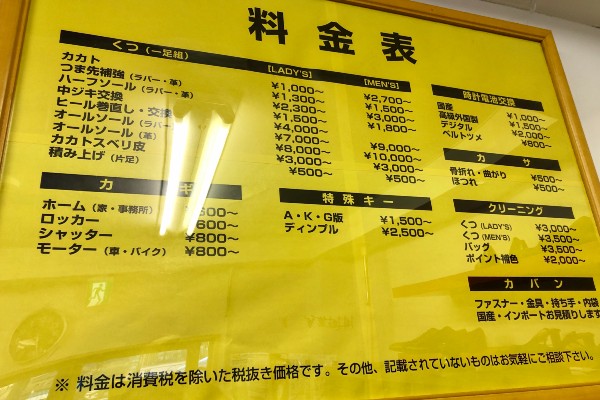 The amount of care taken over each item and the quality of service means the prices are incredible value.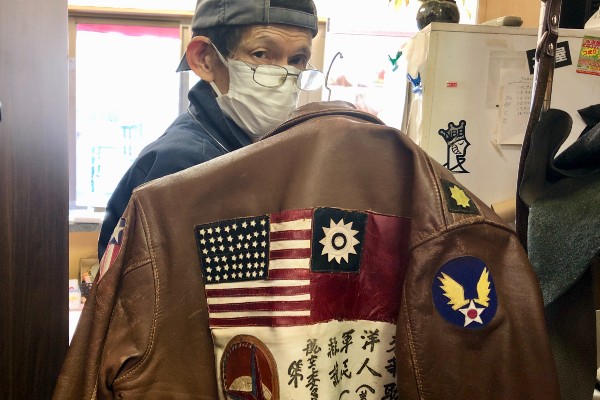 Mr. Masuda is a quite unique character, a total original. Here he models one of his WW2 flying jackets, it's immaculate condition a testament to his exceptional skill and technique. If you want something fixing Qty Toyocho is the shop, and Mr. Masuda is the man (and Mr. Tezuka too, of course!).
Story and photographs by  Stephen Spencer