Bad back? Stiff shoulders from sitting in front of a computer all day? Text neck?  Miscellaneous aches and pains? Well, if that sounds familiar and you want to do something about it, Mr. Yuki Sato and the staff of Kiba Orthopedic Clinic are ready to help. On a recent spring afternoon, I dropped in at the clinic, just three minutes walk from Kiba Station.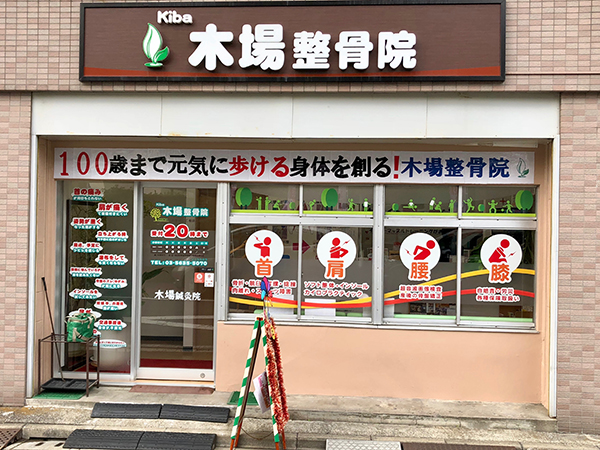 I was immediately impressed with the youthful Mr. Sato's posture; one could place a set square against his spine, and it would measure 90 degrees. How did he come to be an osteopath? "Well, I was a patient first. Like many Japanese boys I played baseball and like many boys I got injured. I think I had my first injury when I was in the third year of elementary school and my father took me to an osteopath in Chiba, where I'm from. I carried on playing and got injured again in high school. Since I visited the osteopath quite often, I became interested in the work they do."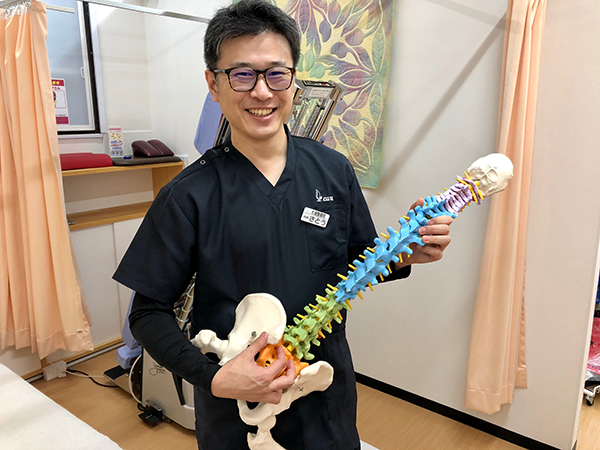 "I commuted from Chiba to an osteopath school in Kanagawa for three years and after graduating I worked in Kanagawa for five years. I also worked in Chiba and Tatsumi in Tokyo before opening this clinic in 2017. Why did I choose Kiba? Largely because there weren't many other osteopaths in the area! Also, it's a busy residential area with a wide range of ages and it's not too far from where I live. We have patients from the ages of 3 to 94!"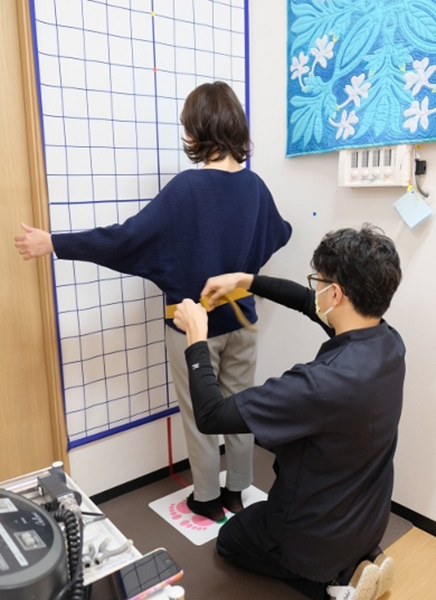 Kiba Orthopedic Clinic offers a variety of treatments alongside the traditional manipulation of the patients' bodies. First though is the counselling. The patient stands in front of the graph paper-like wall covering while Mr. Sato takes a series of photographs.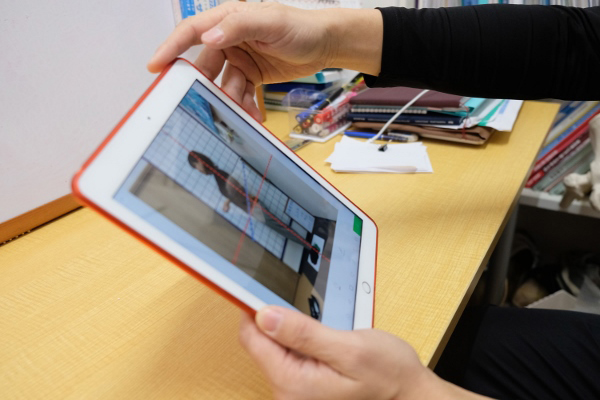 Then he assesses the patient's condition and discusses the best treatment.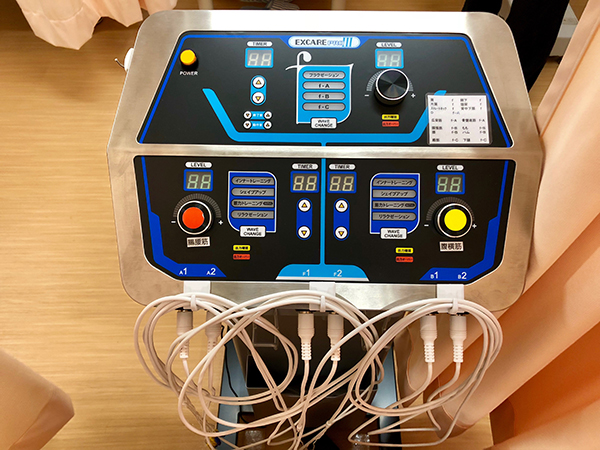 One special treatment used to improve posture is the Hatano-style High Voltage. One of the key elements for correct posture is the inner muscles; however, they are difficult to train. This machine generates high-frequency electric waves that can stimulate the inner muscles with pinpoint accuracy. It's painless and very effective. Many professional athletes use this treatment. One session costs 2,700 yen.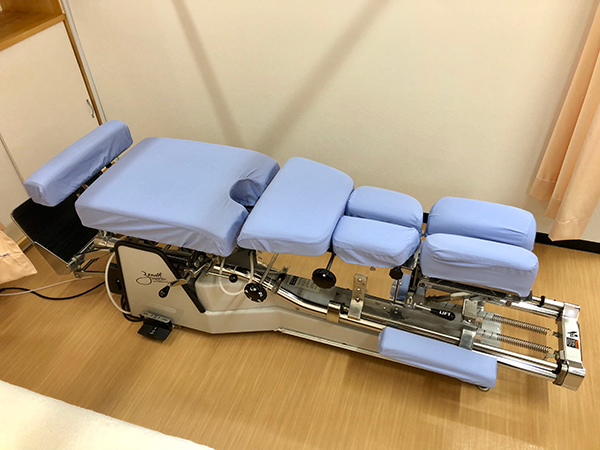 This little beauty is a Segmental Drop Table, invented by pioneer chiropractor Dr. J. Clay Thompson.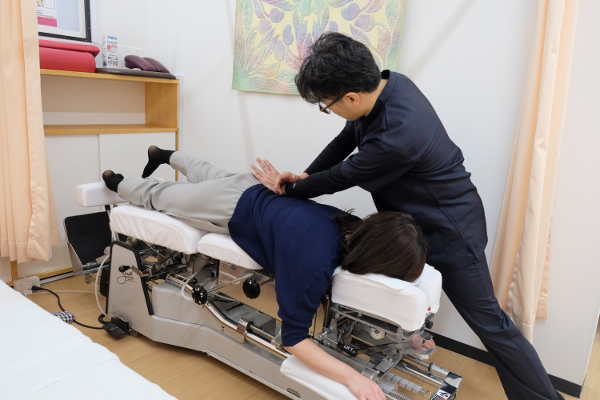 Each individual section of the bed can be raised, lowered or tilted to allow the practitioner to manipulate the patient using less force and torque than on a regular table. One session also costs a very reasonable 2,700 yen.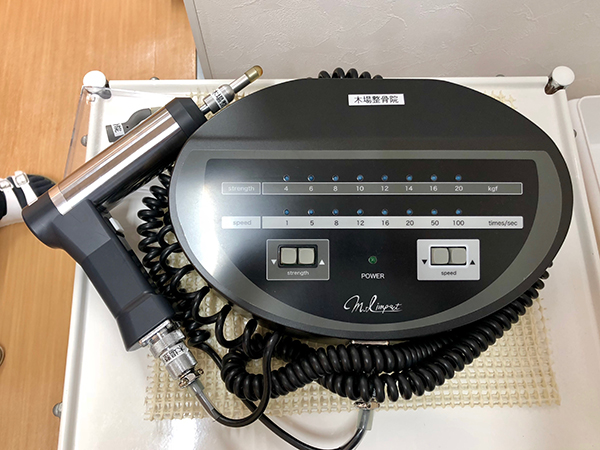 Finally, Mr. Sato uses this "impact" device on the smaller joints in the patient's body.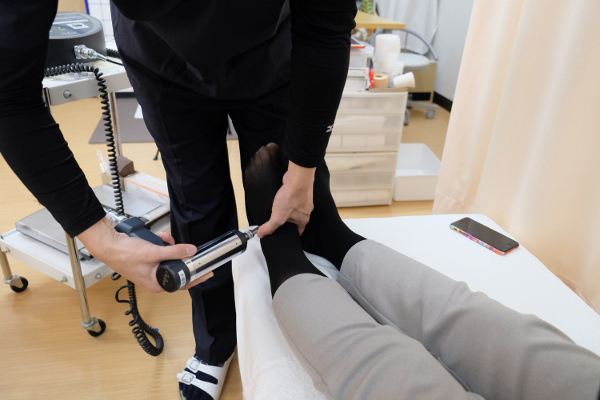 It's particularly effective in loosening the joints and improving flexibility.
Like many healthcare professionals, Mr. Sato is concerned about the effects on the modern lifestyle on our bodies and on children in particular. "We need education in schools on maintaining correct posture from an early age," he says. "Poor posture leads to round shoulders and prevents correct breathing. Lungs don't develope and children suffer from a lack of oxygen which can cause further serious health problems."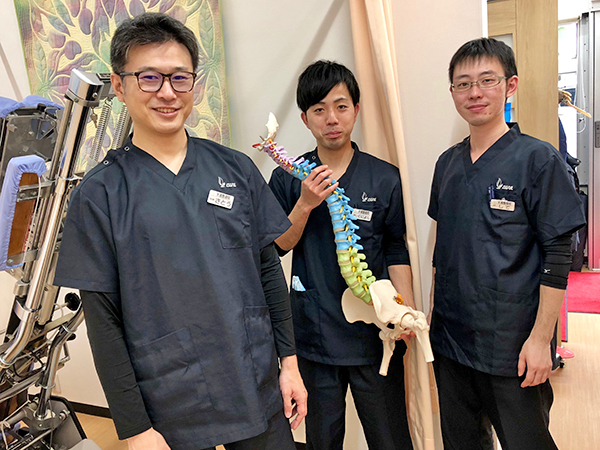 Mr. Sato was recently called out to help a visiting German tourist who suffered terrible back pain in his Odaiba hotel. Using an iPad with translation software and English he was quickly able to discuss the problem and relieve the patient's suffering. "If you have pain or feel there's a problem, don't hesitate. Call the clinic, make an appointment and the process of healing will begin," he says.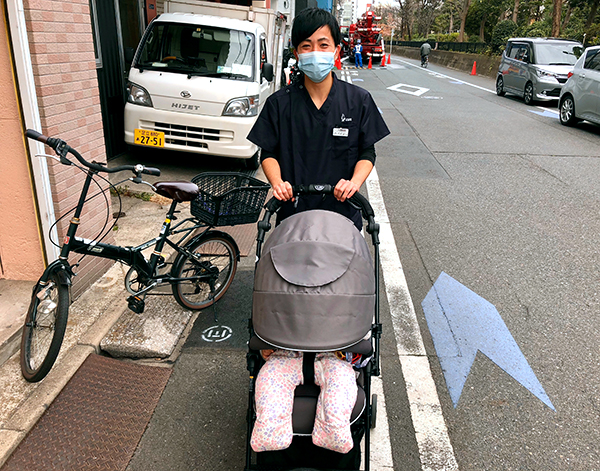 The prices are very reasonable, the location convenient, and Mr. Sato is exceptionally passionate about his chosen profession. The staff will even mind your baby while you have treatment!
Story and Photos by Stephen Spencer