Kids Go Wild at WILDKIDS
Published: April 19, 2022
WILDKIDS is a dance and gymnastics school for children in Kameido. Located just one minute from Kameido Suijin station, the school offers a wide range of dance classes for children aged from three to fifteen, together with acrobat lessons. Acrobat lessons, how cool is that! On a recent sunny afternoon, we dropped in to meet the wild kids and their acrobatic teachers.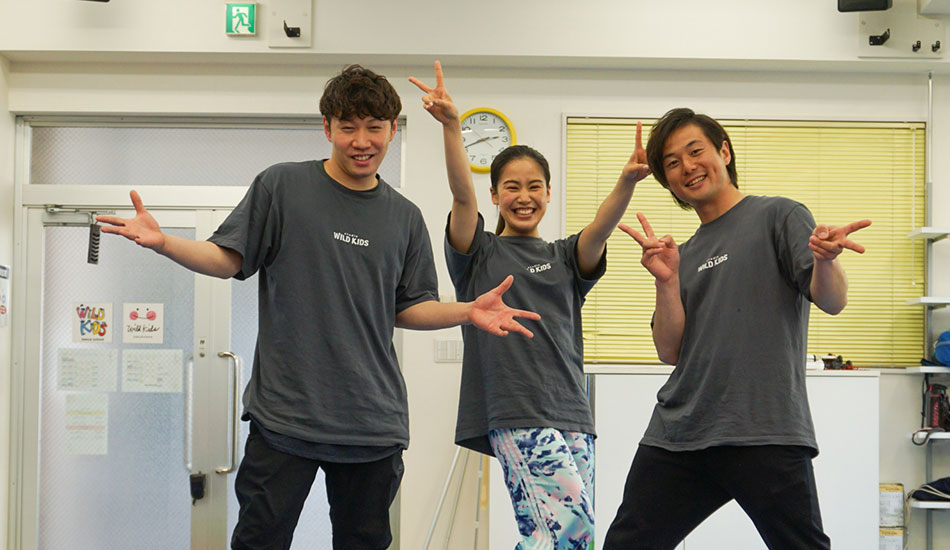 From left to right are instructors and professional acrobats Hiroki Takashima (nicknamed Yoju), Chika and Daiki Abiru. All three boast extremely impressive resumes including stints as dancers and acrobats at a well-known Tokyo theme park, appearances in both domestic and foreign movies, live theatre, events, and television performances.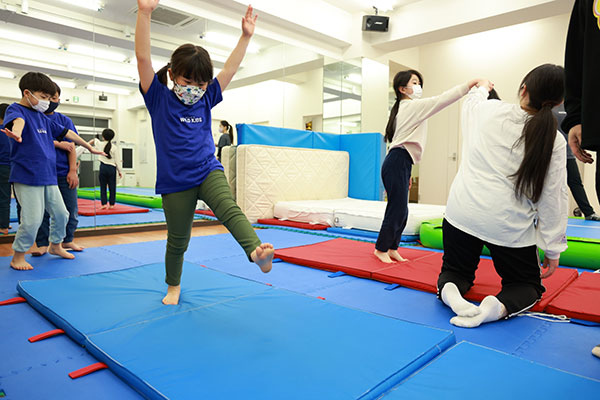 Each class is divided into levels: beginner, first intermediate, and intermediate, which are then taught a program appropriate to their level. The activities are stretching, strength training, stamina building and mat exercises, which include targets such as performing cartwheels, roundoffs, handsprings, and backflips.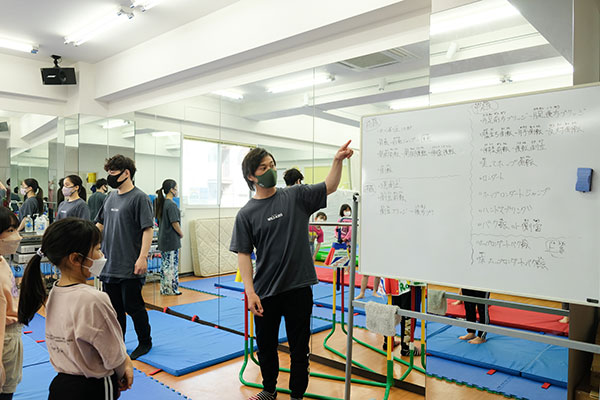 The day we visited was the monthly class to decide to which levels the students were to be assigned, hence the rapt attention and serious expressions of those who wanted to move up to the next level. They were given target exercises to achieve and put through their paces by the eagle-eyed instructors.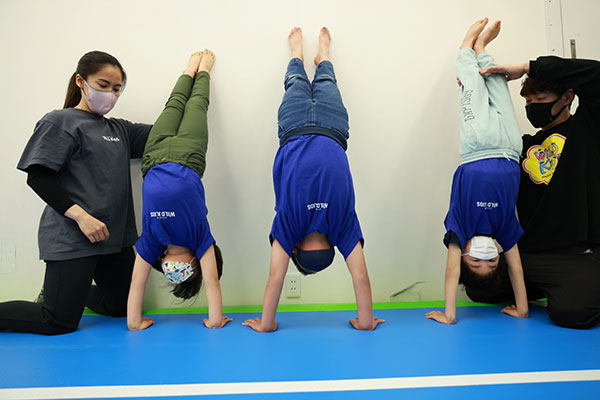 To move up from beginner to first intermediate the students had to be able to do a handstand against the wall for ten seconds, complete a forward roll~jump~backwards roll combination, perform cartwheels and other combinations of movements.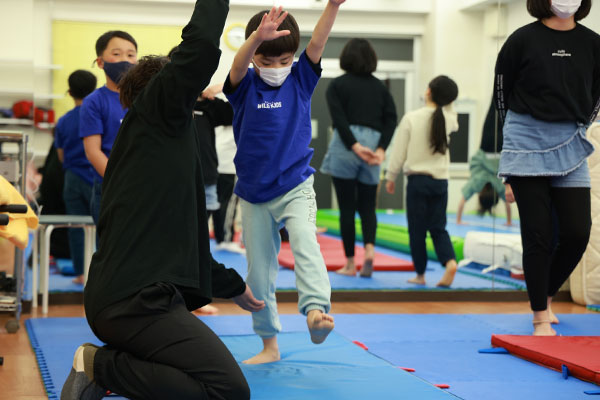 The children were remarkably agile and determined, fearlessly flinging themselves around the mats at high speed. We were extremely impressed!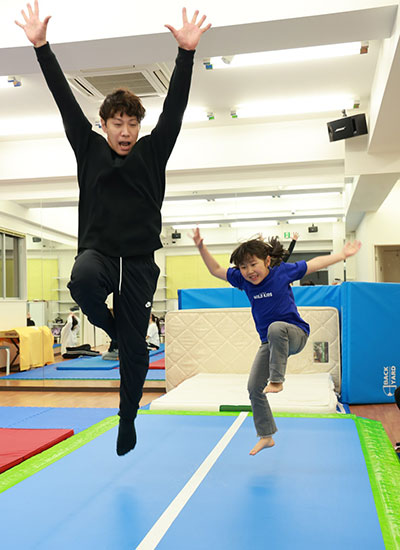 While they were intensely focused on achieving their target exercises, the children were still really enjoying themselves. It was a great atmosphere, lively and fun.
One way the students are motivated is through the "acrobat quest" sheet, where they follow a spiral of increasingly difficult exercises from beginner at the top right to passing the intermediate level in the centre of the chart. The children receive a small gift item when they complete an exercise.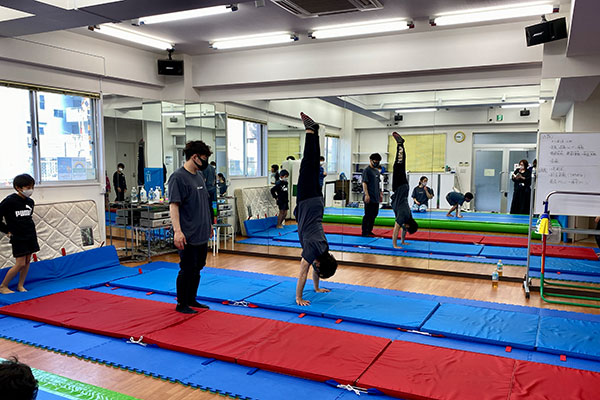 There are 60 or 90-minute acrobatic classes available, with a choice of paying by monthly fee or a prepaid ticket system.
As school founder Ms. Tanizaki explained, "Dance performance is art. We want to deepen people's understanding of the excitement, passion and sheer fun of dance."
Professional dancer and performer Ms. Tanizaki began the dance school for children in 2007. "Having a solid understanding of how dance can make people happy, I want the students to develop as people as they grow up." To improve their preparations for their dance performances, many children take the acrobat course as well as other dance classes.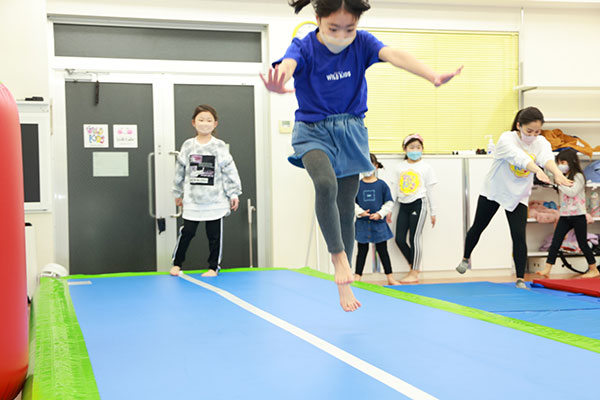 While we happened to visit WILDKIDS during an acrobat class, the school also features a wide variety of dance classes, such as jazz dance for kids and adults, hip hop, k-pop, jazz hip hop, and general dance classes for children and adults. There are also yoga classes and eurhythmics classes for mothers and babies (ritomiksu in Japanese) too, all taught by professional dancers and instructors.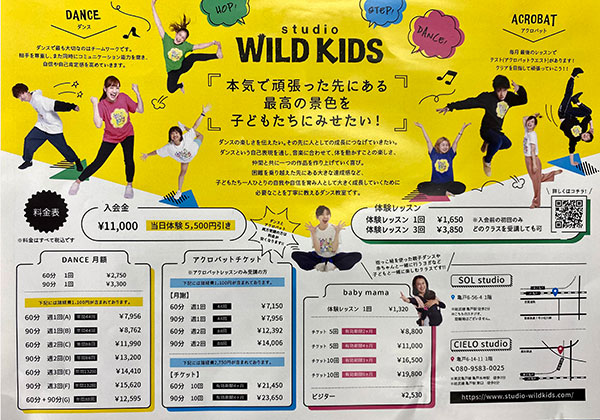 More than a few students are targeting television, drama, commercials or advertising, while some have actually made the breakthrough as child performers. Whether it's for fun, exercise or a possible future career, why not take your wild kids down to WILDKIDS for a trial lesson? Trial lessons are just 1,650 yen including tax. Calling all wannabee acrobats and dancers!
Story and some photos by Stephen Spencer