Kitasuna Osteopathic Clinic Reopens!
Published: March 14, 2023
Residents and locals in the Kitasuna go-chome apartment complex area have reason to be cheerful as the popular Ai Shinkyu Osteopathic Clinic reopened its doors recently after a hiatus for renovation. We dropped in for a chart with clinic chief Mr. Yoshiro Ishikawa.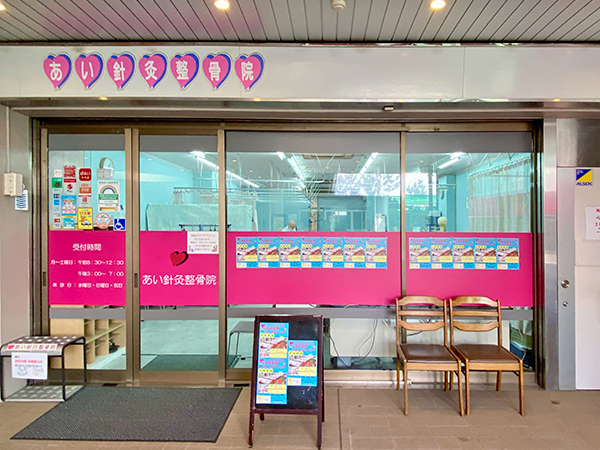 Ai Shinkyu Seikotsuin is located just inside the north entrance of the Kitasuna Urban Renewal apartment complex. It's well-signposted and the pink frontage makes it easy to find.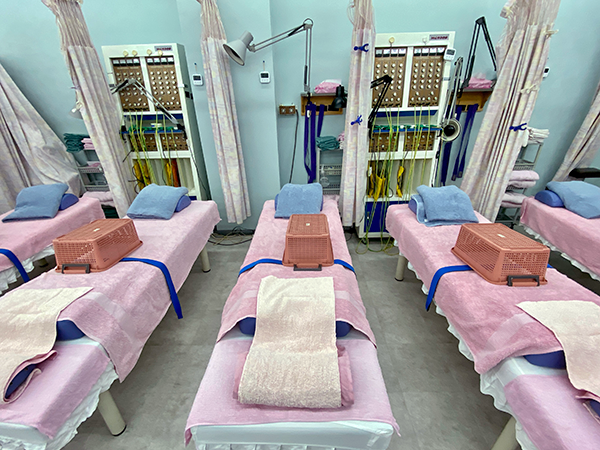 The interior has been changed completely, with all the beds now having curtains around them for privacy and health reasons. The spaces between the beds and various treatment areas are now wider, giving a more spacious and comfortable feel to the clinic.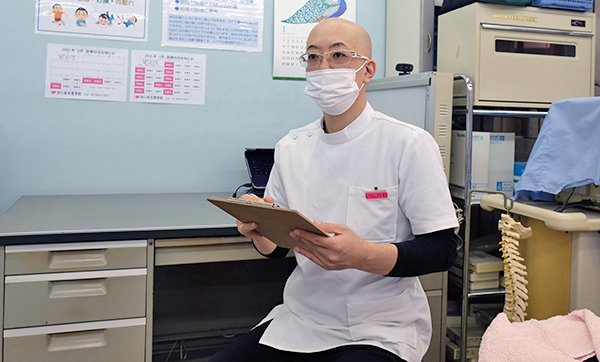 New clinic chief Mr. Yoshiro Ishikawa has been a judo physiotherapist for over 20 years now. He has a long career of dealing with sports injuries, traffic accidents, dislocations, broken bones, sprains, and all the physical traumas people suffer in their daily lives. And for him, in-depth counselling is the starting point.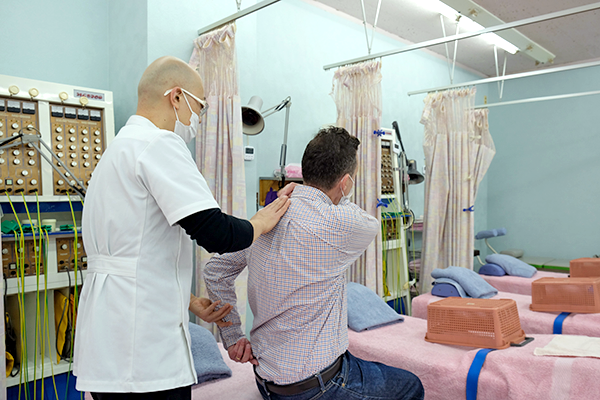 Mr. Ishikawa gave me the once over, immediately honing in on a problem in the left shoulder, where the range of mobility was limited from what it usually was. "Shoulder problems like this and back pain are often caused by muscle fatigue; do you have any idea what it could be?" he asked me. I remembered I'd carried a load of heavy shopping a couple of days earlier, but I'd felt no pain until he began manipulating it. "You need some treatment on this," he said.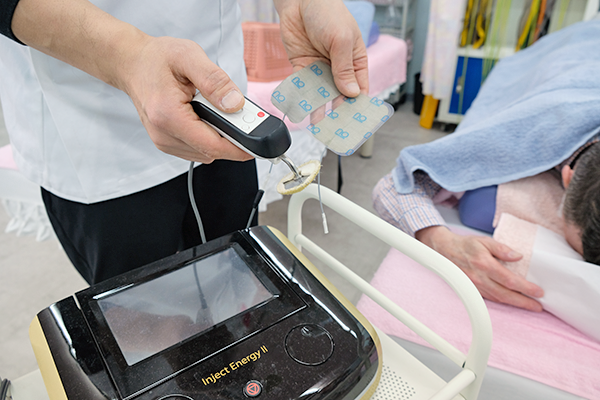 Ultrasonic, high voltage and manual therapy, in fact.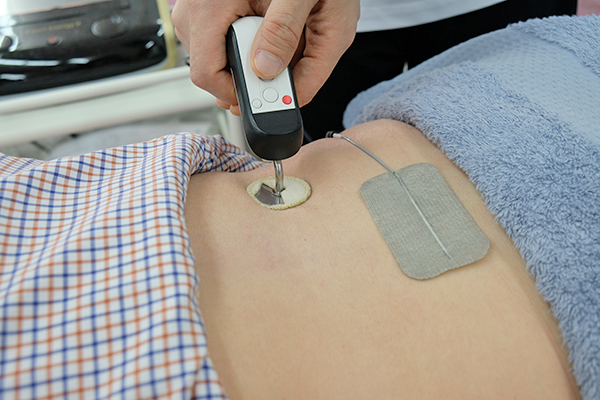 High voltage therapy uses high-voltage electricity to loosen up superficial muscle tension, while ultrasound relaxes the deeper muscles that can't be reached by hand. The high voltage therapy, when applied in the early stages, may reduce inflammation in injured areas by accelerating cell repair and reduce pain. It's an entirely pain-free treatment.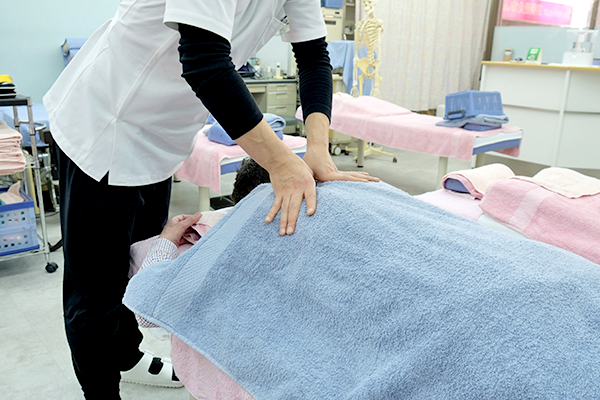 Of course, manual therapy is the best. Manipulation of the muscles surrounding the affected area helps to reduce stress. Needless to say, given his history of treating judoka, Mr. Ishikawa is extremely skilled and the treatment is very enjoyable indeed.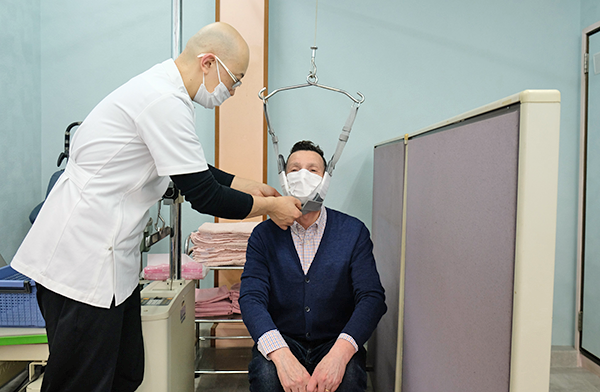 It may look rather strange but this "neck stretcher" is an absolute boon to those with back problems. Herniated disks, spinal nerve problems, and chronic back pain can be agonising and have a serious effect on one's life; treatment like this can ease the problems.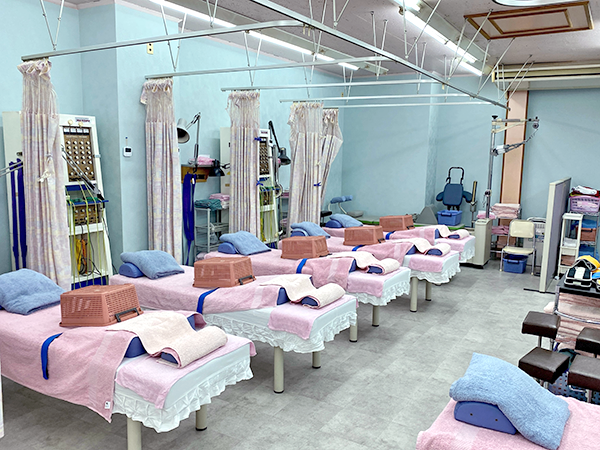 Each patient has individual problems which require individual treatment. After treatment, advice on how to maintain health and prevent recurrences is offered; Mr. Ishikawa really offers excellent service.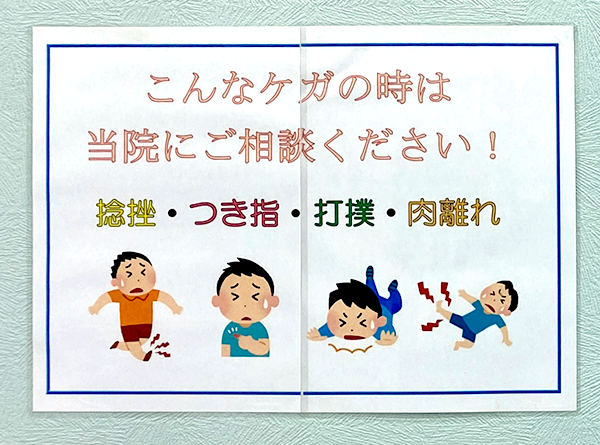 Suffering from sprains, stubbed fingers or toes, contusions or pulled muscles? If you are, call Mr. Ishikawa at Ai Shinkyu Seikotsuin for some fast relief!
by Stephen Spencer