Coffee and Wagashi Dreams at Kousaian
Published: August 15, 2017
On a quiet street a few minutes' walk from Kiyosumi-shirakawa Station we find the wagashi (Japanese sweets) cafe and cha-kaiseki cooking school, Kousaian, the inspiration of retired businessman Taichi Yamamoto and his elegant spouse Yukiko Mitsuyama, a well-known writer, broadcaster and teacher of traditional Japanese haute cuisine.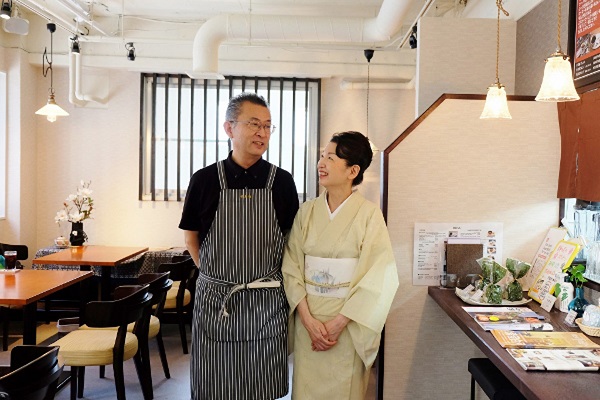 "My wife had long been a teacher of kaiseki ryori and cha-kaiseki ryori (a traditional meal served before the tea at a formal tea ceremony). After I retired from business we joined forces, found these premises and opened a joint venture with a cafe in the front and a kitchen area at the rear. To be honest, I didn't know there were so many cafes in the area or that Kiyosumi-shirakawa was known as a centre for coffee-lovers in Tokyo. We just liked the space," says the dapper Mr. Yamamoto.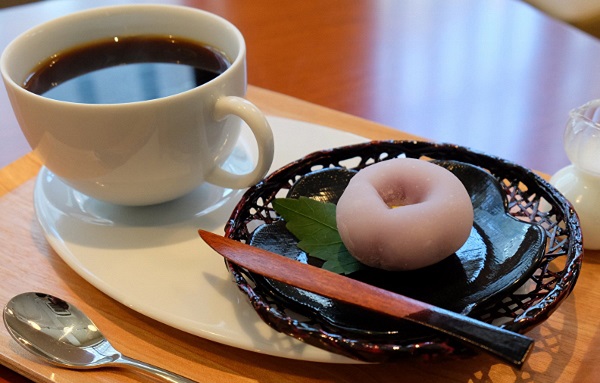 Wagashi, the exquisitely beautiful confections, are usually served with tea. Mr. Yamamoto, a great coffee-lover, had the simple but striking idea of pairing it with coffee instead, and set about finding combinations of the two that would complement each other.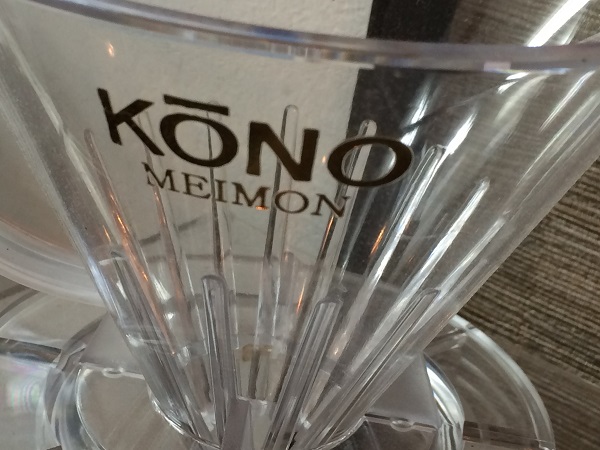 He serves a variety of coffees, all premiums: Guatemala, Brazil, Ethiopia and Mandarin. The coffee is made by hand, pour-over style, using a Kono Meimon conical filter, which has a single hole at the bottom of the cone.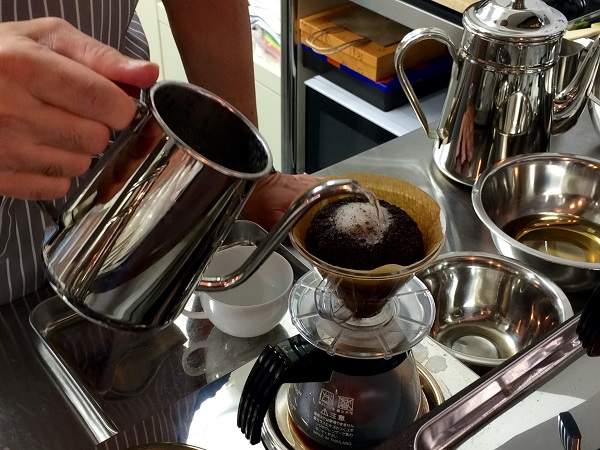 Boiling water is poured into the central area via a gooseneck kettle; the coffee drips more slowly than with other filters but it extracts the flavour evenly and thoroughly.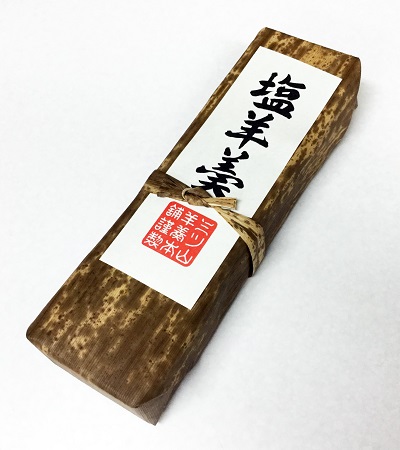 The coffee is available individually or in sets with wagashi. Mr. Yamamoto will suggest a coffee to match the sweet. For example, he pairs the famous Mitsuyama yokan from Nikko with an Ethiopian coffee. The mildly salty flavour of the yokan (a jellied dessert made of red bean paste, agar and sugar) balances the slight sourness of the coffee. A chocolate-y Brazilian coffee is a perfect match for kudzu buns, served with kuromitsu (black honey) and kinako (soybean flour).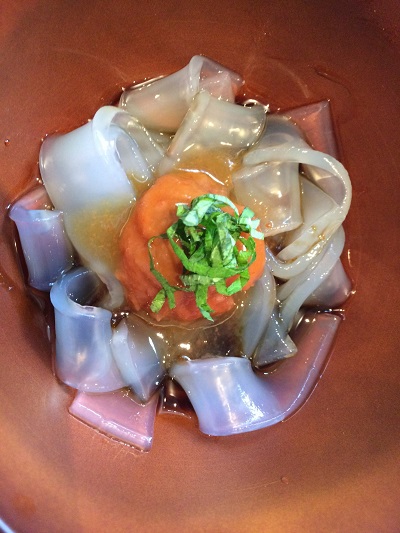 We try the Hachimitsu Ume Kuzukiri (honey plum kuzukiri) in which a pickled plum (umeboshi) nestles atop kudzu starch noodles covered with black honey sauce. The plum is topped with a little sliced oba (green perilla). The confluence of flavours is simply sensational: the salty and sour plum together with the fresh, refreshing herby taste of the green perilla creates one set of tastes; then, the sweet richness of the black honey sauce with its deep flavour adds an unexpected tone. It's quite remarkable.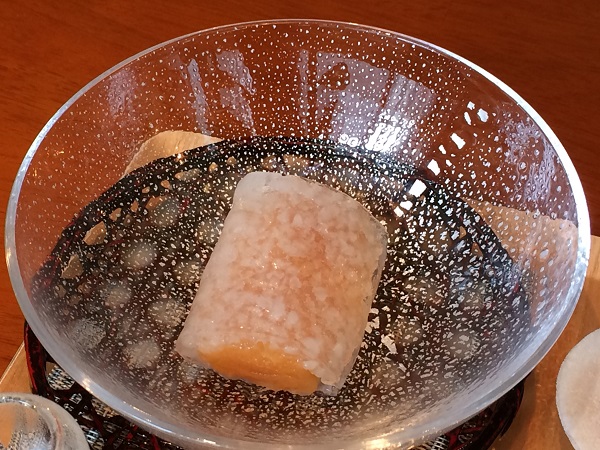 Equally beautiful is this summer-only item made from anzu (Japanese apricots), domyoji rice flour and kanten, a jelly made of red edible seaweed.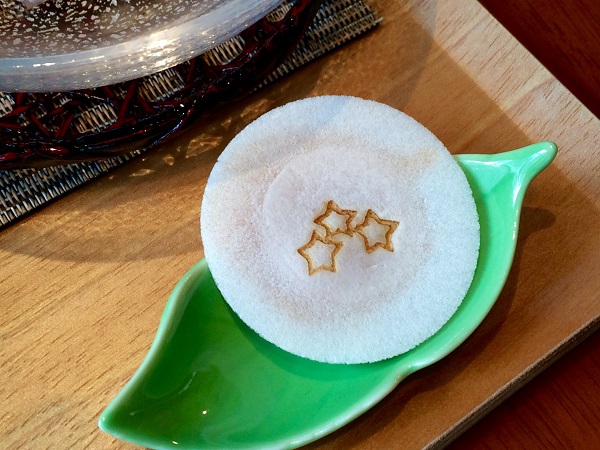 It's intensely fruity and immediately refreshing on a hot and humid day. On the right is a small monaka wafer (a thin wafer made from mochi rice).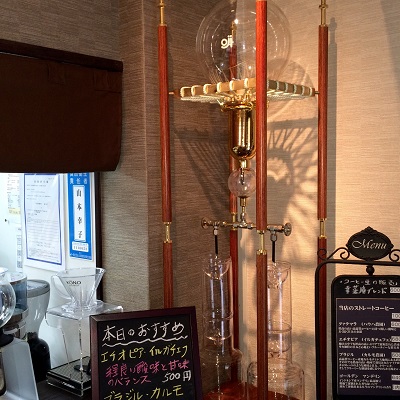 This remarkable device is a Dutch Coffee maker, a cold-water brewer that takes eight hours to complete a cycle. The slow-brewing process extracts the coffee flavour in its entirety.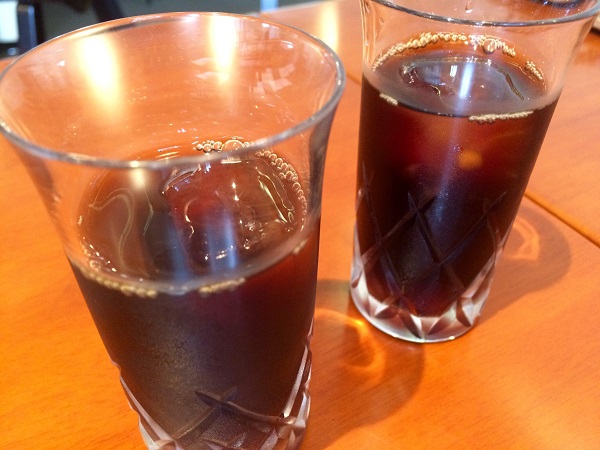 Although the resulting brew may look like ordinary iced coffee, the flavour is anything but commonplace. The taste is stunning: deep, rich and extremely satisfying. This is without doubt the best iced coffee I've ever drunk.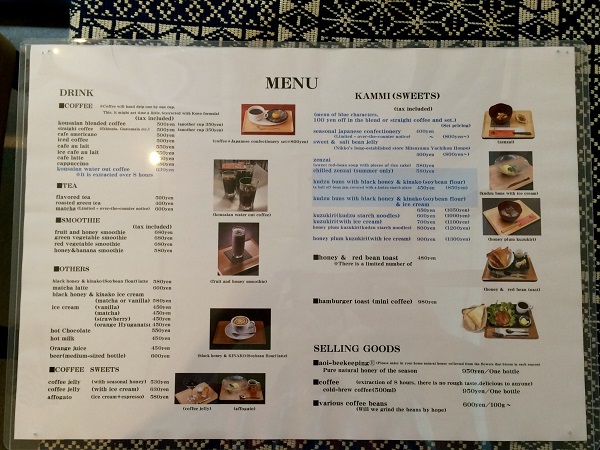 Mr. Yamamoto has produced an English menu with clear, concise descriptions of the various sweets. The sweets are all handmade and fresh every day. Lunch sets are also available at very reasonable prices, all featuring a cup of premium quality coffee.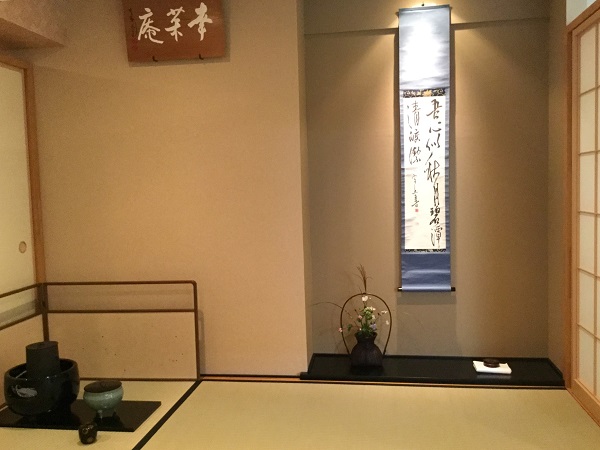 Ms. Mitsuyama holds various events, runs cookery courses and hosts a kaiseki ryori lunch once a month. It's by reservation only so please refer to the website for information. Kousaian is an oasis of calm; stylish and elegant yet comfortable and welcoming. The coffee is superb and the Japanese sweets exceptional. If you are in the Kiyosumi-shirakawa area, why not drop in and relax for an hour. You can savour tastes that will linger in your memory for years.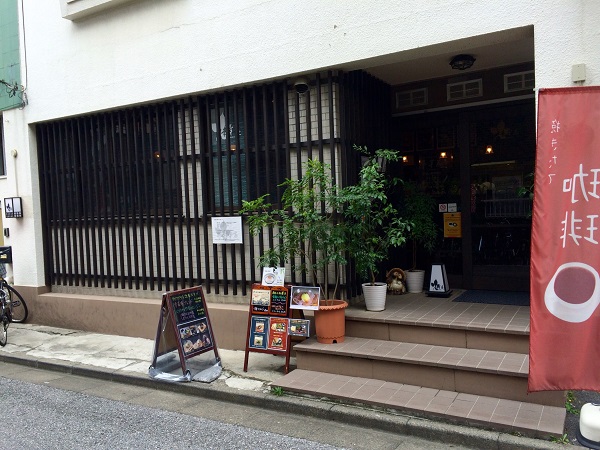 Story and Photos by Stephen Spencer