In the Ojima area, right outside Nishi-ojima Station, stands Kotobukiya. It's a rightfully retro store, holding its place firmly on busy Meiji-dori Avenue, while around it people hurry back and forth.
The store fist opened 70-some years ago, in Showa 24 (1949). Back then, the area dealt mostly in textiles, clothing, and kimono-related goods.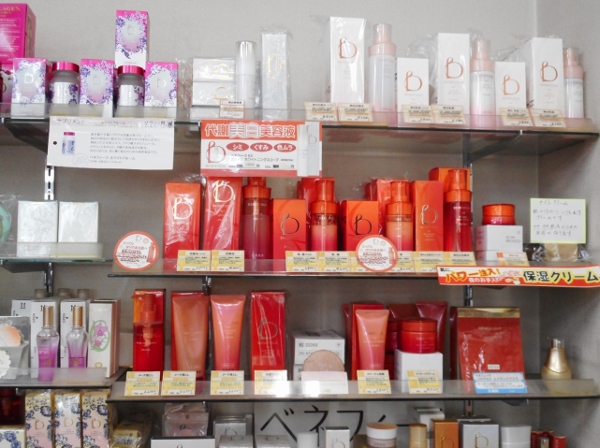 "Then one day, as my grandmother-in-law tells it, a truck driver came into the store asking for cream. She thought he was talking about polishing cream for his shoes and asked if he wanted black or brown. To her surprise, he said he was looking for facial cream!" Mrs. Takahashi, whose husband took over the store for his grandmother, told me animatedly. "Well, being a smart person, she saw a demand and started buying face creams from wholesalers to sell here. Then someone came in asking for rouge one day, and then another person wanted shadow. So, soon it became a cosmetics specialty store."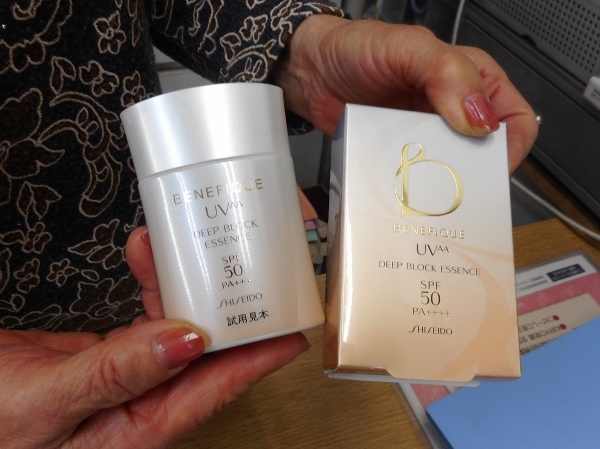 The cosmetics are mostly from Shiseido. Since summer is just around the corner, Mrs. Takahashi showed me her recommended sunscreen—a must for anyone hoping to survive the fierce rays of Tokyo's summer sun without feeling sticky and uncomfortable.
With the rise in popularity of drugstore cosmetics, many people find it easier to make do with whatever is cheapest. But, those looking for high quality products still come to Kotobukiya, insisting that they prefer the personal service provided.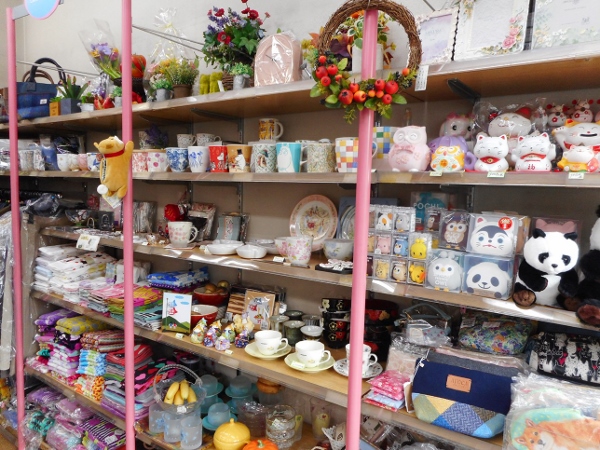 "Though, to be honest, the zakka sell better than the cosmetics nowadays," Mrs. Takahashi confided in me, gesturing to the large portion of the store filled with various knickknacks.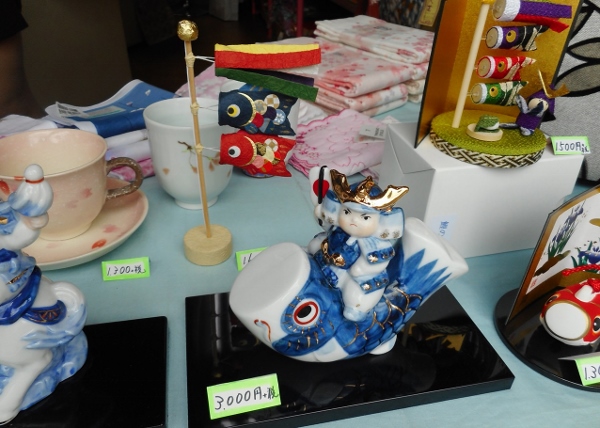 Just like the previous owner, Mrs. Takahashi is smart about meeting demand. At the very front of the store, she always fills the main display table with seasonal items. Currently, decorative figures for Children's Day were out…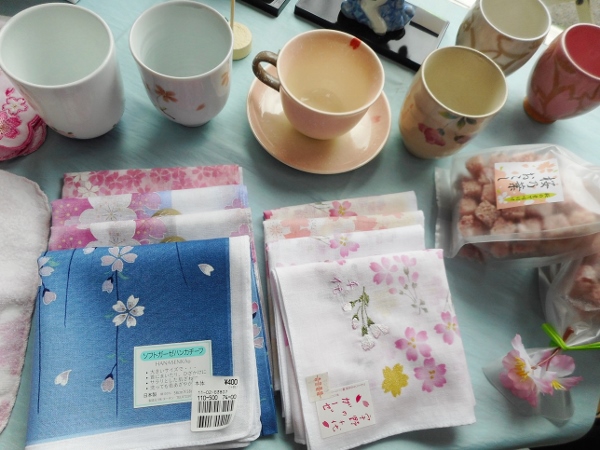 While behind them, various cherry blossom-themed house goods were lined up. Adorable teacups and elegant handkerchiefs perfect for souvenirs provided a breath of spring air.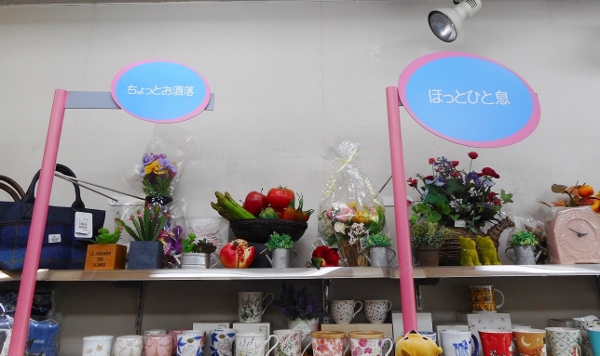 The zakka are vaguely organized based on purpose. "Take a Breath", read one of the plates above the shelves; "Fashionable Tidbits", wrote another. It was very creative!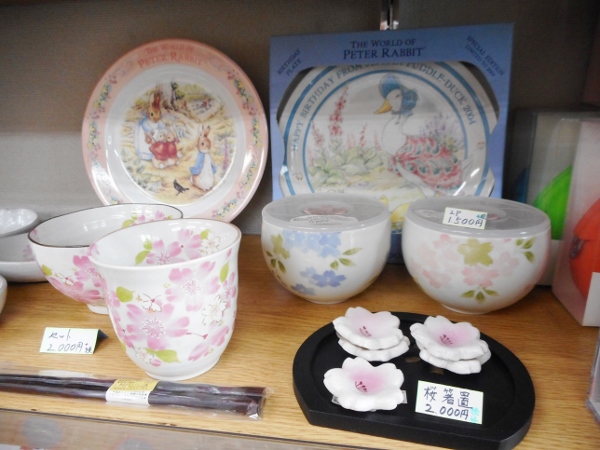 I was particularly drawn to the kitchenware, such as the cherry blossom chopstick rests and pottery…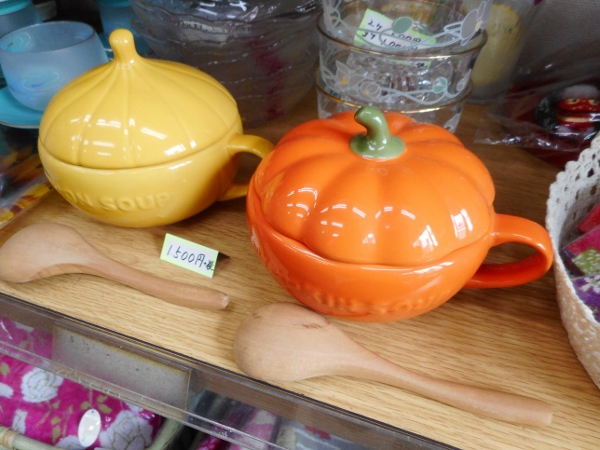 And especially to these one-person soup bowls, shaped like vegetables! I would love to drink pumpkin soup out of a pumpkin bowl on a cold winter's day!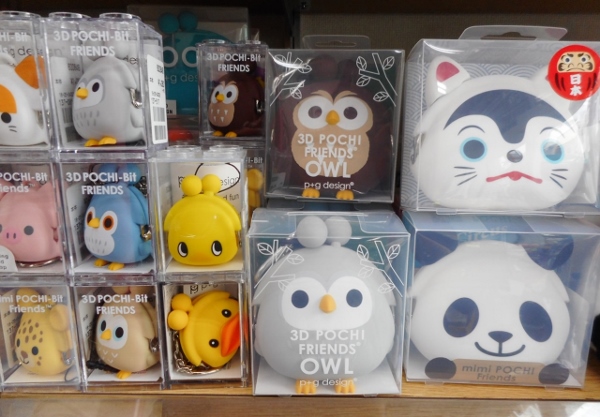 "Those are great as gifts," Mrs. Takahashi advised me, indicating the silicon coin purses shaped like animals stacked one on top of the other. "They have hooks so you can clip them to your bags like key chains for easy access." Since Japan is still a mostly cash-based society, I know coins pile up quickly in most people's wallets. This seemed like a cute and simple solution to that problem!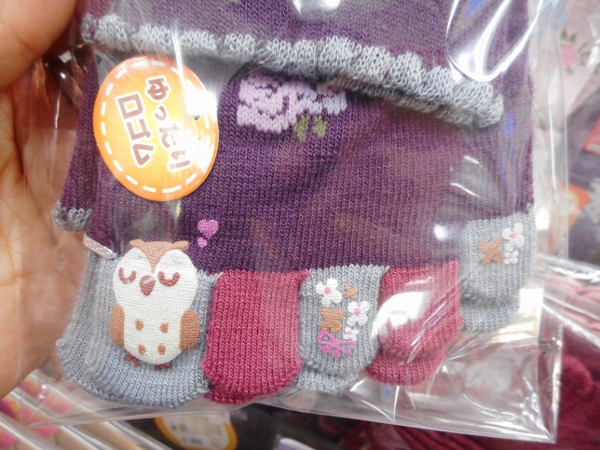 There was even some apparel available, including tops, stockings, and really cute socks!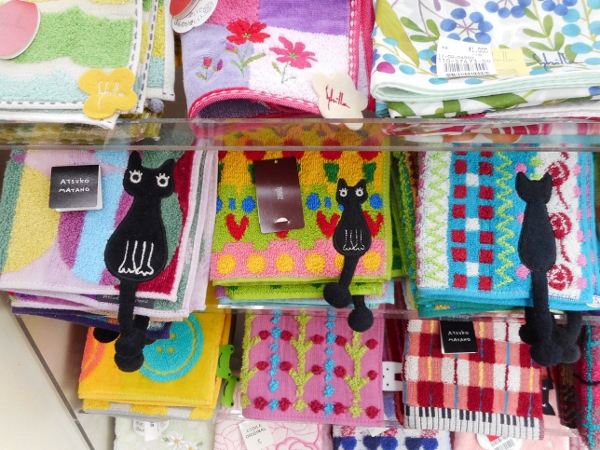 Here's a perfect set of handkerchiefs for cat-lovers!
"You start to wonder what kind of store we are, with all these different categories of things," Mrs. Takahashi laughs. "But people who love zakka say they enjoy coming here because they can browse for anything within a small space. That's not really possible at a shopping mall, and even supermarkets can feel overwhelming in their grandness nowadays."
As one representative someone who loves zakka, I wholeheartedly agree. It's always loads of fun to poke around the shelves at small stores like this one, looting for unexpected finds.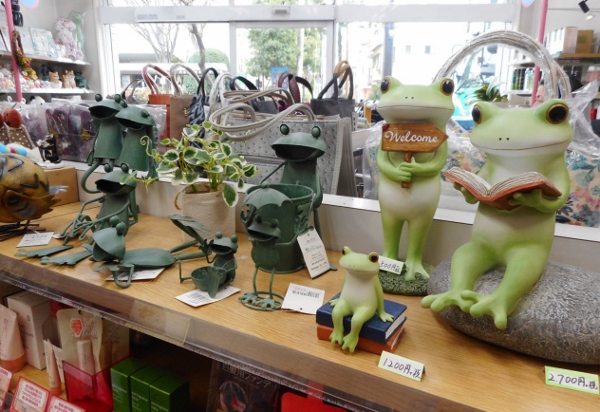 And these frogs?
"They're for June, when we hit the rainy season. They're pretty cute though, aren't they? In the end, I guess my taste has a lot to do with what ends up on the shelves, though I try to keep it balanced."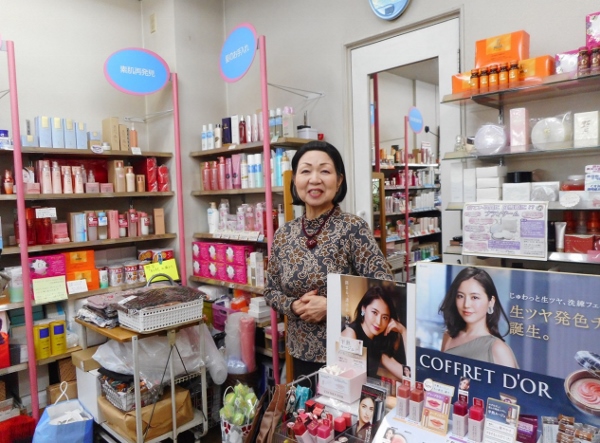 From textile to cosmetics, and now to zakka, Kotobukiya has shown remarkable resiliency in keeping up with what customers want. Mrs. Takahashi jokes that in a few more years the zakka might push out the cosmetics altogether, though I personally hope not.
Mrs. Takahashi wants to keep the store going for a while, staying afloat of the changing times. She speaks modestly, saying it's not exactly the kind of sparkly, shiny place that draws attention, but here's the truth: longstanding stores like Kotobukiya are important members of the shitamachi community, and people find in them a mix of nostalgia, warmth and stability. After all, times may change, but there are some things we hope will always stay the same.
Story and Photos by Xianru Shen(Koto City Office Coordinator for International Relations)