Deep-fried Delights at Kushikatsu Kushiya
Published: February 23, 2018
While Japan's charcoal-grilled skewers of chicken and vegetables (yakitori) is well known around the world, its cousin of deep-fried food on skewers (kushikatsu) is perhaps less so. Located just a stone's throw from Kiyosumi-shirakawa station, the restaurant Kushikatsu Kushiya has been serving crispy, deep-fried delights to hungry customers for years now. On a recent cold winter's evening the welcoming manager Mr. Kobayashi took some time out to explain the mouthwatering morsels on sale there.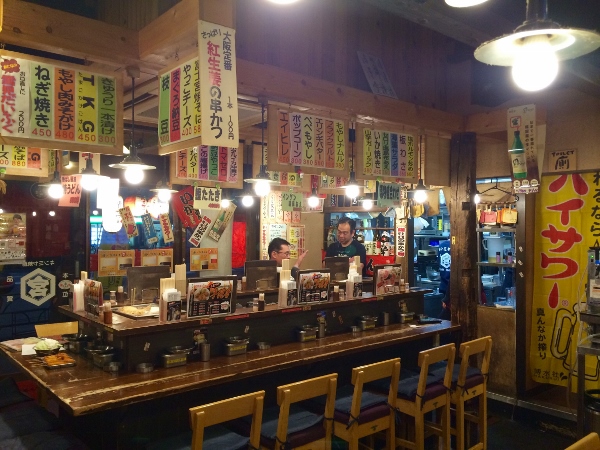 "The kushi is the skewer and a katsu is a deep-fried pork cutlet," explains Mr. Kobayashi. "Kushikatsu is Osaka food; hearty, reasonably priced and filling. Basically it's a wide variety of meat, fish and vegetables dipped in egg, flour and panko breadcrumbs, then deep-fried. We use a mix of lard and salad oil so it's not halal, unfortunately ."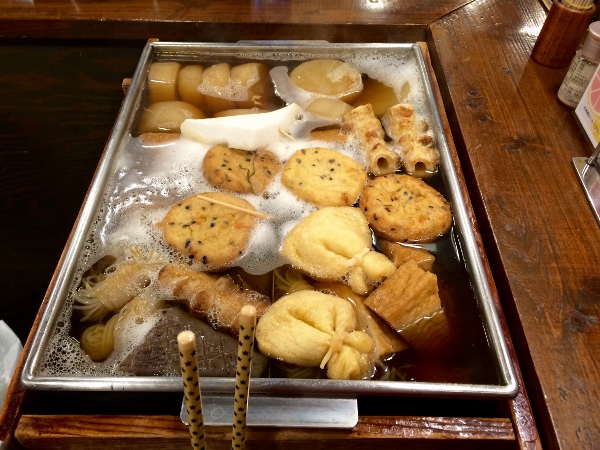 Oden, that supreme winter warmer, bubbles away in its container. Rifling through the menu reveals a bewildering variety of dishes, many in the Osaka style, while the walls are festooned with other treats. "We serve Osaka-style savoury pancakes (okonomiyaki) as well as sweet and spicy chicken wings in a downtown style," adds Mr. Kobayashi.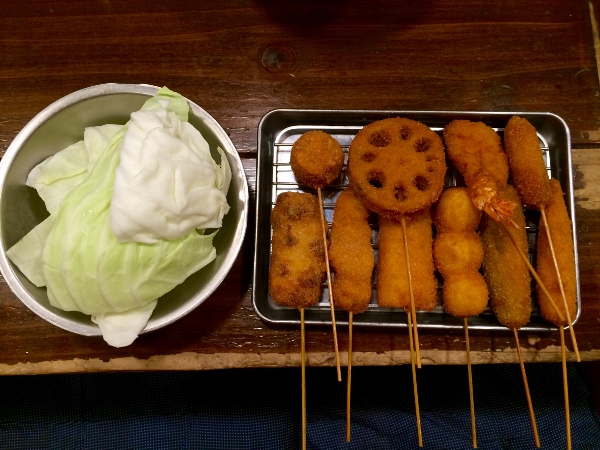 The Kushikatsu menu features about 50 different varieties. The staff kindly whips up a selection that comes with raw cabbage; the skewers are traditionally dipped in a sweet Worcester sauce that comes in metal boats placed on the counters. "Double-dipping" or taking a bite and then dipping your kushikatsu again is seen as both unsanitary and a terrible faux pas. Each boat has stickers warning customers against the practice. Please be careful!
Kushikatsu Kushiya has an English menu, a great boon to travelers.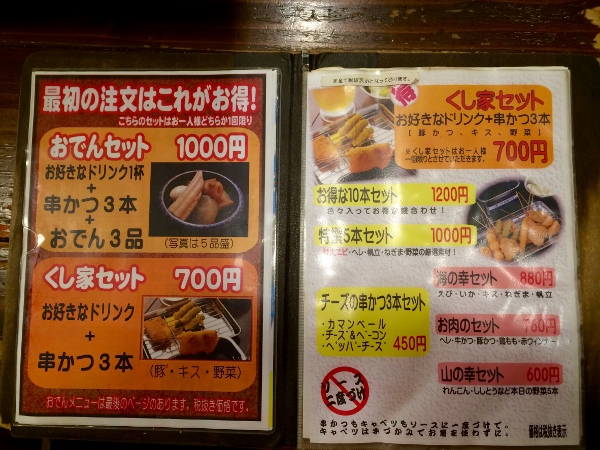 There are also sets available, such as this Oden set: one drink, three kushikatsu and three items of oden for 1,000 yen. You can have a drink and three kushikatsu (pork, vegetables, whiting) for 700 yen, while a 10 stick set costs 1200 yen. There's even a cheese set, three different sticks of cheese (Camembert, bacon and cheese, pepper and cheese) for 450 yen.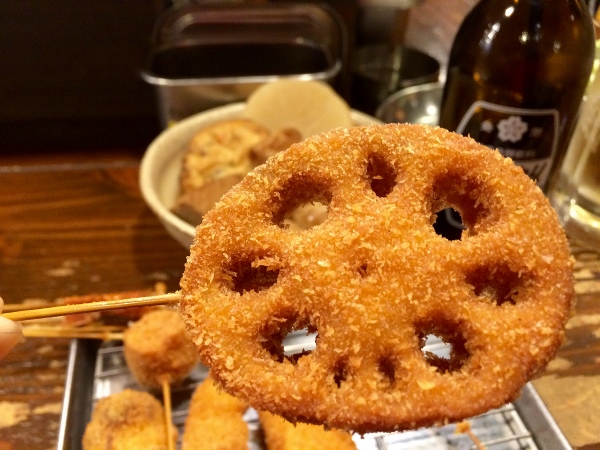 The kushikatsu are wonderful – piping hot, crisp and flavorsome. This lotus root, cooked to a perfect golden-brown, was incredibly crunchy. The whiting, quail's eggs, pork and shrimp were equally delicious. Yum yum!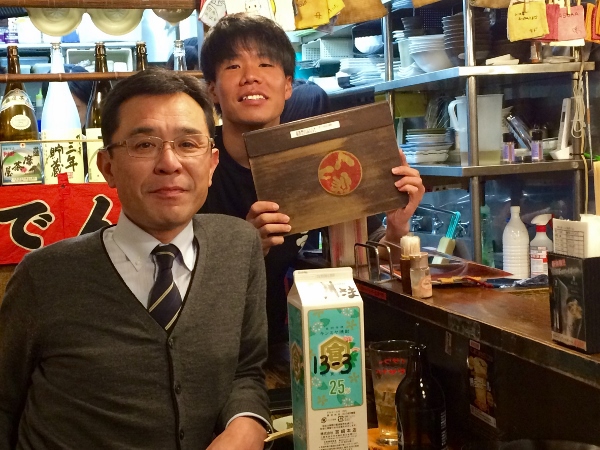 The drinks selection is almost as wide as the choice of kushikatsu and again there is an English menu. The best-selling non-beer drink is Kinmiya Shochu from Mie Prefecture in the south of Japan. Many regular customers, such as this gentleman, enjoy a "bottle keep," their own bottle (or carton) kept behind the bar.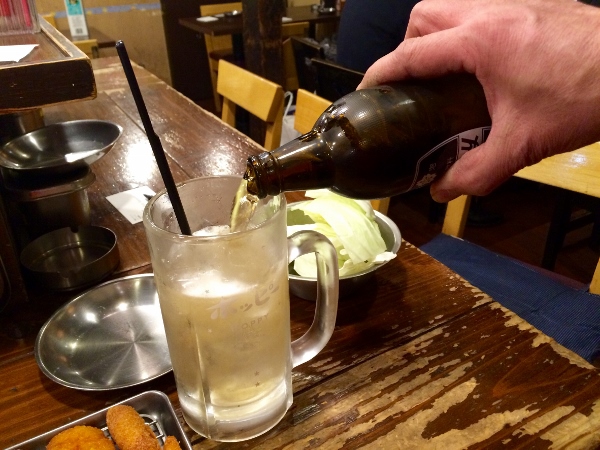 Kinmiya is distilled from sugar cane and is immensely popular as an accompaniment to kushikatsu all over Japan. Here it is served with the mixer Hoppy, a Tokyo specialty currently enjoying a retro renaissance. (One part shochu to five parts Hoppy, no ice, don't stir).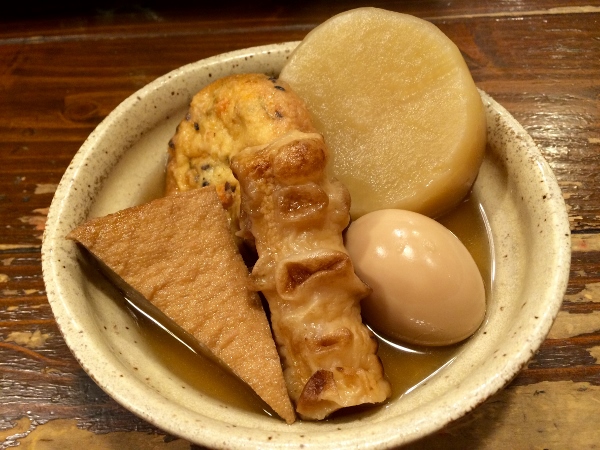 The oden come in at the very wallet friendly price of 130 yen each, although again there are sets available (Three for 380 yen, five for 580, seven for 780). Eaten with a dab of sharp mustard, they really do help to beat the winter blues.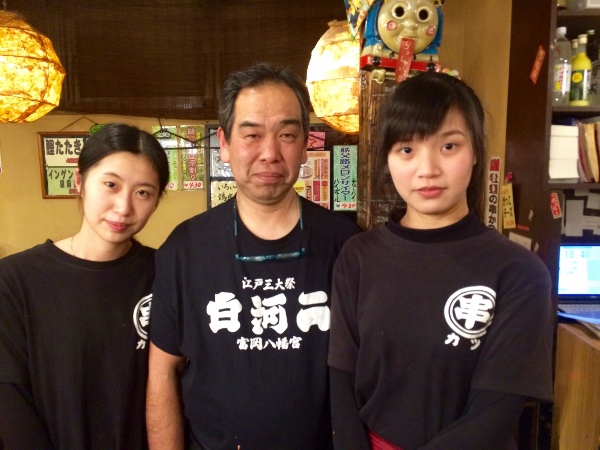 So, great food and drink at amazing prices in a very friendly and welcoming place. And if that weren't enough to recommend Kushikatsu Kushiya, it's just a stone's throw from Kiyosumi Gardens, the traditional Japanese landscaped garden and jewel in the crown of Koto-ku. What could be better than a spring stroll through the beautiful gardens, followed by a hearty dinner of kushikatsu and oden, or whatever takes your fancy?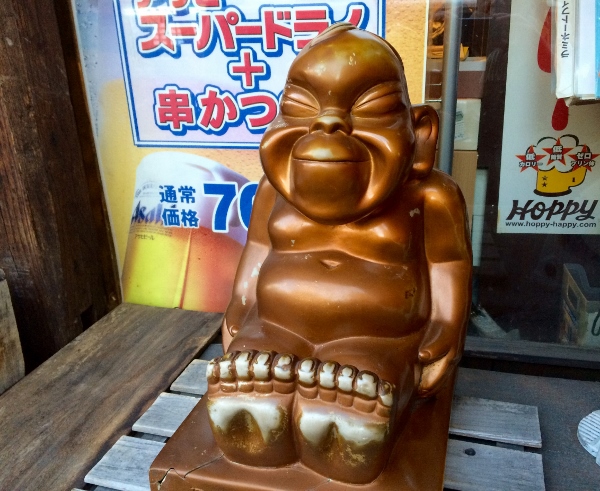 If you visit Kushikatsu Kushiya, don't forget to rub Billiken's feet for good luck!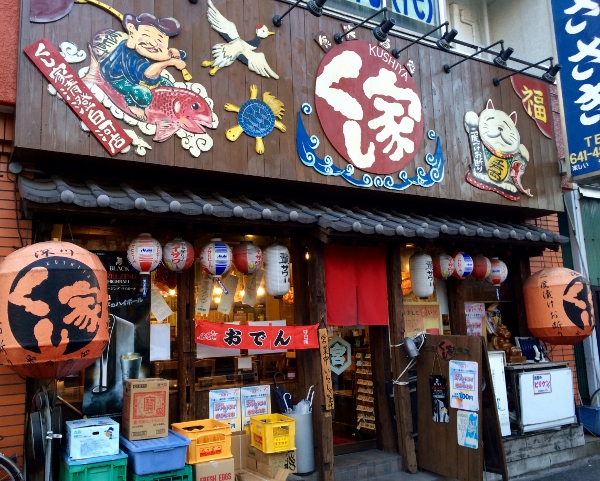 *All prices as of February 13th. 2018
Story and Photos by Stephen Spencer