Kimono Experts, Supporting the Community
Published: August 22, 2017
"When in trouble, go to Tamaki-ya."
That's what one passing customer told me while I was browsing the fascinating kimono and Japanese clothing shop in Kiyosumi-shirakawa.
"If you don't know how to wear a kimono or yukata, they'll teach you. If you need something in a bind for a wedding, a festival or a funeral, they'll have it in stock. Around here we say, if you're having wardrobe trouble, then Tamaki-ya will sort you out."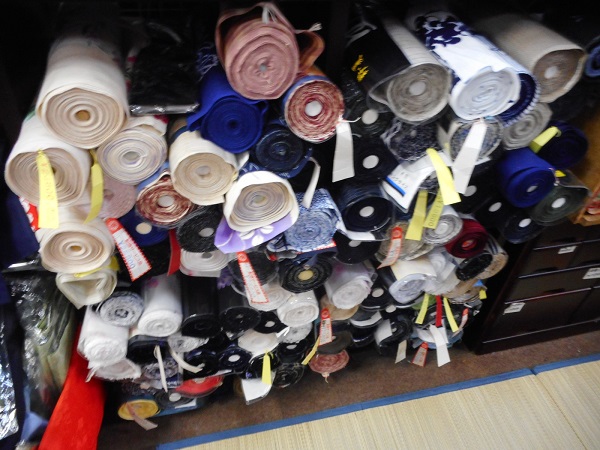 Tamaki-ya (full name: Kyo Gofuku Hoseki no Mise Tamaki-ya) is a historical shop nearly a century old specializing in kimono, accessories—and more recently—Japanese household goods and souvenirs. Though ready-made kimono (and especially yukata, the lighter summer version) have become widely available, these traditional outfits used to be cut from the bolt and sewn tailored to the customer—a service still offered by Tamaki-ya today.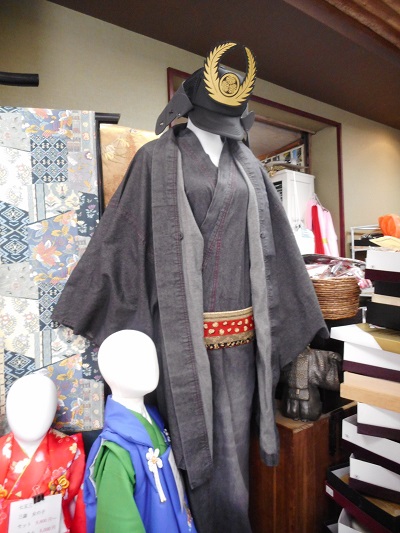 But Tamaki-ya also keeps up with the times by stocking interesting modern kimono like this one, made out of denim. "These have been steadily gaining popularity because they are sturdy and washable," explains Mr. Tamaki, the third-generation owner.
The samurai baseball cap is also a popular item, and creates a charmingly comic look when paired with the simple and stoic kimono.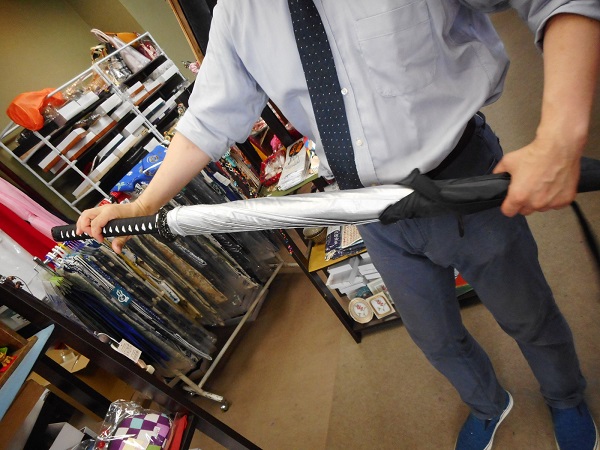 "Add this samurai sword—it's actually an umbrella—and you'll be all set!" he laughs.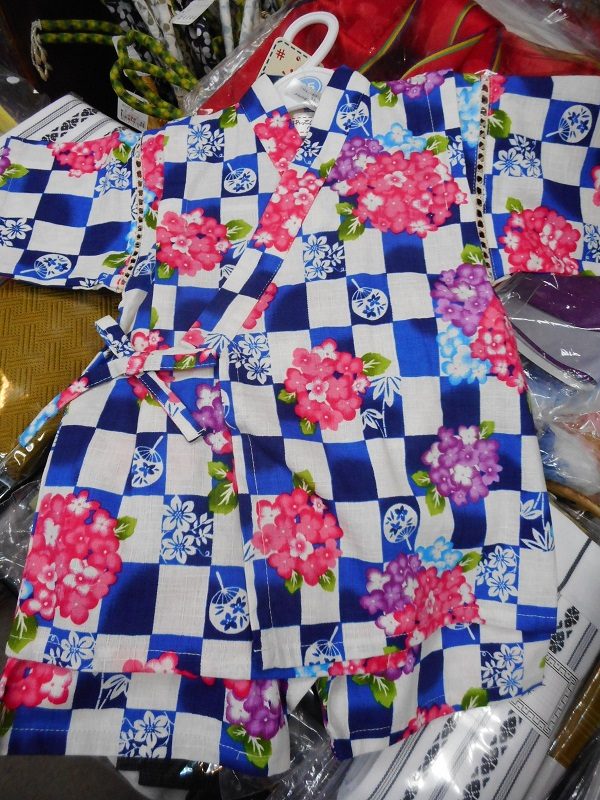 For those looking for something even more casual, Tamaki-ya also stocks a variety of jinbei—a traditional set of separates that you can throw on easily for a quick trip to the grocery store. I'm tempted to get a set myself, actually; they look so comfortable! (The colourful and cute jinbei pictured above is child-sized, but they had plenty for adults, too.)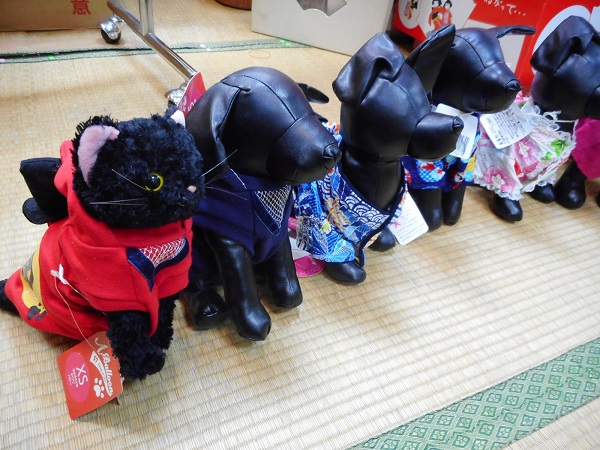 They even have adorable yukata for your pets, so the whole family can go out perfectly coordinated☺
"We also offer kimono and yukata-wearing lessons and often help customers get dressed whenever the need arises," he continues. Since learning the proper way to put on a kimono is more than half the battle, this is a service many are glad to make use—especially when there's a special occasion.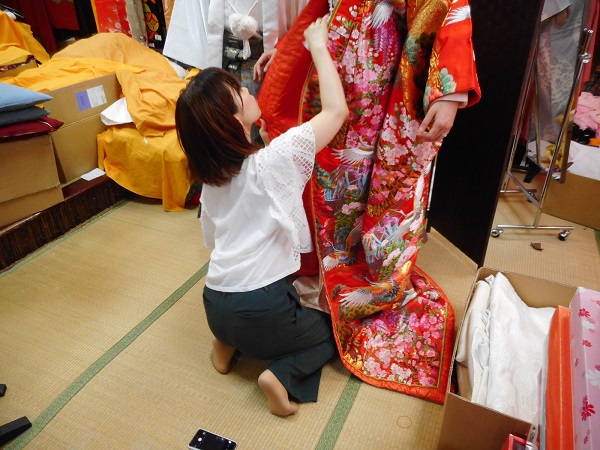 On the day of my visit, I happened upon a pair of customers who were getting ready for their wedding photo shoot. The bride and groom, lavishly clothed in marital attire, were just finishing up preparations with the help of the staff.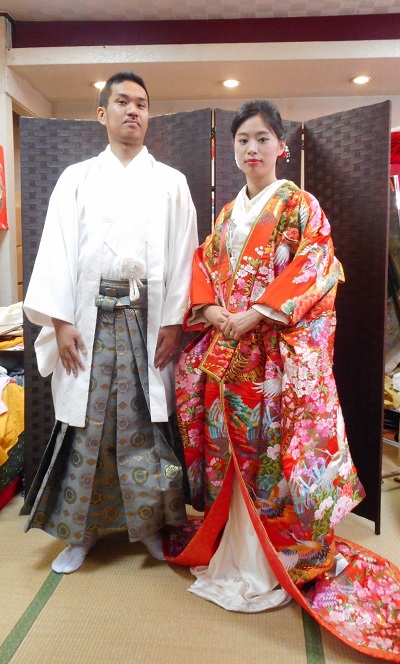 They kindly offered to pose for a photo before they went off for the shoot—what a beautiful couple, and what gorgeous kimono!
"Many people don't get married in traditional clothing anymore, but it's still popular to borrow an outfit for the sake of taking commemorative photos. Our rental service is used by both locals and tourists alike."
But that's not all. As Mr. Tamaki explained to me, "We provide half the matsuri clothes for the people in this area." (At an expected attendance of 30, 000 people, this is no small feat.) "Every summer, everyone gets really excited for the Fukagawa Hachiman Matsuri. This year in particular is the Hon Matsuri (main festival) which only happens once every three years, so people are more excited than usual!"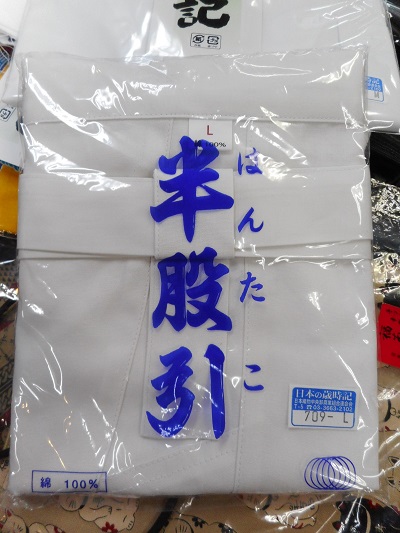 There are certain etiquettes to be followed when participating in a matsuri; this includes wearing the right clothes, especially for those who will be carrying the mikoshi (portable shrines) so that the local deity may bless those around the city.
"The Tomioka Hachiman colour is white," explains Mr. Tamaki, "Down to your shoes."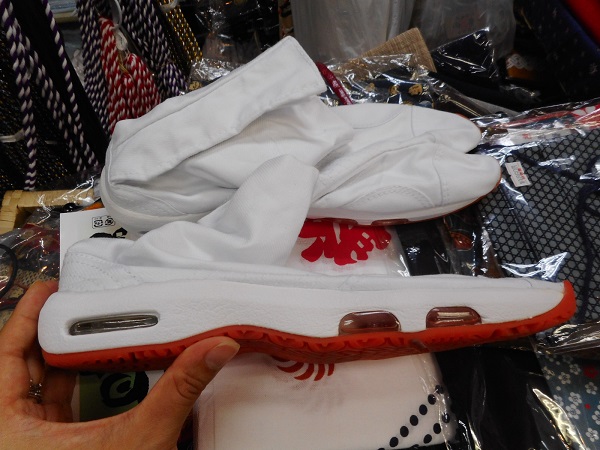 He showed me the special tabi shoes they stock to help mikoshi-carriers bear the long hours spent lifting the heavy weight of the shrines. The tabi have three air pockets in the soles to help cushion the feet.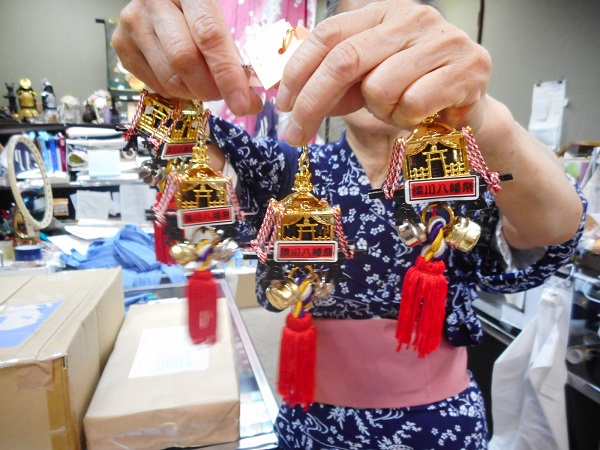 And whether you attend as a mikoshi-carrier or an observer, Make sure to grab a limited edition mikoshi charm to show your spirit and complete your preparations!
When asked about the history of the store, Mrs. Tamaki, the second-generation owner, laughed and said "We've been here such a long time, we're practically a fossil!" to which her son nodded emphatically. Originally built nearby in a different location the year after the Great Kanto earthquake of 1923, the shop was relocated again after World War II to its current spot. "We've weathered earthquakes, war, floods, and civil unrest to keep this neighbourhood going, and to make it a safe and peaceful place," says Mrs. Tamaki. "You can feel it in the atmosphere, can't you? It's a very special area. That's why the best way to explore it is to wrap yourself up in traditional clothing, to get the full experience."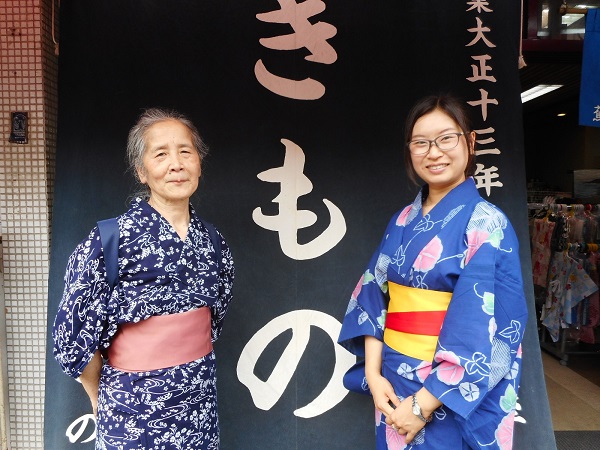 With a shop bursting with many, many other interesting wares (too many to introduce here), friendly staff who are unafraid of banter, and a deep knowledge of the neighbourhood and its people, Tamaki-ya is perfect whether you're shopping for something unique to give as a gift, desperate to mend a wardrobe problem, or trying to find a way to embrace the Japanese spirit. So I guess what they say is true—when in trouble, go to Tamaki-ya!
Story and Photos by Xianru Shen (Koto City Office Coordinator for International Relations)