There is no end to the number of up-and-coming establishments popping up in Kiyosumi-shirakawa, one of the most buzzed-about neighbourhoods in Tokyo lately. So it should almost be no surprise that wine culture has blossomed at this crossroad of traditional and modern, and demand for shops and restaurants serving good wine is on the rise.
Kyugoro Wine Table is a restaurant operated in conjunction with Fukagawa Winery, one of only three wineries in Tokyo. As such, most of Fukagawa Winery's products—largely fresh wine—can be tasted here.
"It's a small winery, so the turnover has to be fast," explained Ms. Yamamoto, the store manager. "For that reason, the wine is generally very fresh."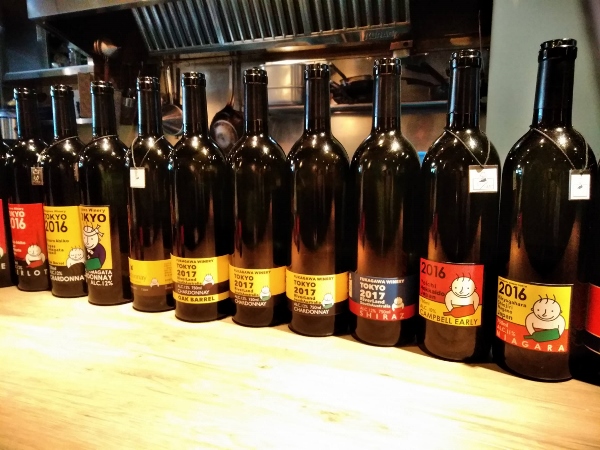 The variety of wine produced is clear from the sheer number of empty bottles, lined up like collectibles, on the counter.
"The winery use grapes from all over Japan, and some from South Australia—it helps to have a supplier from the southern hemisphere so we don't run out of grapes during the off seasons. Otherwise, we're not really picky about the type of grapes; if it tastes good, we'll take it. That flexibility is what makes us special."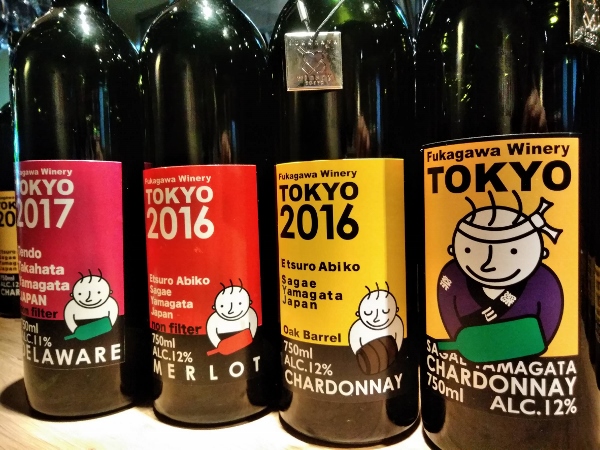 Another thing that makes the wines special is the subtle, playful changes in the design of the labels!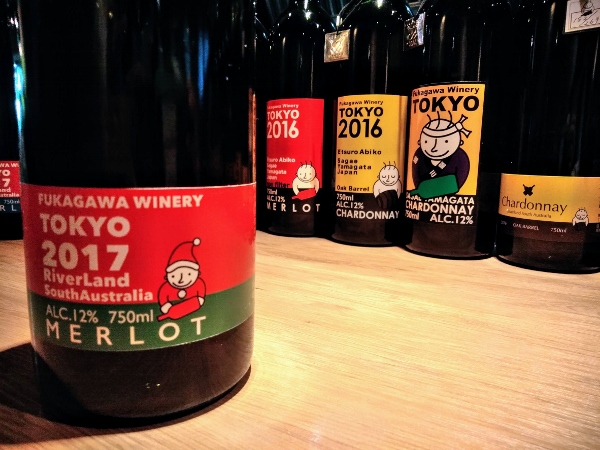 "They make great souvenirs," Ms. Yamamoto says of the bottles. They look like works of art when placed one after the other like this. "If you like what you taste here, you can buy the wines at "ICHIMATSU ya", our sister shop located just two minutes away."
However, as most of the wines are made in small batches of fewer than 1000 bottles per brew, you'll have to be pretty decisive and fast. Your favourite wine might be long gone if you dally too long!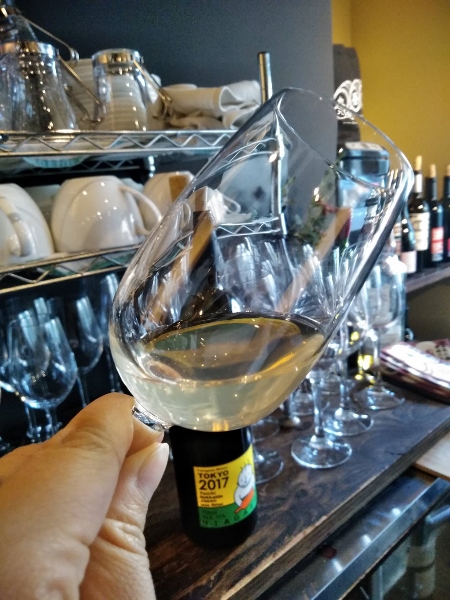 Ms. Yamamoto showed me a bottle of unfiltered Hokkaido Niagara wine. It lacked the usual clarity of filtered wines, but more than made up for it with its rich, aromatic fragrance. I was sure, from the intense, sweet perfume, that it would also taste sweet—and so was surprised to find it quite dry! "Most of our wines are dry," laughed Ms. Yamamoto. "We specialize in dry wine with a sweet smell."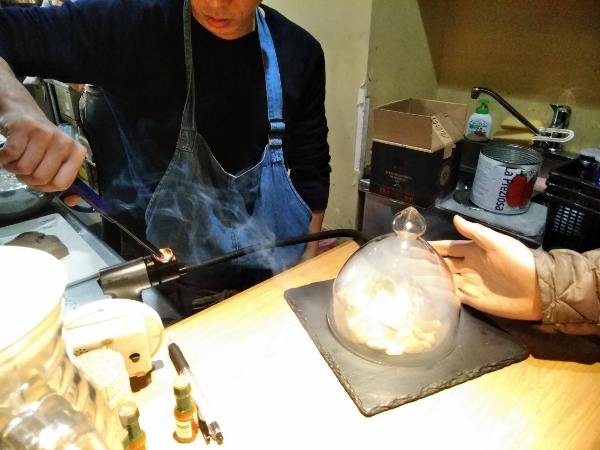 As for food, there is a modest selection ranging from sharable hors d'oeuvres to steaks. Standard fare like ajillo, quiche and pinchos were listed in the menu, along with unusual choices like wasabi potato salad and burdock root chips—all of which, I'm sure, tastes great with a glass of white or red.
Their most interesting dish is probably the smoked plate. Using cherry wood smoke, the plate is covered with a glass dome and the food is submerged under a cloud of white fumes.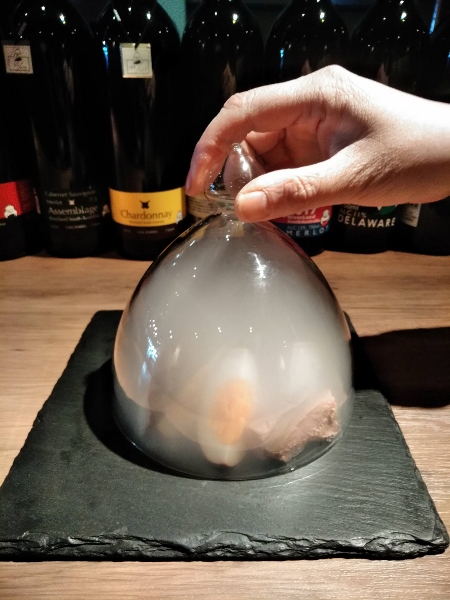 The mysterious-looking domed plate is then presented to diners…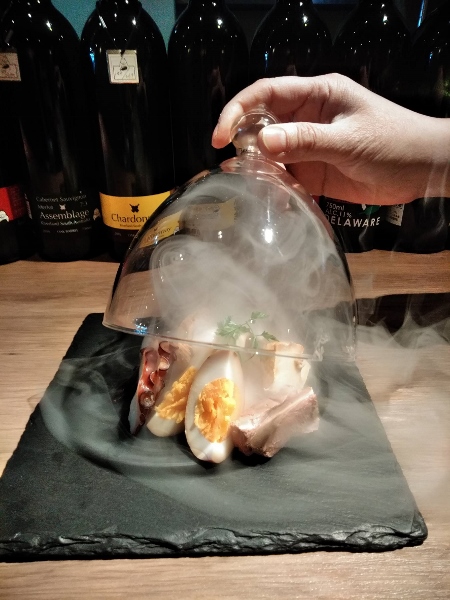 Where it is opened to reveal…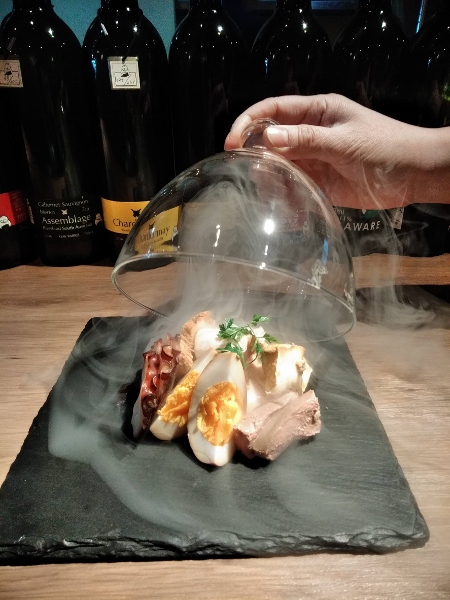 Today's selection!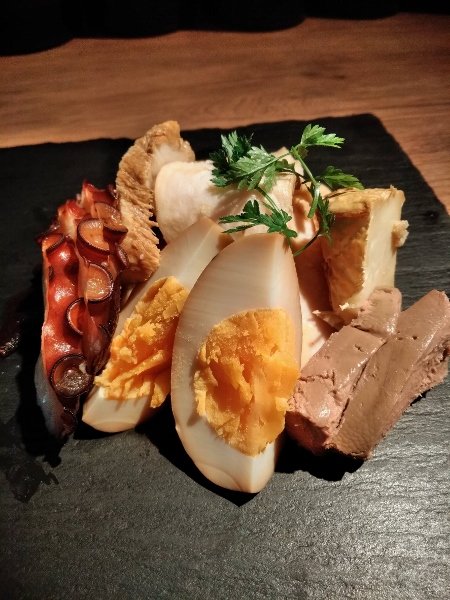 The smoky smell lingers in the air delightfully afterwards. The food items vary from day to day, so you can enjoy being surprised by what might appear.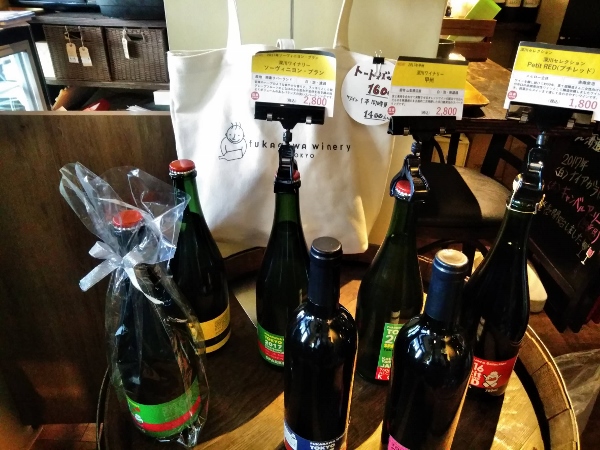 "We want to help make wine more accessible for everyone, and dispel the myth that it's a fancy drink only to be enjoyed at special occasions," says Ms. Yamamoto when asked about the restaurant's future. "We get a lot of female customers. Some come by themselves, others in a group. But once, we had a gentleman who was an avid beer drinker come in. We have non-wine beverages, so that's what he always ordered at first. But after a while, he started to try some of the wines. Now, he's a solid wine lover!"
In this way, Kyugoro acts as an important place where people can socialize and discover the joy of wine in a casual setting. You too, might discover your next favourite bottle while dining at Kyugoro's counter.
Story and Photos by Xianru Shen(Koto City Office Coordinator for International Relations)