Not Your Typical "Japanese Italian" Restaurant
Published: June 28, 2017
From the outside, you might be deceived into thinking that La Fonte ("The Fountain") is another one of the ubiquitous "Japanese Italian" restaurants which can be found all over Tokyo, but you'd be wrong. Located on Meiji-dori Avenue just 7 minutes from the south side of Kameido Station, La Fonte has a menu which is far from typical. Whilst the owner, Mr. Fumio Ishii, serves up many Italian dishes with a Japanese touch to cater to local palates, the dishes on offer are not your standard fare.
La Fonte, which opened in 2006, has a pleasant and welcoming atmosphere. The small dining area has seating for around twenty, and with its white walls, dark beams and high ceiling, has a cool and cosy feel about it. Supported by three staff members who primarily wait on tables, Mr. Ishii keeps busy behind the kitchen counter, but still finds time to chat with his customers.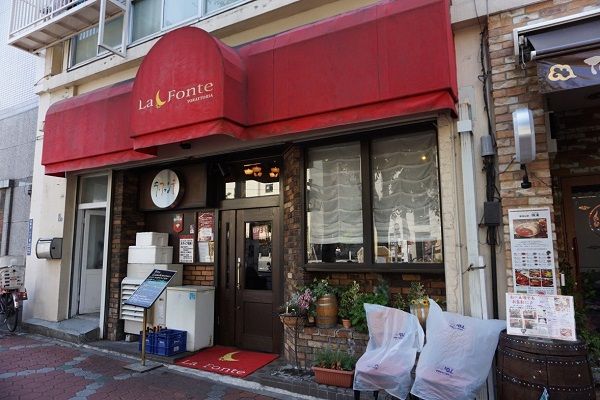 Mr. Ishii, who has worked in the restaurant business for around 40 years since graduating from high school, puts in long hours, often starting around 7:00 a.m. by visiting Tsukiji fish market to carefully select seafood and vegetables before returning to the restaurant to prepare the dishes for the day's menu. His normal working day finishes around 11:00 p.m.
The restaurant serves a set pasta lunch menu for 1,000 yen, which, on the day I went with my wife, listed a choice of either chicken and gobo (burdock) with a Japanese-style cream sauce or sakura ebi and spinach with tomato sauce, both served with bread, salad and a drink. As an alternative to pasta, there was a mentaiko (salted cod roe) cream sauce risotto on the menu.
For those not in a rush to get back to the office, La Fonte offers a daily lunch special costing 2,600 yen, which consists of a starter, pasta, a main course and a dessert.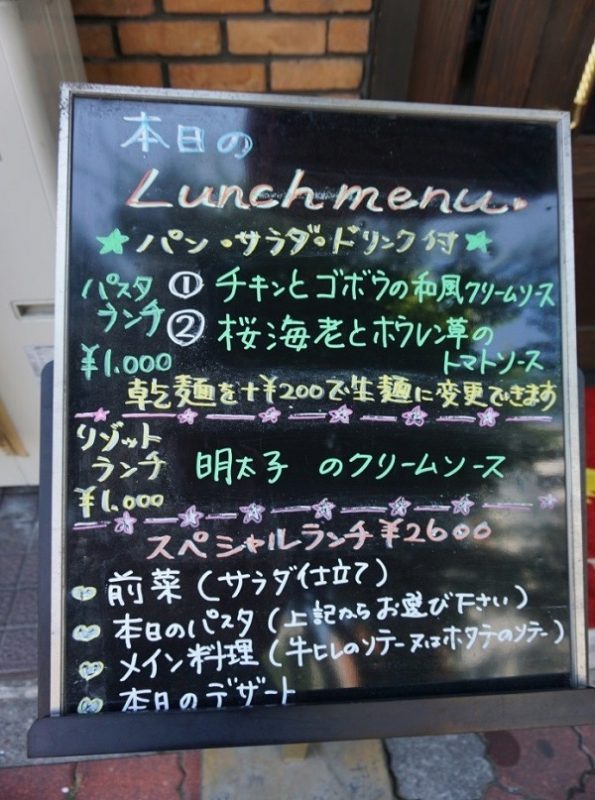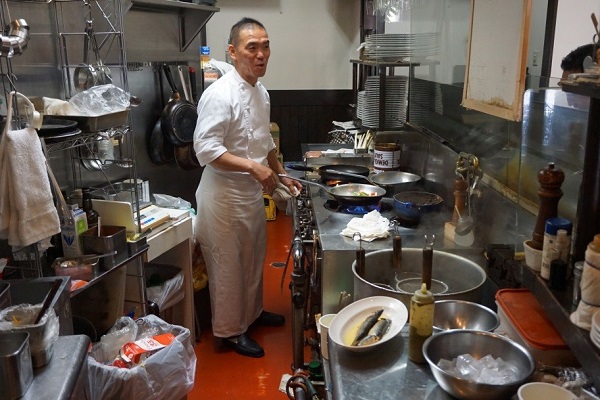 Or you can order a la carte. We were served seasonal ayu (sweet fish) meuniere which had been slowly cooked for one and a half hours and came with a selection of pan fried vegetables: shiso (beefsteak plant), broccoli, cauliflower, zucchini, paprika, peas in their pod and tomatoes. The two ayu were so tender that Mr. Ishii told us we should eat everything–heads, bones, tails, the lot, and he was right!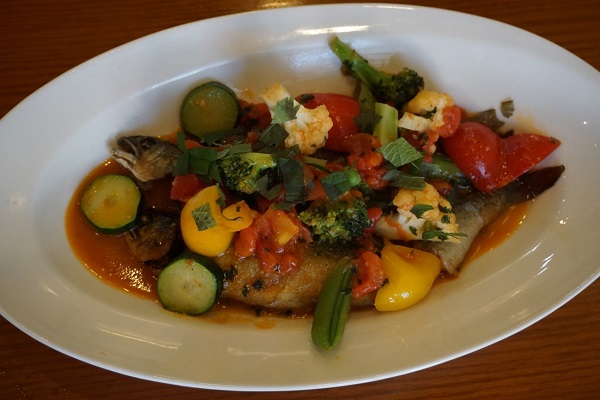 As a contrast we were served a dish of kaibashira (part of a scallop) and tomato on a bed of capellini ("angel hair" thin pasta), topped off with basil puree. This was served cold on an iced plate, and was just what was needed on a hot day.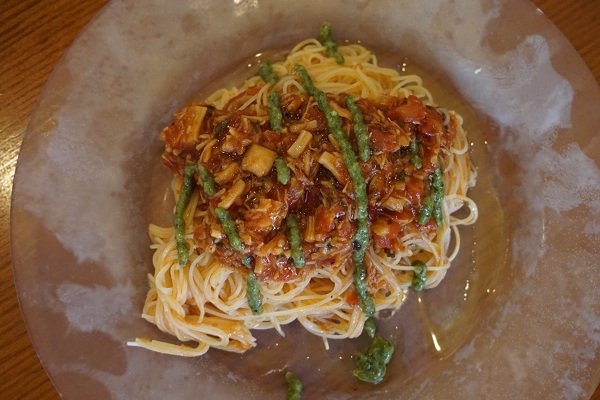 When asked which dishes he would recommend to his customers Mr. Ishii suggested the beef tendon cooked for 4 hours in port wine. For those who prefer seafood, he recommends dishes containing either shirasu (white bait) or koebi (small shrimps).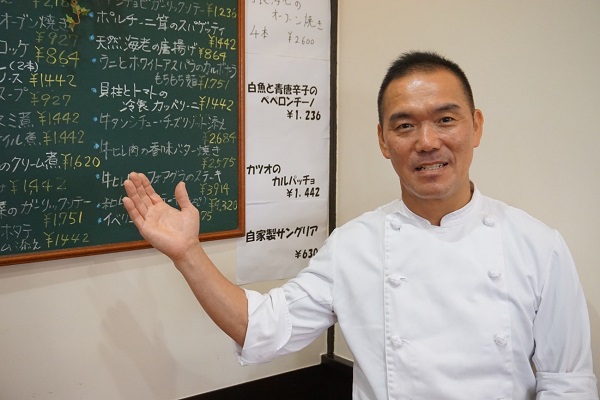 Mr. Ishii is always looking for ways to improve his cooking and coming up with ideas for new dishes to please his customers. As he says, "Despite being a veteran of 40 years, in cooking you cannot rest on your laurels."
Besides lunchtimes, La Fonte is open in the evenings, and its popularity is evidenced by the number of people who telephoned to make reservations whilst we were there. We were obviously not alone in thinking that this is a "Japanese Italian" restaurant whose menu definitely needs to be explored further.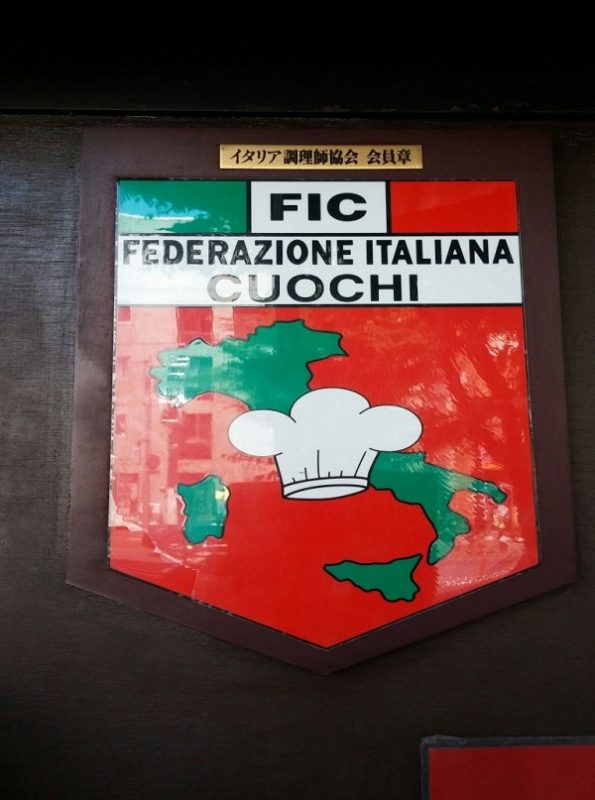 Story and Photos by Jeremy Hutchinson