Large Servings of Chinese Cuisine from the Yu Brothers
Published: October 26, 2020
The Yu brothers hail from Fujian Province in China. Wanting to live the Japanese experience, they arrived in Japan in 2008. Whilst the elder brother, Mr. Shun Yu, studied to become a chef in Yokohama's China Town, learning the secrets of making the sauces which are such an important part of Chinese dishes, Mr. Bai Sai Yu went school in Kochi to study the Japanese language. Upon graduating they opened a restaurant in Saitama prefecture and after five years they decided to go for the challenge of running a restaurant in Tokyo.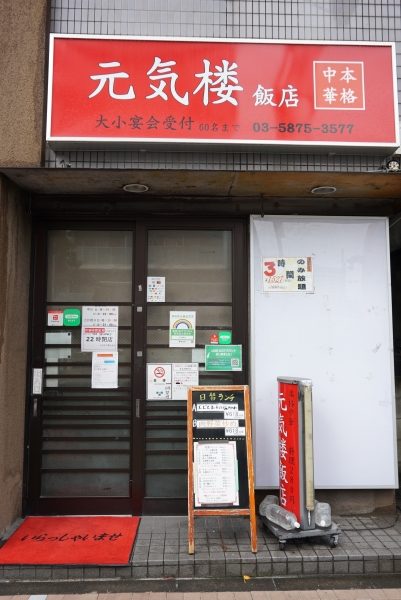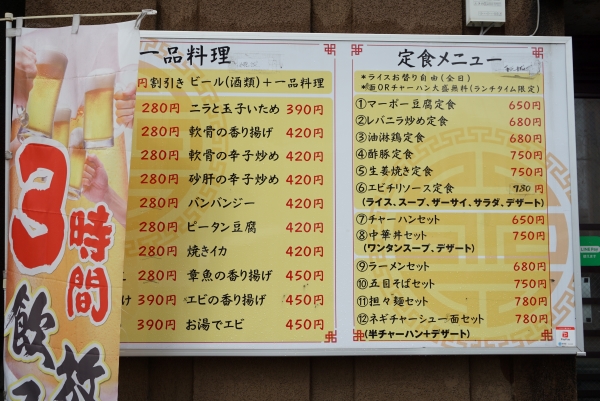 And it is on Meiji-dori Avenue in Ojima, a 4-minute walk from Nishi Ojima station that, in 2017, they set up Genkirou Hanten; with Mr. Shun Yu running the kitchen and his younger brother managing the front area.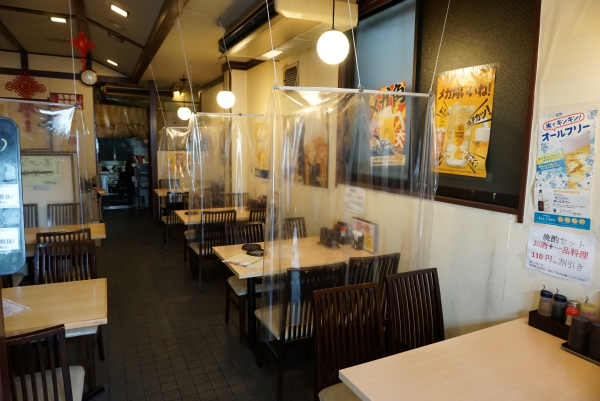 The restaurant seats up to 48 diners, split equally between the table and the zashiki (low table) areas. The place has a homely atmosphere and the walls are generously decorated with numerous colourful posters, mainly advertising beer.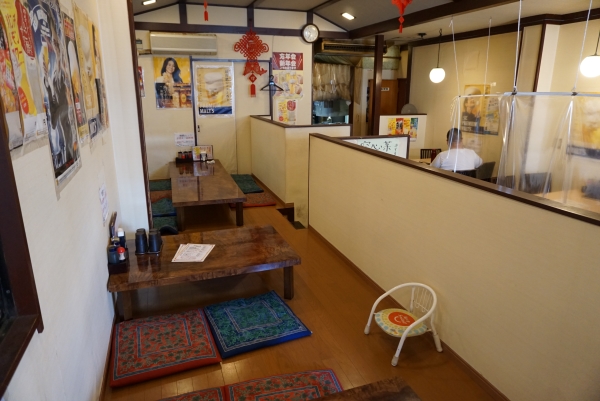 Genkirou Hanten predominantly serves the local Ojima and Kita-suna communities, offering generous portions of good food at very reasonable prices. The menu contains well-known Chinese dishes changed slightly to suit Japanese palates. The younger Mr. Yu presented my colleague and I with a dish of ebi (prawn) chili sauce and yurinchi (Chinese fried chicken, karaage-style) to try from their menu. I was immediately struck by two things: one was the size of the prawns and two was the size of the helpings.
The servings at Genkirou Hanten are certainly generous. Although it was early morning, we tucked into the delicious plate of large prawns bathed in a smooth creamy and spicy sauce, set on a bed of lettuce. Commenting on the prawns Mr. Yu said that his brother uses prawns which are one size larger than those used in most restaurants.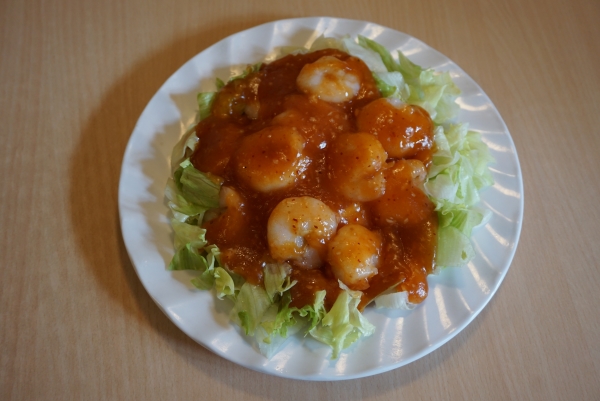 To follow, we bit into the plate of yurinchi which Mr. Yu brought from the kitchen. This fried chicken is crispier than Japanese karaage and is given extra flavour using daikon oroshi (grated radish), ninjin (carrot) and naga negi (long green onion), and I could swear there was a hint of coriander somewhere. As I crunched through the crisp outer coating into the juicy, tender chicken, I thought, "This is a good way to start the day".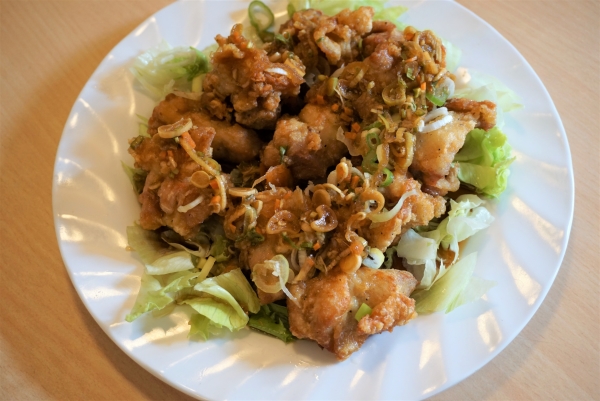 The two dishes were accompanied by a bowl of rice. Laughing, we both commented on how big one portion of rice was, which Mr. Yu said was "futsuu" (normal), but which I would have called "oomori" (large). Mr. Yu explained they served this size of bowl of rice following requests from local regular customers; even so, some diners ask for seconds. I reckon they must have big appetites in Kita-suna.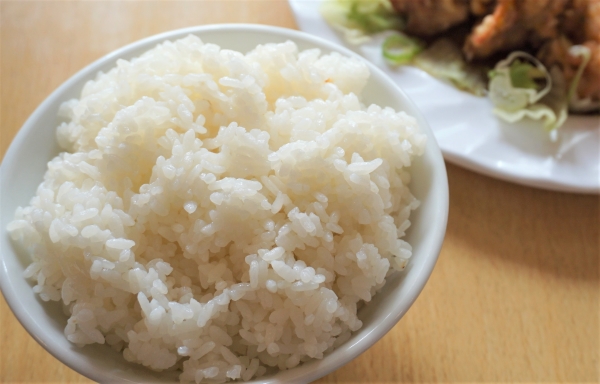 According to Mr. Yu, the top favourite dishes at Genkirou are the ebi chili sauce and yurinchi, followed by reba nira (stir fried liver and leeks) and mabo tofu (spicy mincemeat and tofu).
Looking for quality ingredients, Mr. Yu the elder sources from various specialist Japanese suppliers and uses good quality Chinese makers for his sauces. This all helps to keep prices reasonable.
And if you were worrying about not being able to finish your meal because of the volume: not to worry, the Yu brothers are happy to provide "mochikaeru packs" in which to take home the leftovers.
Prices at Genkirou Hanten are very reasonable, particularly give the size of the dishes; for example, a yurinchi set lunch, including rice, soup, pickles, salad and desert, currently costs 748 yen including tax, whilst the ebi chili sauce set lunch costs 858 yen including tax.
The restaurant also does a "higawari lunch" (lunch of the day) which changes weekly. The day we visited the Yu brothers were offering either fried shrimp and egg or stir-fried meat and vegetables, both for 680 yen, including tax.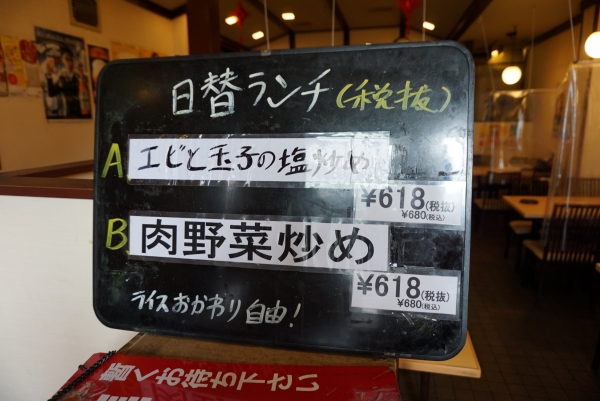 When my colleague asked Mr. Yu the younger what his wish for the future was, with a beam he said he would like Genkirou Hanten to be featured on one of the Japanese gourmet TV shows as one of the famous restaurants in Ojima. Let's hope his dream comes true!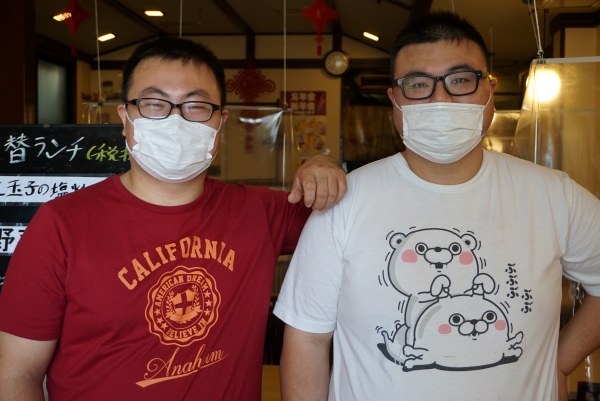 Mr. Bia Sai Yu (l) and Mr. Shun Yu (r)
Story and photographs by Jeremy Hutchinson