Life On Two Wheels at Seo Cycle
Published: March 22, 2022
The middle of March brought a week of exceptionally warm, fine weather to Tokyo. Strolling down Maruhachi Street to Seo Cycle from Ojima station I was envious of those out in T-shirts, and more so of those pedalling happily down the road in the glorious sunshine.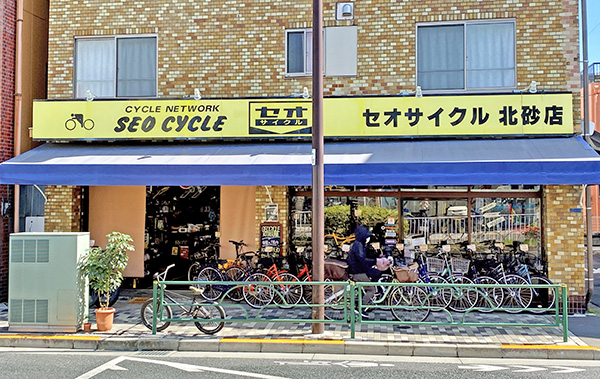 Located on Maruhachi street roughly halfway between Ojima station to the north and Minami-sunamachi to the south, Seo Cycle is the Kitasuna branch of a well-known bike shop group in eastern Tokyo and Chiba. It's easily recognizable by the bright yellow signage.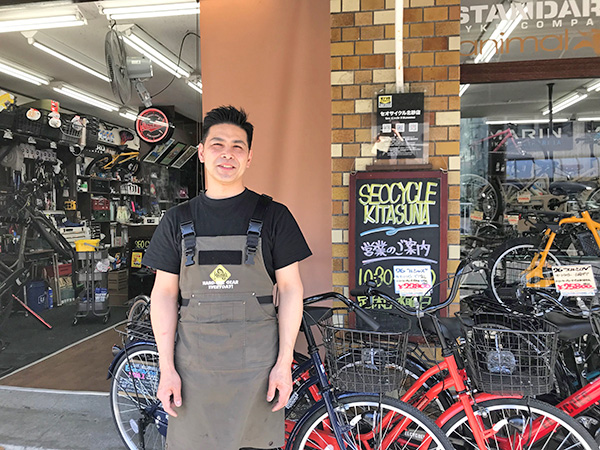 Youthful manager Mr. Oka greeted a steady stream of customers. With over 20 years of experience, he sells bikes, builds them, repairs them, and performs the regular inspections (tenken). "I really like bikes," he said, adding that as a youth he often frequented his local bike shop to have his bike repaired and was smitten by the atmosphere, "It was a really welcoming place and I felt at home there. I thought that when I grew up I'd like to work in a place like that."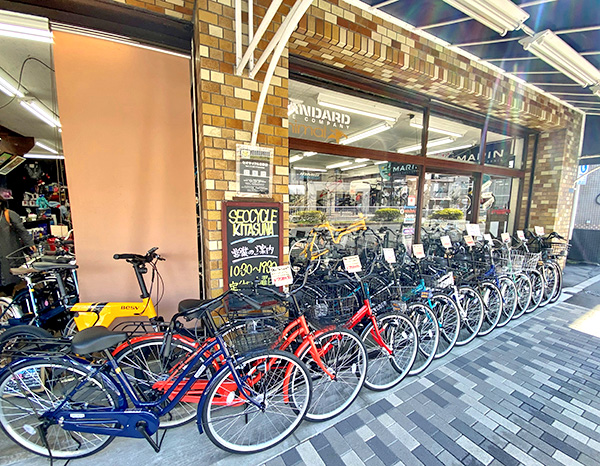 Seo Cycle is a fairly large shop with around 100 bikes for sale and a surprisingly wide selection. The ubiquitous city bikes known as mamachari (mum's bikes), city bikes, electric bicycles, sports bikes, and kids' bikes jostle cheek by jowl inside and outside the shop.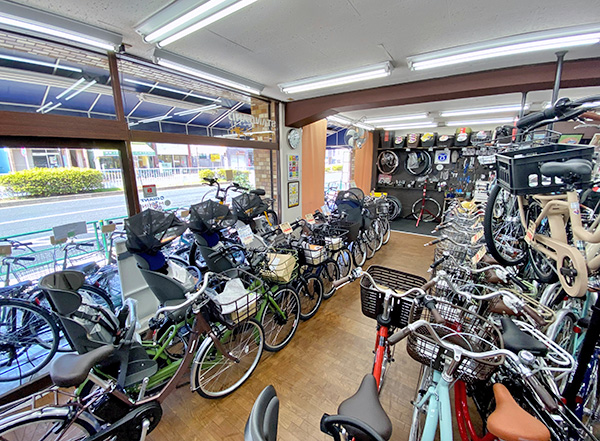 Residents and visitors to Koto-ku will know that many areas are criss-crossed by canals and rivers traversed by bridges, some of which are pretty steep and prone to gusting winds. Electric bicycles, known as electric-assist, are an absolute boon to parents of young children who need to be ferried to and from kindergarten or nursery school. Seo Cycle has a fine selection of the most popular brands at reasonable prices.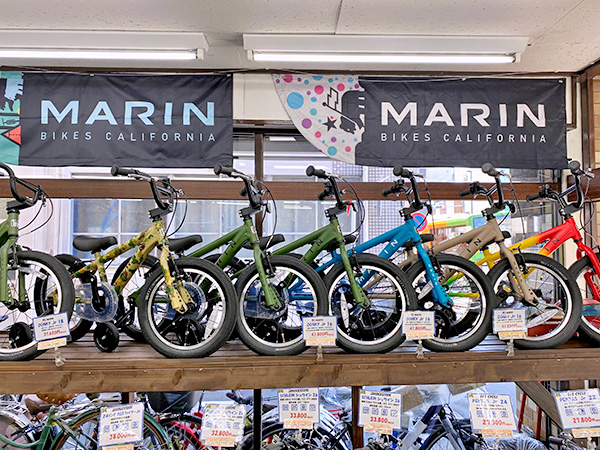 For the kids themselves there's a great choice of colours of these chunky and tough Marin Donkey Junior starter bikes from California. Aimed at the 3 to 6 age group and heights of 95cm to 115cm, they combine a cool retro look with the strength needed to withstand the battering they'll be given by eager learners.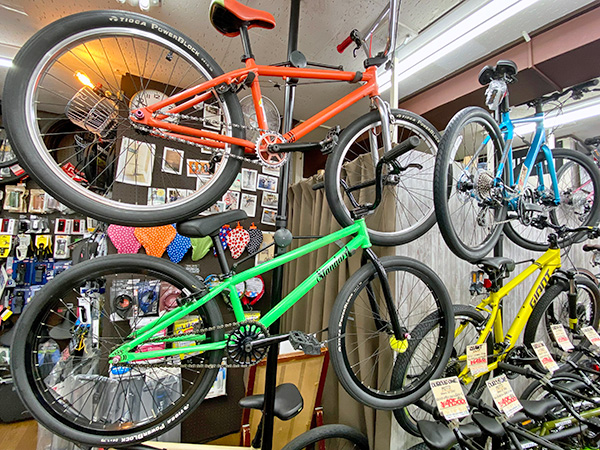 The popularity of BMX bikes continues unabated. Mr. Oka is himself a big fan which perhaps explains the wide range available in the store.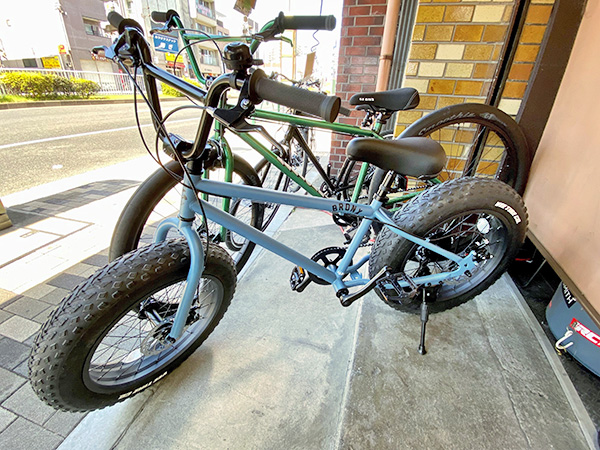 Fat tire bikes have enjoyed a major boom in recent years as they are well-suited to any kind of terrain or weather conditions, such as snow, sand, or rough mountain slopes. The slightly thinner tires of a beach cruiser are visible behind; beach cruisers are  enjoying a revival at the moment too.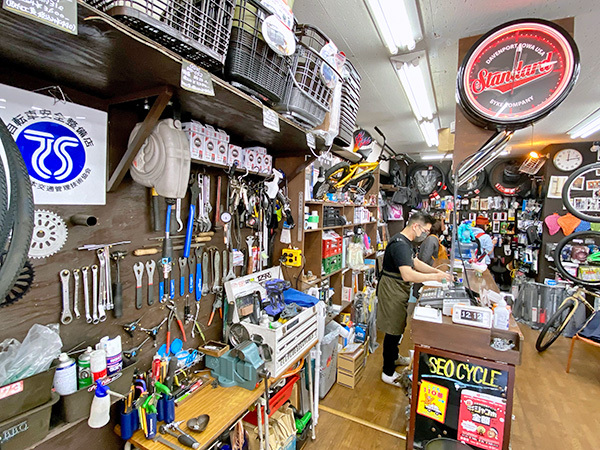 Seo Cycle also offers a wide range of parts and tools needed for bike customization.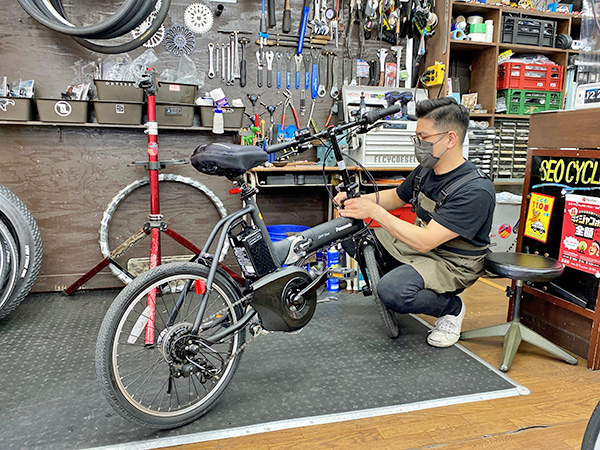 As we chatted a stream of customers dropped in with requests for Mr. Oka. One lady asked for an inspection of her rather stylish electric bicycle.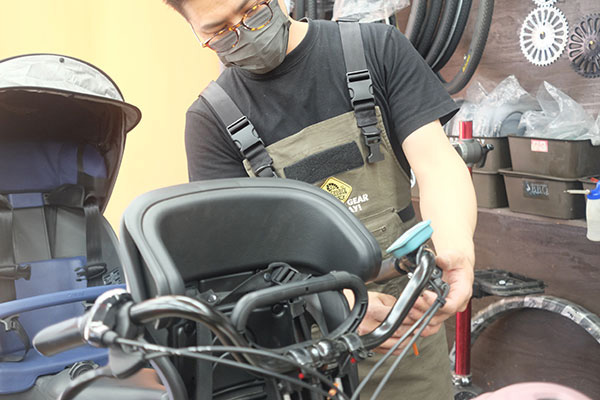 While a young mother asked Mr. Oka to give her large ebike an inspection.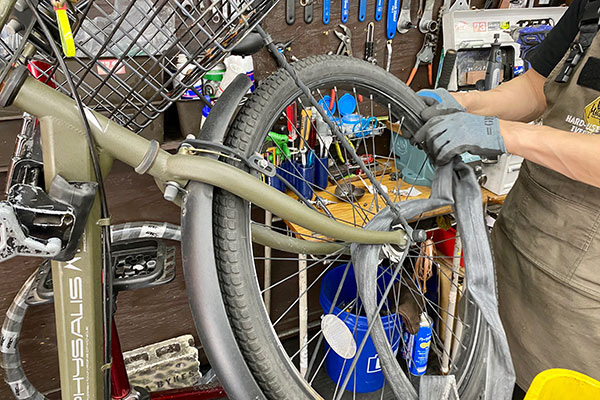 A gentleman came in with a puncture that needed repairing and stopped to chat.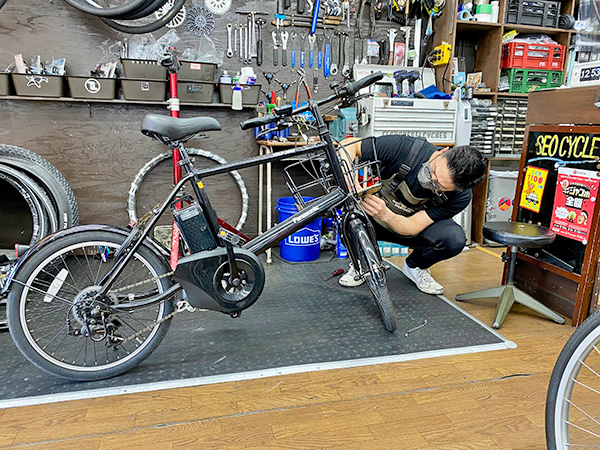 Another bike had a loose basket that needed fixing. It was very enjoyable hanging out in the shop in the warm spring sunshine as Mr. Oka chatted to his customers while repairing their bikes. As he said, "Our aim is to provide a solid support base for our customers' life on two wheels. We pride ourselves on our aftercare. All bikes purchased in the shop receive free inspections and all repairs are free, forever." Nice.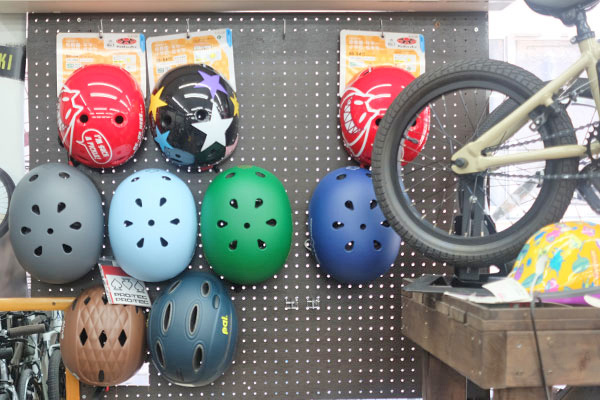 You can even pick up a cool helmet for the kids, too.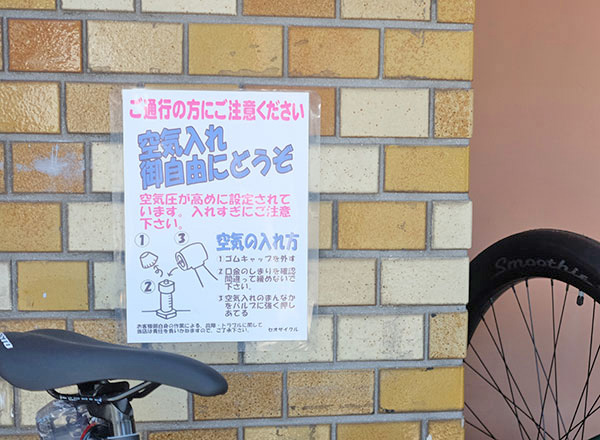 If you're looking for a new bike or have an old one that needs repairing or an inspection, just drop in to see Mr. Oka. You can't go wrong at Seo Cycle!
Story and some photos by Stephen Spencer