Life Support at Sanshiro Osteopathy
Published: July 29, 2021
Sanshiro Seikotsuin is an osteopathic clinic near Minami-sunamachi station that offers a wide range of treatments and services to young and old alike. On a recent balmy summer day, we dropped in for a very interesting chat with the eponymous Mr. Sanshiro Kon and his charming family.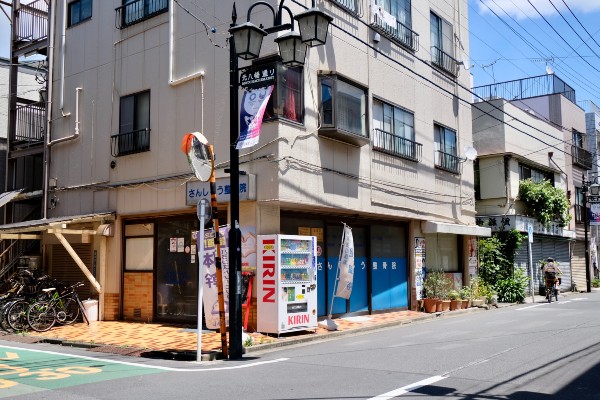 The clinic is located on Motohachiman street, some five minutes' walk through the park behind Minami-sunamachi station. The bright blue frontage is easy to spot, with the main entrance located around the side.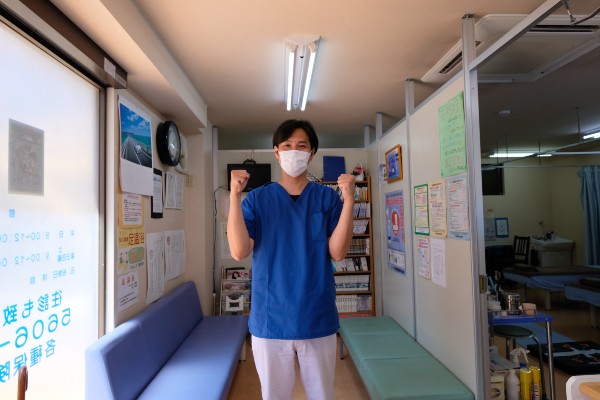 Clinic head Mr. Kon is as local as can be. "I was born and raised right here in Minami-sunamachi," he explained. "I attended local schools and grew up wanting to be a footballer." He entered a well-known football powerhouse high school that had represented Tokyo at the most prestigious school event in the country, the All Japan High School Tournament. However, a string of injuries led to him frequently visiting osteopaths for treatment, and led to an alternative career as a judo therapist.
Mr. Kon splits his time between working with sports clubs from local schools, from elementary to high schools and attending to his patients. He's a well-known figure in the area and also a member of the local volunteer fire brigade! The clinic is surprisingly spacious, cool and very comfortable. Aside from taping, the principle treatment offered is manual therapy.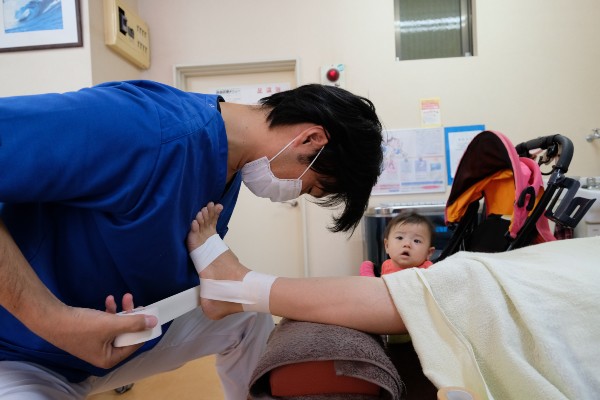 Mr. Kon's taping skills are much in demand as sports injuries are common: fractures, dislocations, sprains, and muscle injuries abound among athletes both young and old. Taping before and after training or events means Mr. Kon is frequently up very early and often works late. For taping outside of clinic hours an appointment is necessary.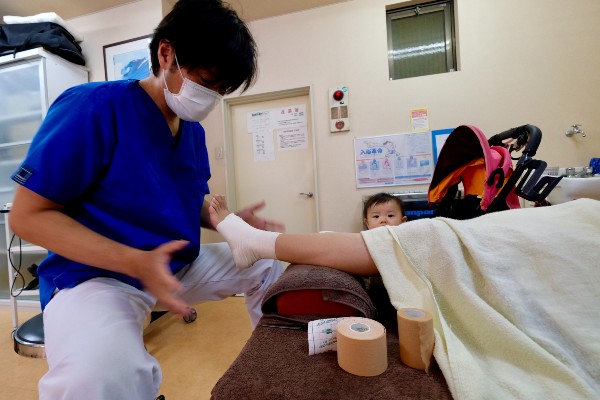 Mr. Kon's wife Eriko agreed to act as our model for the day. She speaks English, and will attend the clinic to assist those who need help translating. "We have many customers from overseas," she explained, especially young mothers who have back pain or muscle trouble from carrying their children around." Kids can be parked in their strollers while their mothers receive treatment, something this young chap found fascinating.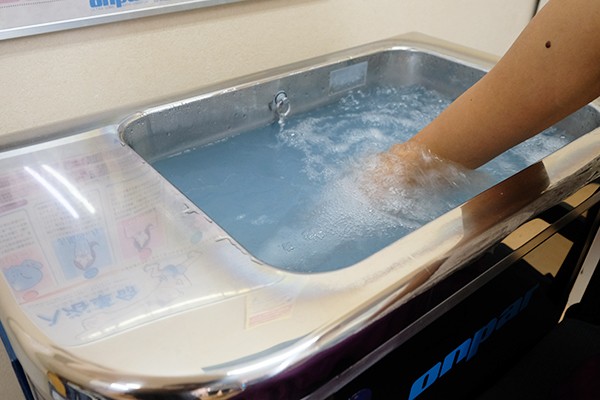 Sanshiro Seikotsuin also offers therapy utilising electronic devices. The ultrasound bath warms the body, improves blood circulation, eases soft tissue problems, and is said to be beneficial to the heart and lungs. The ultrasound creates ten thousand vibrations per second, surely capable of relaxing even the stiffest muscles.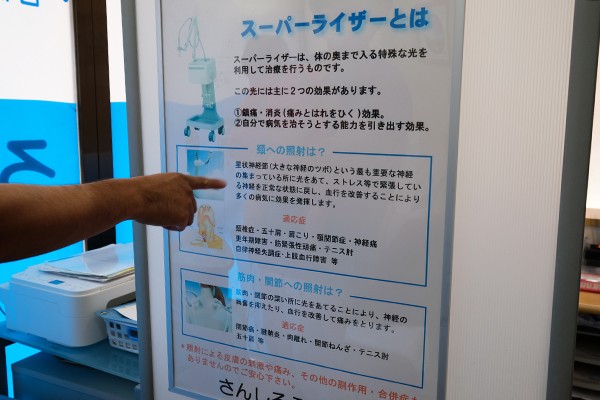 Stiff shoulders, neuralgia, frozen shoulders, text neck, menopausal disorders, autonomic nervous system trouble, and ataxia are all major problems caused by modern lifestyles and aging. They can be eased by near infrared light therapy, or photobiomodulation as it's properly called.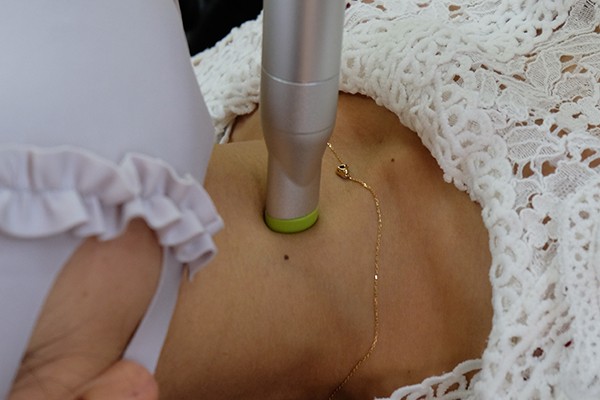 Sanshiro Clinic uses a phototherapeutic device with a brand name of Superlizer. The Superlizer can be used to improve blood flow and relieve pain in any part of the body, but here it's used on the stellate ganglion. The stellate ganglion is a collection of nerves in the neck on either side of the voice box. Blocking the stellate ganglion by photo-irradiation can block the sympathetic nervous system, thus providing pain relief.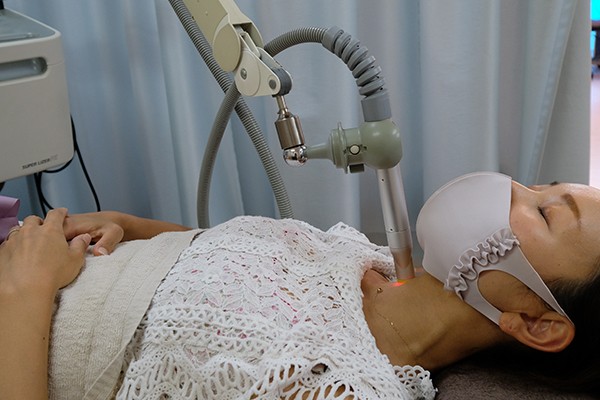 The treatment can also relieve stress. It's painless, with a pleasant warming sensation.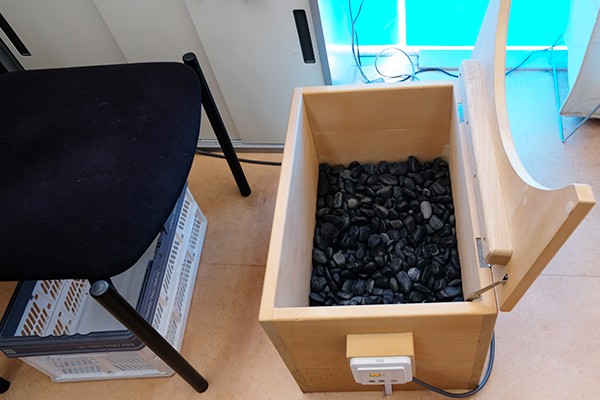 While the cold of winter may seem a distant memory in the heat of midsummer, cold disorder (hiesho) is a major problem for many women in Japan. This hot stone foot bath, using pebbles from the renowned hot spring resort of Tamagawa in Akita Prefecture, is guaranteed to warm up your tootsies and ankles. A 20 minute session is just 400 yen. Many customers drop in just for a warming session in the box!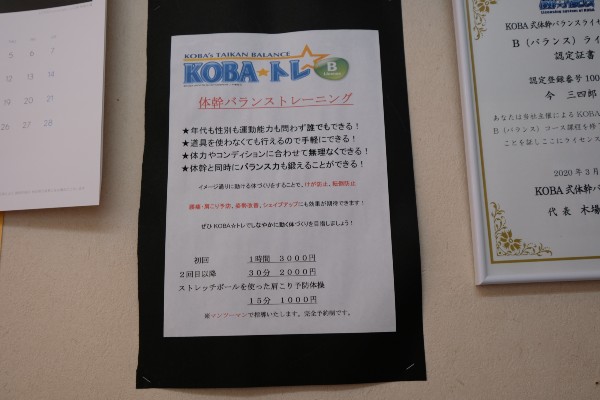 Mr. Kon is also a licensed instructor of Koba's Taikan Balance (Koba Toré in Japanese), a system of exercises developed by Katsumi Koba, the former head trainer of J.League football club F.C.Tokyo.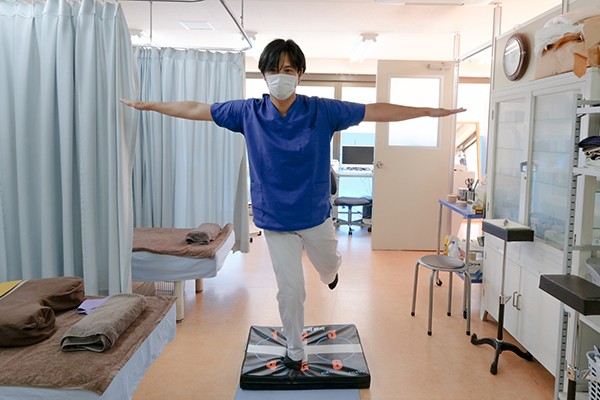 The exercises aim to improve balance, increase metabolism and exercise performance. Simple tools such as bands and a padded mat are used.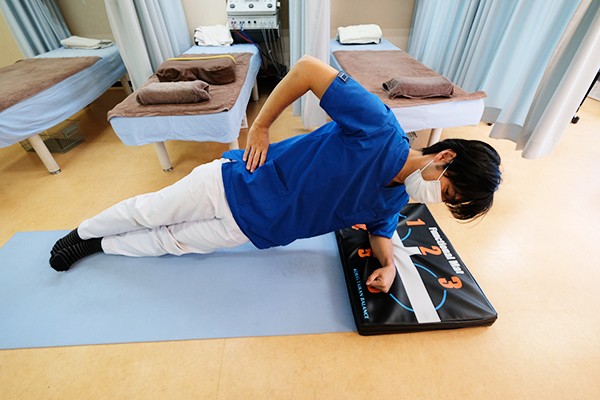 The training is suitable for anyone from 18 to 80. Individually tailored instruction is given, and prices are very reasonable.
The exercises target four major abilities: flexibility, stability, balance and co-movement. They also strengthen the inner muscles. Please contact the clinic for more details. Sanshiro Seikotsuin is a friendly, welcoming place firmly established in the neighborhood.
Whatever your needs, from massage to taping to rehabilitation work, Mr. Kon is ready to go!
Story and Photos by Stephen Spencer