If you are a parent with children in one of the Primary or Junior High schools in the vicinity of Sunamachi Ginza you will no doubt know that Makaranya Yohinten ("clothing store") is a designated shop from where you can purchase your children's school outfit, athletics kit and swimwear. For other readers, the reason to visit Makaranya Yohinten is for its stock of festival wear and seasonal goods.
Strolling down the bustling Sunamachi Ginza, with its myriad of stores, if you cast your eyes upwards you will notice Makaranya Yohinten's quaint facade draped with a grapevine which ambles untrained across the top of the shop front.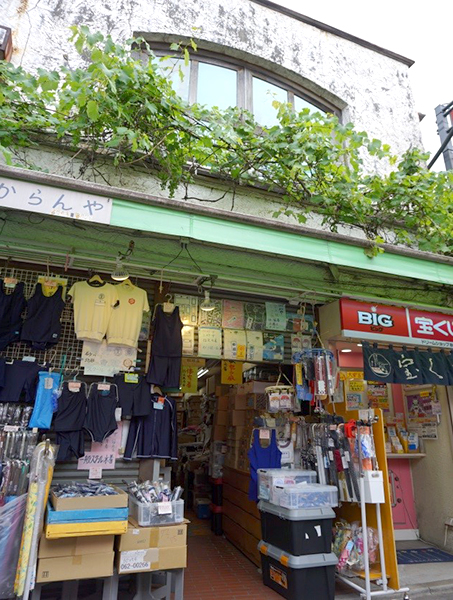 Run by Mr. Hajime Sekino, this small, unobtrusive shop is piled from floor to ceiling with boxes, but don't worry; if at first sight Mr. Sekino doesn't seem to have what you are searching for, just ask him for what you want and, if he has it, he will soon locate and cheerfully extract a box and produce what you are looking for.
Makaranya Yohinten dates back to the immediate post-war period, when the shop was first opened by Mr. Sekino's grandfather as a men's and women's clothing store, but time and increased competition have seen the shop's focus change. Besides the school uniforms and sportswear, what people now mainly come to Makaranya Yohinten for are the clothes worn by those taking part in local Japanese festivals. With a number of shrines in the area, and Fukagawa and Asakusa not far away, people call in all the year round to buy "happi coats" (hanten or happi in Japanese)…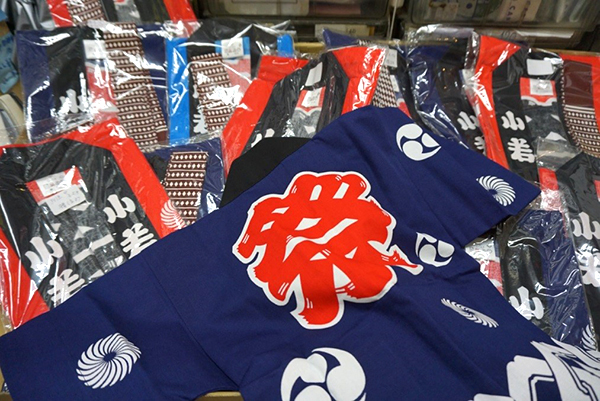 …and accessories, such as tabi (split-toed footwear) – the one shown here is a smart high-tech "air tabi" with a padded sole and air cushioned heel; just the thing to stave off tired feet when you are involved in carrying a large portable shrine ("mikoshi" in Japanese) in a local festival.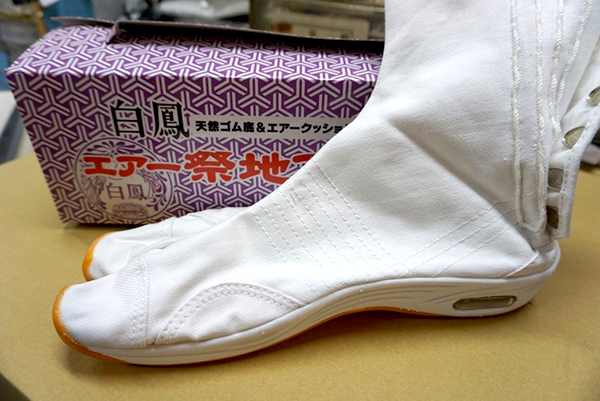 Mr. Sekino also stocks han-momohiki (traditional white shorts worn at festivals), as well as the round-necked koikuchi ("carp mouth") shirts which come in various festive colours and designs, and are just right as summer pyjama tops.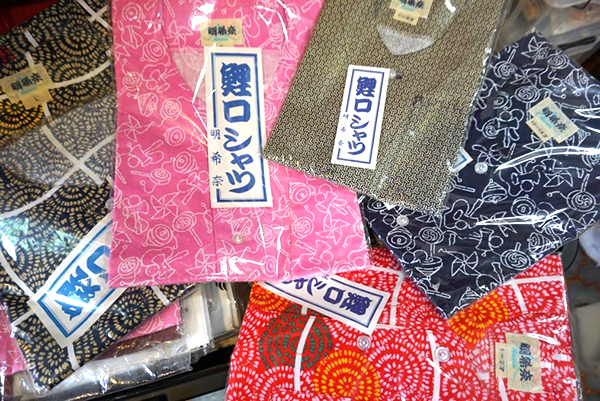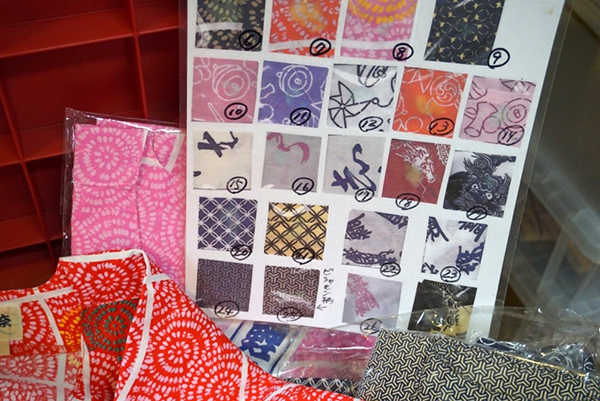 And hidden away there are other clothing and accessories, traditionally worn when celebrating local festivals. You just have to ask.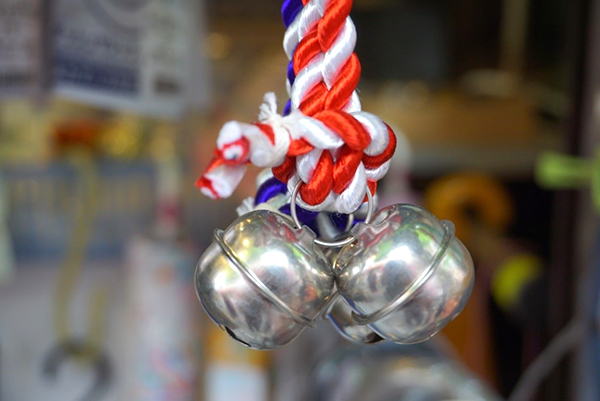 For those adults reluctant to dress up, everyone agrees that children look great and photogenic in happi coat, hachimaki (traditional headscarf), han-momohiki, and tabi.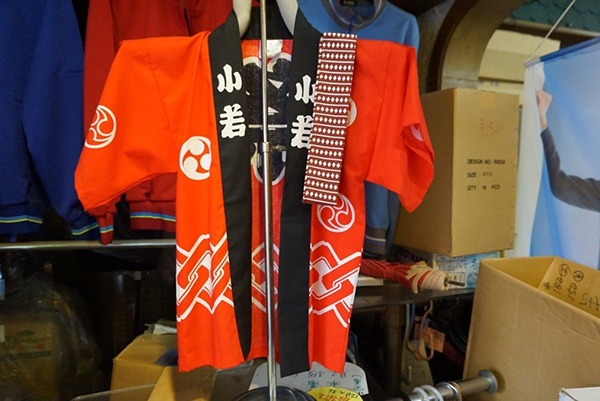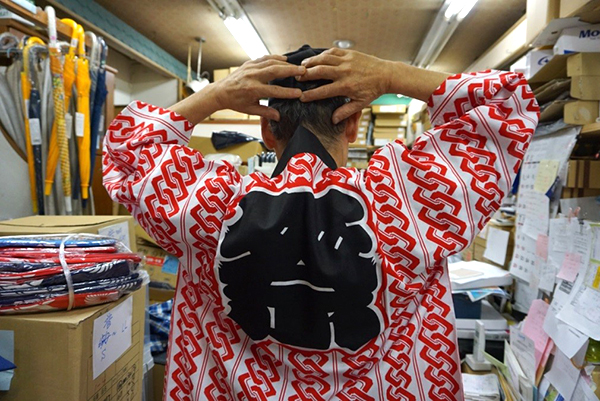 Makaranya also has a supply of nice, colourful umbrellas, which come in very handy during the current "rainy season" …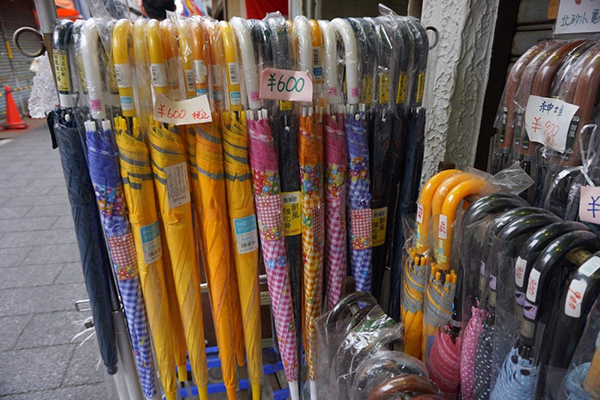 …and there are seasonal offers, such as UV-protection parasols and elbow length UV-protection gloves, displayed inside the shop. In winter it is likely to be woollen gloves and mufflers.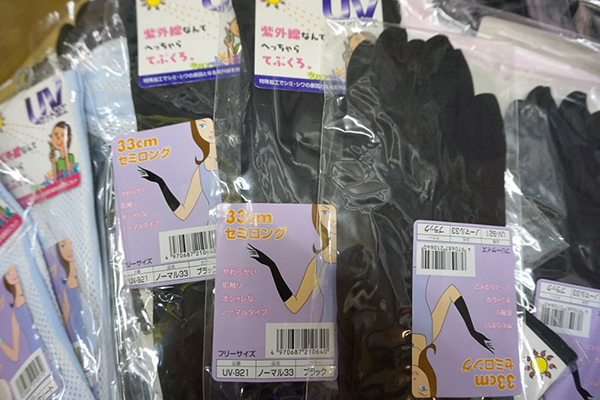 When I asked Mr. Sekino what his wish for the future is, he replied that,  as well as hoping for successful sales of school outfits for the next school year, he is studying English every day with NHK (Japanese national public broadcasting organisation) and hopes that he will have a chance to use it with foreign customers between now and the 2020 Olympics and Paralympics.
And just in case you were wondering about the word "makaranya", Mr. Sekino says that the name was chosen by his grandfather and has two meanings: one is that "as my prices are already low I can't give you a discount otherwise I won't make any profit"; the other is that "I'll offer the best price I can as I don't want to lose out to competitors". Take your pick.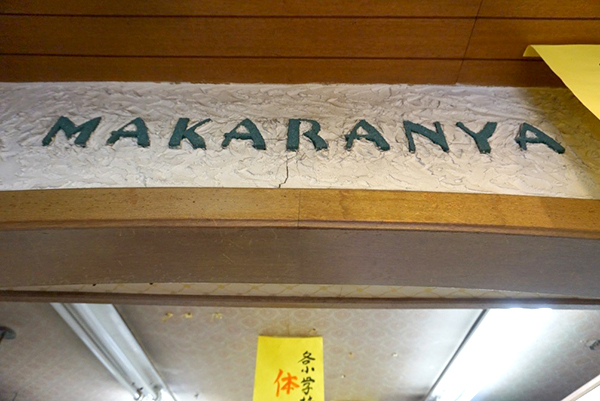 Story and Photos by Jeremy Hutchinson