Eat Your Fill at Manpukutei
Published: February 24, 2022
Manpuku is a marvellous Japanese adjective that roughly translates as: the pleasurable feeling of having eaten one's fill. With different Chinese characters, manpuku also means "health and happiness". Chuka Izakaya Manpukutei in Ojima is a newly-opened restaurant offering both popular Chinese dishes and Japanese pub (izakaya) snacks at reasonable prices. On a recent windy early spring afternoon, we dropped in for a chat with owner Mr. Rin and his charming wife Sha.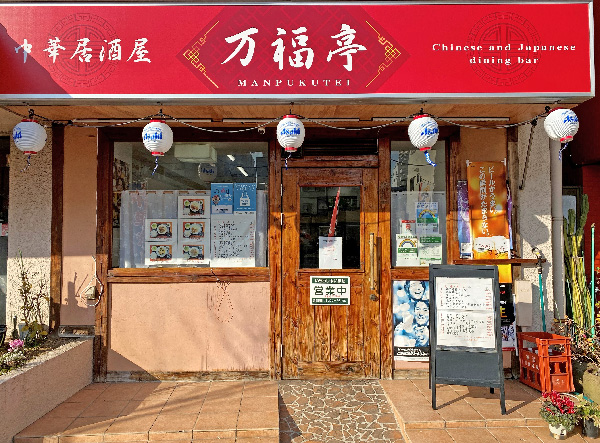 Manpukutei faces onto Shin-ohashi Street, a seven-minute walk from Ojima station heading eastward towards the river. The inviting frontage features a bright red sign, lanterns and a sloping access path for wheelchairs or baby carriages.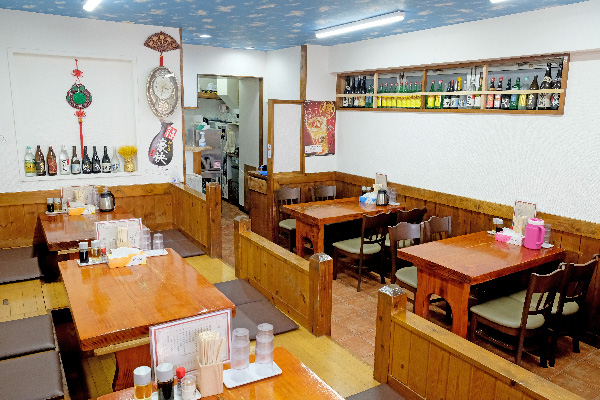 "We opened in January of 2022," explains Fujian native Mr. Rin, a 20-year resident of Tokyo. "After taking over the place from the previous owner we completely redecorated the interior and changed the menu entirely." The brilliant white walls and Magritte-style ceiling of cerulean blue dotted with fluffy white clouds create a spacious, comfortable atmosphere.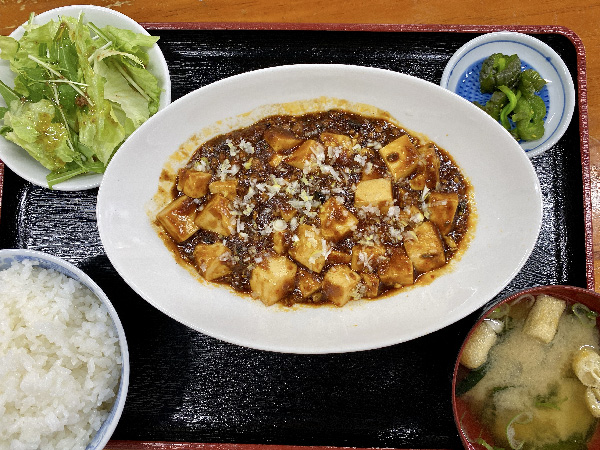 The menu at Manpukutei features a wide variety of popular Chinese dishes, many of which can be ordered as part of a teishoku set meal. While Mr. Rin spent 20 years learning the business in Japan, he leaves most of the cooking duties to another veteran chef who quickly whipped up this spicy mapo dofu. The teishoku set comes with a sizeable portion of spicy tofu, pickles, a small salad, miso soup, and rice. That's great value at just 680 yen!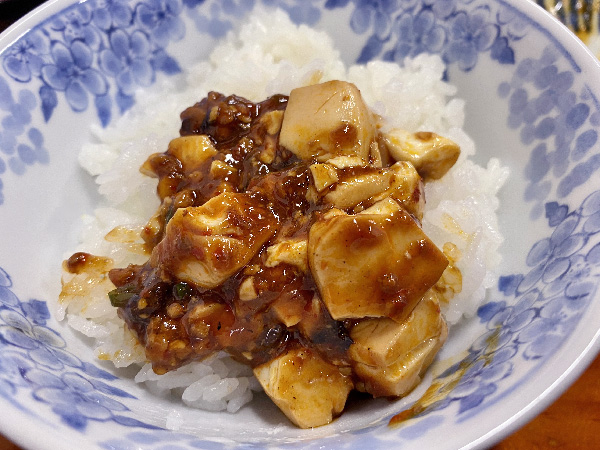 The tofu was spicy without being exceptionally hot, even though it's flavoured with a variety of seasonings such as doubanjiang chilli paste, malajiang, and sansho peppercorns. Mr. Rin was insistent we ate the spicy tofu with rice and he was quite correct, of course–the rice at Manpukutei is cooked over gas, not in an electric rice cooker as is the norm these days. As such it was light and fluffy, a perfect accompaniment to the spicy tofu. A large portion of rice is available at no extra cost, "That's why we're called Manpukutei," he said, laughing.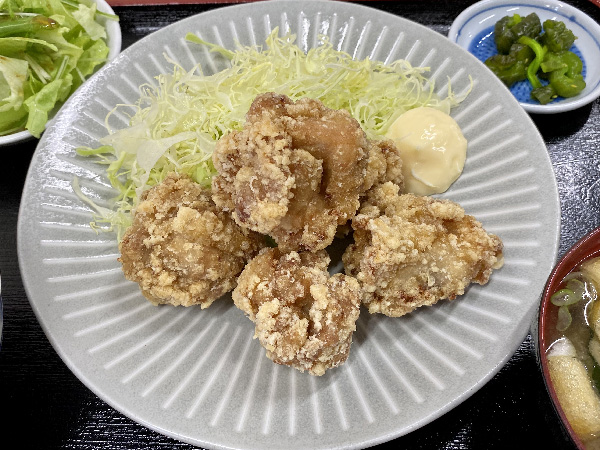 You may not usually consider ordering deep-fried chicken in a Chinese restaurant but at Manpukutei it's another winner. The large pieces of chicken are lightly marinated, flavoured with grated ginger, and deep-fried to extreme crispiness, while retaining the soft juiciness inside. The chicken is served with a small mountain of fresh, shredded cabbage and again represents unbeatable value at 680 yen.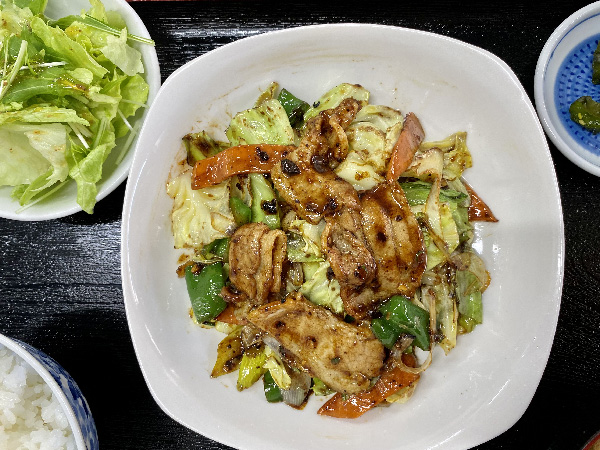 Another popular staple on the menu at Manpukutei is twice-cooked pork (hoikoro). Pork belly is simmered with a variety of spices, refrigerated and then thinly sliced before being stir-fried with a variety of vegetables such as cabbage, green peppers, carrots and negi onions.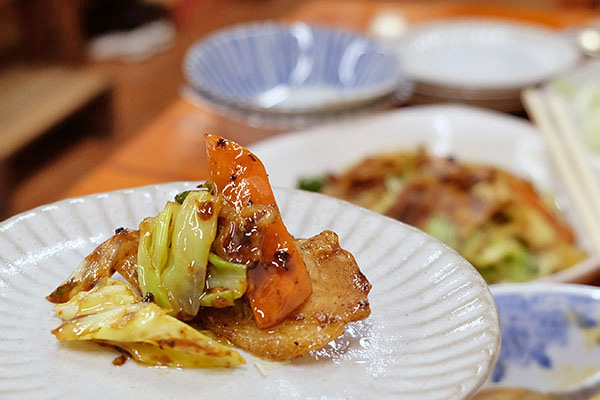 The sauce was rich, savoury and slightly sweet, while the portion was very generous indeed. Excellent value at just 750 yen.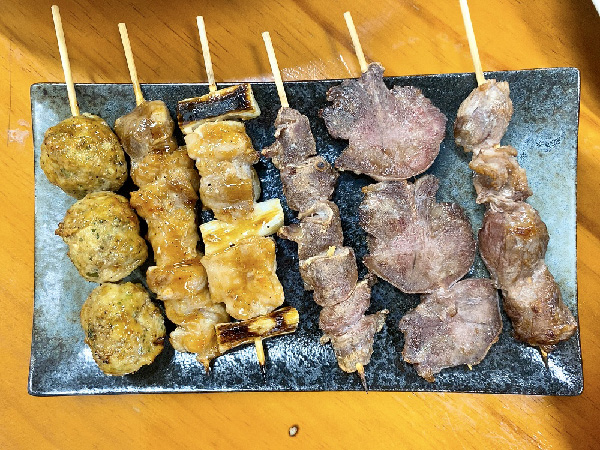 The izakaya-style snack menu at Manpukutei features a wide selection of kushiyaki skewers. Pictured here is the meat selection (minced chicken balls (tsukune), thigh (momo), chicken and negi onion (negima), gizzard (sunagimo), tongue (tan) and jowl (kashira). Excellent value at just 165 yen apiece and a perfect accompaniment to an after work beverage!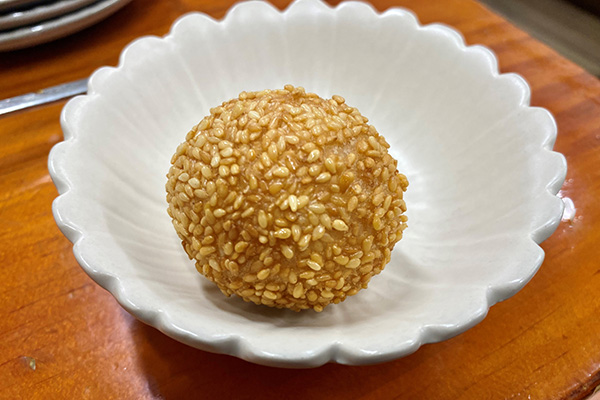 Manpukutei even offers desserts such as ice cream, fried sweet potatoes, and these tasty sesame balls (goma dango, 380 yen). The balls are made from rice flour stuffed with azuki bean paste, rolled in sesame seeds and then deep-fried to crispy perfection. At first they are cooked in low temperature oil, then the heat is turned up to crisp the outside without burning the seeds. A word of warning: the sesame balls are delicious but extremely hot inside, so care should be taken not to scald one's mouth!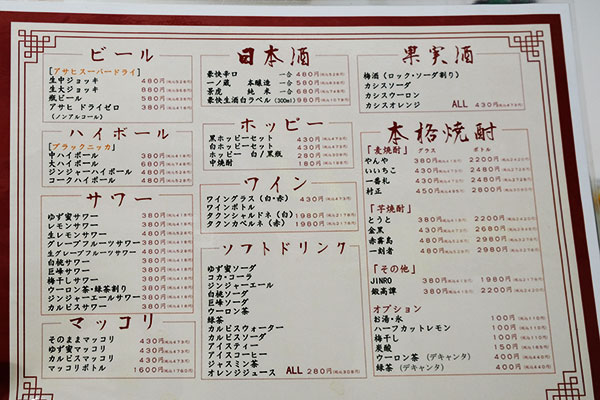 The drink menu at Manpukutei is extensive, covering pretty much all the bases. The draft beer is Asahi Super Dry (528 yen for a middle size glass), whiskey highballs, sours, wine, makkori, sake, and shochu of many different brands. Soft drinks and non-alcoholic beer are also available.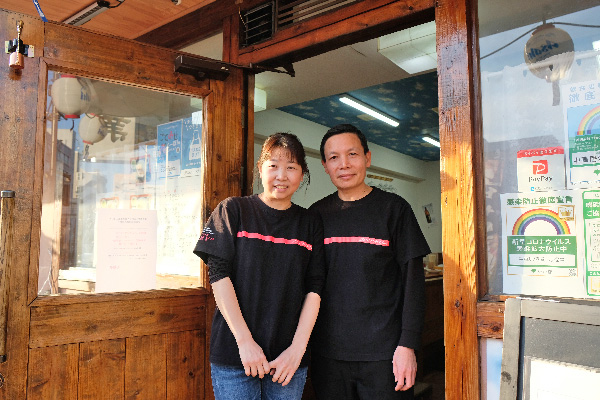 There's a friendly welcome for everyone at Manpukutei. Portions are large, prices are very reasonable and the taste is just great. All items are available for takeout, a real boon to those working from home. If you're in the Ojima and Higashi-ojima area and fancy tucking into some of your Chinese favourites, you have a new place to visit!
Story and some photographs by Stephen Spencer