Let me introduce you to Ms. Emiko Nakazawa esthetician and owner of the Kogao & Body Esthetic Seibishin beauty salon. Ms. Nakazawa is here to perform miracles on drooping facial muscles, lacklustre skin and tense shoulder muscles and tired bodies.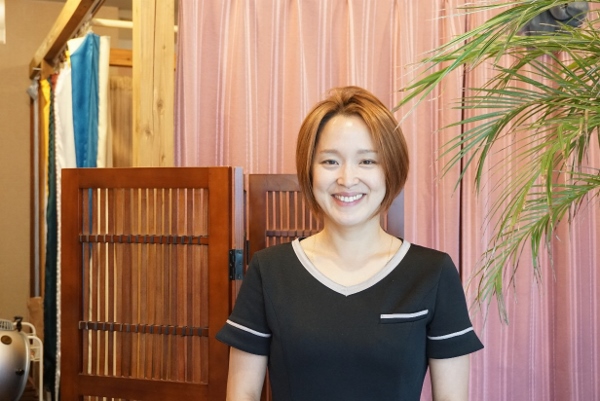 Fulfilling a long-held ambition, in February 2019 Ms. Nakazawa opened her esthetic salon where she offers a selection of courses providing facial massage and cleansing, and whole-body massage to help take away the stresses and cares of everyday life and perhaps put a healthy gloss back on your face.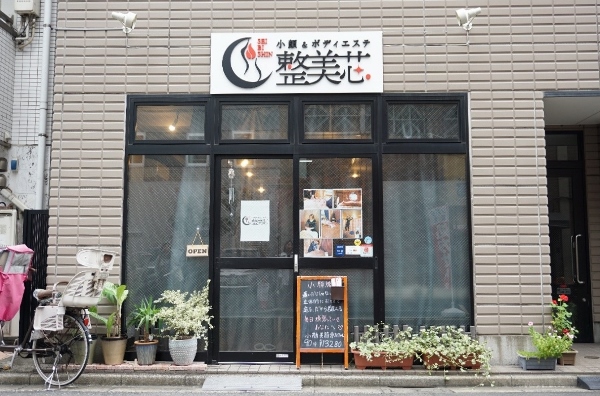 Stepping inside the salon, located a short distance from Kameido station, customers are met by a pleasant and intriguing woody aroma and what Ms. Nakazawa describes as "healing music". The salon's soft-coloured walls are coated with Gaina, a state-of-the-art paint used in space technology, which, with its minus ions, blocks condensation and dirt, mutes sound, is anti-microbial and improves air condition. Just the thing for a space intended for healing the mind and body – the application of rocket science to the world of esthetics.
This, along with the beautiful wooden floor, dark handmade fittings, rattan settee and plants, are all designed to create an atmosphere in which her customers can sit and relax and unwind whilst waiting for Ms. Nakazawa to commence.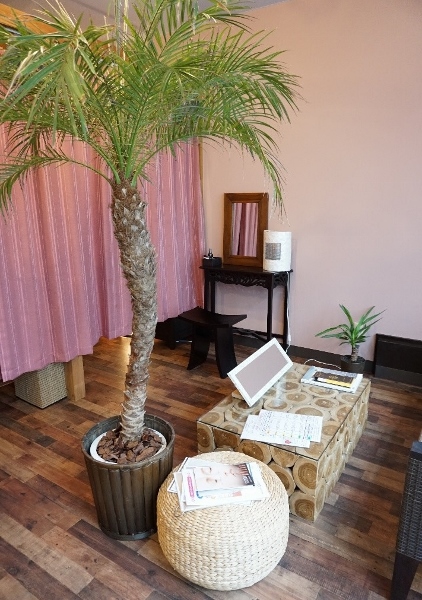 The salon places an emphasis on privacy and the one-to-one sessions are by appointment only, although Ms. Nakazawa says that the gauze curtain across the salon's front window, obscuring the interior, attracts a few inquisitive passers-by who stick their heads inside to see what the salon is all about.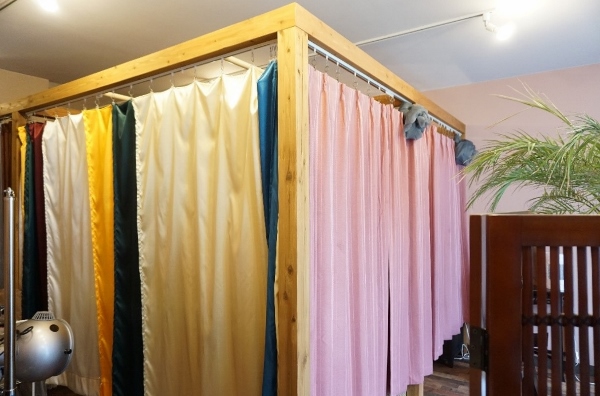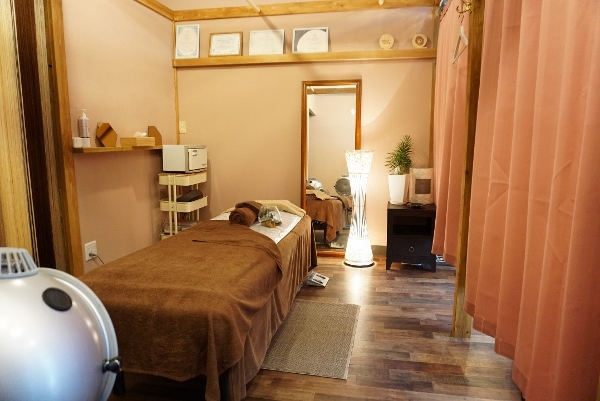 Ms. Nakazawa, who has been in the esthetics business since her early 20s, took time off to study anatomy in Thailand and has undertaken courses in meridian lines therapy and traditional oriental medicine. These all help when customers ask why their skin condition is the way it is or when she explains how the flow of blood coursing around the body impacts on the face's complexion. She also gives advice on healthier living, including on diet and exercise.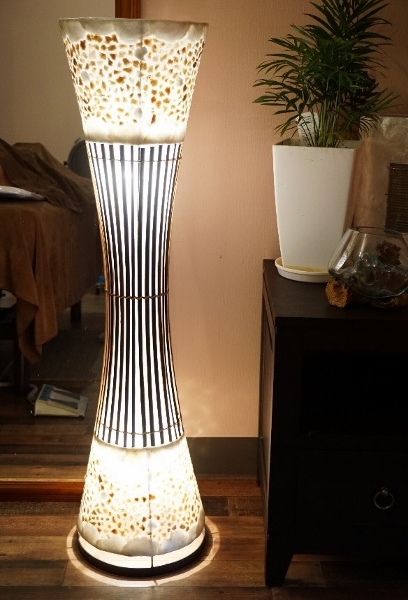 One of the beauty courses available is the wonderfully-named "kogao no kakekomidera" or temple sanctuary for small faces, in which, over a 90-minute session, as well as cleansing the skin Ms. Nakazawa massages, shakes and loosens stiff neck and facial muscles, thereby improving blood circulation and restoring sagging facial muscles; and whilst she cannot change the shape of your face and actually make it smaller, she says she can uplift those face and smile lines.
To relax her customer Ms. Nakazawa sets about running her fingertips across the face and head, as if playing a keyboard. To open up and cleanse the pores, the customer's face is then coated with natural clay, which is later removed using hot towels.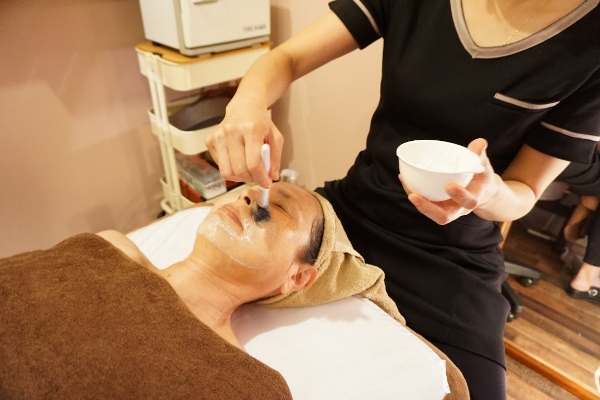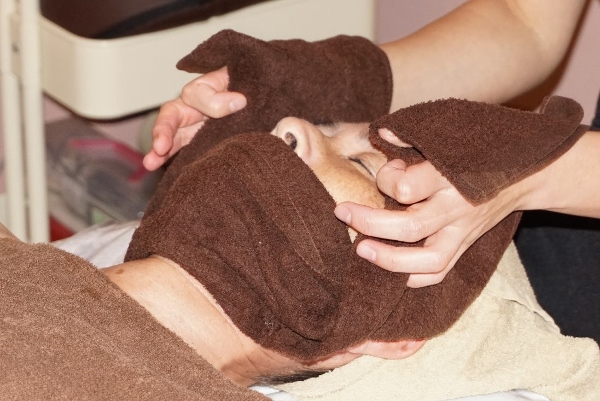 She then applies strong pressure to the scalp using her fingers to loosen tight and knotted muscles and stimulate circulation.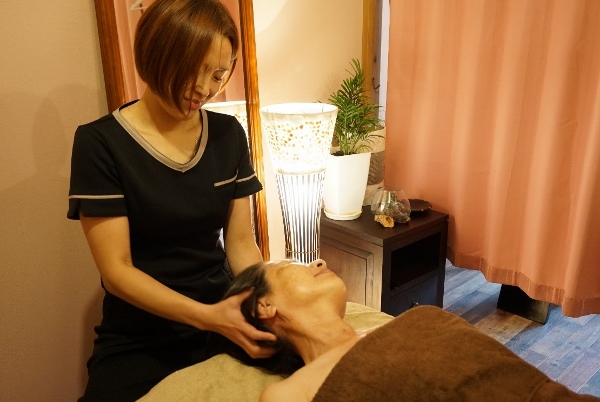 Cream is rubbed into the neck muscles as part of a deep massage. This is followed by energetic pulling and pushing of the skin on the shoulders. It looks a bit like a tug of war, but I am told it is very soothing.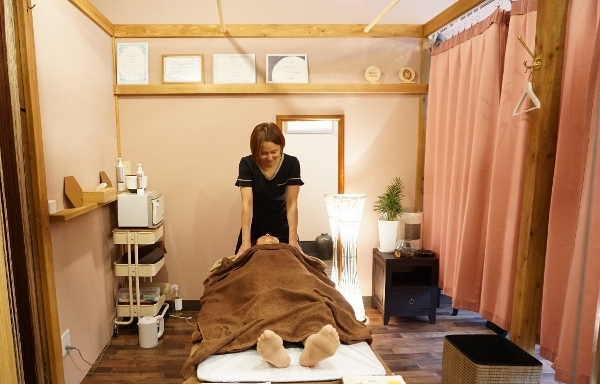 This whole 90-minute experience currently costs 13,280 yen including tax. According to Ms. Nakazawa this is popular with ladies heading off to school reunions or sitting for graduation ceremony photographs. She also confided that whilst most of her clients start off chatty, by the end of the session they are usually comfortably drowsy.
Other courses are available, including the optional use of UV heat ray lamps for 30 minutes (3,600 yen including tax),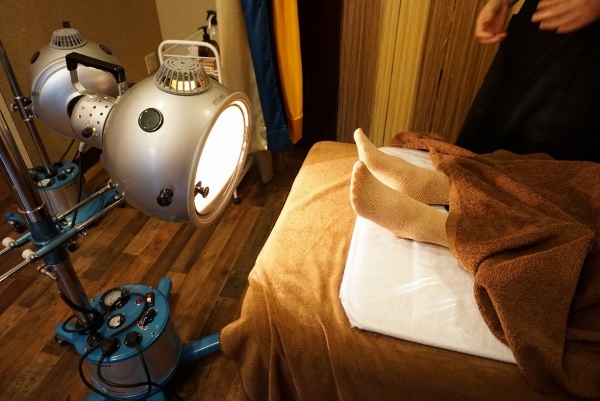 and whole-body massages, which, according to the Hot Pepper website and photographs in the salon window, entails Ms. Nakazawa gamely using her feet to massage a client's back.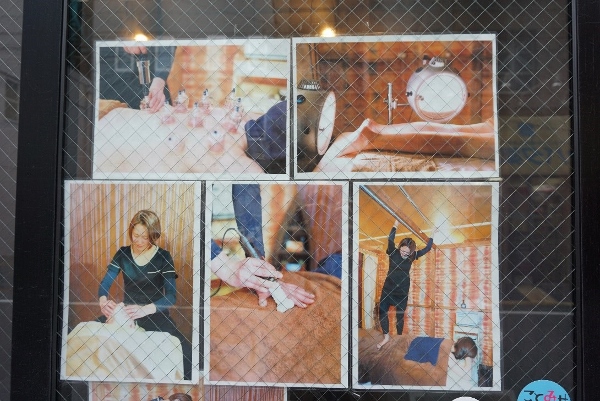 The salon displays various well-known skin creams and lotions, such as Faith and Phytomer, which Ms. Nakazawa uses on her customers, and which, subject to availability, they are free to purchase.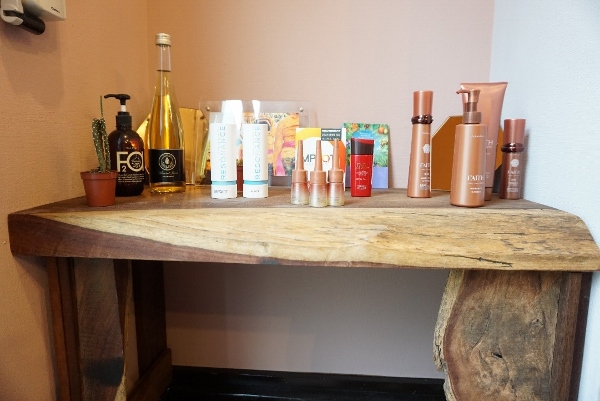 And men are not totally excluded: from November Ms. Nakazawa plans to introduce fortnightly "golf yoga" classes, conducted by an instructor acquaintance, which at 1,500 yen for one hour sounds a reasonable way to relax and revive one's mental spirit. These classes will be open to men and women.
When I asked Ms. Nakazawa what gives her most satisfaction, she replied that it is the look of relaxation in a customer after a session under her care, and the joy on their (dare I say "smaller") face when they see the healthy, glowing tone of their skin.
Story and photographs by Jeremy Hutchinson