On Your Bike at Mauser Jitensha
Published: August 17, 2022
The long-established Koto-ku bicycle shop Mauser Jitensha has moved to new premises in Kitasuna, where we recently caught up with veteran cyclist and owner Mr. Yoshida and his charming wife, to discover just what's new in the world on two wheels.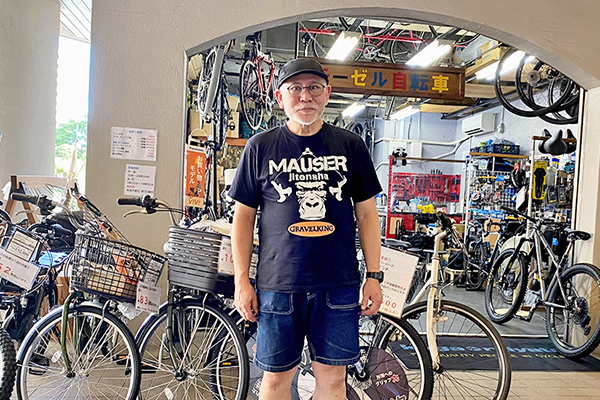 Mauser Jitensha is located in the Kitasuna Urban Renaissance housing complex, just south of the River Onagi, about 13 minutes equidistant from Nishi-ojima or Ojima stations to the north. The shop can be found in a square between building 2 and building 8 near the main entrance.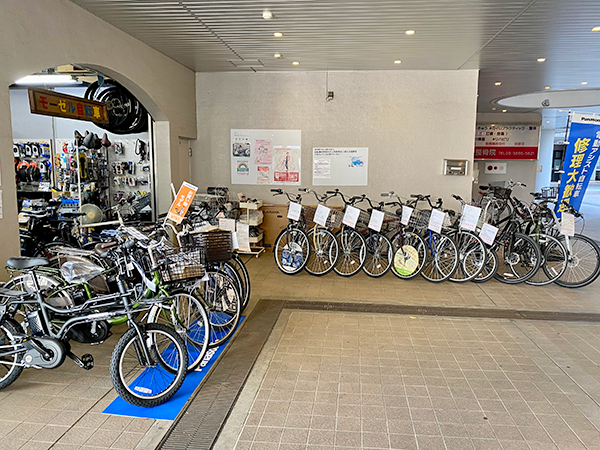 "We were forced to move from the old shop in Minamisuna after the owners decided they wanted to rebuild it," explained Mr. Yoshida. "We searched around for a suitable location and settled on this place in the housing complex. It's a great location, near busy shopping areas and with a large resident population, many of whom are cyclists. There are also many foreign IT specialists living here, as their companies rent the UR apartments for their staff. It's like a little United Nations, and other shops have opened to cater to these residents too. There's a real community spirit here, people are very sociable."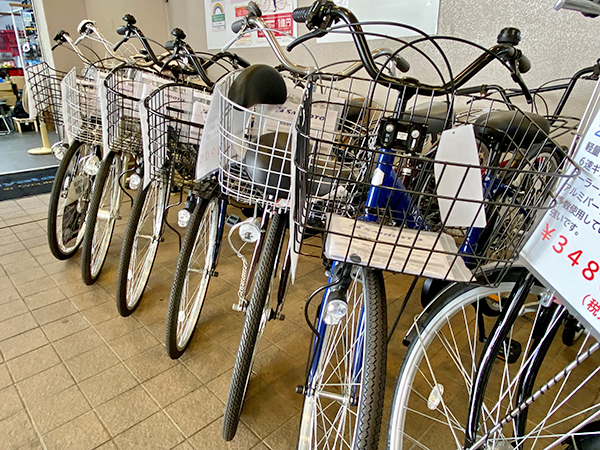 Being a brisk 13-minute walk to the nearest stations means that many residents go by bicycle, so Mr. Yoshida is extremely busy. "Yes, there are many commuters and seniors so mamachari are our top sellers and the most common bike here." Mamachari (from the English phrase mama's chariot) are the sturdy workaday bikes seemingly ubiquitous in Japan. Prices begin at under 30,000 yen, very reasonable on the wallet.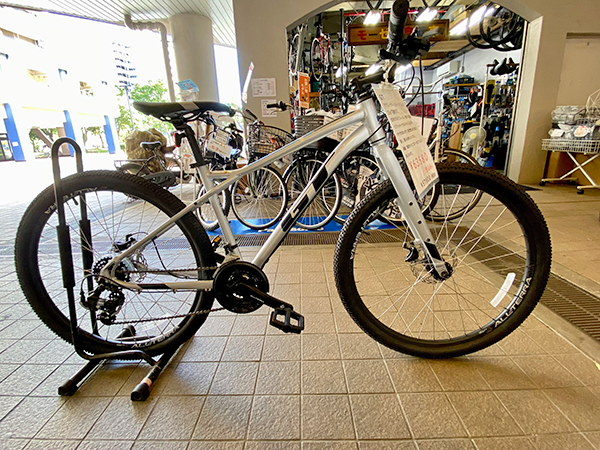 For those who want to get off the road these GT Aggressor Sport rigid frame bikes are very popular at 63,580 yen including tax. And in stock, which is very important now, as Mr. Yoshida explained, "There's a global shortage of bikes right now due to a variety of reasons, mainly the increased demand from commuters and shortage of raw materials. If you're thinking of buying a new bike you should come in, discuss what you want and place an order immediately, because the supply chain is backed right up."
New bike sales are only part of the business though, with repairs such as changing tyres, chains and brake pads, fixing baskets front and rear, mending punctures and the like, comprising a major part of the working day. The prices are very reasonable: puncture repairs are 840 yen, while replacing tyres and inner tubes in front wheels of regular bikes are 4,250 yen, with back wheels at 4,650 yen. Heavy duty bikes are slightly more expensive at 4,950 yen and 5,450 yen respectively. Brake adjustment is 530 yen, while chain removal and adjustment is just 830 yen.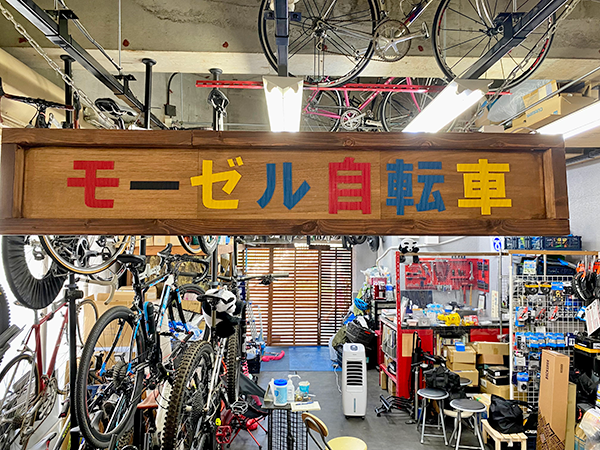 Customising bikes is Mauser Jitensha's speciality, though. Bring in your bike, discuss what you want with Mr. Yoshida, and he will turn your ancient boneshaker into something smart and stylish at a reasonable price.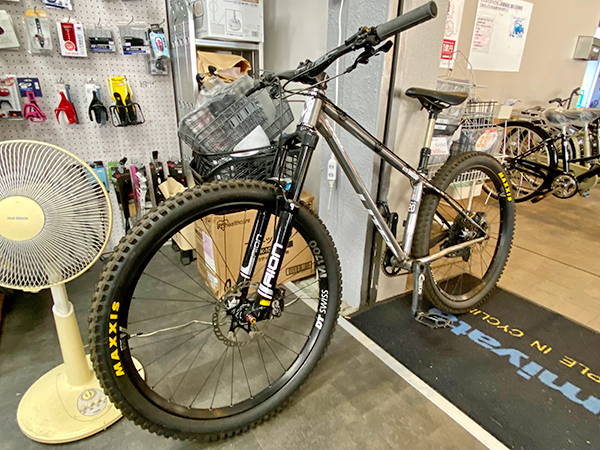 Here's a mountain bike Mr. Yoshida put together from a Litec Hasso frame, Aion forks, and Maxxis tyres, amongst other parts. Nice!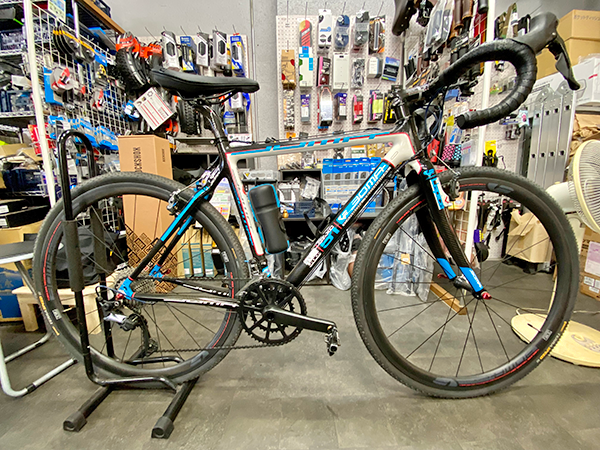 Mr. Yoshida is a great fan of cyclo-cross, a form of bicycle racing that takes place in autumn and winter on a short outdoor course and involves the riders dismounting and carrying their bikes over obstacles before remounting. Cyclo-cross is particularly popular in the Benelux countries. The bikes need to be both light and extremely strong, like this Boma brand bicycle. Mauser Jitensha is an authorised retailer of the brand.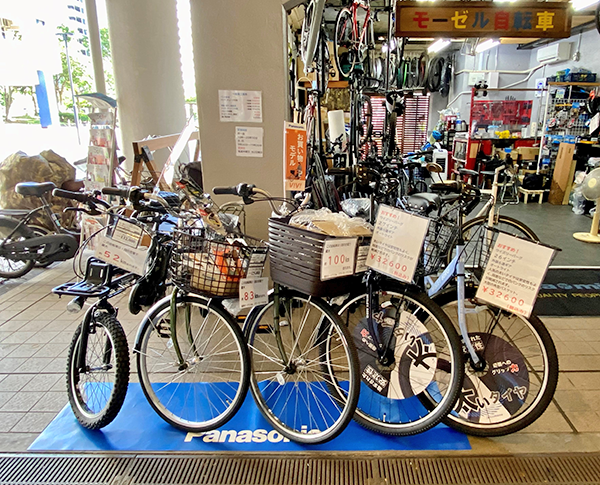 Mauser also stocks a selection of the number two best seller, the ebikes known as electric assist in Japan. Koto-ku is laced with canals and rivers traversed by many quite steep bridges that need some leg power to cross, especially if the bike is carrying children to nursery school or kindergarten. The ebikes are a real boon to young mothers and seniors, especially in the summer and winter months.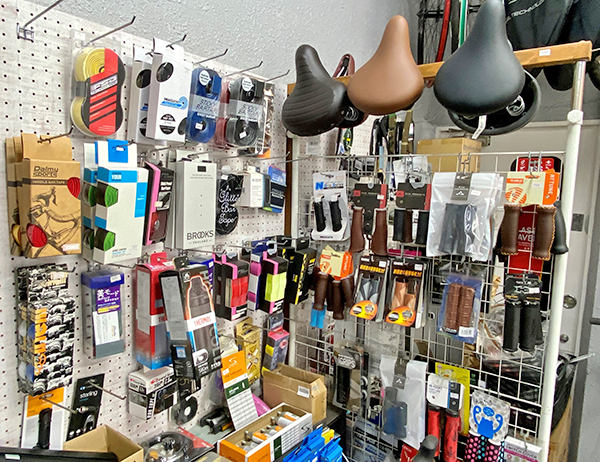 The shop stocks a wide variety of parts, which can be ordered. Mr. Yoshida also organises cycling tours in the Kanto area and the occasional ferry trip to Oshima island.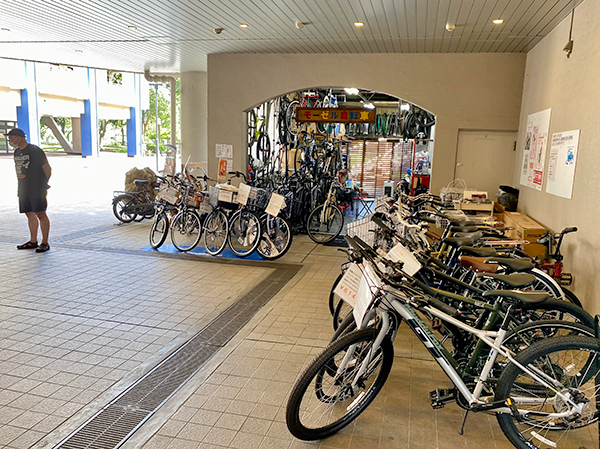 Mauser Jitensha can satisfy all your bicycles needs, from simple repairs to customising older bikes or creating new ones from scratch. Mr. Yoshida has spent his entire working life with bicycles and has a wealth of experience in every area. If you're looking to improve your life on two-wheels, just drop in for a chat. Mauser Jitensha is a really lively place!
Story and photos by Stephen Spencer